I had Rickey Medlocke screaming at me all the way up the road which is a good thing. Liquor in the front and poker in the rear always makes me smile when he sings it, still, a grown man shouldn't be writing lyrics like that. Blackfoot should have been bigger, but they never made a consistent album during their high profile years in the early 80's, plenty of classic tunes and one of the best live albums ever made, but somehow just not enough.
A time consuming line of thought which took me to Arrochar where I pulled into the shop for a chocolate santa for my rucksack. 
The sun was shining up from the southern fringes of the sky and there was very little heat to be found with the low light. Ben Donich stays dark in the winter months and it northern slopes and faces are cold and dark even at midday. It made for a pleasantly cool climb once I'd negotiated the forest road which was a ribbon of deep and solid ice. No forestry trucks today.
It's familiar ground but no less inspirational because of that. Beinn and Lochain looks like a charging Minotaur from the ridge and the familiar names all show unfamiliar faces to these slopes. The regular made irregular you might say.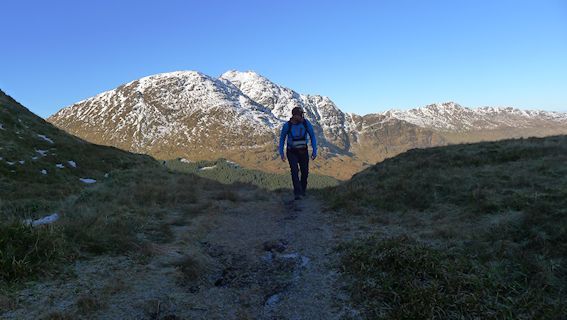 The weather had taken some of the snow away, but what was left was solid enough in many places. Luckily I dropped my phone into the softer bits as I tried to tweet some photies. It wasn't wearing it though, I had a signal but after 20 minutes of "sending" I was pretty sure it wasn't happening and switched it off. Good job too, if I start beaming out every move I make I've become like one of those folk at a gig watching the show on the screen of their phone while they record it. It won't happen here.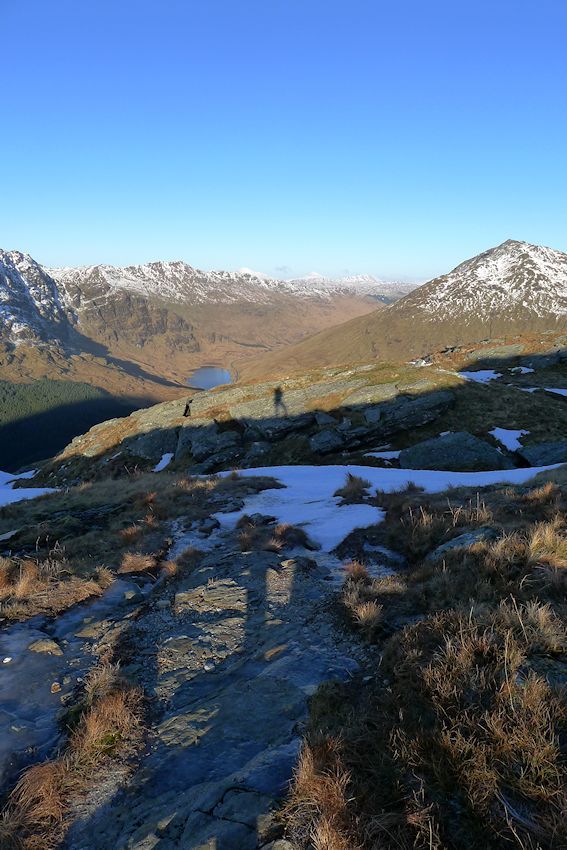 I met an old fella coming back down who assured me conditions at the top were no different to here and I did feel a little conspicuous with an ice axe, but the next and last folk I met had axes out on a steeper section and had been turned back at the big cleft on the ridge ahead, it was a bit ropey they said. Still, just like me they were having a ball on such a glorious day.
I really did feel very light, and I'm not being facetious saying that, I was happy, I was glad, my spirits were lifted. There is an undefinable joy when the weather is right, you're neither fatigued nor finding a lack of challenge, when you have enough time to stop and wait for nothing at all to happen just because it seems like the thing to do. There was a moment when the sun was sinking lower that I had a tiny twinge of not yet, but it passed when the peaks to the north turned pink and nothing came to an end, there was sothing new to enjoy.
The big cleft was banked with snow at the descent line. A few scuffs showed where the couple had tried to make their way and though better of it. They'd been fine, they'd sat at the edge and had their lunch. What a spot too, in hills I know so well, right here is one of my favourite places.
I slipped over the side and found rock and hard snow for my spikes to bite into. Spikes which just a few minutes earlier had put a neat hole in the top of my thumb. Blood everywhere and I never felt a thing until I got home (I got home, does that spoil the ending?). Medical kit out, two plasters and a couple of rings of narrow climbers tape. I know folk that don't carry medical kits. Good luck with that.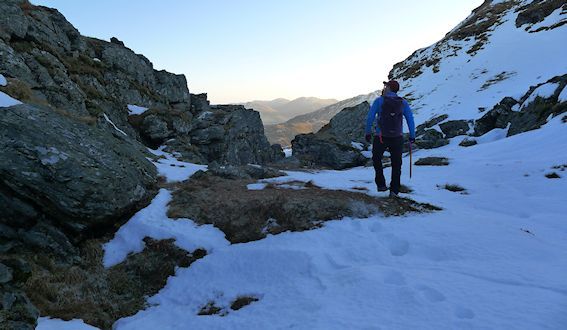 I cut some steps and then skipped down the last wee slope to the flat ground in the middle. I can understand any reluctance to tackle the climb down, it's not high but feels helluva steep at the top, but it also occurred to me that I was now on virgin snow, not a single footprint anywhere. The old boy I'd met must have flown to the summit. Auld bugger.
I had a wander about, crags broken all around, deep cracks between them, it's a wonderful place, I really should camp here some time.
A look to the north and Ben Cruachan is glorious and visible past a graveyard of wind turbines, to the south is Arran and the distant Hunterston B nuclear power station. The turbines are widespread in the view, intrusive and completely still. Hunterston is on a single plot and producing electricity quite happily. Somebody should do the maths of that, the government I voted into Holyrood sure as hell can't.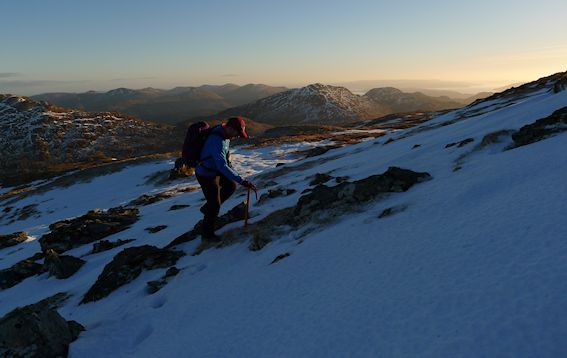 The summit is across some undulating ground which tumbles away to the left with rocks and grassy crags and for a nice contrast drops alarmingly away to the right. Snow slithered in all the hollows which the grassy rises caught the dipping sun and glowed like little cakes under an oven light.
I pulled up for lunch. I wrapped up warm and had the very Chirtmassy rolls that Joycee had made for me and many cuppas from my flask. I sat on the frozen grass and did nothing but look around me. I imagine this is how a fisherman feels in the middle of a loch floating on calm water, rod leaning over the side as they lean back under the sun and just enjoy being.
The summit trig point was a couple of minutes away, sunset would be a few minutes after that, but time stretched out and I stayed there until the desire to see the sun hit the horizon won over the views north.
I wasn't done yet though, I was wearing a bunch of new kit or recent kit that needed writing up, so I chuckled my way through five minutes of looking daft with gear, some of which I've already posted. I think I'm back to doing outdoor gear shots again, it's much more fun. Besides, Holly drawn a whole buch of life-sizes figures on my alpine-white background roll. How she used 25 meters of it I'll never know.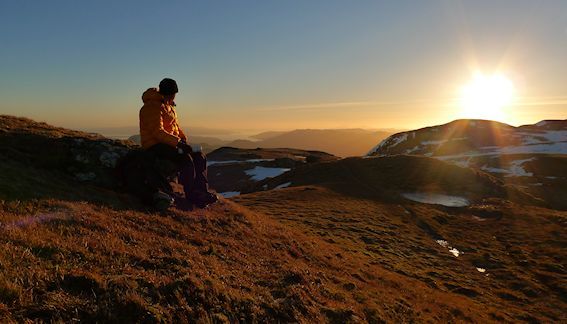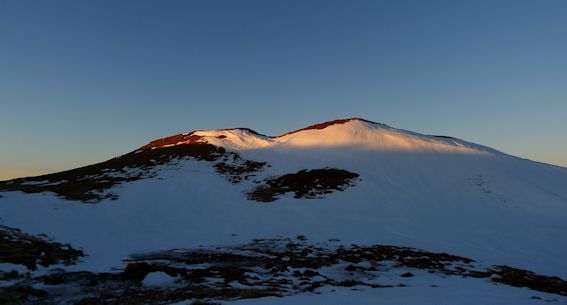 It was cold at the top, the sun took what heat there was away with it and I pulled on my shell to shut out the growing wind. I was torn between waiting here for darkness and descending north which I'd never done before and having enough light to enjoy the views. It turned out I got both, the slope down kept the horizon in view and darkness followed close behind me, but never close enough to steal the wonderful views of the sheer rock the makes up the hidden face of Ben Donich.
It loved every step downhill on the frozen grass and even at the treeline my spikes were still needed. Mud and dead wood wre suddenly no obstacle. The living branches were another matter though, in complete darkness this would have been a nightmare, but the sky was clear and pale blue with enough luminescence for me to see gaps ahead and I was soon on the forest road in Gleann Mor.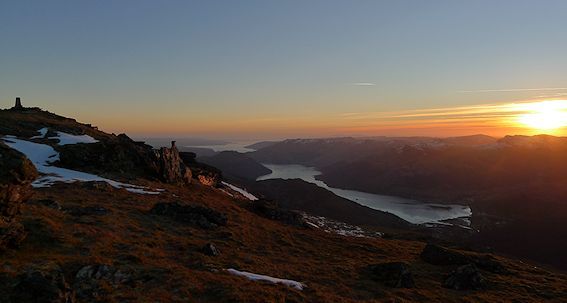 I was grinning from ear to ear. Back at the hearse in the darkness I took a call about a pressure switch we were fitting as I tried to pull on my hoody and take off boots with crampons still attached. I didn't care, it all made me quite happy.
I heated the motor up and headed back with Rickey still shrieking at me from 30 years ago. I passed the sign for the Clan Macfarlane Heritage Centre at Tarbet for the second time that day, what plans they have too, there'll be more of that on here no doubt.
I got close to home and I had an irrational craving for pakora. It happens a lot, it's soul food. I felt like a neanderthal returning to the cave with a sabretooth tiger over my shoulder when I ambled (I originally typed burst there, but not even I believed that) through the door with a big bag of various types.
I was home, I was warm and slept like a bloody log.