The ink was still wet when it came through the letterbox this morning, just out is Harvey's new British Mountain Map for Torridon and Fisherfield.
It was a joy unfolding this and scanning the contours that I'd been shinning up and down a few weeks ago, Harvey's British Mountain Maps really are where it's at.
The 1:40,000 map scale is brilliant for tight navigation and for long route planning, the terrain presentation is both understandable and easy on the eye and the accuracy is outstanding, my favourite is always that the banks of the lochs are the right shapes, no rounded off generalisations here.
I've been living with the Southern Highlands British Mountain Map for a while now, hills I know very well so I'm always ready to argue with anything printed about the area, and it's simply the best map of the area I've used so it's great to see the format keep spreading to other areas. The waterproof polythene construction, the flip side with geology, local phone numbers, climbing routes and extra close-up single-mountain maps, it's all good stuff.
A lot of work goes into these maps and it shows, but the bottom line is that it's a quality tool for the outdoors that is the right size for everybody, not much outdoor kit you say that about is there.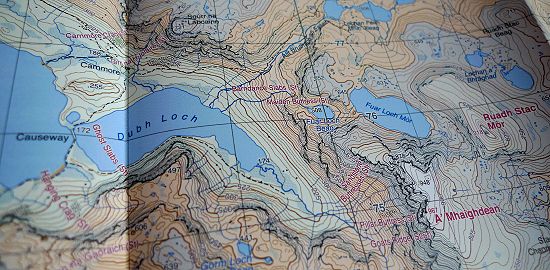 I took the cover shot (on the timer of course) for the new map on the northeast ridge of A'Mhaighdean, a wee bit below the 948m top you can see on the map above. The weather was on the change just then, broken cloud was swinging in and the hillsides were all light and shade camouflage. The walk back out to Poolewe wasn't even my radar at that point.