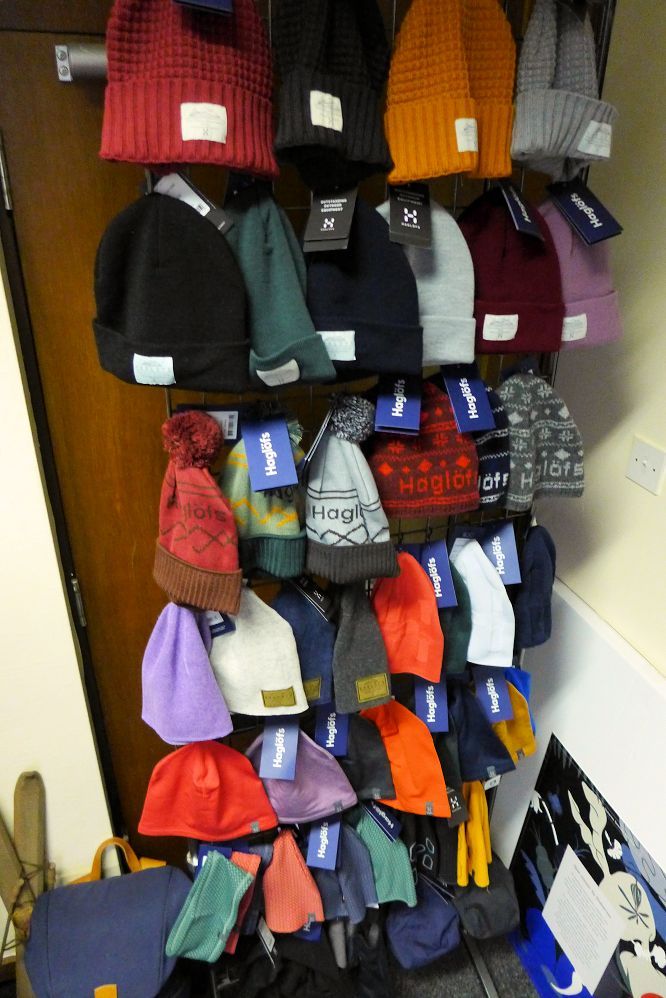 I'm quoting this important information from part #1
Now, the lighting in the new shed is horrible, so we have bunch of out of focus and oddly coloured photies coming up. 
My co-stars Gus and MT have never looked quite so strange.
Even when I had proper hair I loved hats. In good weather, a cap is likely, in the cold I put a beanie on as soon as I get out from under the duvet. Above looks like the accessory dumping area at my front door.
We have an interesting selection here in a bunch of different and blended materials and styles from "brilliant for the hills" to "look at my logo".
Some come in different sizes, some are one size fits all. Amazingly my planet sized head fits in those just fine. It's a miracle, it's miracle.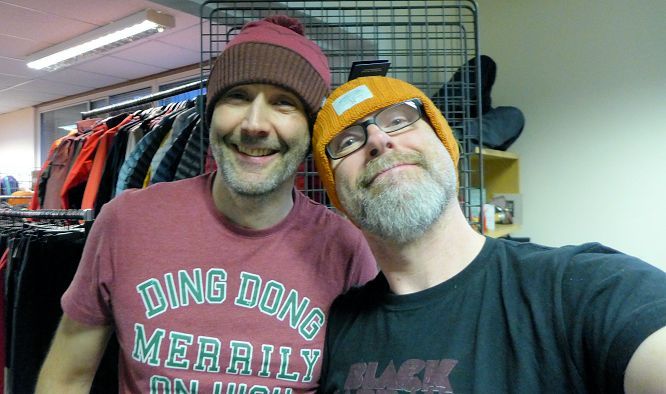 Above MT has the Stipe Beanie in 50/50 merino/acrylic and I've got the Lava in the same mix. Chunky, yes please.
Below are Whooly Beanies in a polyester, nylon and recycled wool* blend. Now, I picked that because of the colour but now I read the workbook and see the materials this might actually be a cracker for the hills because of that mix. Close fit too, good for under a shell hood.
They have a Lowe Alpine Mountain Cap, ear flaps, brim, waterproof and fleece lined but the photies of it were too bad even for here. I'm sorry for this, because it's a good take on the classic format. I'll go to the kitchen for a while, put the kettle on and think about what I've done.
*I'm back with a coffee and have moved on from the cap remorse, what I'm wondering about now is the recycled wool. Where does it come from? Is is the tufts recovered from fences that we all know so well? Old jumpers from charity shops? WW2 army blankets? I should have asked, I'll be up all night worrying about it.
Which is a proper point isn't it, we're so used to seeing "recycled" now, we really should be asking from what and where from.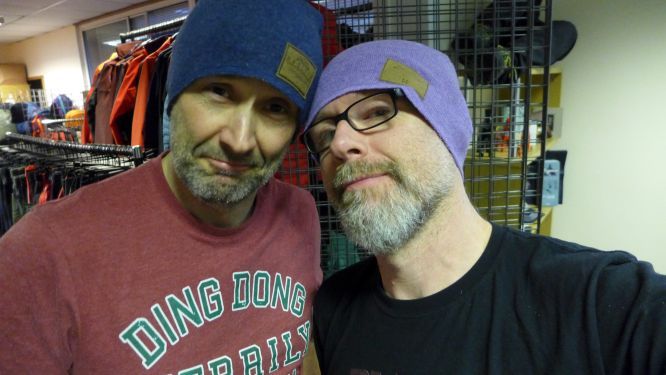 For a while it looked like Haglöfs couldn't be arsed with gloves which was frustrating because they had made some of the best gloves I've ever used.
The Helix winter gloves, insulated and mostly leather and the genius Paclite mitts are two of my favourites which are still in use, had them both out this week.
These new models are all out around September this year and there's a chance I'll get the names wrong as it's a bunch of black gloves and the tiny workbook pictures aren't helping at all.
Above and below are the Nengal Gloves. Leather, Gore-Tex, stretch nylon, QuadFusion insulation, velcro wrist, microfleece liner, it's the replacement the  grym glove, but it kinda feels like a new Helix to me.
The fit and feel are excellent, the materials should make them durable and the dexterity was good with the precurving and outseam construction. Love them.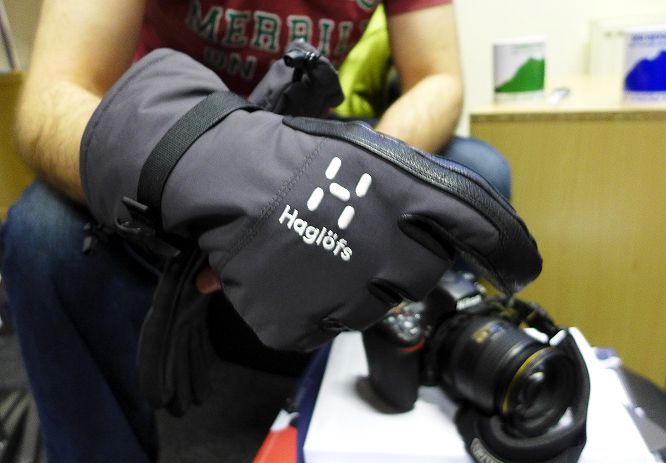 Niva Glove and Mitten above and below. Ski they say, mountain I say, the reinforcing works for axes and poles whatever your feet are attached to.
Leather, nylon faced Proof waterproof shell, microfleece lining, wrist adjusters and long cuffs.
Great fit, good dexterity, room for a liner for me so a good "system" component glove.
That's the Touring Glove below. FlexAble soft shell, leather palm, microfleece backer.
Same excellent fit and dexterity and lightweight. It's a go-to general use glove, much improved of the last version of this format they had.
Can't remember the name, but the internal seams were huge and the fit helped suck the heat out of my fingers. It looks like the downtime away from making gloves was spent with their thinking caps on.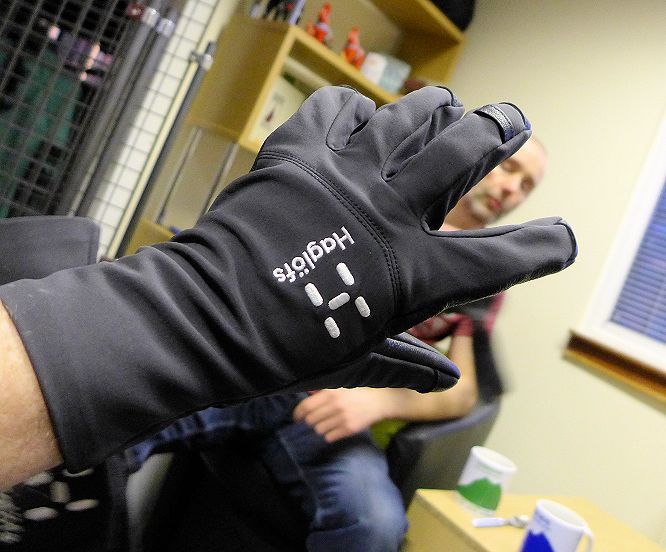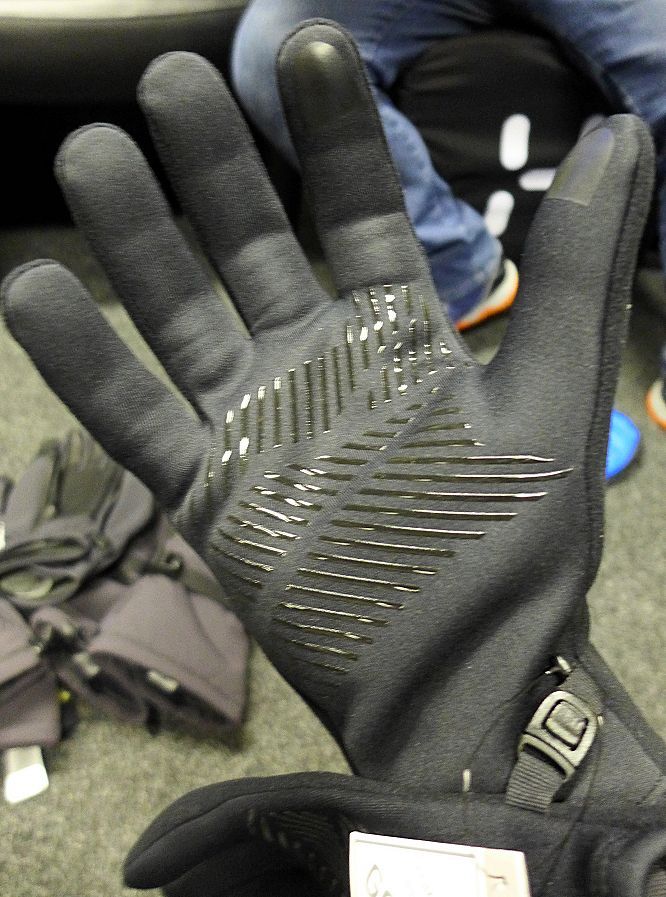 Oh. My. God.
This is the Bow Glove in Gore-Tex Infinium. Close fitting, soft, completely dexterous, warm, windproof and I want them.
I've always loved Powerstretch gloves and the Bow's take all the reasons for that and extend them a little bit.
Haglöfs have got a lot right here in the glove range, the fit and features are excellent, but the colourways have the range looking all very similar unless you're comparing A to B in your hands, I'd be worried that some the the magic here will slip past the shoppers eye in the ocean of black gloves already out there.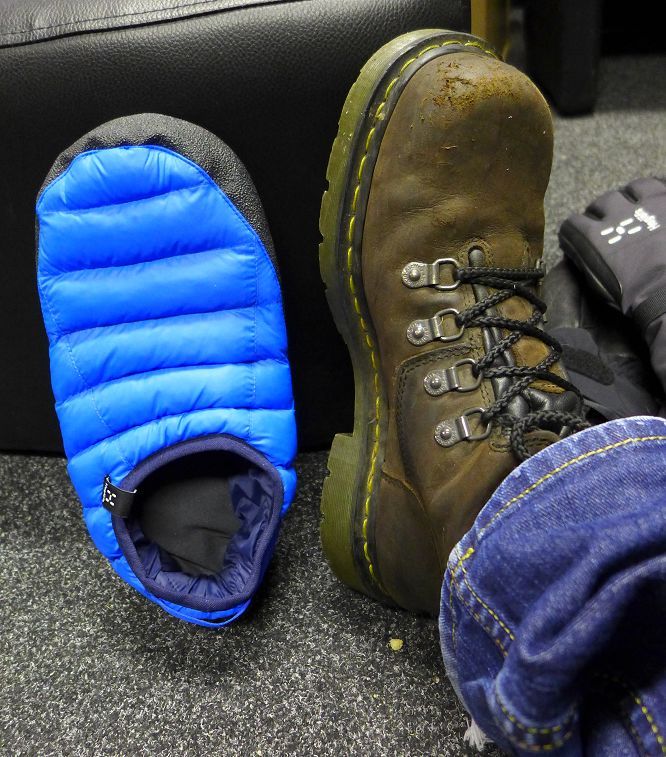 Essen's Leftover Mimic Moccasins and Mittens.
I carry insulated feet and hands to every camp and can recommend that stuff to anyone. The story here is a good one, the fill is synthetic QuadFusion and the shell is Pertex Quantum off cuts left over from making other stuff.
Practical lightweight kit (65g for a pair of mitts) keeping material out of the bins.
Yes please.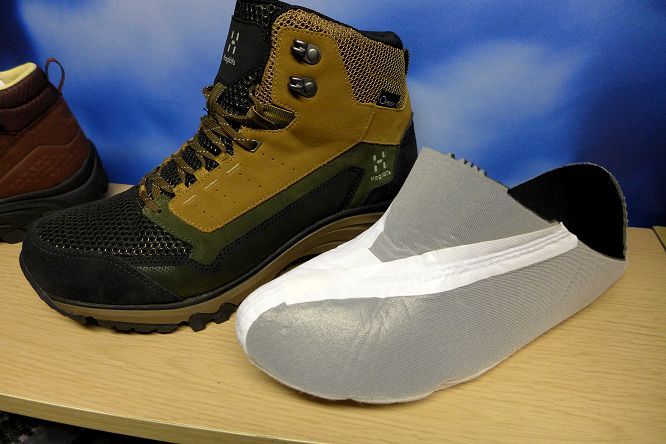 The footwear has changed a lot since I last saw it. The Skuta Mid and Low here have a Proof waterproof inner, that's the white thing above from the shoe version.
Interesting, I wonder how the durability is compared to a Gore liner, it's tested to the same standards and used to the same construction standards, just need to rub some of the killer grit/heather fibre mix into it and flex that toe on the trails.
The Mid has mesh where it'll help breathability with suede elsewhere and synthetic randing on both. It's all a bit old school looking, I like that.
Nice flex to both, good looking sole units too.
Proof liner and suede again on the Kummel's above. It's a jeans compatible outdoor shoe, something which I have grown an appreciation of in recent times.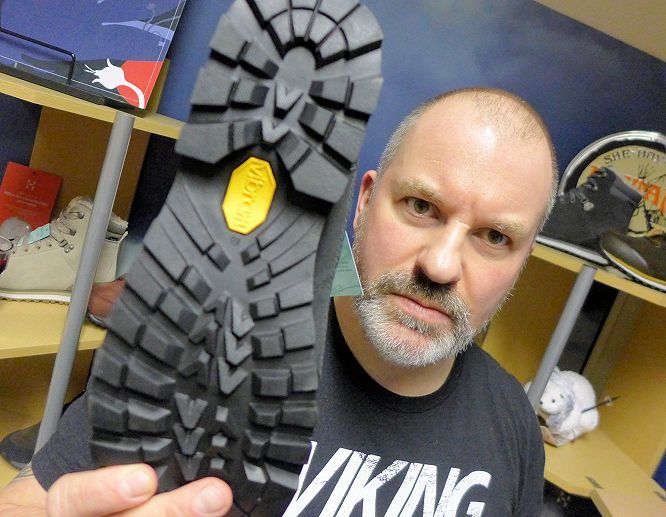 At the other end of the spectrum we have the Vertigo. The first thing I was expecting was a stupid flat scrambling outsole, but no, it's got a grippy Vibram unit on there which makes it a proper usable trail shoe.
Nice looking upper, lacing to the toe, flexy suede and a stiffish sole. I wish they didn't make samples in a UK 8 or I'd have tried this one on.
Proof waterproof liner, 510g for pair of UK8's.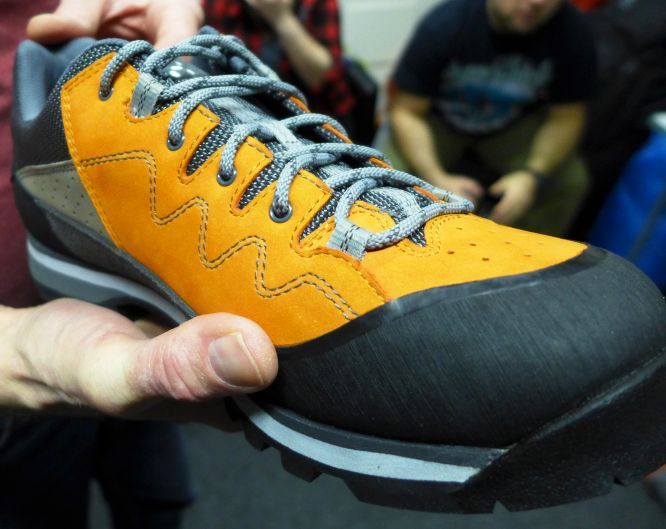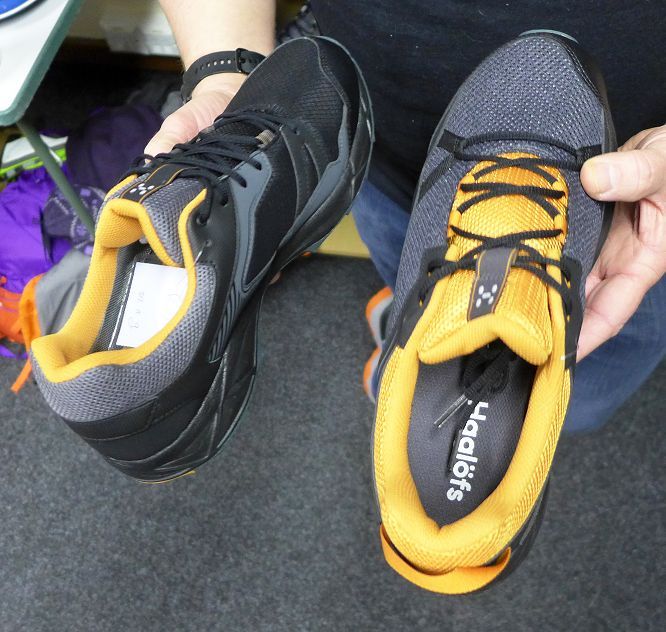 Above are the Trail Fuse variants, GTX version on the left. 325g for a pair of UK8's for that one and 290g for the unlined version.
They feel good, flexy, good shape, nice big areas of mesh on the unlined one.
That's the Gram Trail below, narrower more racy version.
The Grevbo Proof Eco. Suede, Proof liner, fur, fur, fur, synthetic fur!!!!
It's got a wool footbed too. Sigh.
Haglöfs first ever product was a rucksack and it's something that gets a little overlooked now in favour of the clothing I think which is a bit of a shame as there's individuality and some clever thinking in there.
I've used a lot of Haglöfs packs over the years, the fit and comfort has always been good which is the deal maker or breaker, beyond that there's the practical and the quirky, sometime both on the same pack.
The Roc Summit 40 is above, a beefy mountaineering pack and the the Spiri 20 daypack below, a whole kilo lighter at 575g.
I like the Spiri's layout, good options for storage and attaching gear with webbing and hidden loops. Nice big hip fin pockets.
Below is the Spiri 33. the format is the same as above and Haglöfs expand it across six different capacities, sizes and back lengths. The harness was done at a Uni in Sweden, so it should fit well and have beer can shaped pockets.
The sizing variations are a good idea if a store has them in a line, you can try them on with a climbing rope or a tent in it to see what one fits best.
I mean, we all still do that don't we, who the hell would buy a rucksack without trying it on first, right?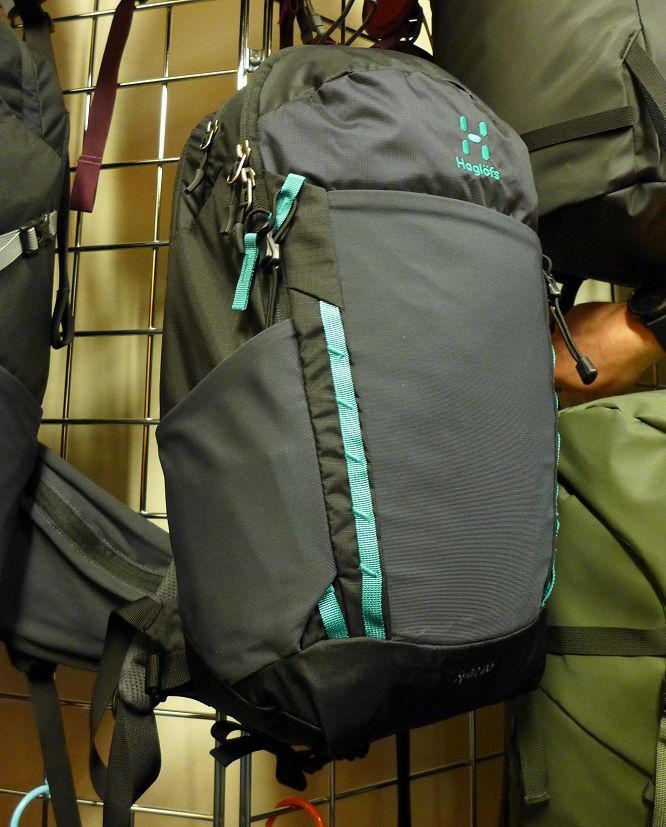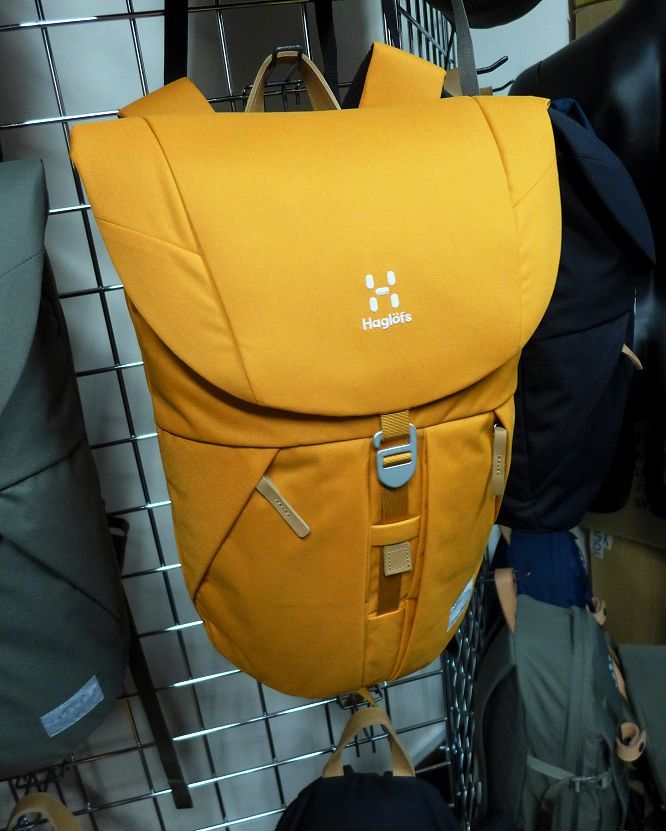 I like retro and the Torsång above brings me joy. My laptop (dare I say urban as well?) bag for the past few years has been a Haglöfs Vike 25 and this carries on that tradition with smooth lines, metal buckles and leather detailing.
The ShoSho below has some of this old schoolness, it's based on an original 70's model so it's in a more hill friendly format with regular buckles. Both packs have a beefy polyamide fabric, so the looks are just that, they'll be tough and usable.
These packs are like slices of cucumber on my eyes. The arms race of modern design tires them out, these packs soothe them.
It's like Formula 1 cars, currently hideous, complicated and efficient and everyone misses the inefficient, sleek, sexy designs of the old days.
Humans, we're an odd bunch.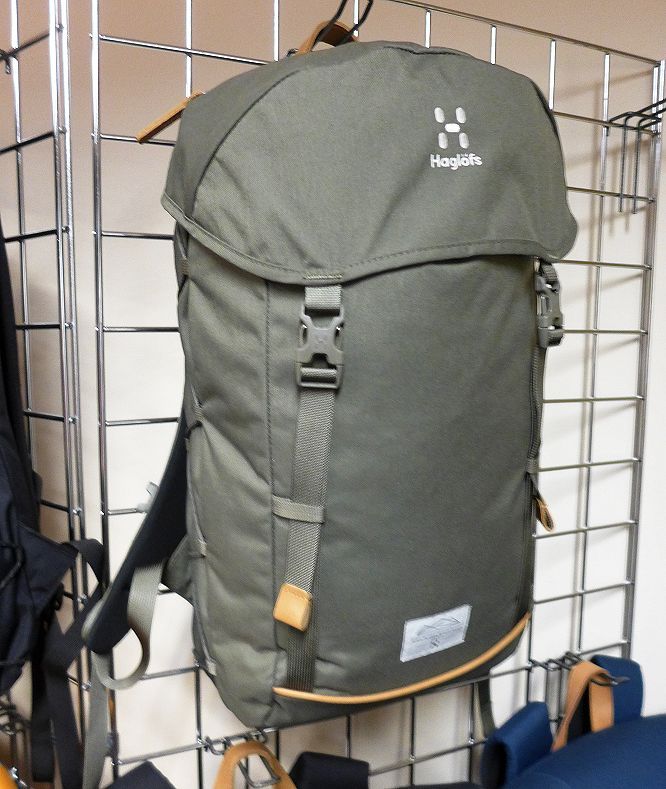 A trio of Tight packs below. Haglöfs make a bunch of them, all different sizes, specs and colours including some vintage reissues.
Unassuming and practical, and I love the logo on that first one.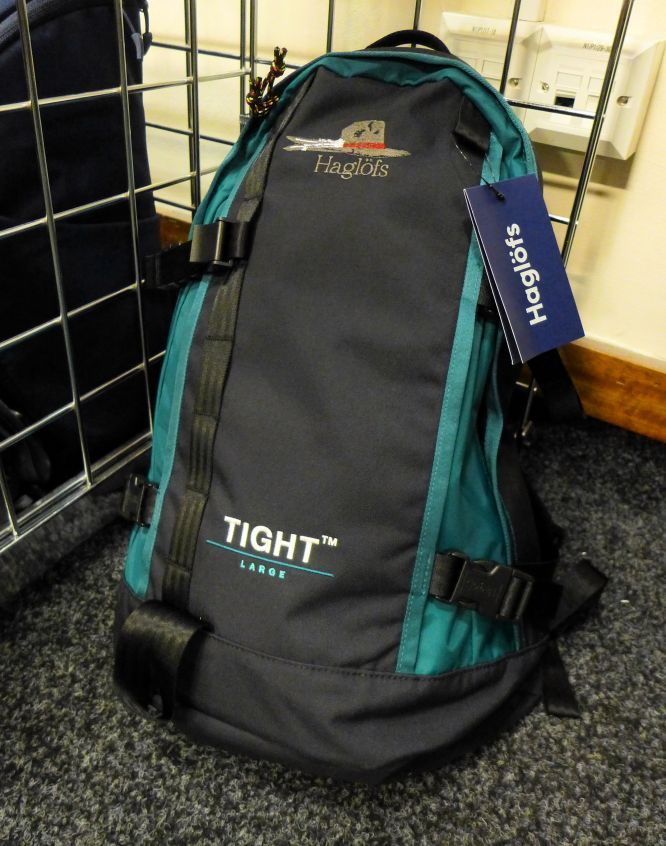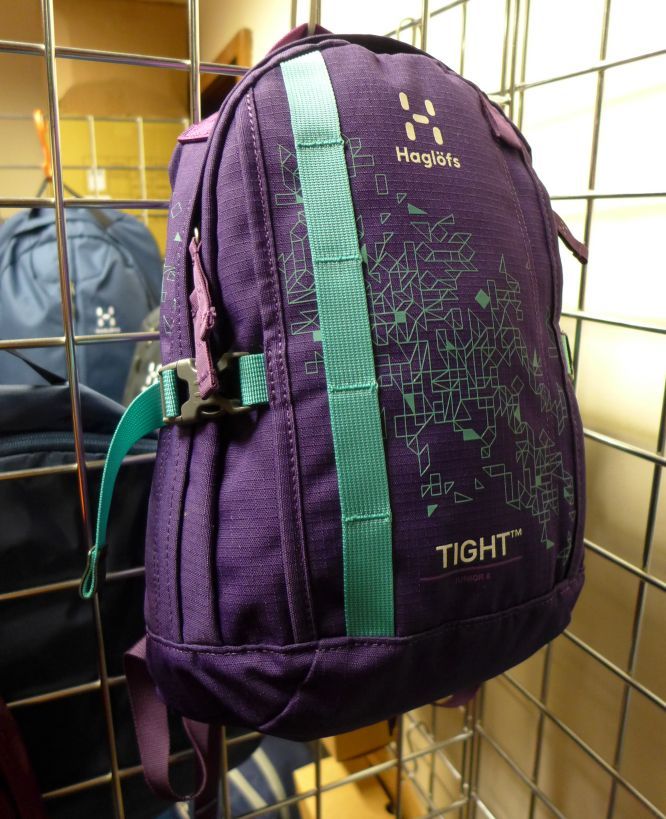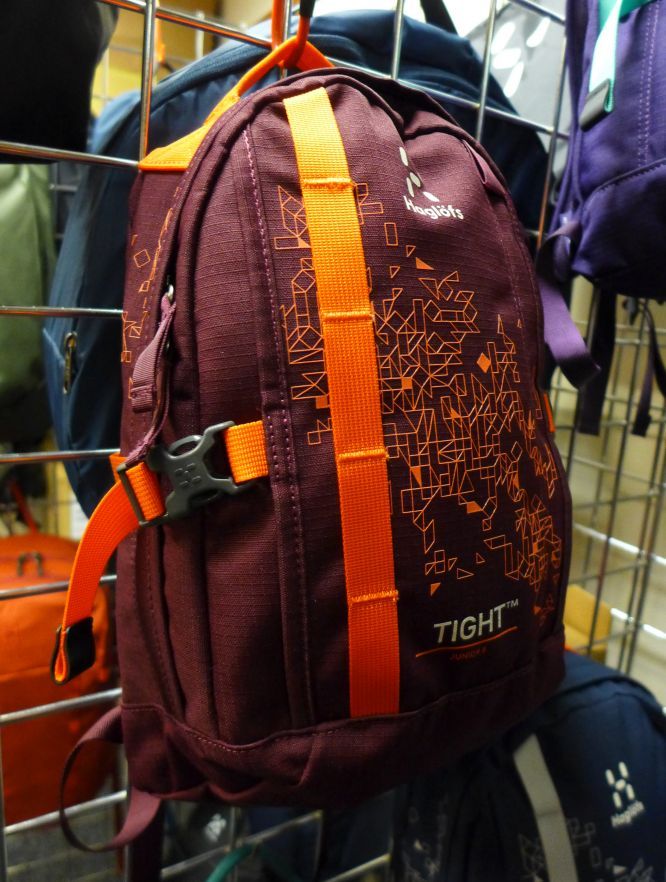 So, what did I learn? Well, I liked some of what I saw a lot and I know there's more to come because of the work being done just now. In a year's time the grins will be wide.
Maybe Haglöfs had a crisis of confidence or identity which I think they've got over, those little painted wooden horses speak to me more than a generic alpine climber hanging off a rope ever would.
The biggest thing for me though is from the text in the workbook and I touched on it a few times, the environmental aspect. So much of the small print is about the sourcing, manufacturing, recycling and the chemical impact aspects of the gear.
If big business really is taking this on and not just paying it lip service, maybe there's hope. It's the only way forward for all of us.