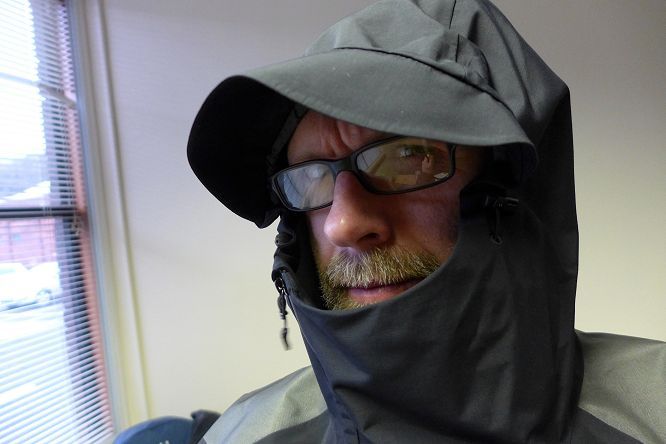 I have history with Haglöfs. Way back when I first started this place and was looking at gear, Haglöfs were the first brand to really "get it" and see how a blogger using and reviewing kit was a step away and a step forward from the bland compromise of magazine grouptests.
It started an unexpected wave of change for me and while everyone today with an online presence is reviewing something or other, eleven years ago it was innovative, even a gamble for a brand to trust a random like me with kit.
I was already a Haglöfs user (blame the much missed West Coast in Ft Bill for that, after Karrimor shat the bed at the start on the new century, Haglöfs appeared in its place), I fitted the sample size large perfectly (amazingly, still do, aged 50…) and I was in the hills constantly so it was an easy thing to do, plus the gear was usually good and caused me little trouble.
Over the years I started to drown in kit and eventually sold out and became a gear editor for a while. I drifted off from regular looks at the Haglöfs range and from a distance they seemed to be becoming a little generic, the stand out individuality that had caught my eye was becoming average alpine.

However, these are times of change for everyone, not least Haglöfs. Renewed focus, embracing their heritage and Swedish roots, making environment and sustainability a priority and unashamedly making gear for outdoor folk, not just alpinists?
This is what I was told, and this is what I went to see. I've had a smattering of current kit on test the past few months, but I haven't seen the future.
Now, the lighting in the new shed is horrible, so we have bunch of out of focus and oddly coloured photies coming up. 
My co-stars Gus and MT have never looked quite so strange.
Remember, it all comes in wummins versions. I think.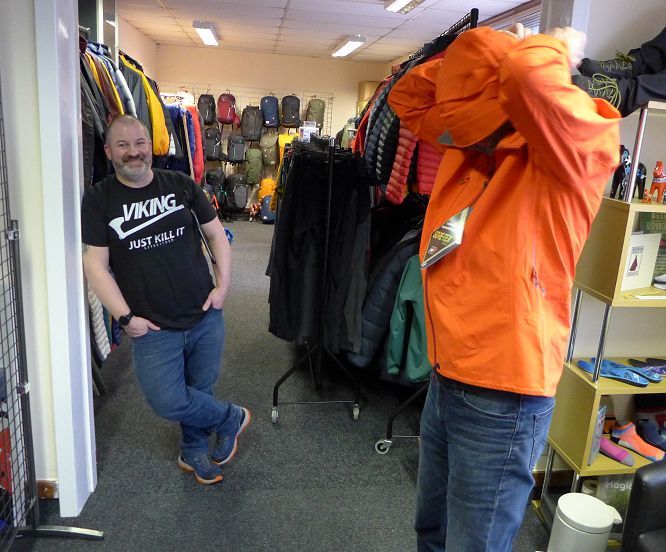 Had Haglöfs ruined the hoods with a redesign was my first worry, but it was okay, me and MT made sure of it.
This is the Roc Spire, a bad weather and winter all-rounder Gore shell at 500g for a large. Decent body length, big chest pockets, excellent hood with a RECCO reflector laminated into it. This is common across the range now, no added weight or bulk but a life saving chance built in. Go Haglöfs.
There's a nice 80's/90's feel to the look of these, the retro blocks of colours. The yellow is gorgeous as well, again very 90's. Love it.
I like this weight of jacket if I know I'm going to be wearing it in winter. I feel the cold a little more than I did and adapting to that is worth an extra few grams.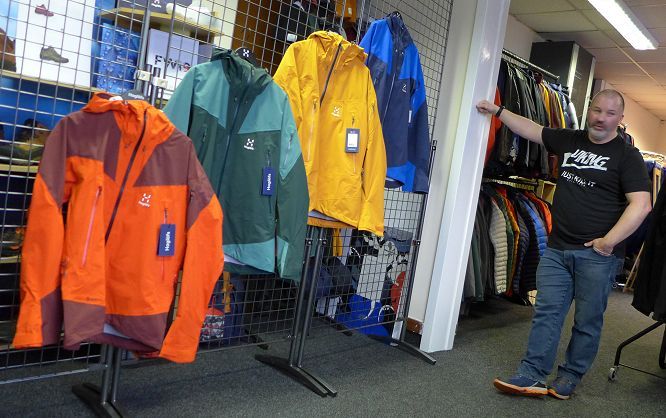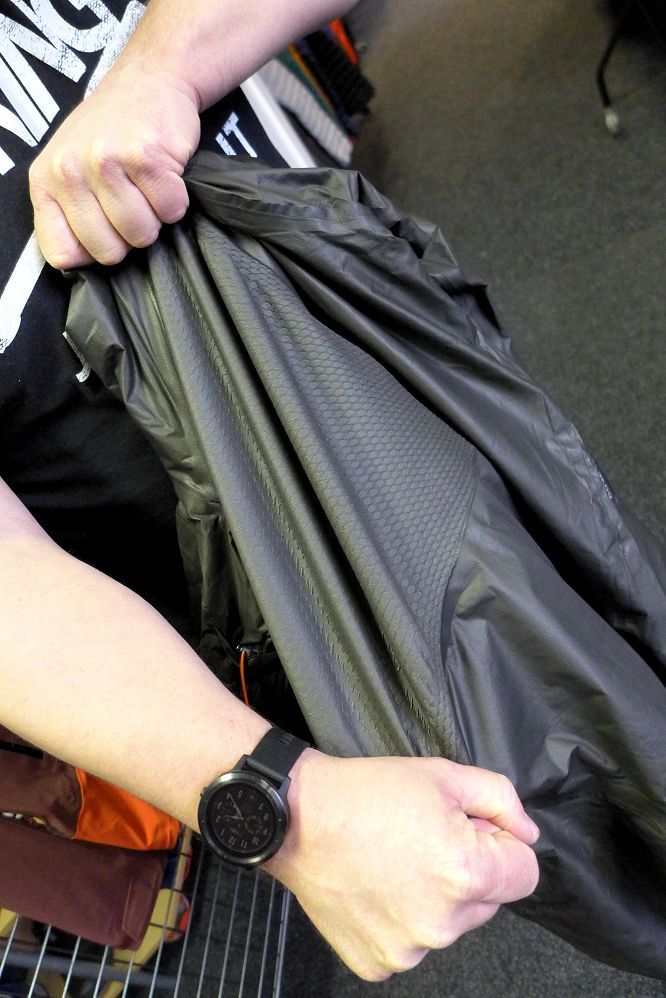 Is this the future? Gore-Tex Shakedry is a light, water resistant two layer fabric with a waffle inner cut into this 400g L.I.M winter jacket. Here it's got a Gore Topo insert in the back (above) which is super stretchy for free movement.
Looks a bit odd, but it's incredibly comfy on. Designed for snow sports, it just looks like a winter go-to for mountain folk.
Reports of the breathability are exciting and development is ongoing, including dying the outer so you don't look like Action Man Frogman. Which actually, is fine for me if I think about it.
All the proper features, pockets, adjustable hood and cuffs.
No Gore and I don't mean it's a PG, this the L.I.M Touring jacket cut from Haglöfs' own Proof fabric which they've been improving since my last look and it's used on 12% of the 2019/20 clothing range.
It's Bluesigned, has recycled content on the Eco version and I get the feeling it's giving them options to create and experiment with kit and probably going Gore a wee nudge to keep pushing.
The L.I.M has a good layout, nice pockets, big side vents, where they actually work and an excellent hood. That 90's yellow again too. 550g.
Be still my beating heart.
These are the Edge Evo Parkas, made in recycled nylon Proof fabric. The colourful one is the Kurbits version which incorporates traditional folk art from Dalarna where Haglöfs originated.
It's a brave move doing this and I love it, the racks of miserable conservative black shells need this in the middle, mocking their limited vision and timid outlook.
I suppose they're beefyish for a pull-on at 675g and the hood is a little pre-war antarctic expedition, but it all fits together beautifully so for general use and gadding about in comfort in winter, sign me up.
There's a 3D pouch front pocket that made me smile. Complicated and difficult to make, probably unnecessary and most folk won't pick up on the detail of it, but it's there because it's just nice, because someone designed it that way and thought it was cool.
I love the concept and I love the execution, and the very offset zip is excellent, put that on a mountain jacket.
In two different Proof Eco fabrics these are the Grym Evo (yellow and RAF blue at the left) and Eco Proof (the other two).
The Grym is in tougher recycled nylon as suggested by the name and the Eco has recycled polyester.
Easy to dismiss this stuff as dog walker jackets but the shells I probably wear most are long patch-pocket jackets, they keep my arse dry and out of the wind when I'm walking the fence line in the Lang Craigs or gadding about around the hills rather than on them.
They're lighter than they look at 580g with all the usual adjustments, proper hoods and pockets and a surprisingly trim and articulate fit. 
I like this stuff. I am not ashamed.
Aye, there was a fight for the Kurbits.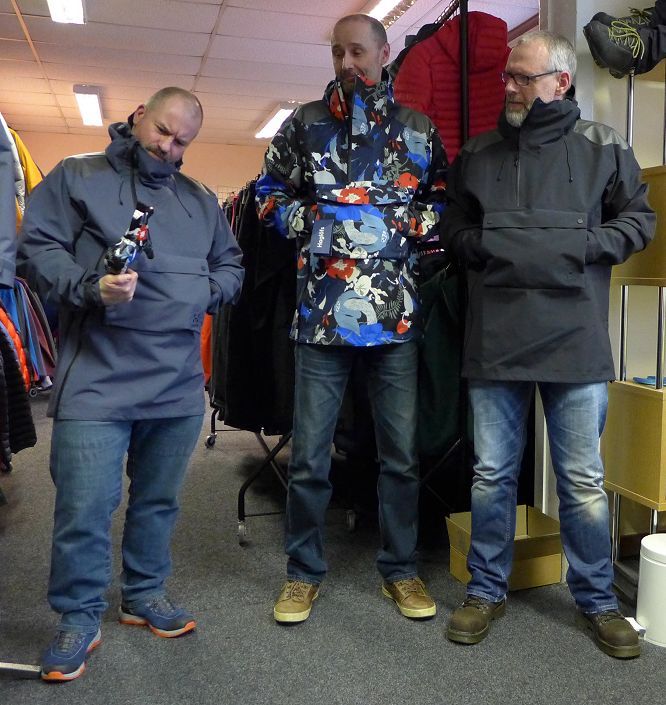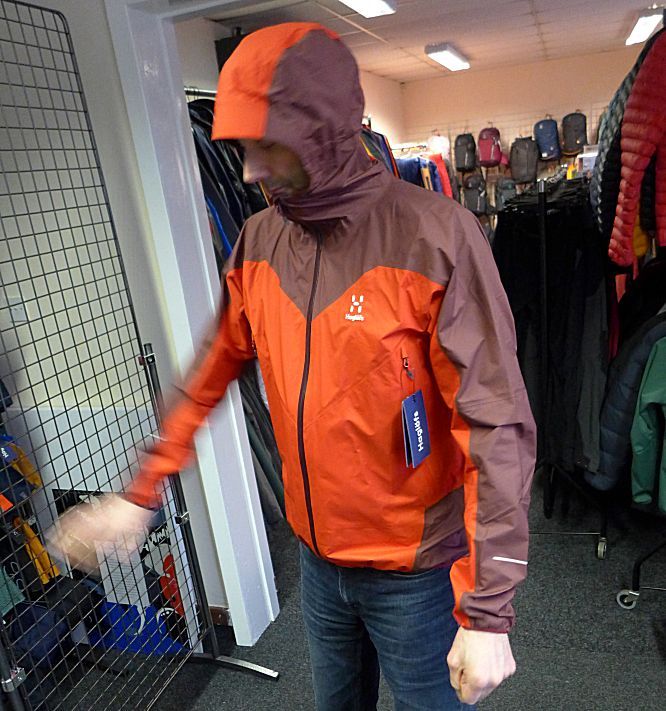 L.I.M means lighter and here's the 265g Comp above on GoreTex Active shell and the Proof Multi below at 290g.
Both light, well articulated, two pockets, decent and slightly oddball hood but different fabrics. Pick a side? I've had one of these on test for months, more on that in a bit.
The design though while well weighted and small enough to pack, carry and forget can also be used to stare into a blizzard. I wish I could say the the same for my glasses.
Above and modeled by the lovely MT below is the Proteus jacket. A light nylon shell with a QuadFusion polyester lining, think Polartec Alpha or maybe even Rab VapourRise or Marmot DriClime.
It's dead simple, very light at 270g and I've been using one for months. Not giving it away yet, I need some more snow to the west, just to be sure you know?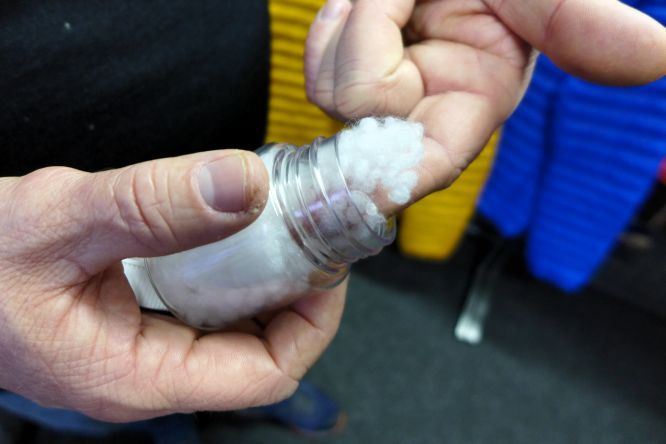 Haglöfs have this QuadFusion fluffiness in the Essens Mimics seen below. It's an attempt at synthetic down and it compresses well, with some good instant feedback from the insulation when you pull it on.
The shells are Pertex Quantum, made from 100% recycled polyamide.
The cut of the jackets is much improved from the the early samples I tried. packable, good articulation, brilliant hoods on some.
Good weights at 440g for the jackets and 485g for the hoody.
Nice colour palette too, and that black and white one looks like a baseball jersey, love it.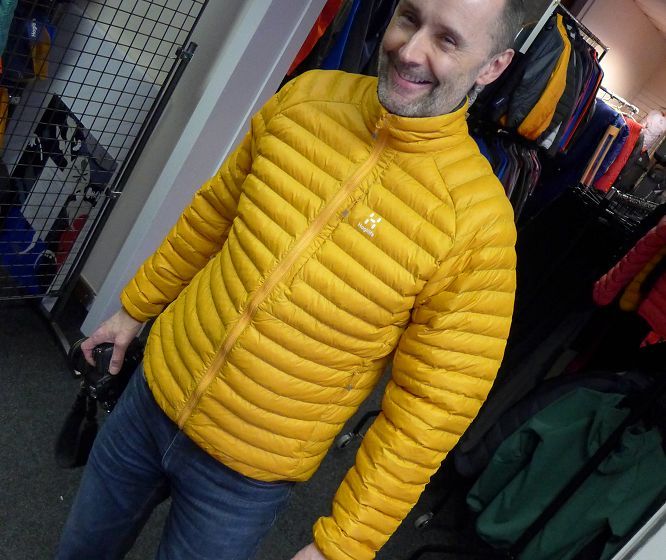 The Mojo Down Hood above is a beast, so much fill it stands up by itself. 390g of 800 fill, box wall, excellent hood, 815g, Pertex Quantum shell in two different weights (both recycled nylon), big pockets inside and oot.
It's a roaster.
Below is the L.I.M Essens. 70g of 800 fill, nylon ripstop shell, handwarmer pockets, packs to nothing at 165g. Oof.
L.I.M Barrier Shorts, along with the skirt insulation for racers at rest or folks still on the move? I'm a big fan of insulated pants so I can see the appeal for folk fitter than me. 140g.
The Barrier Neo Hoods are below. I still have a Barrier Hood from years back, 2008 maybe and I love the simple design which looks largely unchanged, just tweaked and lightened, which I like. Too many changes are due to seasonal selling demands and trying to look sexy again rather than actual necessity or natural evolution. 405g.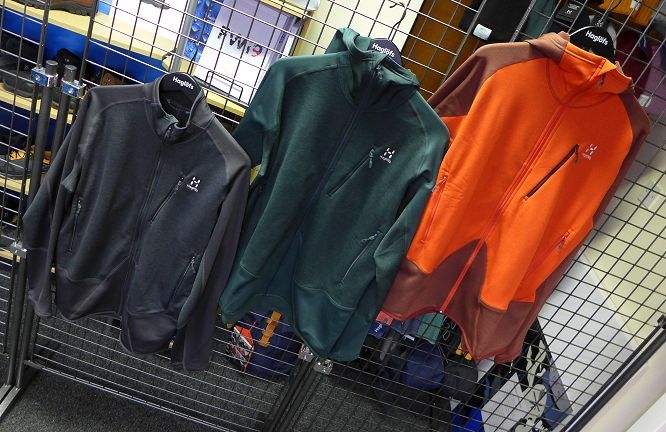 Ha, you can't kill me you bastards, I live, I live! Said fleece when questioned.
The Spire Mid Hood is an awesome feeling hoody in Pontetorto stretch fleece. Handwarmer pockets, chest pocket, thumbloops and a fitted hood that's brilliant under a shell hood, apart from the one that doesn't have a hood of course.
Practical, undemanding, long lasting, easy care, cheapish, fleece is till good and I still wear it.
The Heron top MT's got on is the kind of thing I wear every day, folk just want fancy stuff so they can look like a TV presenter and complain on the internet about how much it costs and how their lightweight specialist sports equipment wore out of after months of daily use on their commute to work.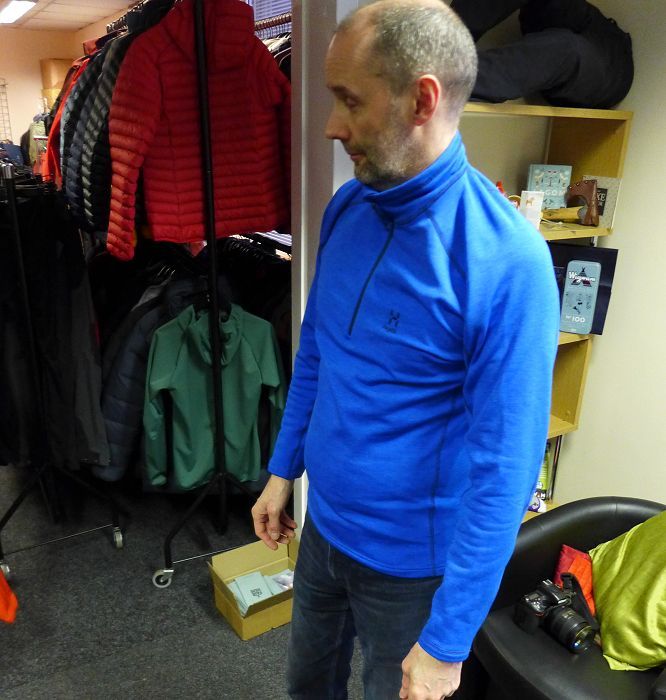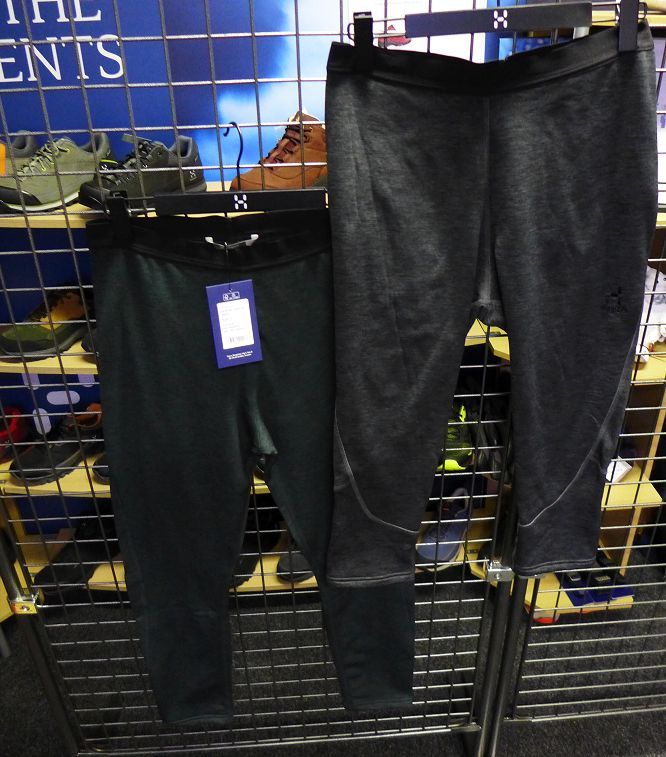 Heron Tights and Knee Tights. I used to wear 3/4's all the time. They were perfect with gaiters and long socks, you could regulate your temperature really well and there were no wet trouser ends in the tent.
Softshell pants killed all this stuff, not all simple and old ideas are bad. Liked the Pontetorto fabric here, a nice texture and look to it.
Bungy Polartec Powerstretch Hoods below I think?* Whatever, the one I've got on shows the way Haglöfs do the hoods on these tops, great design.
Also, loved the angled chest pocket, very old school Karrimor Alpiniste fleece. Stuff doesn't fall out when the zip's open, old ideas…
*Gus: "Naw ya fanny, that's the Nengal** hood with recycled polyester inner and recycled ghost net*** nylon outer".
**A more death metal product name there is not.
***I think he made this up, too sci-fi to be legit.
Two pants in the excellent FlexAble fabric,the Roc Fusions to the left and the Rando Flex's to the not left.
The Rocs are the mountain pants and the Randos are supposed to be for snowsports but I'd just choose based on fit and features as both would work fine.
You've got standard pockets or more horizontal pockets, lighter weight or bigger leg vents.
Big waist bands, kick patches, lower leg zips, internal gaiters.
Haglöfs have always done excellent mountain pants.
The familiar has been updated, a while ago, but I'm just catching up.
On the right are the latest Rugged Mountain Pants and it looks to me like they've taken the ones I know so well and incorporated some tweaks from the Nansen pants of the old days. They're a better cut now too, it's a good update.
The grey ones are the Rugged Flex Pants, a bit lighter and closer cut, more mountain sports that the Mountain Man (and Woman) vibe that the original Rugged have going.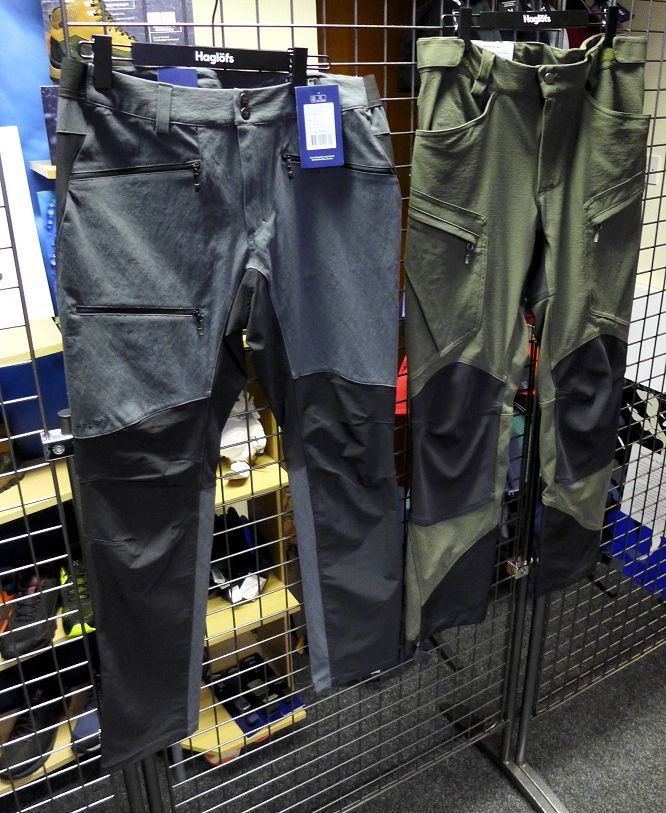 Well. There are bigger changes ahead and we'll see that later in the year. I see more of the old Haglöfs here than I have in a while I think.
I've had kit on test for a while and I'll get to that shortly.
Also, part two coming up shortly.
That's a lot of whiles and shortlys.