I missed out a whole season of Haglöfs this year. Pity, there was some great stuff in it and we did some rather amusing photies at the showroom with the Primaloft and Powerstretch onezies that never went into production. There is one piece of kit from that visit that had a brief appearance on here at the tail of last winter and will be well seen again this winter along with a proper review, it's the softshell I'm wearing above.  Oh the joy. (Also a free-ski Vassi suit)
Anyway, here's some Haglöfs Winter 2013, in a shop near you right now.
Above is the pocket detail on the Roc Hard shell jacket below. The inward facing zip idea is a good one, very water resistant and natural feeling to use the zipper. Complex to manufacture, they must feel it's worth it though.
Very nice jacket in Gore-Tex Pro Shell with the grid backing (see below), it's 670g and is the badass model, this is your full mountain spec jacket. Yes please.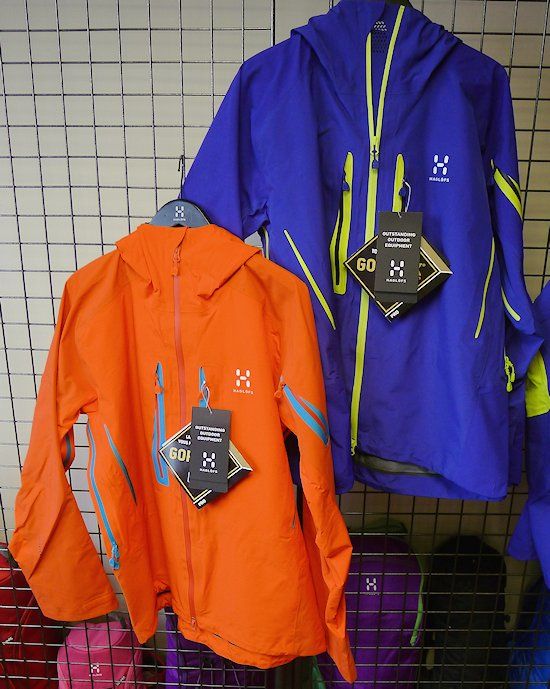 This is the Roc High, the Spitz successor. It's a better jacket, less specific so more folk can get the use of it should they want to. Killer hood, cut from the new generation of Gore-Tex pro Shell, big pockets and weighs in at 585g.
Here's the matching Roc Pant. Same beefy spec as the jackets above, pockets, fly and full length side zips. Good all-day wear. I had Karrimor Summit Pants in the same colour, ah memories.
I liked the fancy clippy thing.
The Roc Hard Bib is the matching choice for expedition or long route use. Pro Shell legs and stretchy torso, pockets and toilet access front and rear. I used to wear bibs years back when I was more mountaineering than backpacking and it's a comfy and practical option.
PS, that's a removable kneepad, not a doormat.
The Roc Ice Jacket below is a 790g duvet, Gore Tex shell, Quadfusion recycled polyester insulation, pockets inside and out and a proper big peaked hood.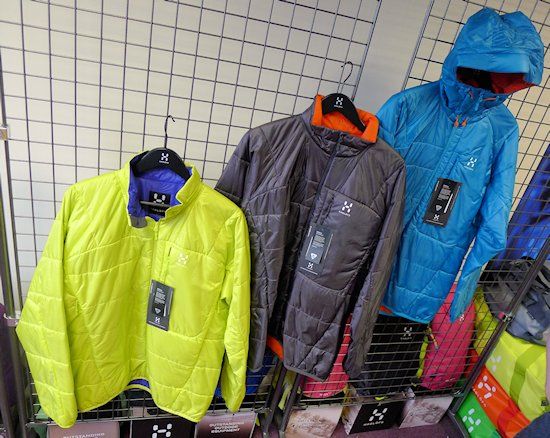 New colours and some tweaks give us the Barrier Pro II. Pertex Quantum shell, Quadfusion  fill and weights from 360g for the hoody to 325g for the jacket. Great design this, I still use the original hoody when I'm not testing something new.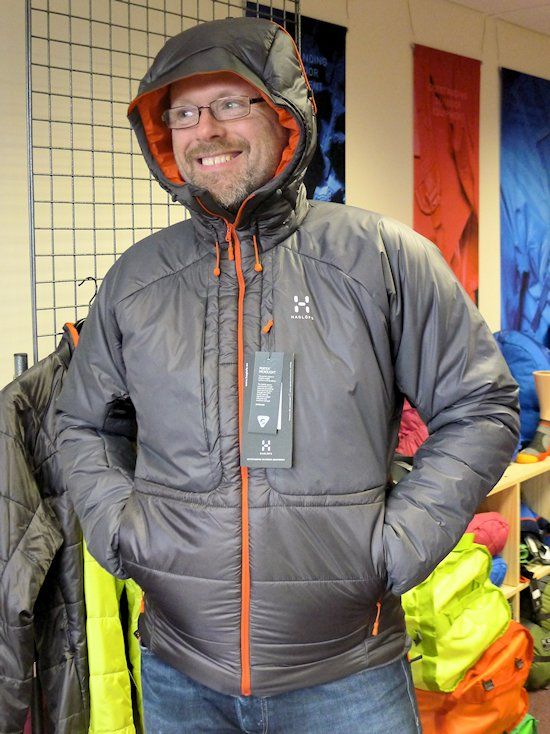 Here's a beefier Barrier Pro, the Belay. Heavier fill with more features, better hood, more pockets. the grin says it all.
No idea what the hell's happening there, but it seemed like it belonged in the list.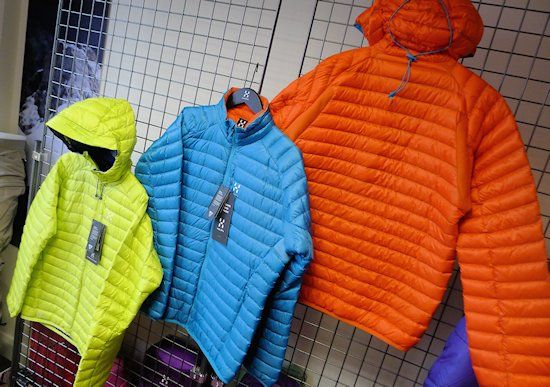 The lightweight Essens down gear above gets an update in colour and fit. I've used a first gen one of these many times, with a down vest it makes for a great flexible system. Warm and packs to F/A.
That's the Magi II full fat down gear below. Now with Pertex Quantum shell. 700g of cozyness.
Multicoloured softshells of joy. The new Skarn jacket and pant combo is above in the brilliant Flexable fabric. Looks like good all-round kit. I had a pair of Karisma fleece pants from Extreme (remember them?) in exactly the same colourway, looked awesome in the snow in the photies. Should er,such things be important.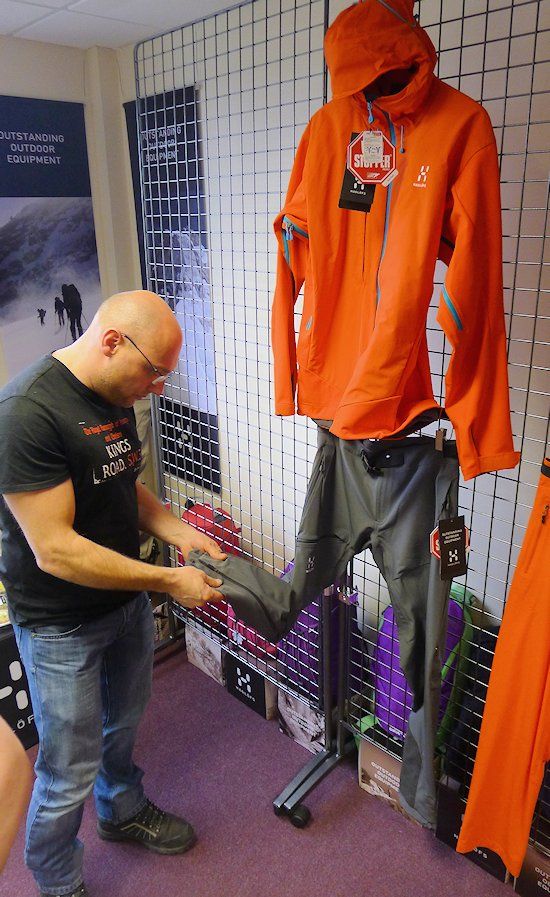 The jacket is the Roca II, a hybrid of different Windstopper fabrics and a layer of Quadfusion insulation. Winter warmth in a colour of joy.
The pants are Lizard Pants, the Lizard top and shorts are all time favourites, the fabric is just the right weight to work over a huge range of conditions. Orange. Yes.
This is Haglöfs admitting they were wrong, it's the return of the Triton Hood. It's a classic design which has been closely copied by many since, can the wacky Irn Bru special edition put the Triton back on top?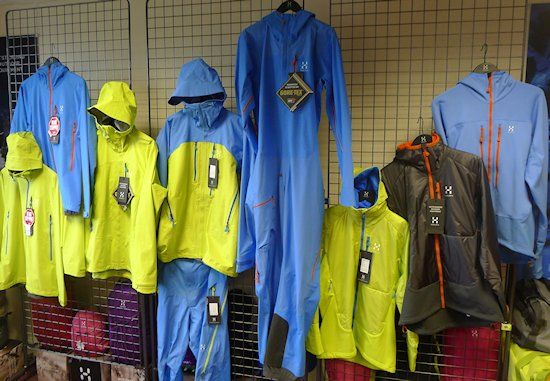 This is a bunch of Haglöfs ski gear, the Rando collection. I know nothing about such things, but the designs are intricate, the fabrics are good with Gore Active, Pertex, Quadfusion, Flexable, Windstopper and Pontetorto and Gus was delighted to demonstrate the armless option on the Rando AS jacket.
Help me, what sci-fi character does he look like in the third photie below.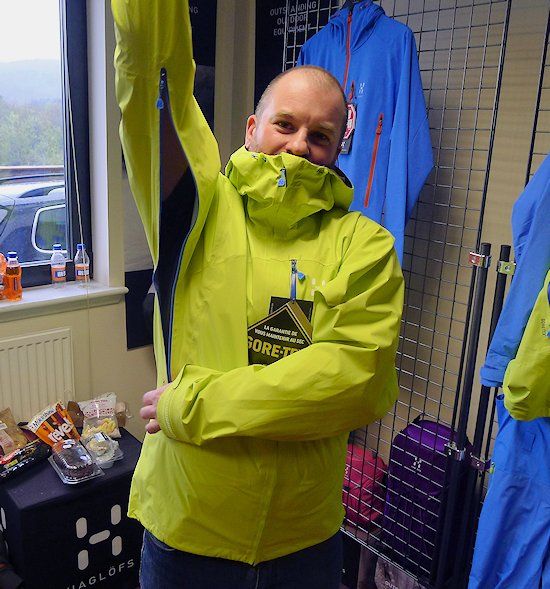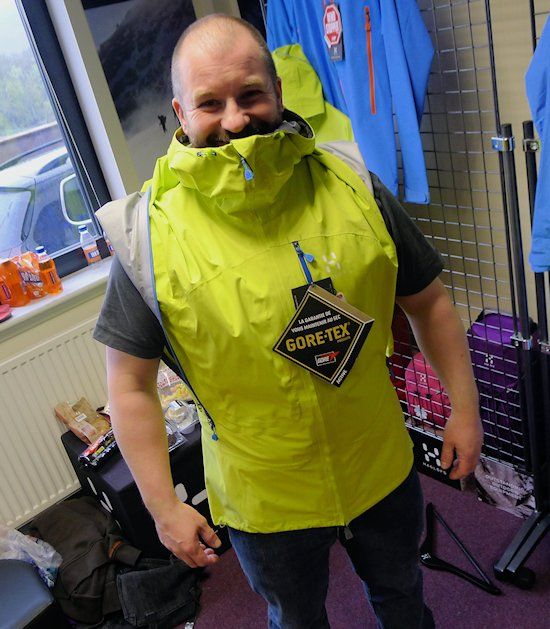 The Intense series is clean, light and cokmes in colours and fabrics to delight. We've got a selection of Gram jackets and Puls jackets above all in Gore-Tex Active. The Puls is below, showing the old school back vent, always a good call for biking, the rain can't catch you.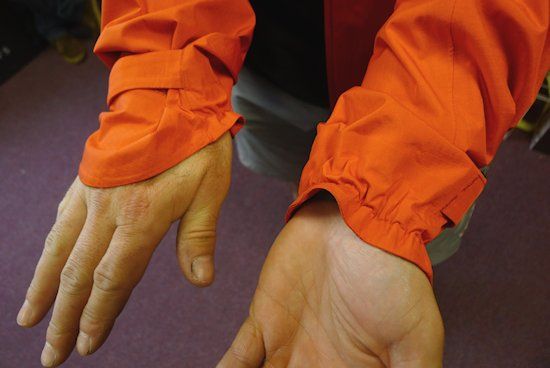 Bobinson's all enthused with the Scramble mountain biking jacket. Gore Active, clever cuffs, good length at the tail, perfect articulation. Haglöfs did get bike gear right first time.
Mountain biking shorts of justice, the Ardents.
Below is a bunch of Shield tops. There's windshirt, insulation and stretch top in there, can you tell which is which? Good, tell me and I'll edit this. Love the colours to death.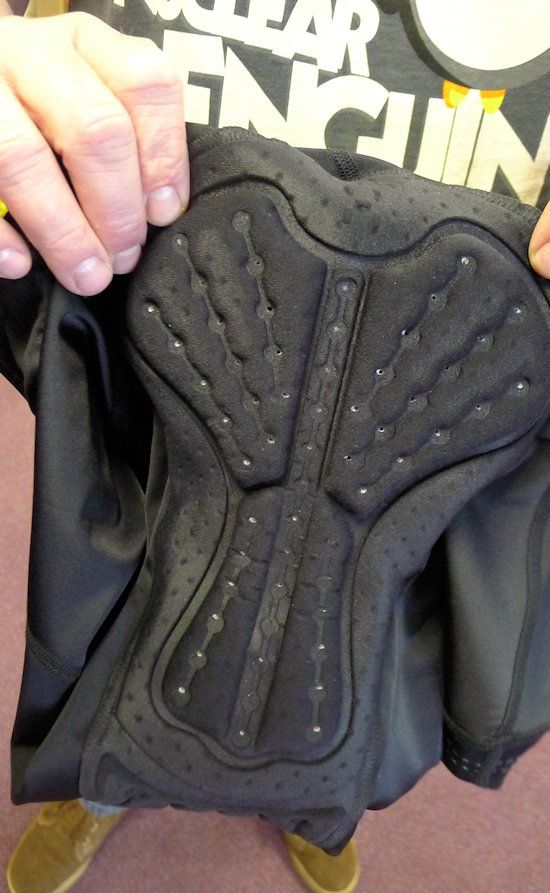 They're not doing a half arsed job on the Puls bike shorts. Dolomiti chamois and a good cut with quite long legs which is always nice.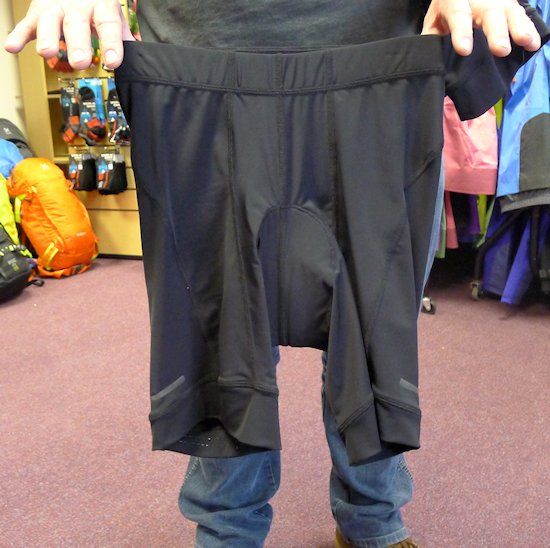 Below are the Puls Thermo Tights. Cool weather leggings with ankle zips and a big stretch pocket on the leg. Haglöfs keep trying with this kind of design, it works well and is totally practical, but never lasts more than a season or too. Hopefully this time?
Above is the new Barrier III Q Parka, Q being the female flavoured version of which almost everything here has. Quadfusion fill and Pertex shell with a mix of comfort and rucksack friendly pockets.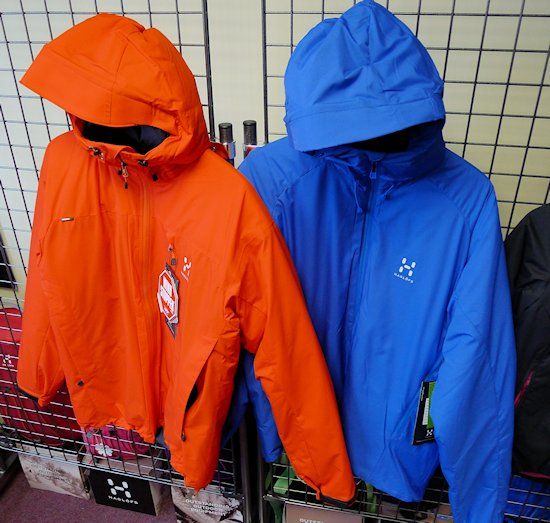 Above is the regular Barrier III and below the Barrier III Q. These have a more regular pocket layout and hoods that bring comfort and joy.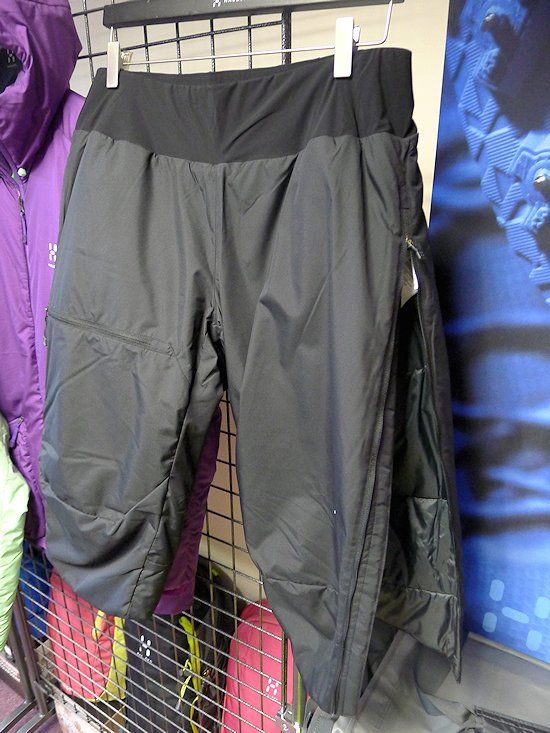 Barrier II Knee Pant and Pants. Practical and quirky madness. Insulated trousers really are brilliant kit, I carry them in winter for camp.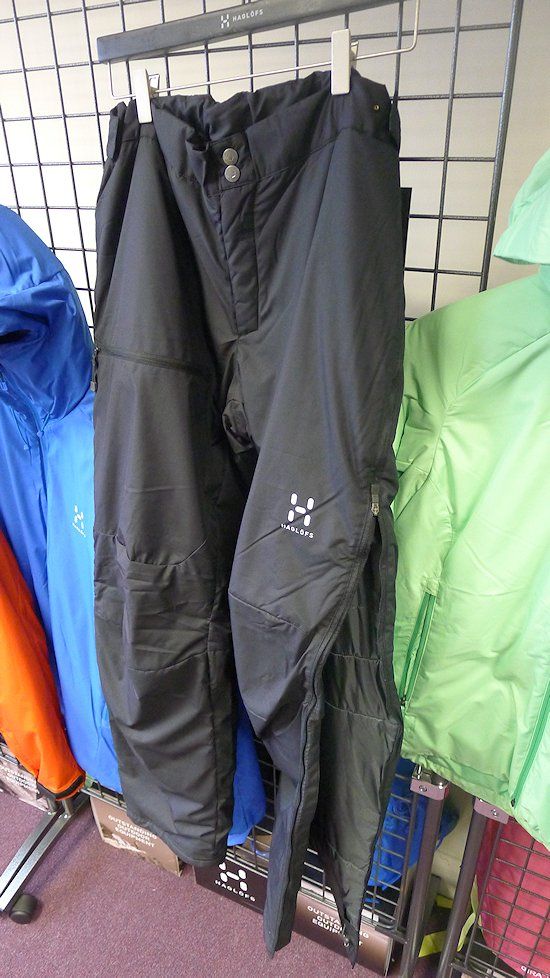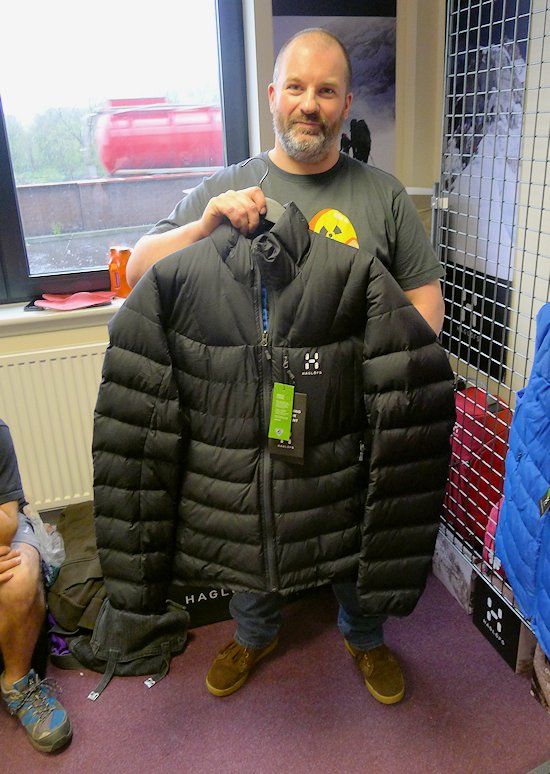 Gus looks a bit like he's in the magicians box where he's been cut in half and his feet and sticking out the end ready to be reunited with his body. The Bivvy II Down Jacket will help ease his pain no doubt.
Below we've got Bivvy Q's to your left, nice chest baffle detailing there, and his and hers Yalda's to the right. Big, warm down jackets these, the arms are like telegraph poles.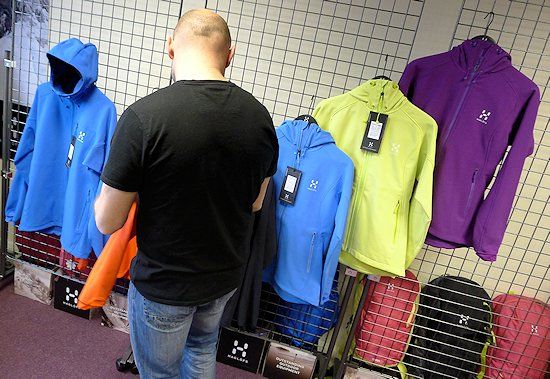 Oot the way of the orange one, ah thanks. Gecko Hoods in Flexable fabric. Long standing fabric/format combo which I can recommend this from experience.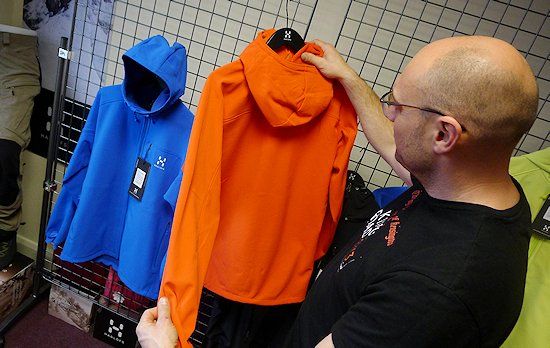 Above and a couple of photies below are the Ulta Pant, Vest, Jacket and Hood, men's and Q versions. It's in a Windstopper membrane fabric which has surprised me, the fabric is light and soft and it makes a good choice for cool hills days.
More on this later.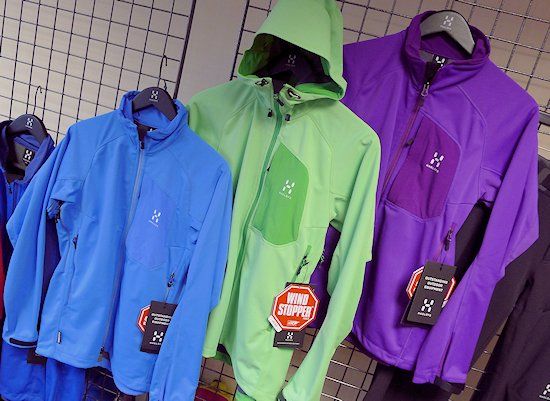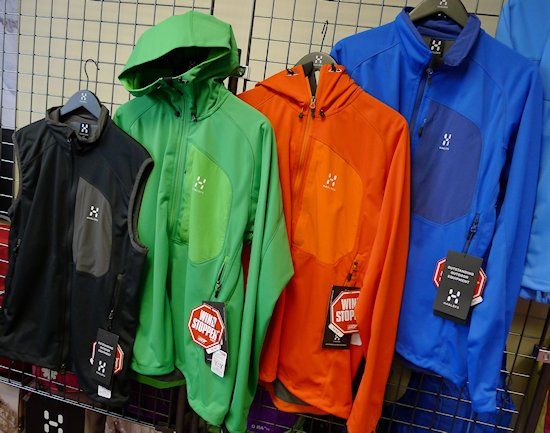 Pink for girls, the Stem Q jacket. Purple forgirls too, the core Q top. Both are in Pontetorto microfleece, good for light insulation and great for layering.
Fleece lives on.
Astro Top I think? Time for a rest, nearly there…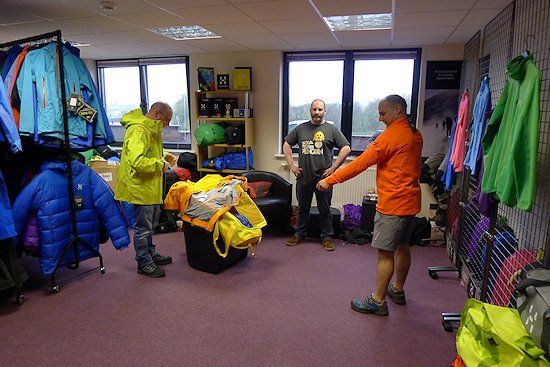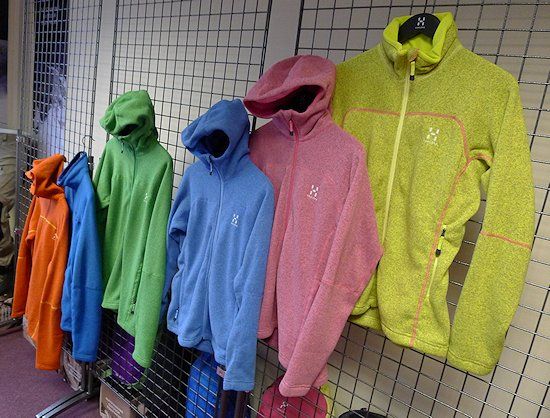 The wooly feeling Swook Hoods. It's a very nice fabric, the colours are cheery, the fit is good. I wish winter was here already.
Technical check shirts. Mama I'm coming home.
The Tundra LS Shirt is recycled polyester flannel with a light layer of insulation, pockets, good looks and we should be seeing one of these in the hills this winter on here.
What joy.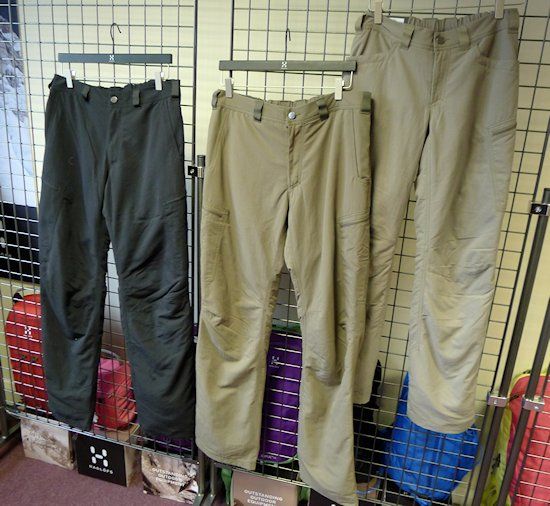 The Mid Fjell and Mid Flex Pants have been around for ages, but new are the Mid Fjell Insulated Pants. Below they'e inside out and you can see the lining that holds in the Quadfusiuon fill. I know folk like this stuff, I suppose it's like longjons under your trousers, so more power to them for making these, always nice to have options and with proper articulation too.
Haglöfs Haglöfs Haglöfs Haglöfs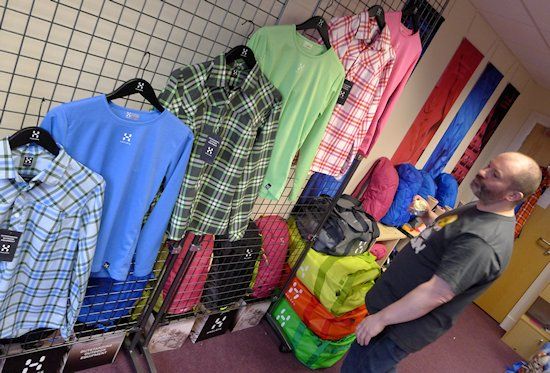 Return t-shirts and Astral LS Shirts, more poly flannel, in a regular shirt design this time.
Haglöfs hats, what else can I say.
A flood of colour and a few nice bits and pieces in there for sure. What will be in the shops I wonder?