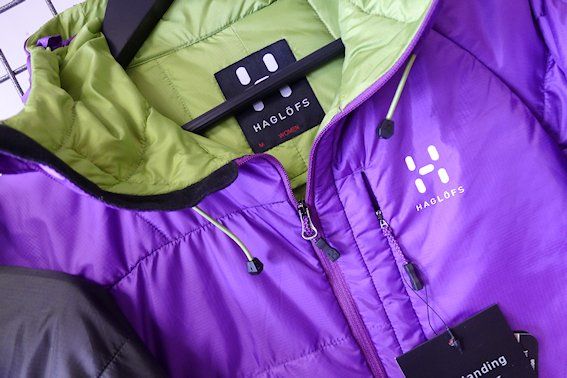 Lets have a look at the stuff we like, the stuff we want, but is it the stuff we'll get to see in the shops? Here's a preview of Haglöfs Winter 2012.
Below are a few highlights, stuff that caught my eye or that Gus flagged up and there's a few crackers in there. There's a change creeping through the range, a little UK influence in the design which is tightening up some of the techy features I think and of course purple is back in a big way which is a joy and a delight, whatever hue it is, we need colour in our outdoor gear.
Pretty much the whole range come in mens and wummins (Q) versions and there's a mix of both in the photies.
This range is a precursor to a big relaunch of sorts where the long standing designs will all be discontinued at the end of this year, which means most importantly if my email inbox is anything to go by, get your Rugged Mountain Pants while you can, there won't be any in 2013.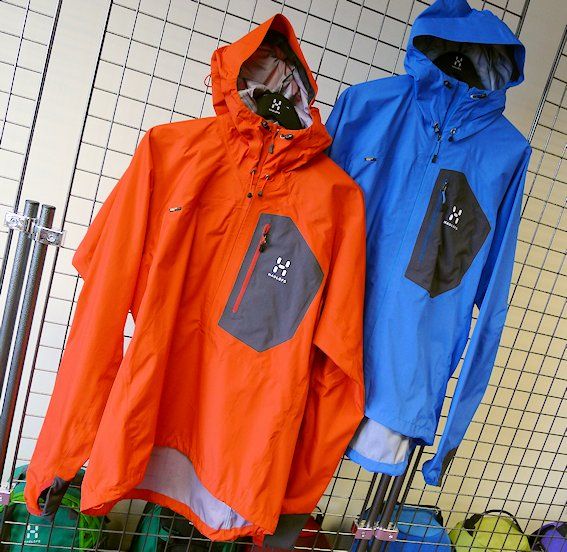 Above is the Gore-Tex Active Shell Endo Jacket in Oxy Blue and the new Endo II Pull. The Pull is identical to the jacket, active cut and genius softshell cuffs included, it's just got a shorter zip which brings the weight down a little to 300g for a large. I've been wearing one of these and I'll have a close up on it later, but the news is good.
Above is the 390g Tilta Jacket and it's matching 320g pant below, both in Active Shell. It's a proper mountain/alpine style in what I think is a brilliant fabric.
The cut is good, the hood is protective and the mesh lined pockets are well placed and a decent size. I'm wearing a green one below and you can see it's a good length too.
The pants have long leg zips, knee articulation and a nice belt and popper waist.
The Tilta pair look like good all-round kit to me.
I used to love my old 90's Karrimor Summit jackets, 3-layer ripstop Gore Tex with a hood you could hide in and here it is again, now called the Atlas.
It's a trad British-style shell jacket at a sturdy 615g, you'd get a, whisper it, fleece under it and the hood is a shield of steel. Good big pockets, "map" pocket on the chest and some crowd pleasing colours. Hopefully it'll be a success and they'll do other colours next time. I liked the green right enough, but still, where's the orange an' that?
I love these hoods, above and below is the Spirit in Gore-Tex Pro Shell. 515g of mountain jacket with big chest pockets and a scooped tail.
There's different weights of fabrics for weight saving and abrasion resistance, kind of a Spitz for non-climbers maybe?
Talking of which, above are the new colours for the Spitz II and the girls Spinx version below. Doesn't it make you glad that even the black one's got colourful zips? Gore-Tex Pro Shell all round and 520g above versus 485g below.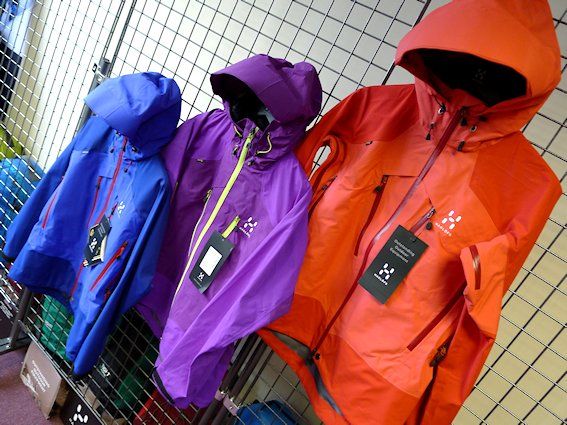 Above and below is the Vassi jacket and pants. They're a loose cut freeride combo for folk that look cool on a snowboard, which is obviously not me.
Hugely featured, hugely detailed and hugely expensive, they're made of Gore-Tex Pro Shell and are an absolute joy.
I love the marriage of tech, practicality, wacko style and screw-you-hippy colour choice. Everything in life should be like this.
Below is a Spitz II with it's Guard Pant counterpart in Pro Shell. Slipknot anyone?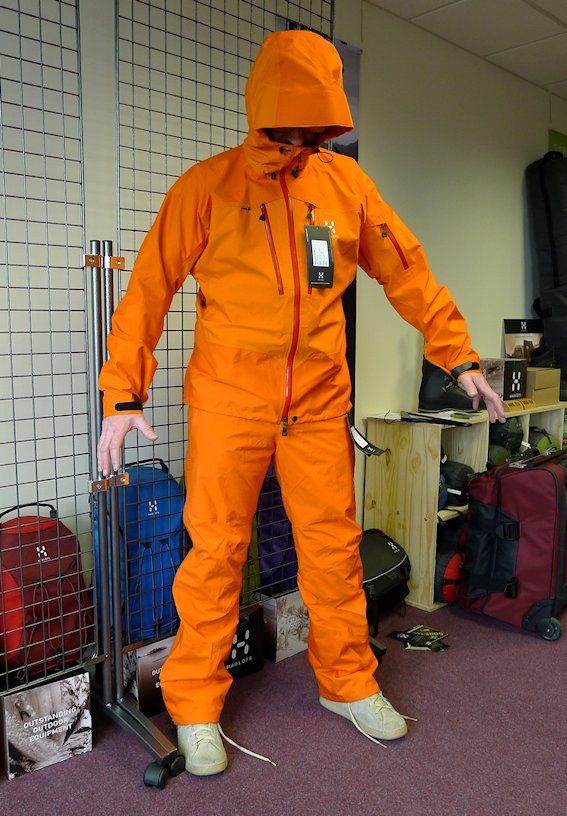 This is the new Astral Jacket in 2-layer Gore-Tex. Nice and clean design, comfy and a good hood. It's 710g and would be a good do-it-all from work to the hill, something that your sub 300g jackets can't hack as well as we'd hope.
The fit was excellent on me as you can see below, I liked it, easy to get distracted by the top end tech stuff.
Haglöfs stalkers jacket? The Tundra does have that look about it, and when did you last see a jacket that long? It'll keep the wind and rain off your arse that's for sure. 730g of 2-layer Gore-Tex with huge pockets to hide your salmon or rabbit in. The girl's version gets a purple option. Humph.
Haglöfs own Proof waterproof fabric comes on two and three layer versions and gets used on several proper techy designs as well as your more basic er, dog walker jackets. There's an eco element as well, both of the Proof jackets above are made from recycled polyester.
The Velum Q on the left, 445g wummins medium, and the 740g Incus are both 2-layer Proof with a separate lining which I always think is comfy to wear if bulky to pack. nice detailing and good all-round jackets, I just widh they'd sex up the men's colourways a bit.
Below is proof that Paclite still lives, it's the LIM II Q (used to be the LIM Ultimate) in Griffon purple with Emerald for the boys behind. It's still a good design, I've got a couple of these and it's still right there with whatever the next best thing is for the new season, you just have to work with Paclite's moisture management.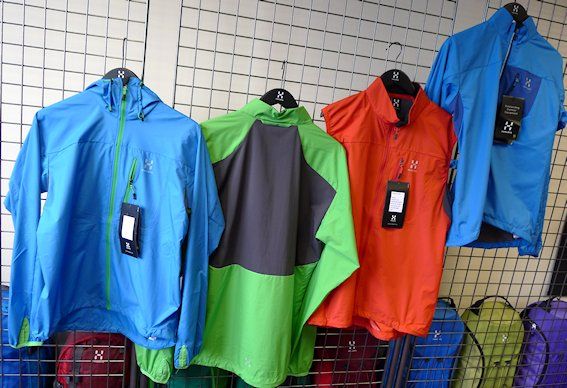 This cheery bunch is the Shield collection. The polyester windproof fabric is a good one, I've washed and worn this stuff for years and the addition of the thin softshell back and underarm panels seems to have been well received as they're still doing it. New to the lineup is the Glaze Jacket as the far right, with a bike friendly design of rear zipped pocket and reflectotronics and a cool weather slant with a brushed flannel inner.
Shelled insulation has been popular and there's some new models. Above is hims and hers Utvak Jackets, Proof outer shell and Primaloft fill, 100g in the body and 60g. Heavy, but designed for snowsports and general winter use by folk like me where it'll be so cozy you won't care.
Gus is hiding in the mighty Vassi Parka, same Primaloft 100/60 as above but here we've got a Gore-Tex outer. It's long in length and it's got pockets agogo. The main zip has an offset to give you a nice smooth face warmer and there nice detailing all over. There's a purple version for the blokes as well as the girls. Ha.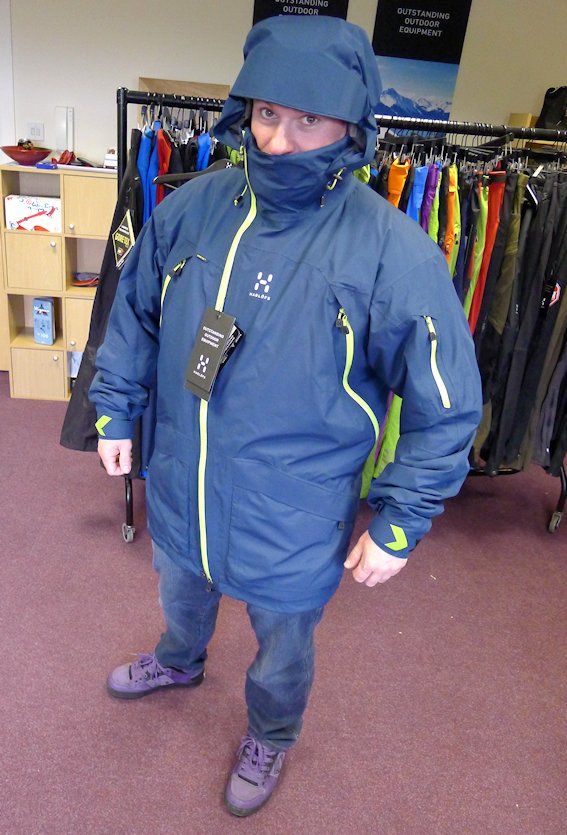 The Gore-Tex shelled Nevluk in blue gets some updates with a longer length, snowskirt and handwarmer pockets that go behind the insuation.
It's pals are the new his and hers Qanir Jackets which have a Windstopper shell with the same mighty Primaloft 100/133g fill as the Nevluk. A warm bunch, my Nevluk is my winter #1 jacket.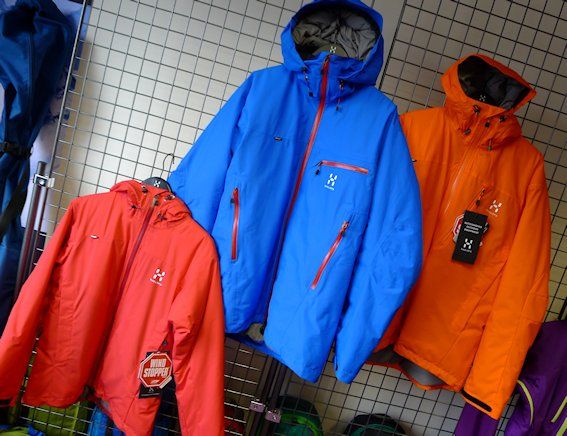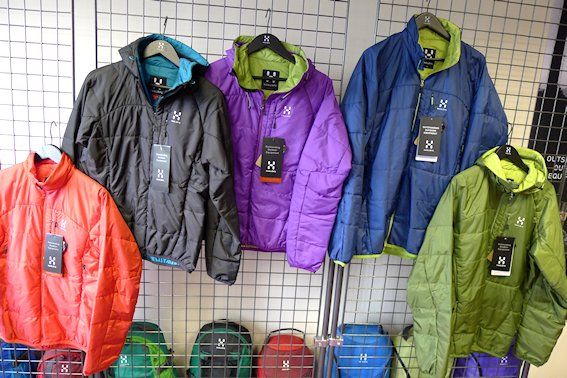 The Barrier Pro range continues with some new colours, that's the Jacket and Hood above. Very light with decent warmth, the hood with a down vest is a killer combo for camp.
New below are the Essens Down Jacket and Vest. Small baffles with PowerStretch arm gussets a small packsize and light weight. Important to note that the vest has elastic arm holes, amazingly not everyone does this.
I've been using a jacket and I'll have a review up later. Yes, I have the purple one.
And so to the might down kit, the Magi Down Hood and its Q sister. Stuff like this always feels good when you wear it, its like being upholstered in the lining of an angels nest. Weights are 755g and 675g for the Q, down is 800fill of 93/7 goose down in a box wall construction and the shell is recycled polyester 20D ripstop.
There's even bigger and badder models too, the Yalda and the Aquilo which are monsters.
The Lizard Jacket gets a purple makeover for men and quite right too.
Below are the new fuse Vest and Fuse Jacket. These are Windstopper multisport tops with pockets for bikers and runners nice protective thumbloop cuffs (see below). The fabric is a stretchy variant and the grey back panels are in the lighter FlexAble for a bit better breathability and weight saving. Feels good on, but looks oddly like a medieval knights jousting underwear hanging up.
This is the Fin Hood in Windstopper. It's a well featured heavy duty mountain softshell with proper hood, usuable pockets and pitzips. Weight is 605g  and the fit and cut is excellent with a surprisingly long body for something that'll attract climbers as did it's much missed ancestor, the Sharkfin. Nice.
More Windstopper above with the Pelamis Jacket and the Eryx Hood. These are interesting because it shows how weight can vary so much with fabric choice and design. The Jacket is 610g and the Hood is 520g, always worth looking at the spec before you go and whine on an outdoor forum.
Above are the Rando Pants in FlexAble. Great fabric and a good all round winter design, the good news is that both of these colours are available in girls and boys sizes along with rubbish black.
The Lizard Pants below will come in three colours this winter and they nicely fill the gap between leggings and softshell pants. Simple is good.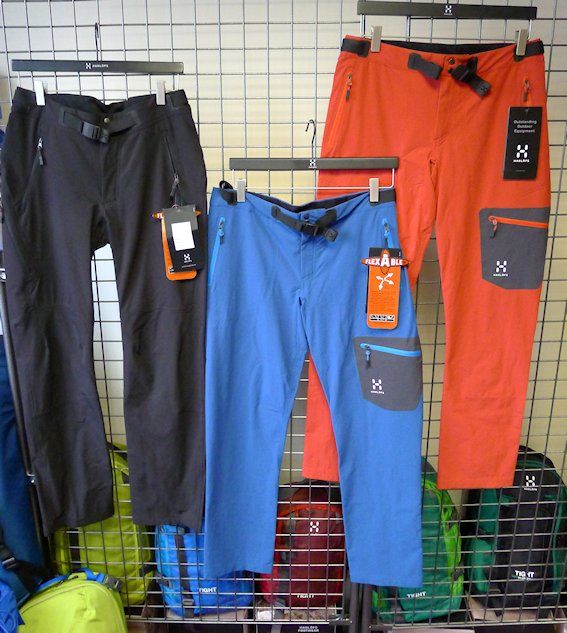 The emotion is real, honest, the Bungy Hood above will get a proper write up later, it's still got work to do. The whole Bungy range Vest/Jacket/Top/Hood continues and gets new colours.

There's some new colours for the Isogon Jackets and Hoods above, the Thule Hood's below and the Zone Jackets below them. I'm pleased of course.
The Actives baselayer range gets some colour changes and some new models. The Actives Warm Zip Top gets a new friend in the Warm Hood which I'm wearing below. I like it, I'm not scared of hooded baselayers. Although to be honest, as it's a beefy baselayer with a pocket, I think it'll be a cracking light midlayer over a t-shirt or a vest. Good whatever I think.
That's the matching Short John with the blue trim and the Q Knicker for the ladies.
Save the best until last? This is the Roc Legend Mid GT, an approach, scrambling, gadding about boot, It comes with a Sole footbed, Vibram sticky rubber outsole, suede upper and a Gore-Tex liner. I want them I want them I want them.
Not a bad assortment, a lot in there caught my eye and it's great to see so much colour. I'll have some reviews of winter samples coming up soon. Still can't get the wummins purple samples to fit me no matter how much I try though.