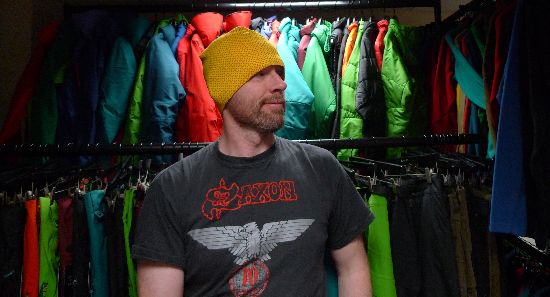 Lost in a wilderness of colour, it can only be the Haglöfs showroom. No longer a shed, but the same faces and huge array of kit as usual.
There's a bunch of new stuff as well as updates, some personal highlights are the new merino base layers, the new Paclite killing (I'm not supposed to say that) Gore-Tex Active Shell cut into an frighteningly light and racy jacket and a new ultralight insulation range.
So, here we go, I've got pretty much the whole Winter 2011/12 range below. There's a mix of his and hers, remember Haglöfs usually make equivalents of every single model, but there are exceptions, like the new wummins specific technical shell that the guys are going to want…
The base layers have some new colours. The Cool models above have the nice two-tone green and the ubiquitous black. I like the Dryskin fabric they use here, very soft.
The Regular weight models are below, zoned in the super sweaty areas to let the nasty out.
Above is joy hanging from hooks, the new merino baselayers. There's long sleeve crew and zip necks, longjons and ¾ leggings, all in three colours of 153g mulesing-free Aussie merino.
I've tried in it on, long body and arms, nice high collar in the zip-necks and the fabric feels great against the skin. It's an interesting weight of fabric they've gone for, and that with the long cut it puts into a little niche of it's own. Ah man, look at the leggings, you can dress up like a superhero. It looks like good kit, looking forward to testing it.
Below is the Warm range, a nice change from the scratchy winter weight stuff they used to make. It's a mix fabric, mainly polyester and merino, but not just blended yarn, the fabric is zoned within itself, and whatever they've done it's given it a frictionless inner surface. You can see a microgrid pattern in there, but touching it is like touching the surface of the contents of an open tin of paint, it's that smooth. It should feel great against the skin.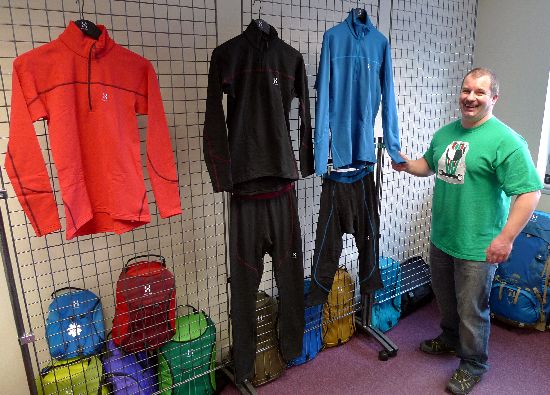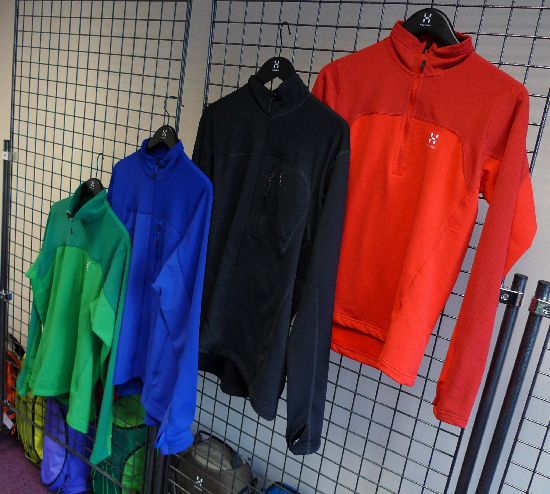 They've sexed up the Stem tops (above), thumbloops and pocketed full-zip jacket. It's cut from own-brand Dryskin fabric, and having used it it feels like a Powerstretch variant.
Powerstretch features below in the return of the Bungy collection. The girls get the yellow and the hooded vest of course, but it's good to see this back in the range.
See my hands in my pockets above? They've fixed the terrible tiny pockets on the Juniper as well as bring it out in some block colours. Aye, that's more like it.
The tops are there as is the vest, it's a cracking fabric they use for these.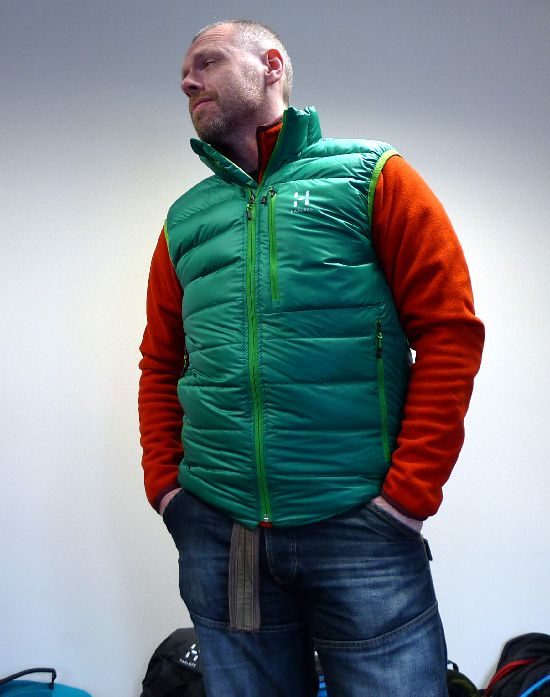 Gus assured me that the above was the colour mix of justice from the new gear, I'm thinking about it.
The jacket is an Isogon, also in a hood version, and there's a bit of lifestyle crossover here, a technical feeling cut with a texture-faced fabric like we see on the Arc'teryx Covert kit. I foreseethis being popular.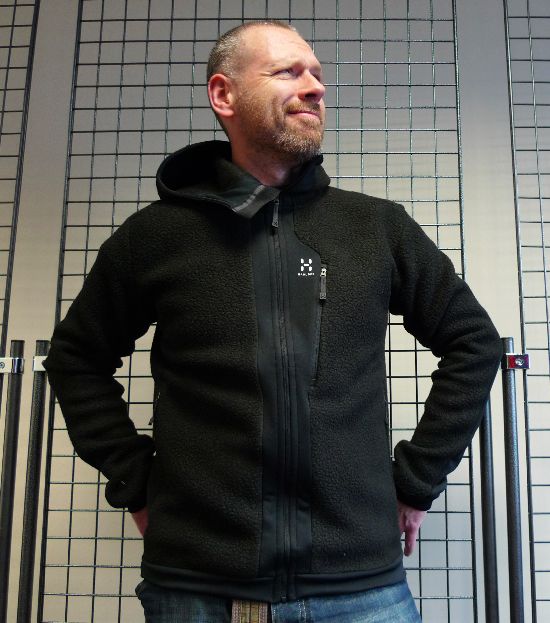 The woolly madness above is the Thule Hood, made from a steam-ironed black sheep. I love it, it's a real oddball, but if feels great on.
The Zones below stay in the range, and of course that lovely ice blue doesn't come in a blokes large.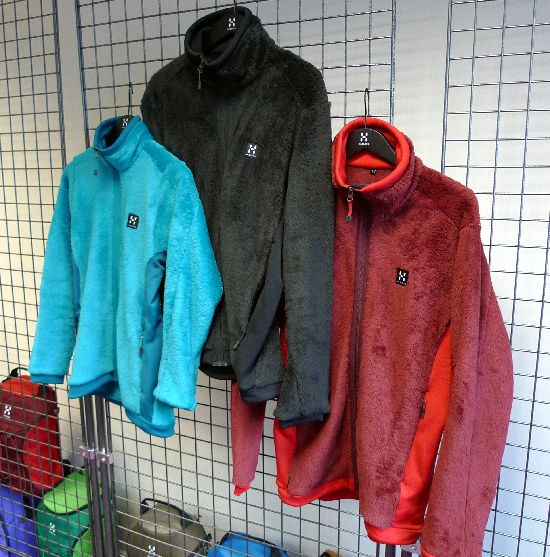 Softshell charges on, the various Lizards above have tweaks, check out the new cuff below, very comfy and very snug.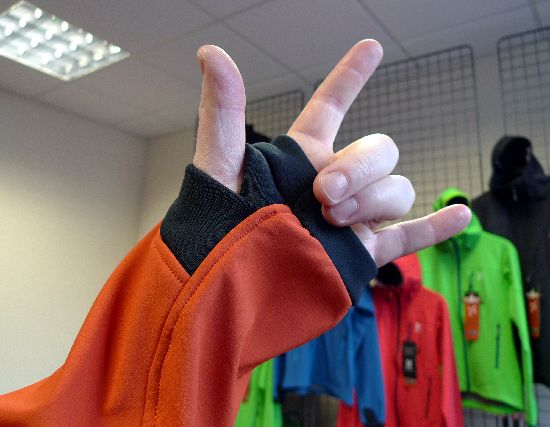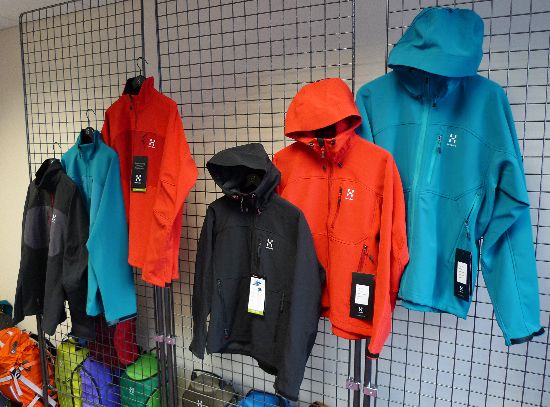 The Lizard jacket and Boiga Hood have some new colourways. All the softshells above are in FlexAble, own-brand but awesome fabric. I like when top-end doesn't automatically mean branded fabrics.
The Glasgow swing tag for the Reptile is below. Say it out loud and you'll sound like me…
The Pelamis above has 100weight microfleece lining its Gore Windstopper, warm and alpine there I think.
The Fangs below are kinda the classic Sharkfin's descendant, much more supple though, very wearable with a cracking hood. There's mix of fabrics there, balancing weight, warmth and movement.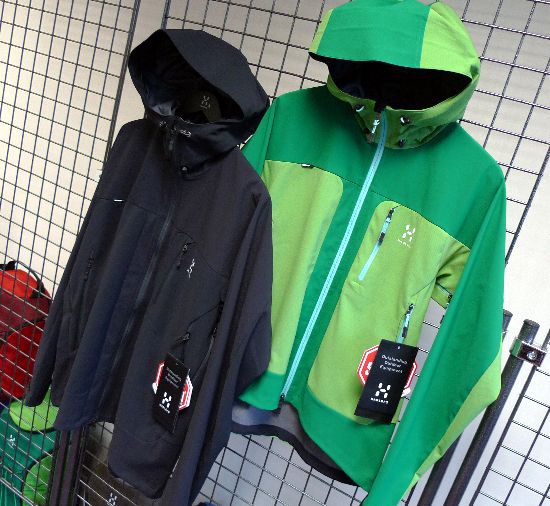 The Eryx above is in plain Windstopper, same general specs as the Fang, but you can layer up as you please here. Lighter too.
There's a huge range of softshell pants as always, some colour too which is nice. I was looking for the details that I suspected were being phased out, but I was pleased to see double poppers on every waist band. There's weights and level of insulation to cover all bases(and arses).
I'll edit in the name of these pants above when the workbook appears, but zoned fabrics, side pockets, crampon patches and ankles that cinch in? Winter fast and light pants, yes please.
Below  and above are the Proof collection. Proof is Haglöfs own waterproof fabric, it comes in three and two layer is made of recyclable polyester, and having used it, the performance is good. The MVTR rate looks low compared to other membrane's, but the 3-layer has a hydrophilic inner scrim that sucks moisture in and the drop liner in two-layer I've tested kept me dry. The features and even some prices for the Proof gear are up there with the Gore-Tex and eVent kit, so Haglöfs think it's good enough to look other fabrics straight in the eye.
The two layer models have all this extra storage (see above), it's so bloody handy when you use it, it causes me all sorts of dilemmas because I love a plain jacket in the hills.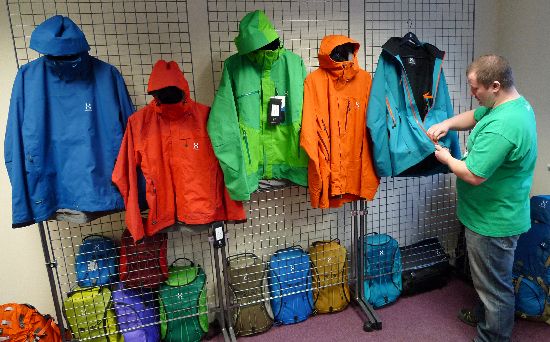 Lets face face it, I was always going to pull on the orange outfit. The Crag is below, cut from Gore-Tex PerformanceShell, it's a four-pocket general-purpose hideaway hood affair and it  gets the same styling as the top end kit. I admire their optimism in showing it to UK store buyers, Oh wait, there's black…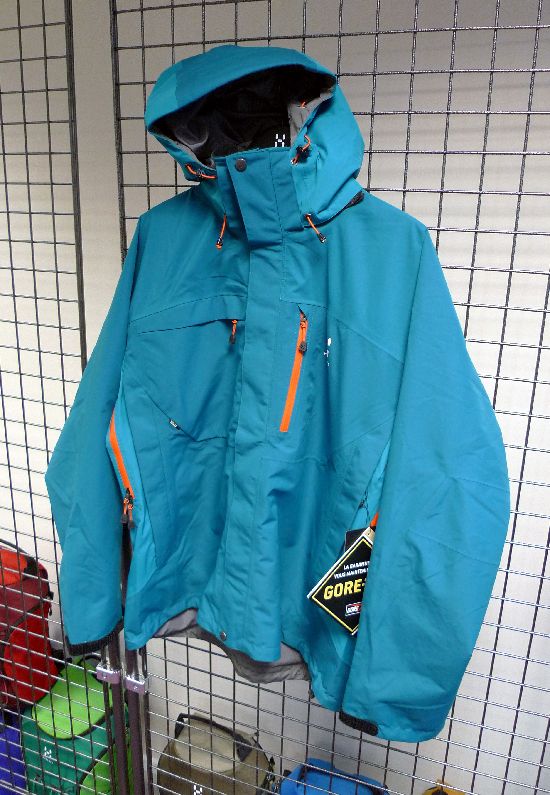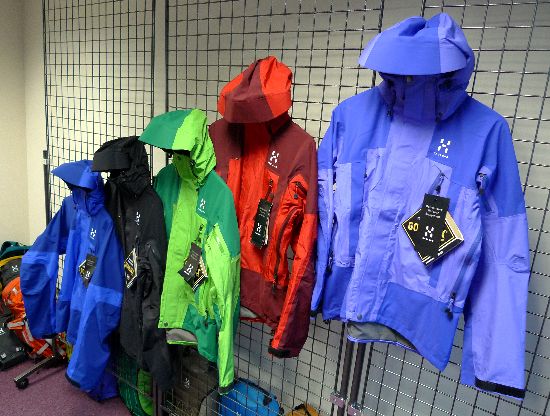 That's the Riot above, the update for the Heli which half of Western Europe was wearing at one time. 2-layer performance Shell again, cheery looking and practical. It's always annoying when bulky or relatively heavy kit feels good when you pull it on you know.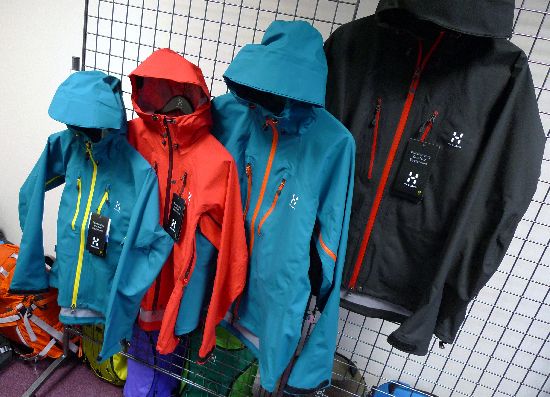 Above and below are the Zenith jacket and pants in 3-layer Proof. The jacket's a Spitz-a-like and is very nice, but the pants are a stand-alone and really impress.
Pockets on waterproof pants are something I've always liked, and here with the leg zips, soft, lightly stretchy fabric, crampon patches, wide, belted waist, we've got an all-day winter pant if you stick longjons underneath.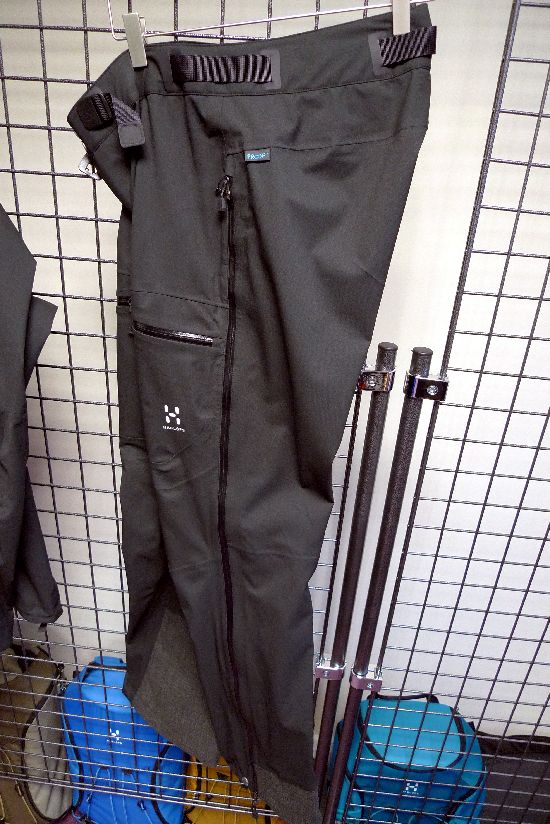 Now here's a talking point. Gore-Tex Active Shell, Gore Tex the way it's meant to be? Light, thin, a new laminate with no PU coating and the best breathability you can get from Gore. Gore are controlling the use of this fabric, the designs are scrutinised down to how many square centimeters of doubled fabric there are, that means pockets for example.
All the top brands are going to be wading in with something, and there's already bitching as they sneak a look at each others designs, it's be tears and snotters before they get to the shops, but we'll be the winners because of that I hope. And, the fabric has to be made into a proper sports piece, no Active Shell dog walking  jackets will be made.
Haglöfs have the Endo (above and below, pant too), and the jacket feels very good indeed. The fabric is very light to wear, and the features and both minimal and well thought out. The hood is protective and fully adjustable, there's a big stretch pocket, the cuffs have softshell palms so you can keep the rain out of your sleeve by covering your knuckles but still grip your handlebars and the front zip on the sample is some kind of wacky affair that I've never seen before that's beyond description (seriously, it's nothing like a regular zip), and probably won't be on the ones in the shops.
I like this, and I like the fact that Gore's got off the couch and are doing something even if eVent's giving up the chase.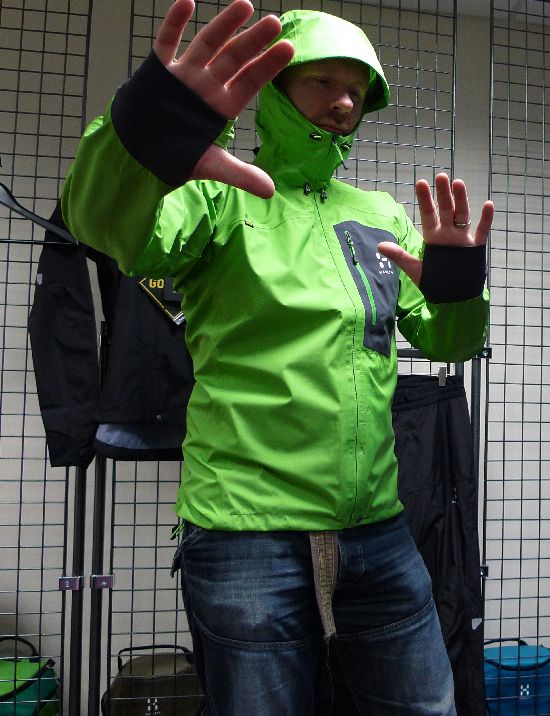 The Electron above is a Paclite/ProShell mix, and the Nebula Below is a Euro version of the Ozone I've got on test. It's the same ProShell fabric, but adds an extra napoleon pocket.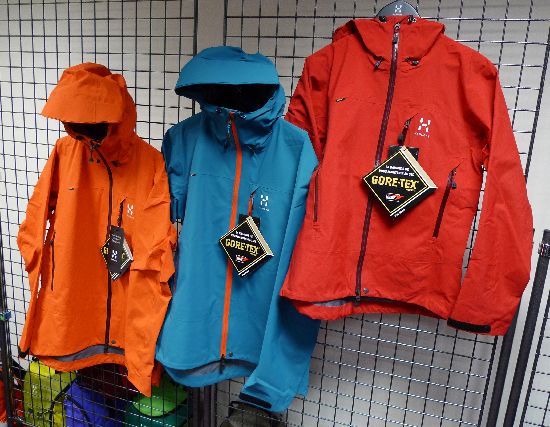 Above is the wummins-only Spinx. It's a bit like a four-pocket Spitz and it comes in the same ProShell stretch fabrics as the top-end Ratio. Nice.
Below is the Topp, essentially a Ratio to suit the worst UK conditions. One photie down, shell pants to suit any mood and almost any jacket. the black versions come in various leg lengths, something that Haglöfs they're going to be expanding on further, pants for every shape and size?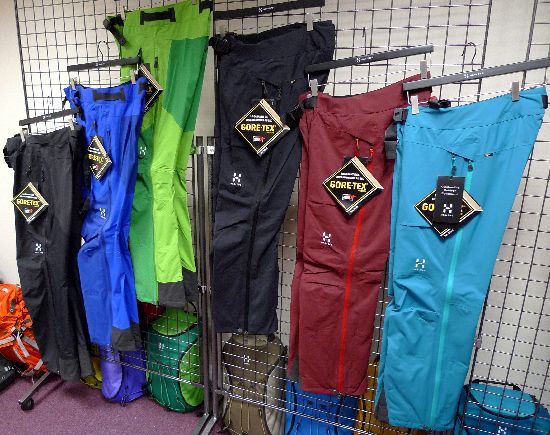 Couliours and matching pants above. It's like a mix and match of 1970's track suits.
That's the Utval directly below, Proof waterproof shell and a Primaloft Eco 100g fill. The shelled insulation has done well for Haglöfs, so they're expanding it to new models and more colours on this winters models. Below we've got the Nevluk, then the Pirtuk in new colours and then the Nevluk pants.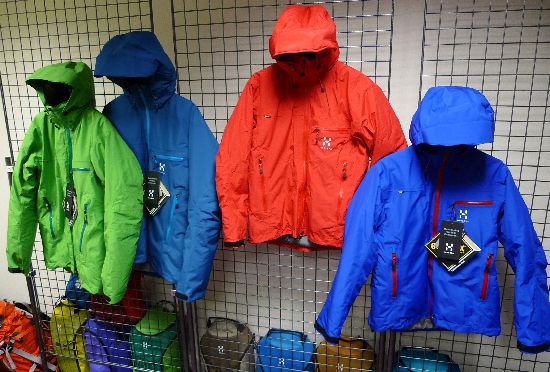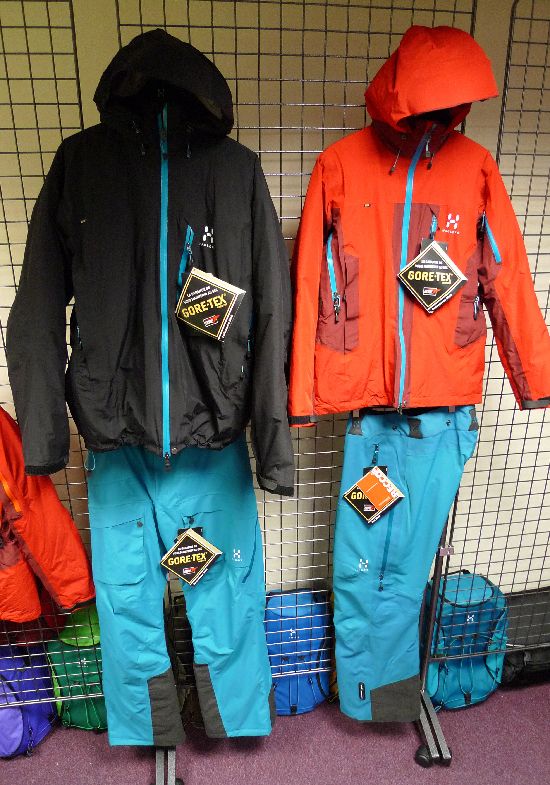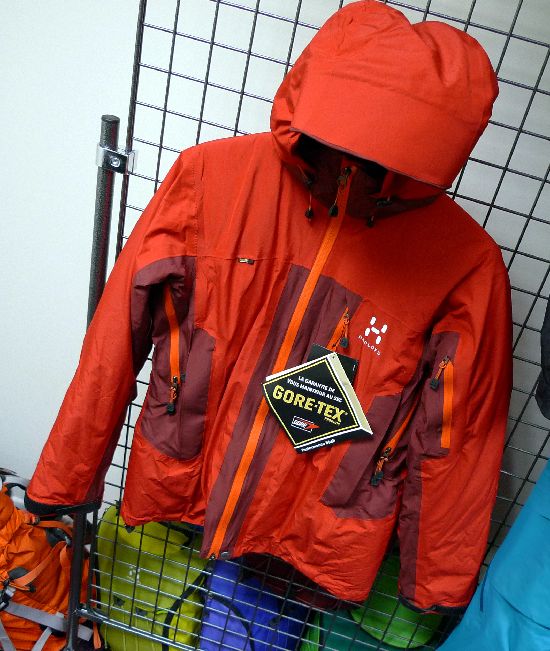 The long-standing Barrier Performac shelled Thermolite insulation collection has had a little makeover. The excellent Hood has some new colours, the Jacket now has the same articulated sleeves as the Hood, and the vest ses the biggest changes with new quilted panels down the sides and what feels like smaller pockets.
The Barrier Pants below have a rather nice resolution to the waist adjustment with a good range of adjustment for wearing over baselayers or all your kit.
This is the new ultralight synthetic kit, the Barrier Pro jackets and hoods. It's low profile, think Montane Prism, and a neater fit for on-the-move winter use. I absolutely love it, but it's going to be pricey so there's a chance there won't be enough store orders to get it into the production. This will be a travesty.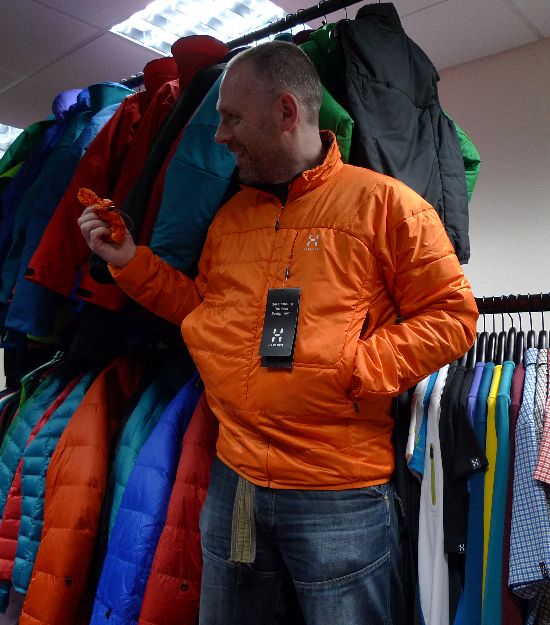 The new down kit returns next winter, and the Bivvy Jacket gets new colours and a vest (I'm wearing it a bit further up).
I got misty eyed when I saw the Belay & Borea lineup below. I don't care what Haglöfs call it, it's the ice blue, cobalt, tomato and orange from the '98 Karrimor Alpiniste series. My favourite gear of all time. I am pleased.
The Intense series goes green again, not quite budgie green, but it's looking more familiar again. The Halo gets a face-lift, the new rear below should keep back-tyre splash out of your baselayers a bit better this time.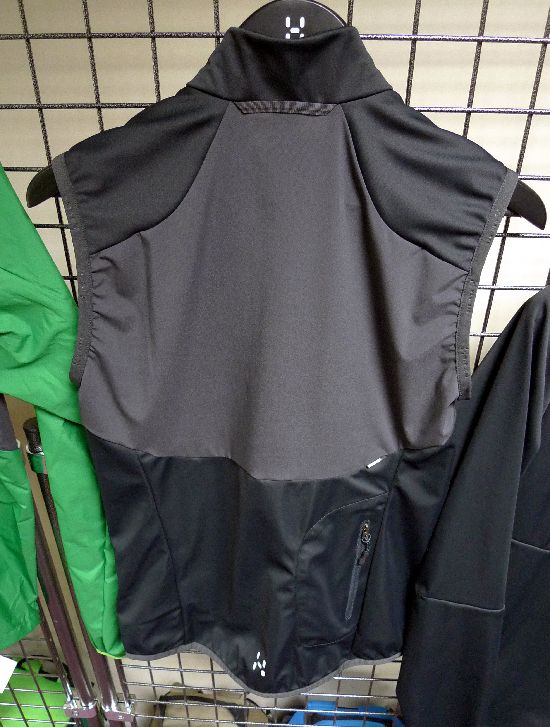 It had been a long day, but the new hats are a joy, beanies of every kind from merino to bobbled to shelled and insulated ones, with balaclavas and peaked mountain caps in there too. I wear a few of the beanies and l like them, neither skull-cap tight nor ridiculous smurf hat as is popular right now.
We looked at Haglöfs sleeping bags, something I know little of, only having tested a budget synthetic monster for Trail a while back. The blue Goga is a down monster with models rated down to -44°C extreme, the Green Zensor is the synthetic equivalent, the ratings are almost as good but of course the weight takes a jump up.
Hopefully we'll see a Goga in over the winter.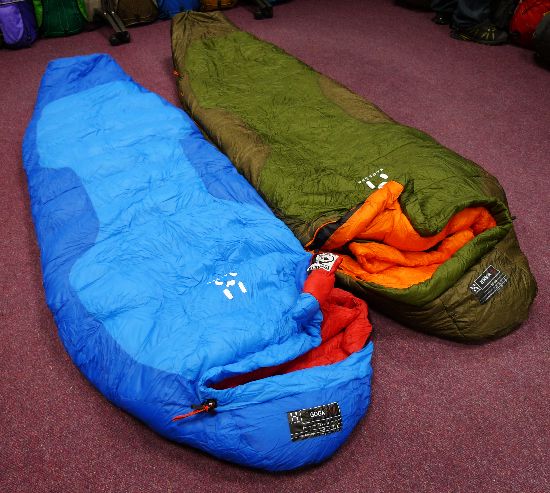 And to end, we have a Haglöfs "buff". It feels like the same fabric as the Cool baselayers and matches that magic wee explorer guitar there.
That was a lot of kit, almost all of what I saw (some is secret for now), gloves and shoes see no real changes and it's the all-new merino, lightweight insulation and that Endo jacket that had me grinning the most. I hope we see it all in the shops.
I'll tell you though, there's a lot of purple in there, you gotta like that.