Gus was dismayed, the first thing i did was take and orange top off the rack and try it on.
What we've got here is the wonders of the shed once again, it's my personal highlights from the Haglöfs winter 2010/2011 collection.
Haglöfs are moving forward with sustainable production, and the kit we see below has some big steps forward. The baselayers are 100% recycled fabric, midlayers are 100% recycled fabric, as are the Shield windproofs. the Proof shell fabric and even some pack fabrics as well. More products are carrying Bluesign stamps and the DWR treatments continued the move to environmentally friendly options (and without any apparent loss of performance, I've been testing a Proof jacket with Hydrocarbon DWR since last winter, review soon).
A lot of brands shout about this stuff, and make mileage out of it, Haglöfs pull in in the trade bumff and nobody really knows about it.
Another one that's been simmering away but has never made into the public consciousness like mulesing in merino production, or BPA in polycarbonate, is down production, and the plucking of live birds. Haglöfs and a few others have bent over backwards to ensure that their ranges will be up to scratch and cruelty free and nobody seems interested. Are geese not as cute as sheep or something?
Since I've been involved with innov_ex this stuff has become increasingly relevant, it's good to know what's happening beyond the price tag hanging from a zip-pull in a shop.
Above we have a mix of the new Actives baselayers and the new smaller packaging. The whole range is revamped, the fit has been tweaked, the colours are new and the fabric is a new smoother recycled Dryskin.
Whatever your monitor says, it's not budgie green your seeing on the stitching lines.
Haglöfs are bringing a lot of new insulation models out next winter, and it was these that really caught my attention.
I'm wearing a Bivvy Down Jacket below, 440g with insulated (inside and out) pockets, trim fit with 200g of 650-fill goose down. I liked this a lot, it packs to nothing and the recycled Performac fabric is a proven performer. The news is that the shops like this one, so we'll be seeing it on the racks late next autumn. Wummins version too, like all the kit here.
Above I'm wearing the Belay Down Hood, a 825g box-wall constructed monster. In some ways it replaces the current LIM Down Hood (the LIM clothing is all dead by the way, if you want it, buy it now) as a badass, but still packable and usable super-insulator. Good detailing, great fit, inner pockets, proper hood. And it comes in orange…
Below we have the replacement for the fantastic LIM Barrier pull-on. It's got the same cut and features but now sports Thermolite Micro 60g fill inside instead of the Primaloft in the current LIM version. It's coming in at 370g now and it's in that green and plain black too.
The other Barrier stuff remains, Hood, Jacket and Vest, the Knee Pants make a comeback too.
Above and below are some really interesting new pieces, these are insulated shells.
Above I'm wearing a Nevluk, it has a Gore-Tex Performance Shell outer with Primaloft 133g (body) and 100g (arms/hood) fill, multiple pockets, proper protective hood, adjustable cuffs and comes in at 835g.
Also on the wall behind are the other colourways and the Pirtuk to the left. It's looks similar to the Nevluk but has a 170/133 Primaloft fill, pit-zips, snow skirt, sleeve pocket and is is intended as mountain ski-wear.
Below is the 750g Ganuk, same insulation as the Nevluk, but with a Windstopper outer and different pocket arrangement.
These jackets really impressed me, the fit and features are spot on for wearing in cold, wet weather (Scottish weather then?). The Nevluk and Ganuk are still light enough for carrying as rest stop and camp wear (the Pirtuk is a hefty 1100g), and shelled insulation is warmer for the extra weight. I remember my old Gore-Tex synthetic affair from ME. Ah the blue.. the purple…

Gus looks very special there in the Borea Down Parka.  A super featured, super warm "I live much further north that you do" bit of kit, again in that Verdigris green that's through the range.
I'm a big fan of hats, and colours, so next winters accessories gave me no end of opportunities to grin.
The Map Beanie above is a merino/acrylic mix and is properly reversible, the Fanatic Cap below is a Powerstretch wonder which I've worn in the black version for a while. The hat kaleidoscope is a couple of shots below.
You'll notice the balaclavas below as modelled by Charlies Angles (no typo…) are stalwarts from the range, but they now lack to traditional orange stitching that has been so familiar across the whole range.
With so much other colour madness going on they've decided to keep the accessories more neutral. Sad but understandable.
Above are the Link II Gloves, Primaloft insulated, waterproof mountain gloves. The palms are Pittards leather, and when worn they feel pretty dexterous, there's adjustment at the cuff and wrist.
Below are the updates to my current favourites, the Helix II Gloves. Same spec at the Links, but lighter, more minimal and more dexterous. From my experience, these will be a great UK winter glove.
Both models come in mitt form too for super finger comfiness.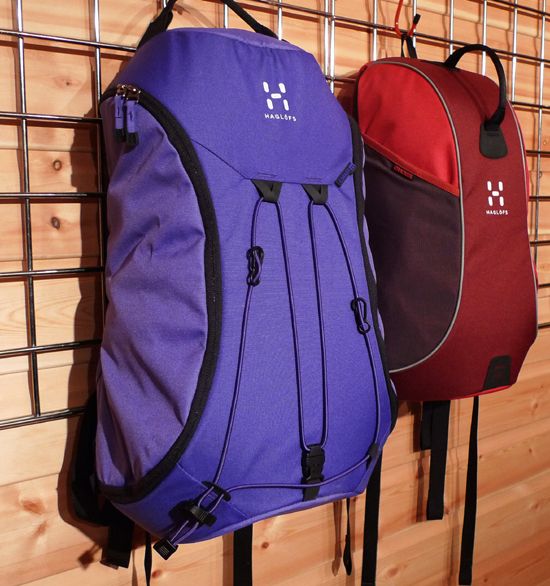 Joycee and I have used the Corker as seen above, every day for two years, stuffed 'til the seams were grinning with everything Holly could need from clothes, nappies, food and all the rest. It's tough, usuable, comfortable and now available in two-tone purple.
Above we have the Vertigo GT's new colour range. I personally like the mix of different colours on each foot…
Below is the update to the Trail Mid. It has a softer ankle and a little more flex, looks nice too I think. I'll have an update on the originals during the holidays.
Also, it'll be available in UK half-sizes, something that will be creeping across the Haglöfs footwear range.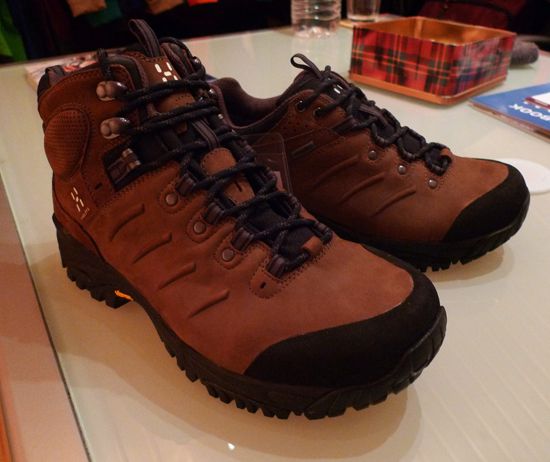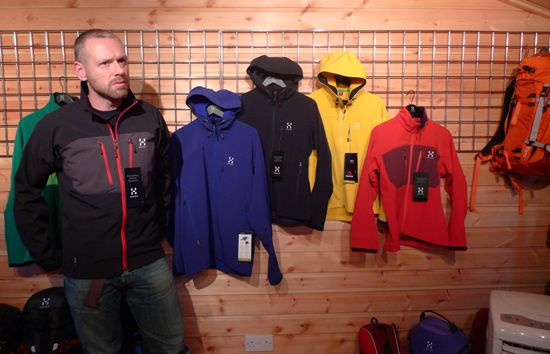 Softshell is big part of the range as always, with the likes of the Turbine, Fang and Jaw covering the full winter protection end of the scale, the Reptile II Hood on the wall above carries on it's very usable format with an improved Polartec Powershield.
I'm wearing the Reptile Jacket, also in the same new Powershield, which is a bit more minamalist with no hood and jusy those two napoleon pockets (easy to get to when wearing a shell?).
Below is a wee selection of the softshell pants, Cols, Rands, Turbines and Sutas. Always a strong part of the range, good to see tinkering has been limited to general fit and mobility improvements rather than starting from scratch and ruining everything.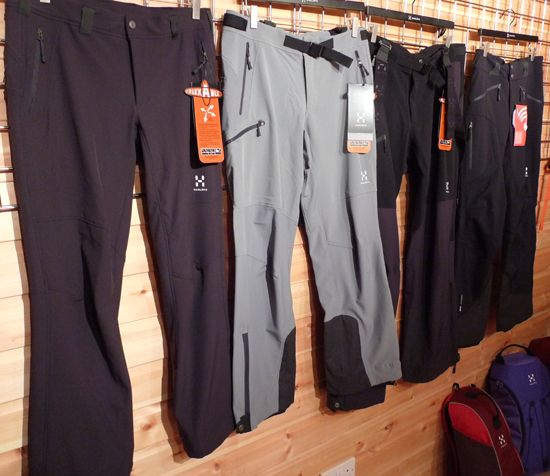 At the very top of this post I'm wearing a Stem Top in orange, new for this season. It's a simple pull-on in stretch Dryskin. It was a good fit on me, as was the new Juniper Top which replaces the Single, the fit has been altered so that people with arms and shoulders will now be able to wear one, and when it comes in at 245g and £50 is looks like a no-brainer.
But more joy was to be found below. They killed the Triton, they killed the Gemini which had a btter hood but have they redeemed them selves with the Juniper Hood?
The fit was perfect on me, the hood was the same as the Gemini, there's perfect body movement, the wee handwarmer pockets will be a subject of debate no doubt, but I'm very glad to see this in the range.
The wummins comes in two-tone purple…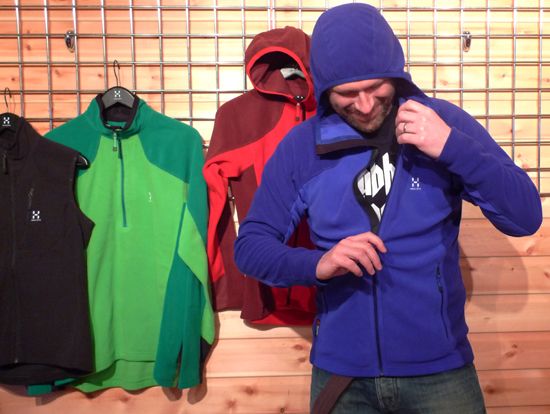 What we have below are the members of the Yoyo family. It's a more relaxed range, vest, hood, jacket, zip-hood for dare I say, cool weather lifestyle use as well as less technical stuff?
It feels and look good, but I was annoyed that only the wummins vest has a hood. Ach.
The Spitz continues, new colours, same slim-fit performance. But below, we have something that's all ours, the Ozone.
With the LIM clothing being canned, the LIM Ozone which I tested and found to be pretty damn good has a had a little makeover and will be a UK exclusive next winter, in mens and wummins fit. The changes are a wired hood (which I'm messing with below), aslightly tougher Pro-Shell fabric and the die-cut pocket linings are gone as folk were bitching about them for some reason.
It felt good on, and the tweaked hood will be a winner.
I don't look at 2-Layer stuff much, but those colours have to be admired, nice to see yellow back as seen on the Riot IIs above. Haglöfs still use the same detailing on the less technical kit like this, the only real difference is maybe a more generous fit for other layers and a less conspicuous look when heading down Ambleside High Street.
Talking of which, the Route in 2-Layer Gore-Tex Performance Shell below looks like your archetypical British hillwalking jacket. It comes in at 660g for a large which is absolutely fine, but it's built to last, comes in his 'n' hers (see them holding hands there) and won't make you look like a mountaineer on his day off.
Above is the Glade Jacket in Haglöfs own Proof fabric. It's soft, comfortable has a huge amount of internal and external storage space. It's meaty at 730, but as a general purpose jacket it'd be great. As I've used more "own brand" fabrics over the past couple of years I've learned to look past the logo and just look at the results.
But back to the might Gore Tex logo and the new Cirque Jacket, or as they're saying when the nobody in Sweden is listening "The Scottish Spitz".
This is an evolution form the Crux of a couple of years ago (I have one, brilliant jacket), through the disappointing Creva of this winter and it looks about right this time.
It's long, has added face protection, is cut to allow layering, there's four decent sized chest pockets, it even has subtle zips (!!!), is fully wintertastic and comes in at only 605g for a large.
As you can see, that hood is exactly where you're head wants to be in a blizzard.
The shed was a joy as always, and the patience, understanding and hospitality found in the shed knows no end.
I was genuinely taken with a lot of the new kit, they've been thinking over there in Sweden. I just hope the store buyers who view the range are thinking too and we get to see the kit in the shops.