We were at Haglöfs secret cabin/bunker last week looking at the kit for winter 2009/10. Haglöfs do things a little differently, you go round to their house for a presentation and a bit of a rummage. Very nice idea too, always a pleasure. There's new and there's updates, and the colours of wonder and the cut that's meant for blokes my shape brought me joy. As did the hospitality of Gus.
Gus (another bearded grinning man, it's the way forward for sure) is Haglöfs northern enforcer, another one of the unseen folk who try to get the stores to stock the good stuff. And as a man of mountain bike and ski mountaineering he knows the good stuff.
We went through the whole range, and there's some gems in there as well as the 300 weight fleece still beloved of Scandinavians for every day use. Here's some bits and pieces that I remebered to get photies of.
The good news is that there will be a winter Intense range including the Paze jacket and pants. I'm wearing the jacket below and the pants are hanging on the rack to my left. They're a combination of Polartec Powershield and Dryskin. The fit is spot on, slim with long sleeves and great articulation.
They're revamping their Powerstretch stuff, some new tops and jackets. A cracking feature on the new Wigo jacket are these mega thumb loop cuffs.
For the current Bungy items, think Wigo for next winter. There's Wigo tights and a top. 
I like the colours as well, yes that's purple in the background. Only the UK designers pallet is usually equipped for black and white telly, rationing and the colours of the Union flag.
I ended up trying on a stack of stuff as their samples are a size large.
From softshells (Reptile Hood in Bronze Green to the left) to skiwear I had a go, and although some of it can't be accused of being lightweight in any way, the consistency of a good technical fit across the range makes you think of applications for kit that you'de never look at other wise, just becuse it feels good on. That's a lesson there, try lots of stuff on. Don't go into Tiso and buy a boxy Berghaus jacket out of habit or brand loyalty, there will be something better out there.
Haglofs recently got the eco stamp of approval by joining BlueSign (along with Patagonia, TNF etc) and there's evidence of that through the range (in the Spring '09 kit as well).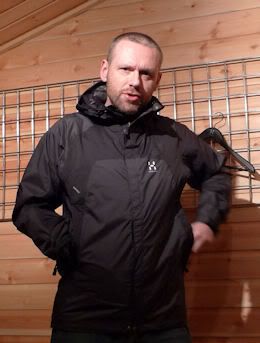 The Foss jacket to the left has recycled polyester in its construction, can be recycled and has a less environmentally harmful hydrocarbon DWR applied at the expense of a little longevity in the treatment. I like that, putting your money where your mouth is. But, it's a good fitting jacket and I'm sure it retails at around £150. It uses Haglöfs own Proof waterproof membrane, so it's up against HyVent, Precip and the like.
 
There is still much Gore-Tex in evidence. The Spitz (below) is still the #1 climbing jacket and comes in some eyewatering colours, all of which will look magic photographed against a snowy background. There's a replacement for the fantastic Crux (expedition version of the Spitz, sort-of) called the Creva which will be popular here in the UK as it comes in navy blue, bronze green and black with black zips…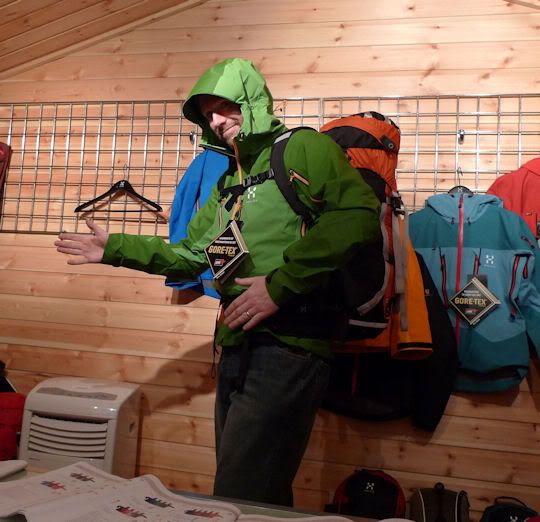 The surprising news is that the current Barrier Zone Hood über insulation piece has been canned for next winter, so if you want one the ones on the racks are the only ones there will be. The replacement is the Barrier WS Hood, the WS being Windstopper which is the outer fabric. It adds 90g, but it's noticably warmer than the regular Barrier Hood, more weather resistant too. The regular Barrier Vest, Jacket, Hood and LIM Pullover all stay with some new colours bringing a grin to my eyes in the secret cabin.
Yes it's navy, but with that orange lining it looks old school and I like it
There was much more, the LIM kit (some reviews coming up soon, I've got most of the current LIM range on test) continues with some plain black options on the down gear, new softshell pants and some nice looking footear. And that's coming up tomorrow