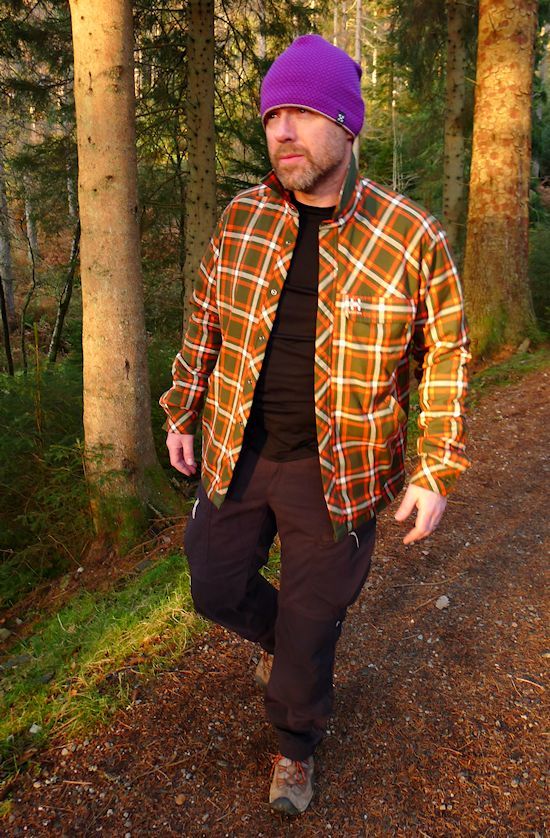 The photies are cheesy catalogue shots aye, but Haglöfs  Tundra LS Shirt is a serious bit of kit. Outdoor gear performance with stealth casual looks for street wear? Yes please.
The 635g the Tundra is listed as is spot on compared to my sample size large, and I have carried it in my a pack a few times as it compresses down very well, but this is something to wear on cool day from your front to door to, well, wherever you like really. I've had it to the shops, to work, to the park and on the hill and it was as happy as I was.
The cut is quite neat, certainly no grunge era baggyness just because it looks like a flannel shirt. Neat is good though, neat is warmer and the layer of light synthetic insulation in the body and the arms traps a good amount of body heat. The body is a good length and the arms are long with regular shirt style poppered cuffs which match the poppered front closure and there's decent articulation in the arms too.
The whole shirt is made from recycled polyester with a smooth inner microfibre which layers very well over a  merino long sleeve or a Gildan SoftStyle t-shirt which is worth about 99p but put a Black Sabbath logo on it and it's £20 and folk like me buy it.
The outer looks and feels like flannel, albeit a tougher variety, it's soft and comfy. It washes well and dries well, but don't expect weather resistance, it greets moisture from above just like any other flannel fabric, it just dries fast. I think it's going to age nicely with use, something that modern outdoor gear doesn't do well at all.
There's nice detailing, like the collar which stands up to cut out the chill and has a plain fabric back which matches the useful reinforcing patches on the elbows. There's wee bits of reinforcing at the hips and bottom of the closure as well.
There's three pockets, two big hand warmers a single zipped and flapped pocket on the left chest which is big enough for my phone. There's hang loop at the back of the collar.
The Tundra is a joy to wear and it performs well too, being pretty wind resistant which includes the front when its buttoned tight. It's more jacket than shirt, it is outerwear and on dry cold days it works great for me. I can boost it with a down vest if needs be and it all goes just fine with jeans.
Favourite gear of the year contender?