The weather has often been cold, windy, snowing or raining since the Treble arrived for test. So it's become an unsung hero of sorts, being hidden underneath a waterproof most of the time. But it's been out and about, and because of it's good looks it's even been at work and play at sea level.
Haglöfs replaced both the Gemini and the Bungy hood with the Treble, and rather than whine about the loss to humanity of two great bits of kit I looked at the Treble on its own merits.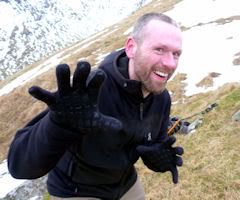 Hooded midlayers are the business, and everytime I've worn the Treble on the hill the hood has been in great demand. It layers well under a waterproof's hood, it's quite form fitting and isn't a pain when it's lying at the back of your neck.
The fabrics are a mix of Polartec Powerstretch and Corduroy Light or something similar. I was sceptical when I saw this ribbed fabric on the torso way back when I saw the winter range at the Haglöfs secret bunker, but it's the same quality and performance you get from any Polartec fabric and the only difference I've noticed is that it dries slightly slower than the Powerstretch sections. Another thing that worried me about the sample was the fit. I was pleased that the fit has been tightened up for the production version, it's slim, but not as tight as some Haglöfs which will suit a lot of people I'd imagine. Freedom of movement is great and the hem doesn't ride up during the day. Insulation is in the just right bracket, good on its own until the wind gets up and great under a shell as I don't get cooked.
The pockets? Well, using the Treble inspired some recent pondering on pockets. There's two low hand warmers and a laminated one on the chest. I'm happy with this because I haven't used them for storage (I carry a rucksack…), the chest one is handy for a Buff or lip balm, and the lower ones are ideally placed for warming hands in either a technical or casual fashion.
It's a well fitting functional piece of kit in great fabrics, and the only sticking point are the daft hood adjusters. The hood bungee runs through folded pieces of material that are best taken off when you get home and replaced with wee cord locks.