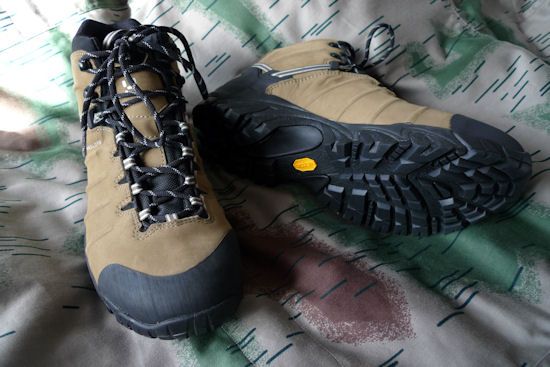 Winter's come, the snow has fell. Wee Josie's nose is froze as well, Wee Josie's frozen nose is frozen skintit, Winter's diabolic intit?
Bud Neill
This is not the time to have wet feet, so out come the waterproof mids and the lightweight boots. Haglöfs Trail 2 Mids are in between the two, being a robust mid with quite a stiff flex.
There's a reasonably aggressive Vibram sole which I think will work well in winter (in fact, Kahtoola crampons fit them well) and there;s a Gore-Tex liner to keep out the nasty dampness.
The upper is mostly one piece of leather with some reinforcing and some stitched detailing for abrasion resistance and also to keep the upper in shape as it wears in, as it's pre-empting flex creases.
I've worn them just briefly a couple of times and and they're quite roomy which will suit me fine with winter socks. The flex is unusual feeling as I've been in bendy shoes for months, but it'll be trouble free I'm sure.
Inside are the Sole insoles as now featured in all Haglöfs footwear, and although a topic of much discussion and opinion, I've been wearing a mid/regular set of Sole's in my work boots almost every day for months and I have to say I like them a lot.
The Trail 2's are currently sitting by the door in the "lift as I leave" pile, so we'll be seeing them doing stuff shortly.