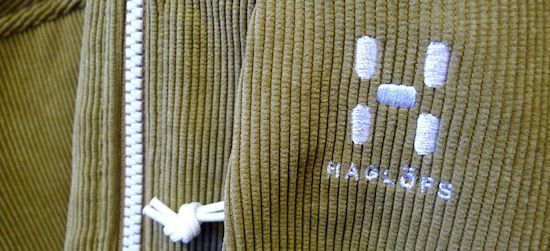 Here's the last part of my Haglöfs Summer 2014 Preview and it's a monster. I had fully intended to trim this down but what the hell, here it is with all 80 or so photies.
There are some things in here I'm genuinely excited about, some left-field genius and lots to smile at too. And remember, you can't have it until spring next year.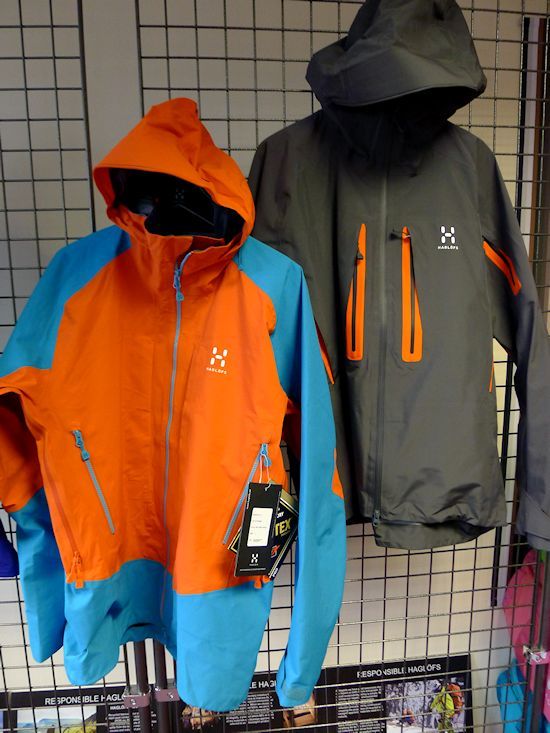 Above is the Roc Hard Jacket with the Roc High in grey. The Roc High is the Spitz usurper and is still beefy but more of an all-rounder than the Spitz was, different cut, feels longer to me too. Gore-Tex Pro Shell, awesome hood, good pockest, venting and they canned the bright colour for 2014. Can't have it all. Or can you…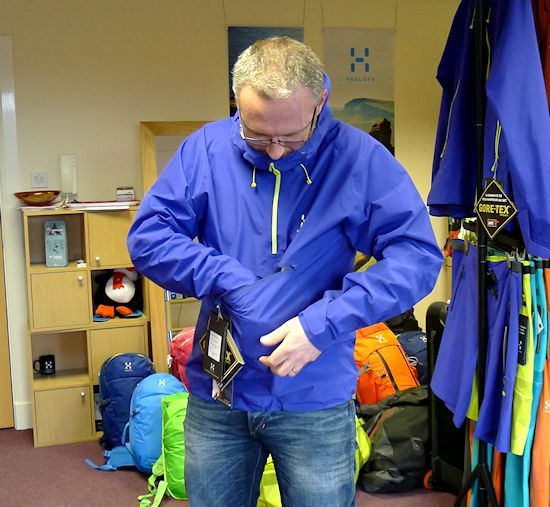 This blue marvel is the Roc Lite Pull and lets not fanny about here, I love this.
375g in Pro Shell with a mountain hood, perfect articulation, good length and a pouch pocket. The pocket zip is slanted to make it easier to pull and the pocket has a 3D bellows-type bag so you can cram stuff in and not pull the front of the smock out of your belt or harness.
I've used a lot of shell smocks and it looks like this one has been built from similar experiences to mine as it's correcting my personal niggles.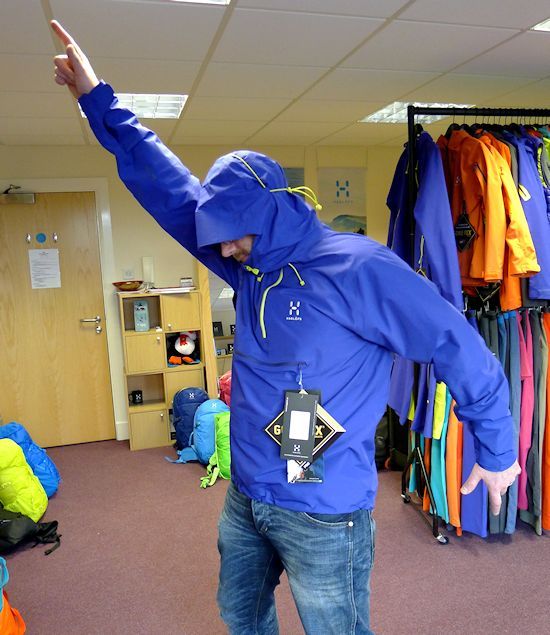 Below is the Roc High Q, the girls version. Clean lines and I think I like the monotone better than the blokes version.
Above is the Roca Lite Jacket in a soft stretchy Windstopper. Nice form to it, an all rounder in a fabric that doesn't scare me anymore.
The nice looking Scoria Pant below comes in Flexable fabric, a non membrane softshell which I know well and have nothing but good words to say about. The zip fly is mountain specific, or something. From experience this format does work, but the zip pull on these needs a garage, it'll catch on stuff I think.
Lizard Pants and Shorts, his and hers except the orange pants above, they're the ladies Skarn Pants which are bit fancier with kick patches and reinforced knees.
All good. Colours, yes please.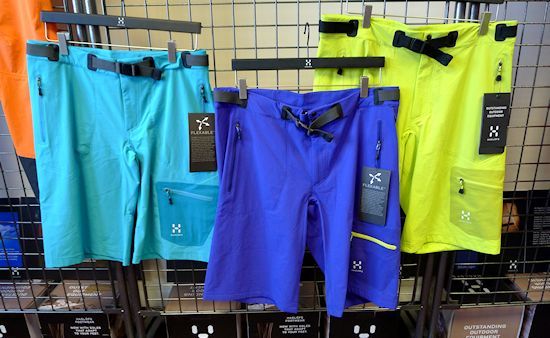 More Lizards and a close up of the mean's Skarn Pants. Will anyone stock them?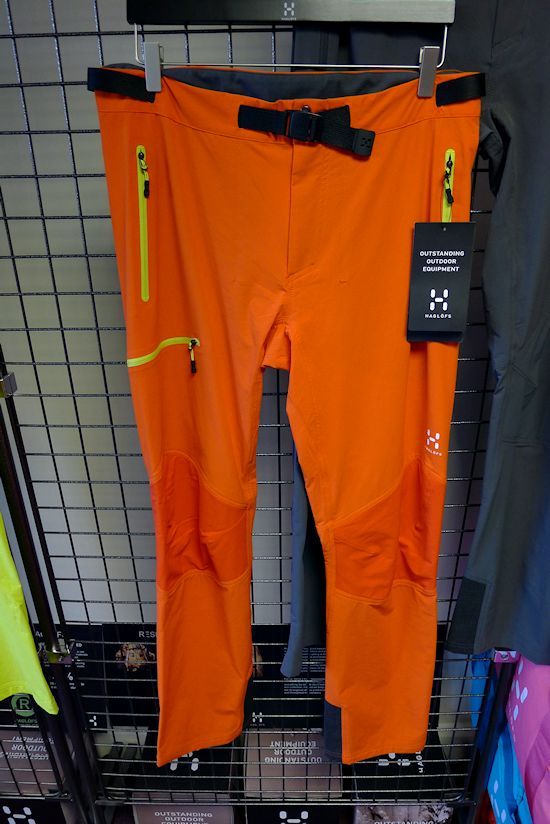 The Lizard jacket above in the health and safety colourway. The weight of Flexable fabric used in the Lizard range is a genuine do it all, I wear it summer and winter and it wears very well too. My original pre-production Lizard top is still going strong and it gets worn and washed all the time.
I'm getting bored of increasingly baggy outdoor trousers and the Mylonite (sounds like an alien race from a 50's movie) Pants brought much joy. Slim, fitted, stretchy in Flexable fabric with good pockets and a low profile adjustable waist.
I like these. Hopefully we're seeing the death of bootcut outdoor pants.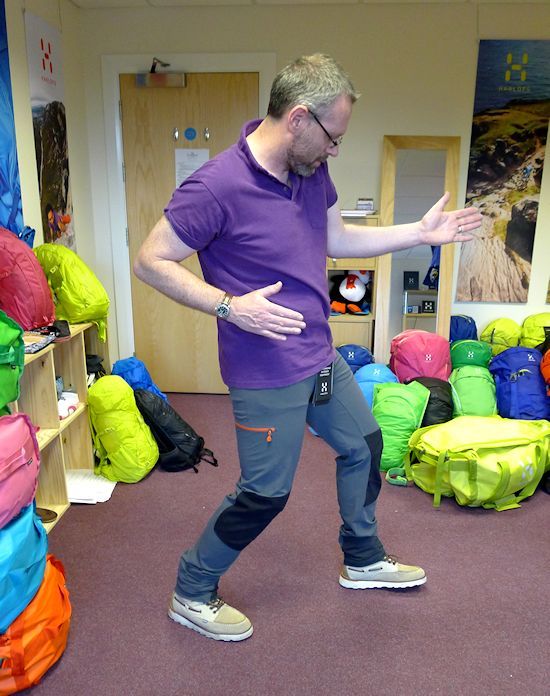 Paclite! Above is the Telis II, an all rounder which is aiming to save the refutation of everyone's punchbag fabric. Hey, wear less under it and you'll be fine.
Below is the Astral II in 2-layer Gore-Tex. Comfy and dry to wear, 2-layer deserves better that relegation to dog walking jackets. These three look plenty mountain yes/no?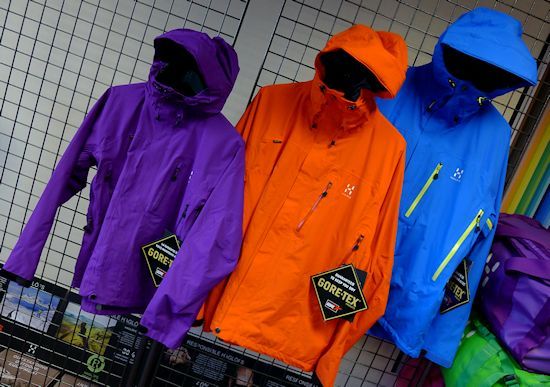 Aye, Haglöfs are taking on the country life, stalking, farmers' market punters here with some remarkably tweedy looking Gore-Tex shells.
Left to right we have the Ridge Jacket and two Ares Jackets.
I tried them, the fit is good, the features are usable, will Haglöfs prise folks out of their Barbours?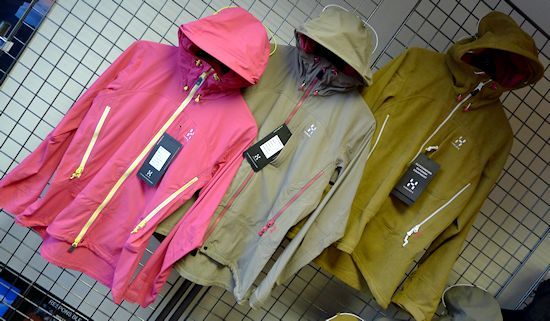 The Fjell Jacket Corduroy with some of its his and hers siblings in cord and plain Climatic polyester.
Synthetic polyester cord, you got love that. The jacket has a casual fit and look, but technical capabilities. It weighs a ton, but so what. I'm bored of adverts telling me I should be an alpinist.
I hope shops are stocking this stuff.
More casuality with the 75% recycled polyester Zolo and Zolo Q's above and the Swook and Swook Q's below. Smooth above and knitted look below, again it's a mix of street and outdoor. Value for money? I've got a couple of upcoming reviews on just that subject.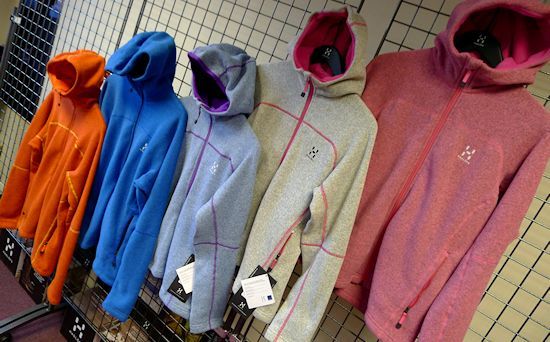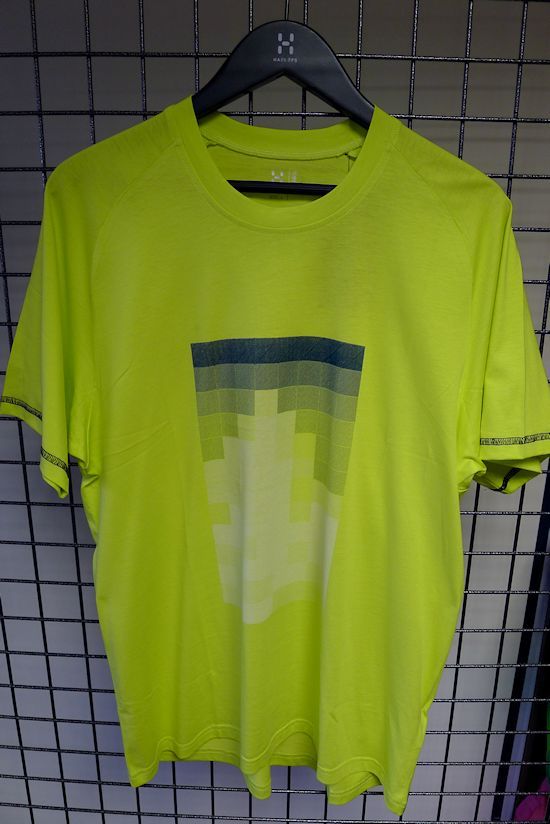 The above design won the Haglöfs competition to design a new t-shirt. Really. My skull and crossed ice axes never even got a mention.
And yes, the design is someone sticking their middle finger up at you if you squint your eyes.
I like the other designs below. Some levity in there to brighten any over serious outdoor kit box. The tees are are various fabrics, cotton, cotton/poly, recycled poly content etc.
Different to the usual, which is nice.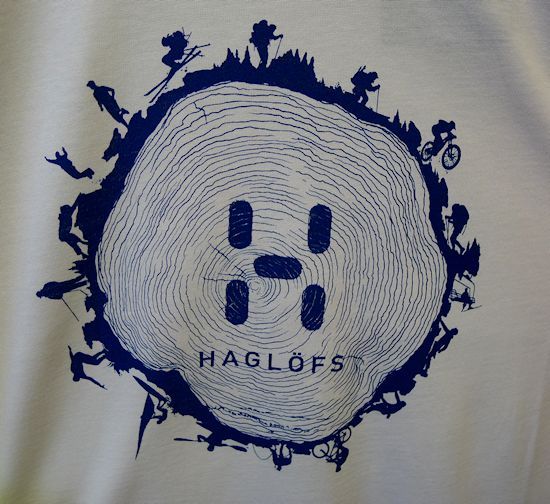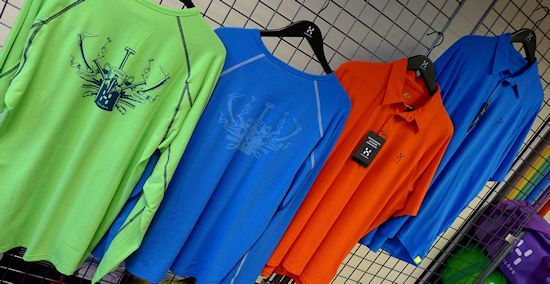 Just needs a skull that one.
The Ridhe SS Zip Tee is all-polyester so a bit more tech in its appeal. I like this format for summer trekking and it looks good too, not overly mountain man (or wummin).
Like a lot of these tees it has "Lava" in it, an anti-odour treatment developed from volcanic ash minerals. It's a Bluesign approved product, so it's environmental cred looks good.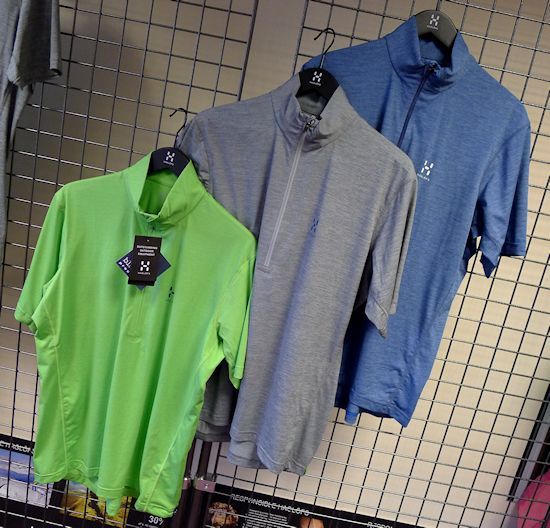 Ridge Q Tees for the gurls and Zuma Q SS Shirts for other gurls. The tees are polyester for quite drying and the shirts have a 60% cotton content for summer cool. I like the colours. Hmmph.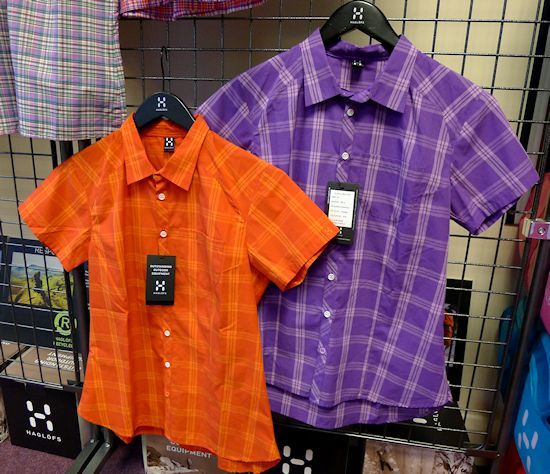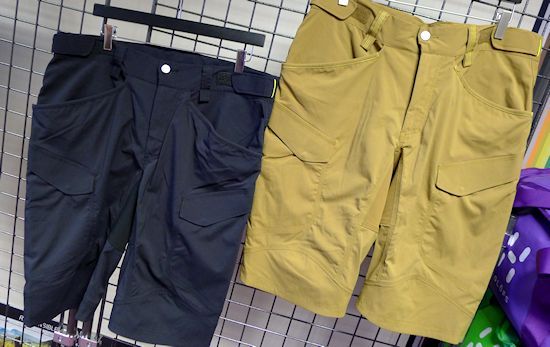 Rugged Crest Shorts, for which if you're thinking "Rugged Mountain Shorts" you'd be near as dammit.
It's all there, the mighty pocketing, the arse of destruction and the fabric of doom. The only danger here is you'll stride out with confidence and forget only half your legs have the legendary protection and act in a fool hardy manner near the jaggy bushes.
Nice.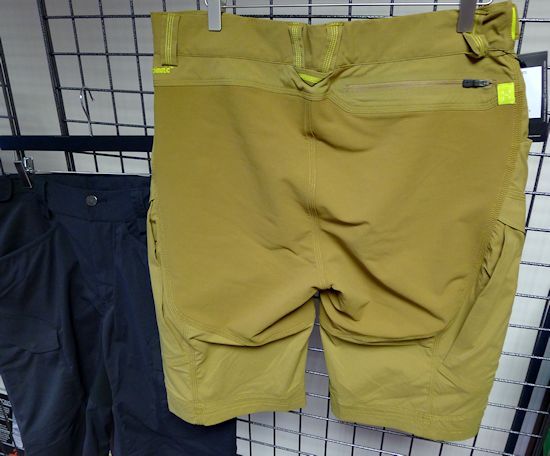 Maybe even better are the Mid Trail Shorts in techno corduroy. There's a stretch yoke at the back to add good movement, excellent pockets, good leg length and looks that'll match a softshell top or a Black Sabbath t-shirt.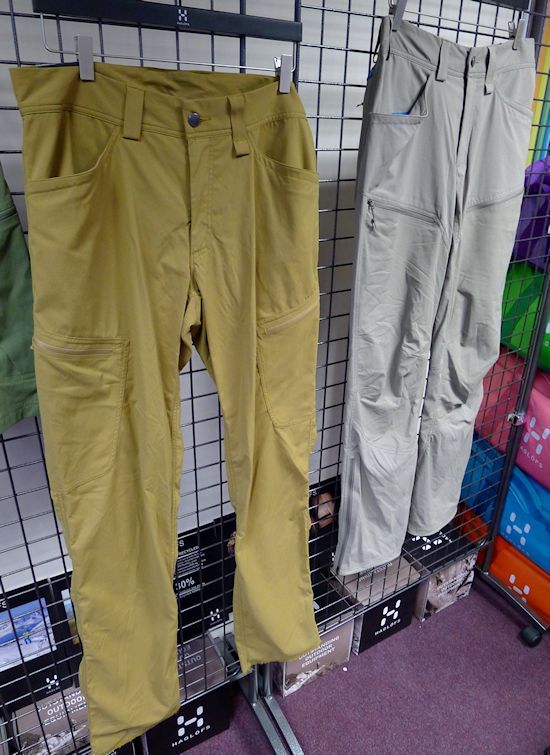 Mif Fjell Pants and Mid II Flex's in the pale grey. Glad to see they're sorted the leg pockets on the Flex's.
Below are the nicely detailed Fjell Shorts.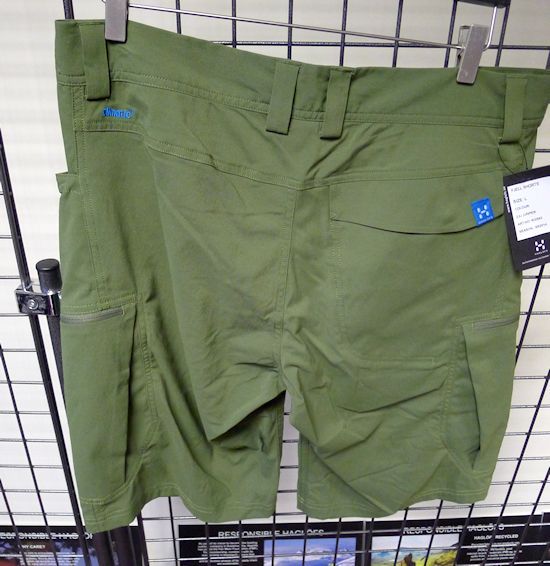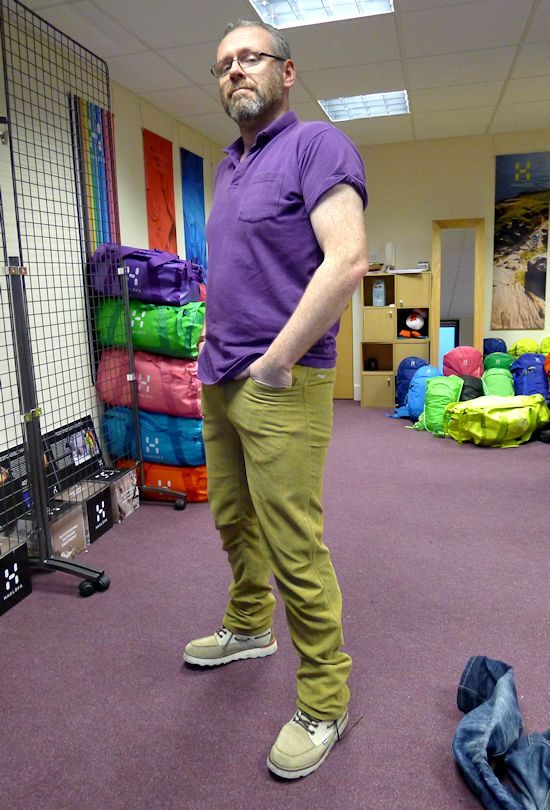 This is the corduroy version of the Mid Trail Pant which comes in regular flavours as well. This is the best one, by far. Outdoor cords, it's like the old days, I can dress like Tom Weir. Yes!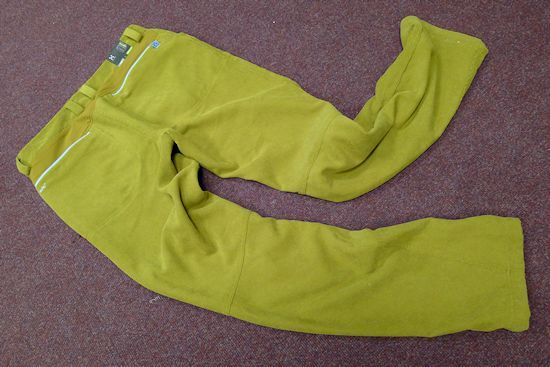 Gus, give it man, you'll never  make it work. Rugged II Mountain Pants in cosmic pink with man colours below. Orange, oh mama.
There's new side tensioners like you get on mountain bike shorts, I wonder how they'll work out?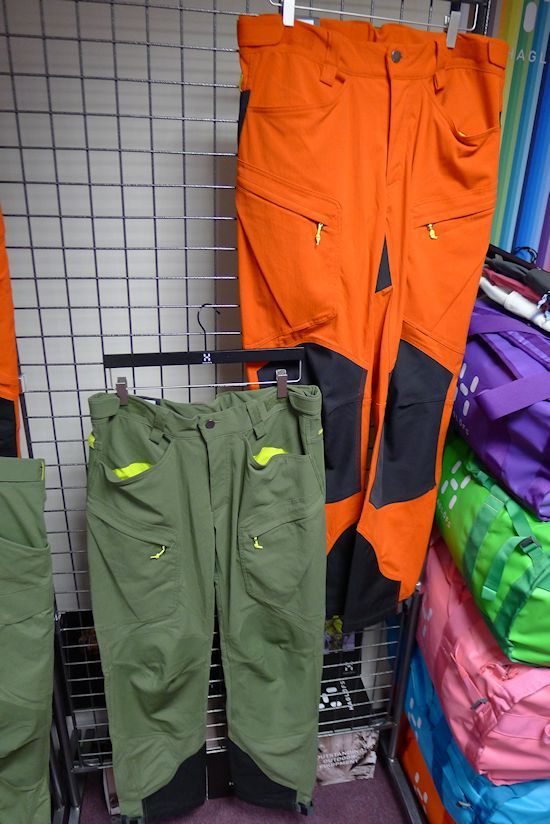 Just for the girls are the Mid Trail Q Skirts above and the Skorts below. These are rather popular I was surprised to learn. Why should I be surprised? Even at my advanced yearage, women still hold their mysteries for me.
I think these are MId Fjell Q's below, I liked the detailing and the marled looking fabric.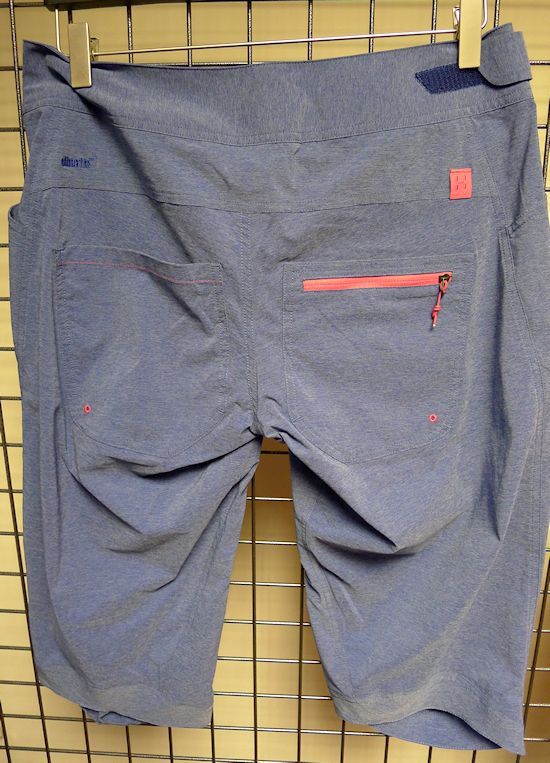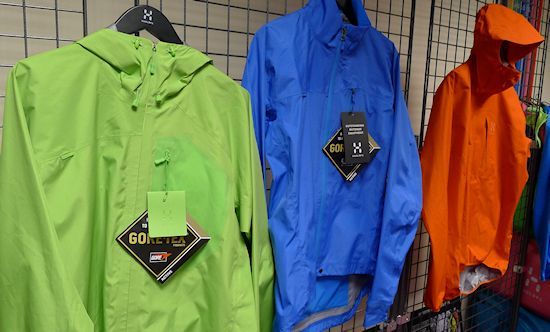 The Intense collection races ahead (see what I did there) with Gram Jacket, Scramble Jacket and Gram Comp lined up above.
Below are some Scramble LS G Tees and a pair of Ardent mountain bike shorts. The shirts are recycled polyester, Lava treated and have nice thumbloop cuffs.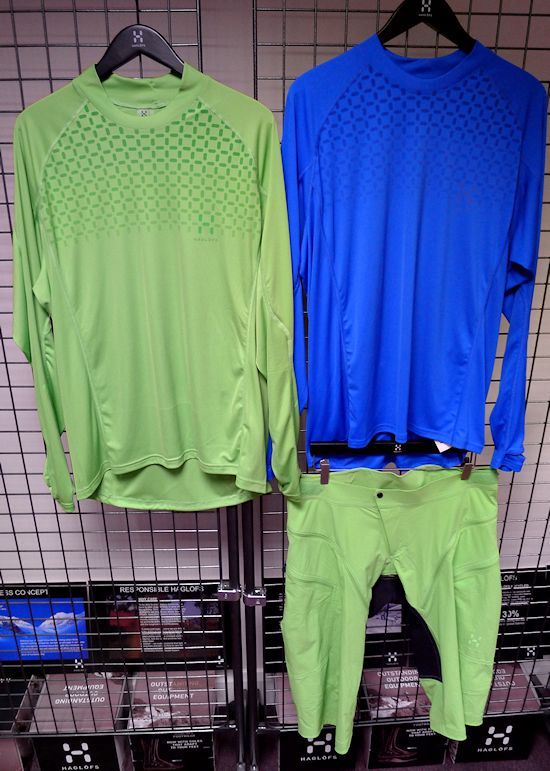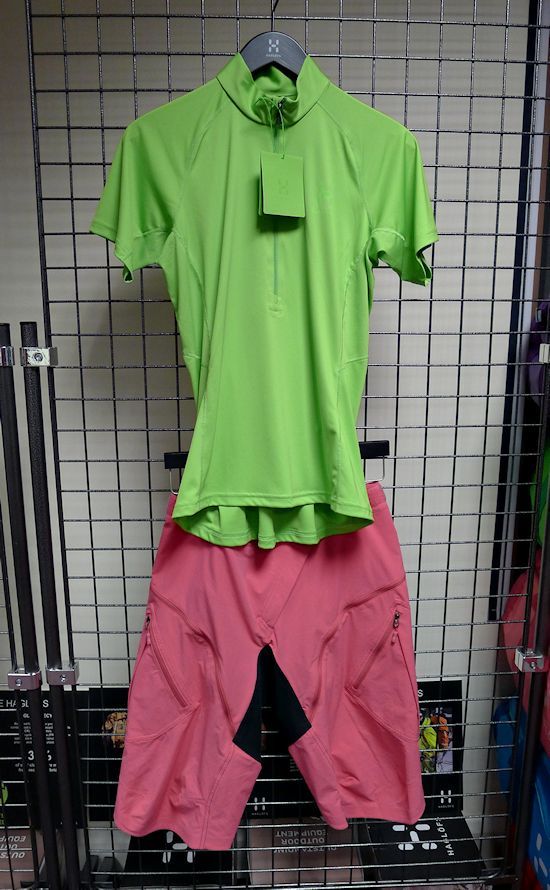 For the girls above is the Puls II SS Zip Tee and Ardents in pink.
Below is the Intense Zip Top in stretch polyester with Lava treatment. The simplicity of all this kit is like a breath of fresh air. The Intense Tights with them bring back the nice wee stretch thigh pocket that we've seen on Haglöfs leggings before. There's mesh panels on there too, for tights there's a lot going on.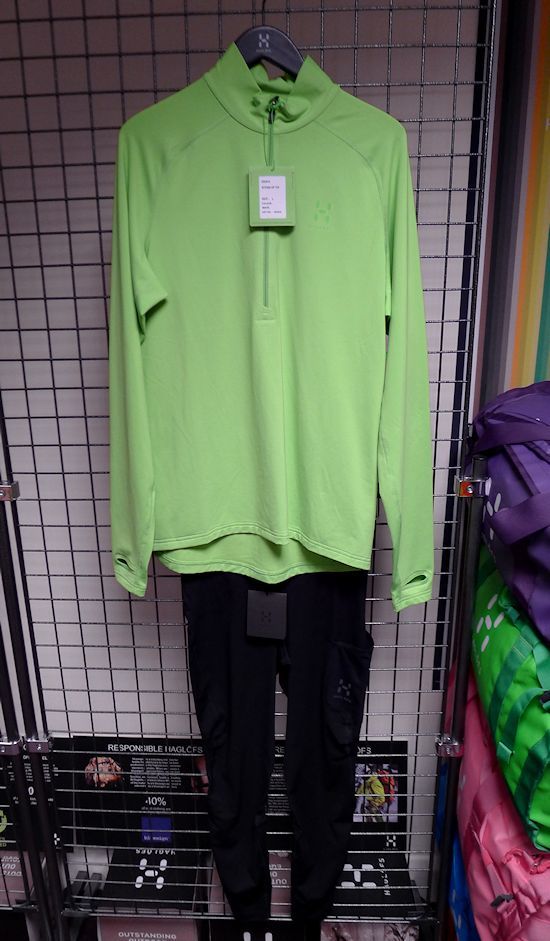 Below are the Intense II Q Skort with a Puls II Q Tee in pink and a Puls II Zip Tee with Intense Knee Tights. Again, simple, functional and usable. Do we need more than that?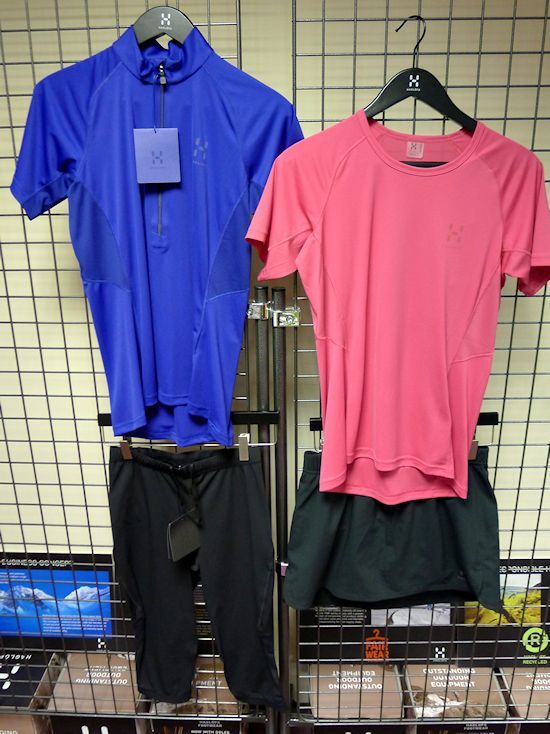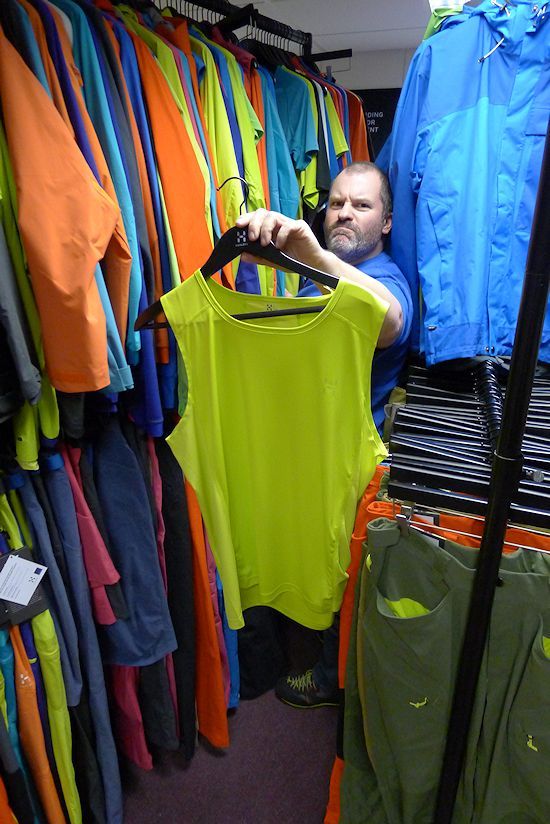 I don't care if it is this season's big pre order item Gus, I'm not putting it on for the photies.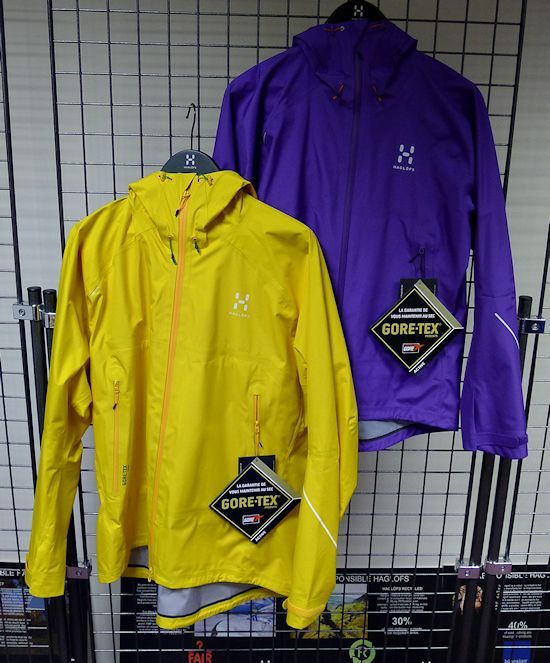 Ah, the joy of the return of L.I.M – less Is More. The last round of L.I.M kit got it right, I'm still using it which firmly sticks to fingers up at the notion of light kit being weak.
This yellow fellow is the L.I.M Active Jacket.  A 375g mountain shell in Gore-Tex Active. Seams are minimal and cleverly placed for form as you'll see below, the hood is a real fully adjustable hood, there's two mesh chest pockets, great articulation. good length in the body and the arms and it bears the new mark of L.I.M on the hangtag – the stripes or yellow, white and orange.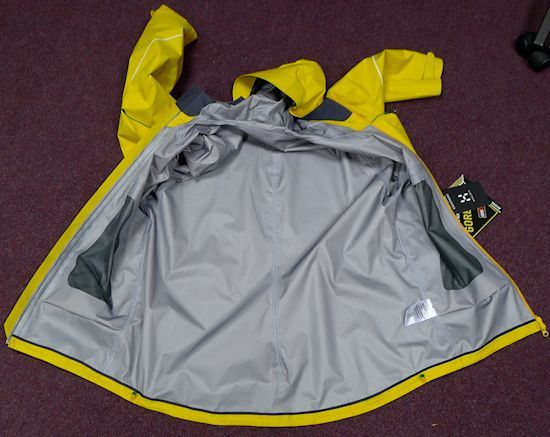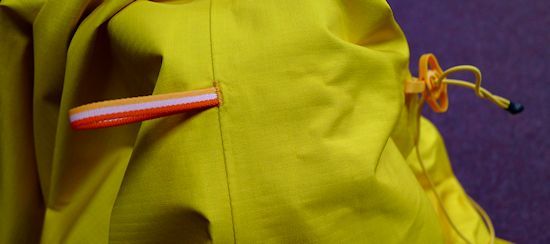 The black version has some subtle colour splashes.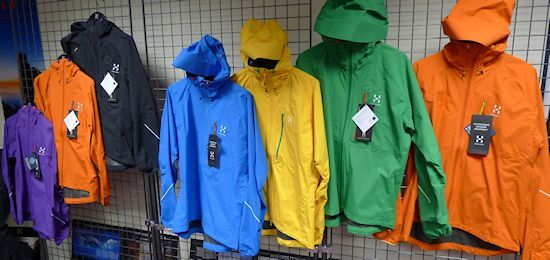 The long running LIM Ultimate Jacket is now the L.I.M III Jacket. Same single pocket full zip format and now using a much improved Paclite fabric. It says here.
Gus doing the neat folding away trick below.
These are L.I.M Versa Jackets. Neat fitting, shaped for being active and made from Paclite at 295g. These feel great when worn and the look is going to mark them out in the crowd. I hope we see these make the shops.
Yes, I am the Irn Bru man.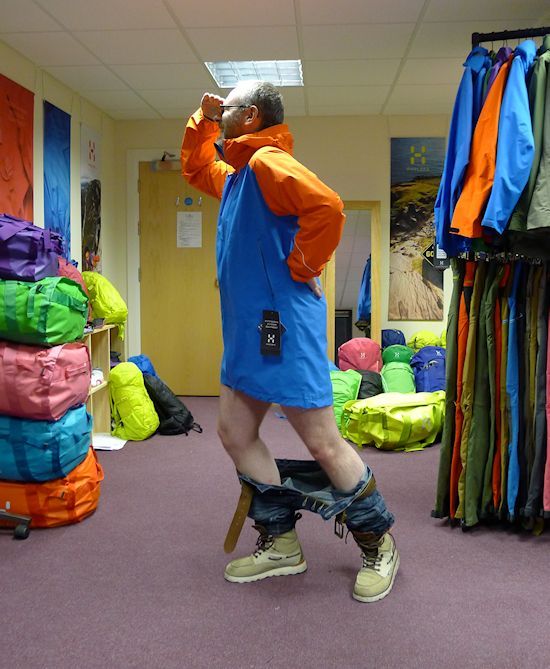 I remember the days when jackets were long and they kept the rain off your arse. On steep ground you unpopped the bottom couple of buttons and carried on. With the L.I.M Parka, those days are back again.
295g of Paclite, pockets, hood, all as you'd expect, but it's cut long for trekking. If I was going on the West Highland Way again, this is what I'd be taking.
A brave move making this, I hope it sells. I've got a similarly long jacket in for test from another brand and I've worn it almost every day for the past three weeks.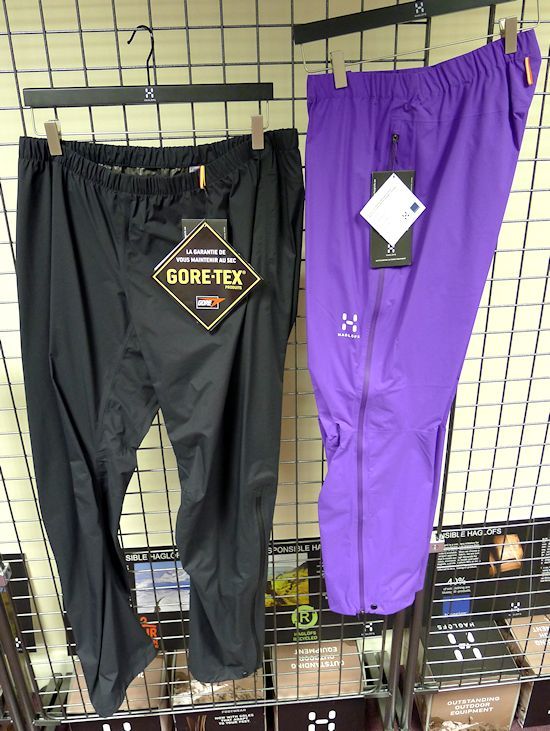 L.I.M III Pants, 230g shell pants in Paclite. Paclite is a great pant fabric, especially over softshell, these coild be a good call. The old versions were great.
It's a bit shell, a bit softshell and the fit is close with great movement. The L.I.M Proof jacket is 230g in Haglöfs own Proof waterproof fabric, Simple, clean and functional design, this fabric has a good bit of stretch to it and is 2.5 layer, you can see the internal printing in the close up below.
Prices are good, I was told them and went "Oh!", but don't ask me for details. It's going toe to toe with OMM's Kamelieka, how will that go I wonder?
These are going to worth a look, I was enthused.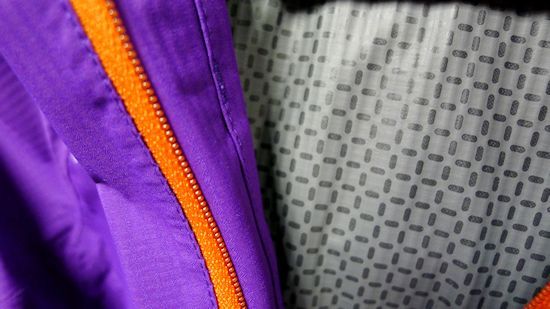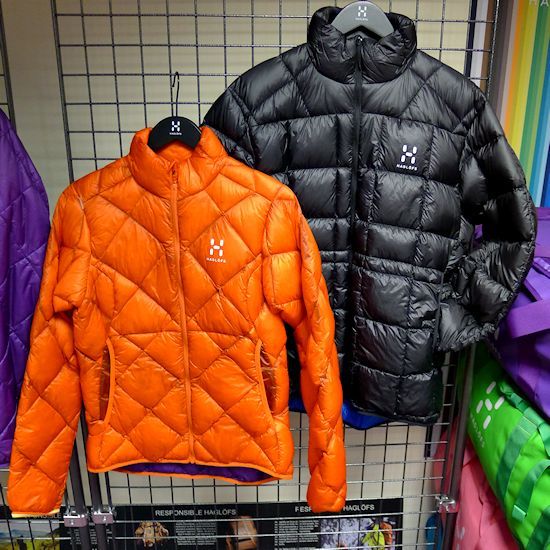 The L.I.M insulation is another grin inducer. The L.I.M Essens Jacket above is light and packable with 800 fill of ethically sourced down with a size large weight of 185g. I tried on the mens black version when the girls orange wouldn't fit and the cut is neat giving instant warmth feedback. Match it to a down vest and you're all-season ready.
The L.I.M Barrier Pro Hoods below have Quadfusion sythetic fill and come in at 205g. All the fabrics here are nylon, so tough for the weight.
Lighter than a 100 weight fleece and a windshirt, something to think about is that.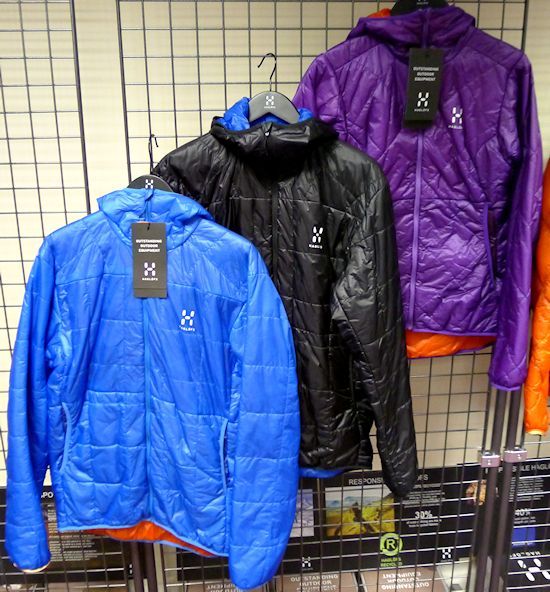 The grin is maintained by the L.I.M Flex Hood. A 315g Softshell which as you can see below isn't trimmed to hit that weight, I'm uncompressed and unrestricted using the thumbloops, the hood fits and sits just nice and the own-brand fabric has good stretch to it.
Two mid height chest pockets add to the functionality and if the fabric performs well, it could be a winner.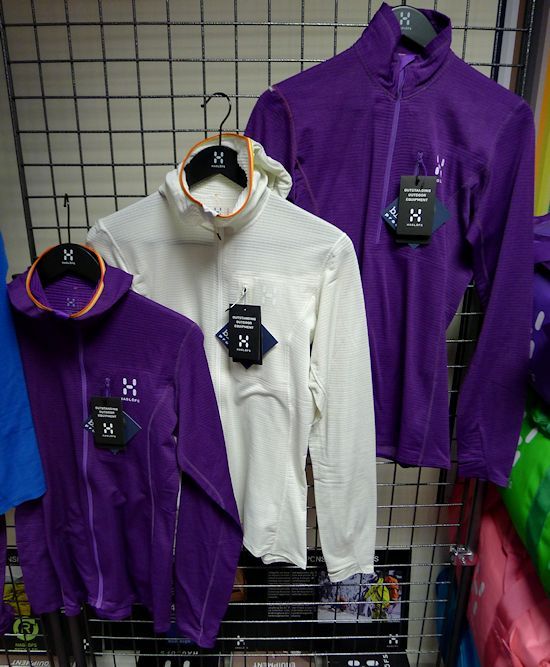 L.I.M is more of a complete system than it was before and here the Powerdry Hodds and Tops. These will work as base layers or light midlayers and the light hood feels great on, unrestructive and well fitting.
The fabric has a gridded inner face for faster moisture movement and drying, but it also feels warm under a shell. Great fabric and great looking tops.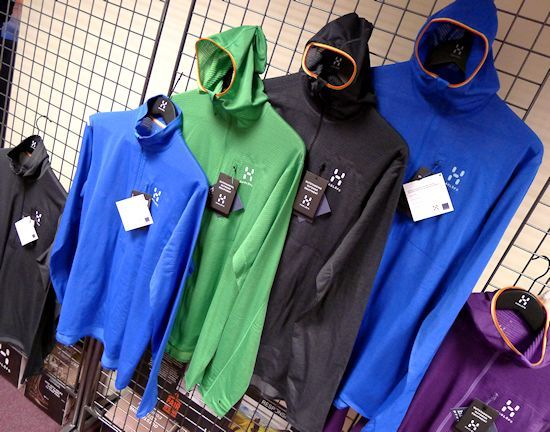 L.I.M  Tee's and LS Zip Tees in Lava treated recycled polyester. The fabric is silky feeling and the the colours bring me joy, even if the purple is only for the girls. Hey, purple had to come up at some point.
I saved the best for last, the Equator II Cap in Flexable softshell.
Well, I didn't leave much out. But that's because there's a bunch of stuff that had me going Ooh and Aah. The Roc Light Pull looks awesome as do the Mylonite Pants. Seeing corduroy presented as genuine outdoor fabric brings me joy, plus it just looks and feels good on. The whole L.I.M range had me grinning as I tried every bit of it on.
How much will we see in the stores? Who knows, times are hard which makes us careful and store buyers scared, none of which makes for racks of inspiration in-store when the new season comes around.
At least looking above is window shopping at its safest, you can look as much but you just can't buy even if you wanted to. And you can make up your own prices too, because I've no idea what they are.