The Haglöfs pack range is always an intriguing line up of the weird and the wonderful. The LIM and Intense packs are what caught my eye from the 2014 lineup.
Above is the LIM Susa 20 which has been tweaked and for some reason I didn't take a shot of the front. It's a nice wee pack, with some race derived features like a big stuff pocket and a climbing friendly tapered shape. Nice big hip fin pockets, good harness, 500g for its 20 litres and it looks like a decent regular-use go-to pack.
Below is the LIM Susa 40 or 30 which is similar to the above but here there's a buckled lid rather than a zip and big double entry side pockets. I've got many happy memories of miles covered with an old style LIM 45 pack. Good to see the name getting ready to carry more backpacking loads.
The Gram Comp gets some sensible updates with a better harness and better fabric. It's a great pack, I've used an original for a couple of years or so and the race derived layout of flexible and accessible storage is perfect for anyone who wants to keep their eye on the scenery and dig through their pack for their gloves.
320g for 25 litres capacity. I've used one with winter kit inside and outside without any problems.
Yes please.
The Gram Comp 12 is a zipped access go=faster pack at 260g. Great harness for running and biking and as Gus demonstrates can be worn as one of those pretend pregnancy belly things that dads-to-be wear so they can understand a woman's discomfort and get stuck in narrow supermarket aisles etc.
Nice big hip pockets and side pockets. Worth a look this one.
This is the bike-specific Ardent pack which comes in 15 and 20 litres in this format. Above it fits Gus like a coffee table strapped to his back, below in the riding position it form fits just nice despite being crammed with poly bags to explain the advanced concept of "3D" to visiting store buyers.
It's covered in weather resistant access and storage and inside there's a nice Haglöfs branded 2 litre reservoir from HydraPak.
Below it looks creepily organic I think. Just out of sight are the retractable tendrils for holding both XC and full face helmets.
The Ardent 5 in green here is a stripped down version. Biggest change apart from capacity is the simple wide elastic waist belt. Nice harness too.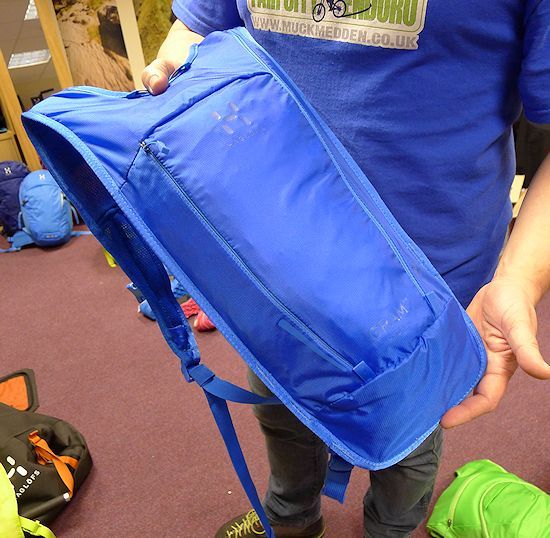 The Gram Hydra is a wee hydration pack with a HydraPak reservoir and enough room for trail essentials. Again a great feeling harness which has no tiny or fiddly buckles or the like.
The trend running through these packs of meeting lightweight half way to practicality is a good move I think. I would feel unnecessarily loaded wearing any of these and I can work everything wearing gloves.