I was grinning widely at the new Haglöfs footwear models for 2014.
Above is the star of the show, the LIM Mid. Developed with shoe experts ASICS this could be a lightweight trekkers dream come true at 220g a shoe and no water proof membrane to spoil our day.
The mesh and synthetic upper has a nice smooth construction for happy feet in thin socks and there's enough sole to keep your feet from getting too tired on a long day as they're bucking the barefoot trend which I'm glad to see and the heel drop is sensible 5mm. The sole has medium depth tread with rice husks through it (which you can see, I should have taken a photie), as the rubber wears the husks should add a little bite and like the cork bits in some soles it's lessening rubber use with something heading for landfill.
There's a gel insert in the heel, it's a trekkers shoe not a runners shoe after all, the toe is strengthened and randed and the whole things flexes nicely with a well shaped and substantial feeling heel cup. £100 when it hits the shops at the end of Febuary in his (6.5 – 12.5 UK) and hers (4-8 UK) sizes.
Above and below are three Gram models from the Intense/Trail range, all available in hims and hers sizes. The pink one is the Gram XC an all-round trail runner with mesh upper, the middle one is the Gram Comp which is the lightest model at 260g for one shoe and the end one is the Gram AM GT, Gore-Tex lined if you like that sort of thing with a studded sole which from many days in Icebugs I confirm is a good thing.
There's a lot of going on in the shoes, anti gravel tongues, gel inserts, rock protection plates and heel drops ranging from 7.5 mm on the comp( that half a mil makes all the difference…) to 8mm on the other two models here and 10mm on the invisible Gram Gravel which is actually a lightweight rigger boot in pink. Maybe.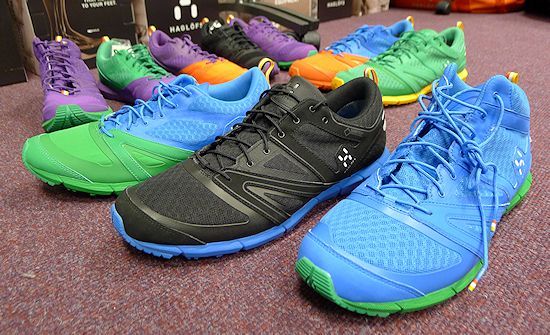 Back to the LIM collection here with a selection of the different colourways on the LIM Low and the LIM Low GT. The basics follow the LIM Mid above, we've just got a low cut ankle which is fine by me and there's a mix of Gore-Tex and unlined shoes. They way to tell them apart is easy, the smooth toe fabric on the black shoe in the foreground below means unlined, it's just got extra protection from a nylon overlay. Open mesh toe+GTX.
I like the look of these, decent soles, great weight (which will be confirmed to me later) but looks like under 200g for unlined and just over for the GTX. Plus the colours of course, that would brighten up any pair of sad looking feet.