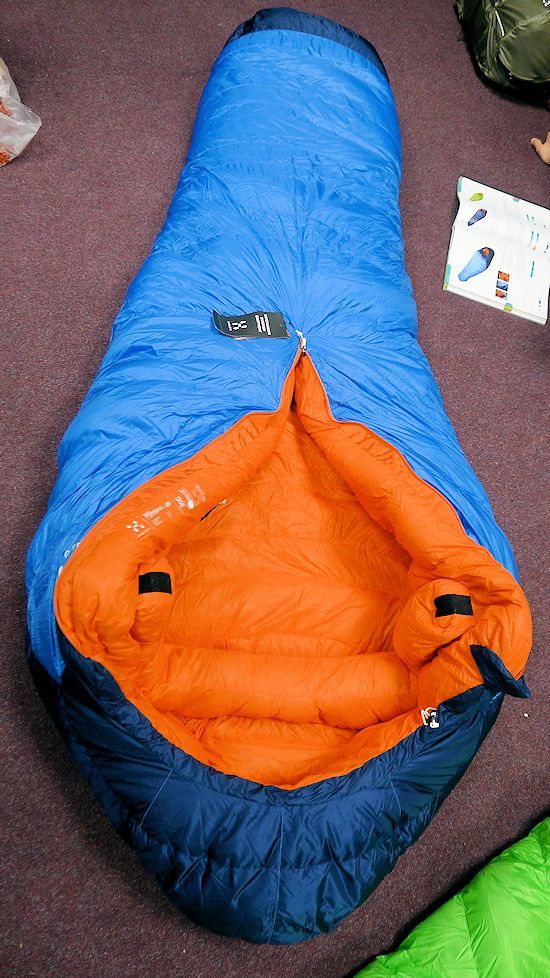 I was at Gus's Haglöfs shed last week where much sugar was consumed and we fannyed about with gear well into the night. There's a lot of new stuff that I'm enthused about, the new footwear looks excellent with a mid height trail show with no membrane lining, the LIM (Less Is More) concept makes a comeback with a range of light and functional kit and there's just a general freshness about the 2014 kit.
I'm going to cover pretty much all of it so I'll split it into sections over the next few days. First up is sleeping bags and associated bits and pieces.  Haglöfs sleeping bags are much overlooked in the UK, I've slept in a mix of their down and synthetic bags and the slightly relaxed mummy cut they use can feel like a palace next to some of the knee stranglers I've tested.
Well made, excellent materials including non live-plucked down fill, they're worth alook if you can find them. Next years line up is all-new, new bags with new specs and new names. The star is the Perseus seen above and below. But, are you sitting down?
This is the warmest bag I've ever slipped into. Feedback was instant and intense, the  temperature rating stell you all you need to know. -26C for the blokes with an extreme of -50C.
£800 is the price to keep you this warm. I told you to sit down.
But, if you need this level of protection, you'll pay it because you'll be in a position to be able to afford it or have a sponsor pick up the tab. It's a lovely bag, with a centre half zip which I love having used the same format on a couple of bags over the years.
I offered Gus what I had in my wallet, but he just lay on top of it and said I couldn't have it. or he could just have been demonstrating that it does actually pack down pretty well for your polar exped.
There's spots of synthetic insulation where your pressure points are to keep you suspended above your mat, big draught baffles, pockets and heavier fabric at the head and toe. All for 1720g. Not too shabby for the performance at all.
Test one on the floor of your local Cotswolds camping dept. Ha.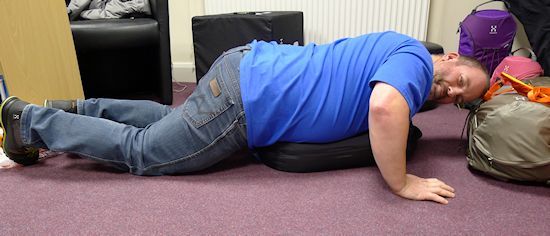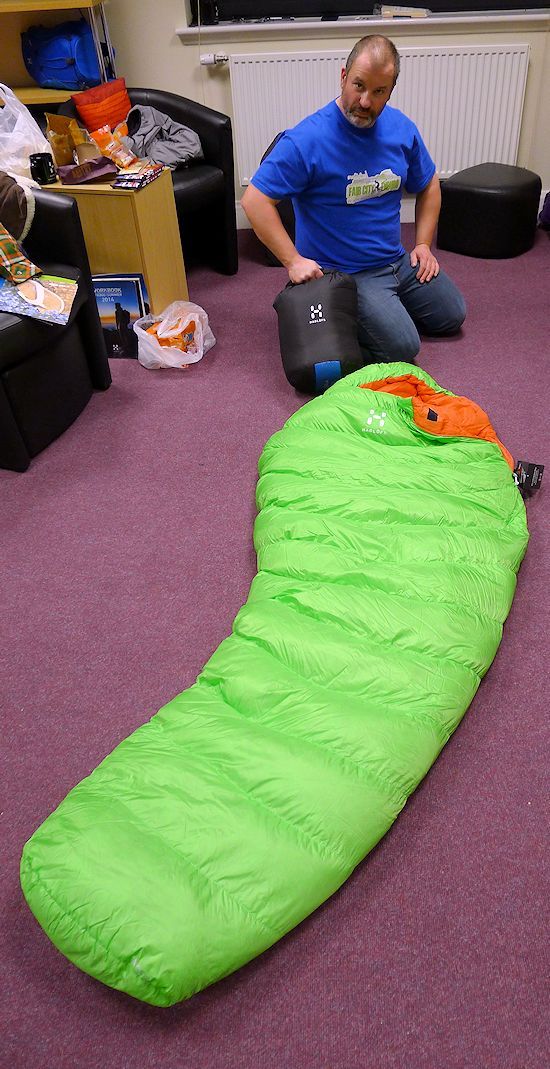 The Leo above come in -10C and 0C ratings at 920g and 625g respectively. It's a nice shape, trim mummified, like all the Haglöfs down bags it lofts like a bastard and it's got a quarter length zip to save weight and cut down on pack size.
This is their winter racer or light hiker bag, trimmed down but not to much so. I like it.
Haglöfs made me smile with the Indus Blanket. 200cm x 130cm, Pertex Quantum and Pertex Classic shell with Quadfuson synthetic fill. It's got poppers to make it into a poncho while you're cooking breakfast and it rolls up pretty small for its 685g.
It'll be great in a damp tent where down blankets can be vulnerable, I liked it. Will we see it in the shops this spring?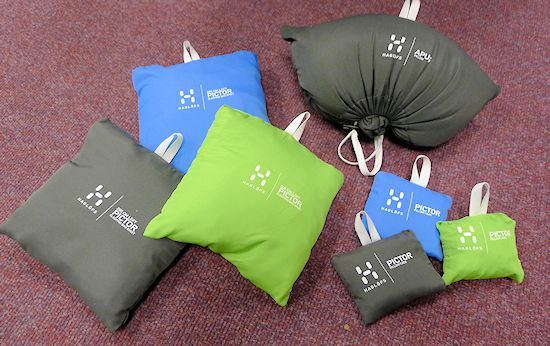 Haglöfs have new selection of base camp accessories as they're calling them and above at the Pictor Sleeping Sheets (big( and Pillow Cases (wee). It's a nice soft polyester fabric they're using. I used to use bag liners all the time, and this one would be great next to the skin but the pillow case especially is a wee cracker (folded out below). Weighs 25g, which no one can feel, and packs to nothing and gives you a properly shaped stuff sack to cram jackets etc into. Also, the fabric will make it a great wee pack towel as it's absorbent and quick drying. Magic.
The Apus Pillow (folded up in the top photie) is pure luxury and for porter to carry or for car camping. It's full of polyester insulation and it's got a sleeve to cram more kit into if you want a firmer resting place for your napper.
Nice line up of kit and none of it what is folk normally associate with Haglöfs which is a shame as it looks like they're trying hard with the range.
Tomorrow: Footwear.