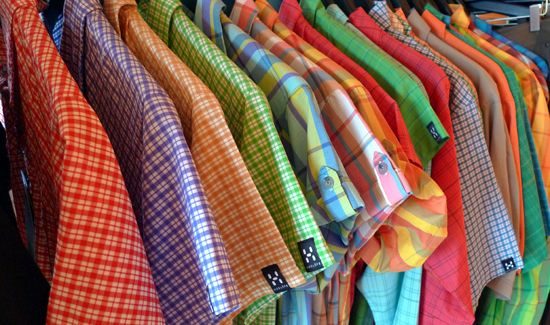 I was at the Haglöfs shed during the week and had a look at the gear for Spring/Summer 2011. There's some nice new bits of kit in there, some evolution, and more moves into sustainability: more recycled and recyclable fabrics through the ranges, many with Bluesign accreditation.
Below we've got some of the Climatic t-shirts. L-R Tonal, Logo, Leak and B Tees. They're all made in recycled Dryskin fabric, and having been wearing a couple of the current tee range over the past couple of months I'd be happy taking any of these into the field, so don't let the colours and styling fool you. The more relaxed cut is a great if you're having a "big-day" too…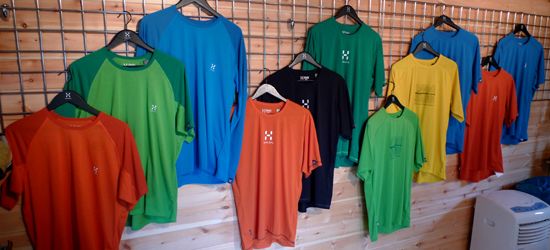 At the top of the page and below are some of the new shirts. The Albi LS (and a yellow Torto) below is going to be divisive, it's a great slim fit with proper high-reach articulation in a proper performance fabric, but the styling is going to make gutless store buyers faint in their shoes all over the land.
I'd wear them, but you knew I was going to say that. All the tees and shirts are Polygiene treated as well, it's antimicrobial, antistink, and works well. It should be available in the UK on it's own about now too, so you can wash it into your socks.
The girls (Q in Haglöfs-speak) Climatic t-shirts are below, same names as the blokes except the yellow/red/pale blue just to the right of Gus, these are the Pop Q Tee. Pop Cutie?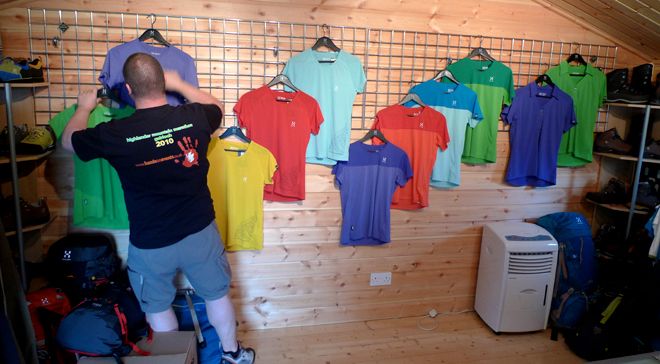 Haglöfs have gone trouser crazy for 2011. Above we have Amfibie Flexable softshell shorts, nice stitch detailing, pockets, fly and integral belt. Will we see that blue in the shops?
Closest below is the update to the Mid Flex pants that I've been wearing recently, similar in the construction with the big stretch panels and much of the detailing, but the leg pockets have moved to a side-entry type. Just as I got used to the horizontal entry pockets…
Behind those are the Mid Fjell's in non-stretch Climatic. The legwear range is huge and diverse, sizes now go from XL to XXXL (34-46 in the girls) and it looks like there's more leg length choices than there has been as well.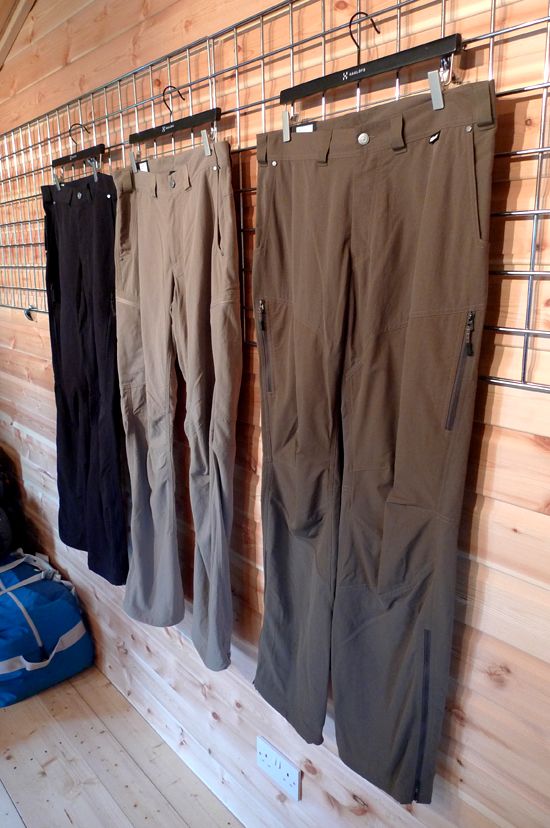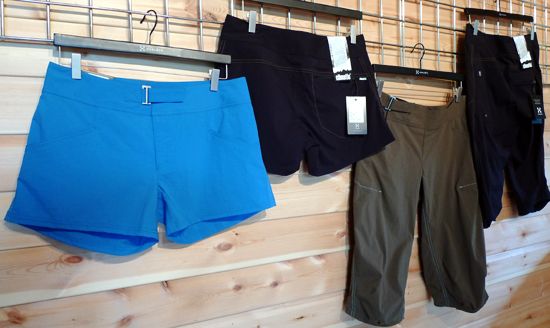 The highlight of my day were the Amfibie Q Shorts above. Hipster-style softshell shorts (theysay, hotpants I say) with a 70's style metal buckle closure. The long versions are at the back.
Techno hotpants. Yes.
Below we have the other end of the spectrum, wummins Rugged Mountain Pants in badass black.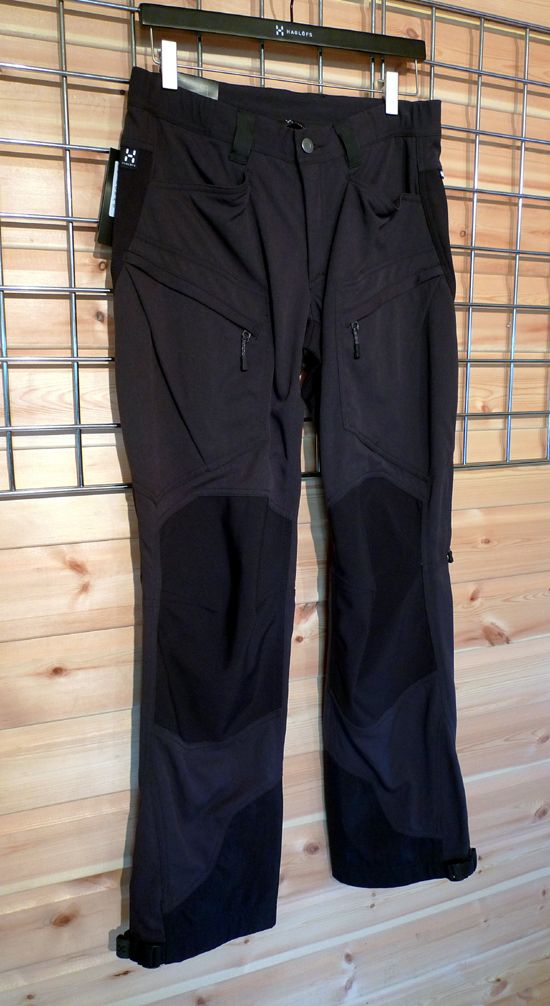 The hooded Juniper that's coming out in a few weeks continues into next year with some new colours for boys and girls, the curry/mal version closest to us is the one I like. It looks kinda old-school. Their hoodless version are regular Junipers, and all of the above are in Bluesigned Polartec Micro.
I took some pelters last year when I got all excited about the Lizard Top and Shorts, "over-expensive jumper", "it's pointless" they said. Well, the Lizard kit has been a hit, and it stays in the range with some new colours.
The shorts below were a sell-out, so not only are they back again, they're joined by the new Lizard Pant. The Pant's are cut from the same Bluesigned Flexable softshell fabric, are pretty minimalist for softshell legwear. There's a drawcorded waistband, tapered lower legs with plain hems, three pockets, crotch panel and that's it. These'll be really versatile, the cut will suiting biking and running, as will the fabric, but the "regular" looks will suit any outdoor stuff. Nice.
The popular Viper II gets an update and becomes the Boa above. The non-membrane Flexable fabric gets the Eco stamp from Bluesign and the updates include new cuffs with thumbloops and great coverage for the backs of your hands. Mens and wummins again, new colours (that's bracken I've got on), and if it's as good as the Viper, it should be a winner.
The Intense series carries on much the same, clothing and packs. There's new shorts, the knee-shorts and leggings have been tweaked and there's a new zip-neck t-shirt. I tried in on, and it's nice. Not enough short-sleeve zip-neck out there.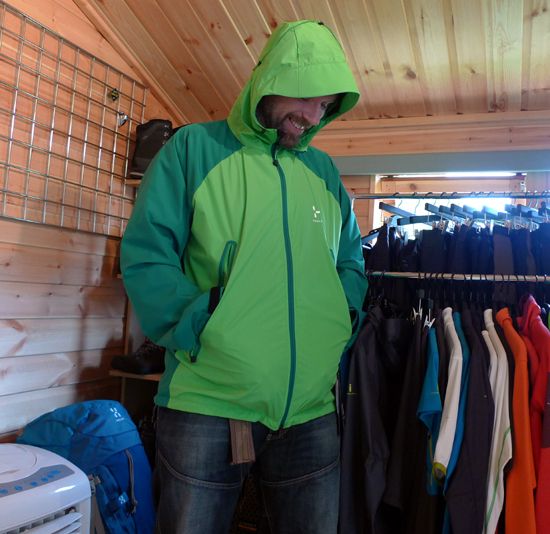 Above I'm visiting my past with a Winstopper shell jacket. It's called the Bora and it reminded me of a Karrimor Activent Alpinits thing I had many moons ago. You don't see much Windstopper shell these days, I remember it as being pretty good, I'm going to have a rake in the attic.
More Winstopper below with the Pareas Hood nearest, which has the more breathable Flexable rear panel, and the heavier duty full-Windstopper Eryx at the back. Gus is trying to swallow the walnut from his Walnut Whip whole in this shot.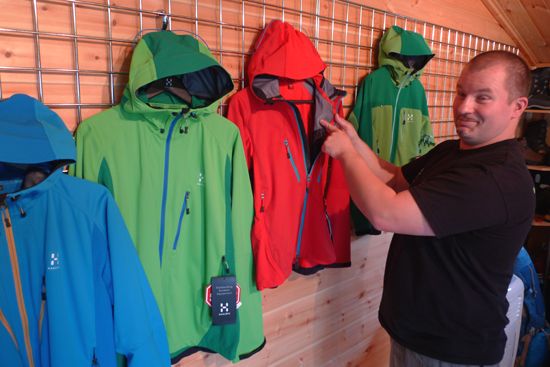 Below is the new LIM jacket (no longer with the Ultimate tag), new fabric, new construction (really, we did an A/B with an old one to check) and a little fatter at 300g. The new fabric is very soft and rustle-free for Paclite. I've got an old tatty one of these and one from last season and I think they're underrated. There can't be many jackets this light and as well featured with a full-length zip?
There's still matching LIM pants, now in three leg lengths for all sexes.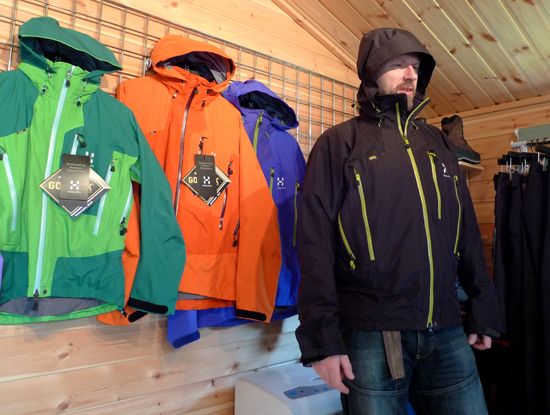 That's the Arete Gore-Tex jacket above, it's more of a general piece, but when you're using lightweight stuff all the time you forget that this kind of kit is actually pretty nice to wear.  It's always good to see that there's no slacking off in cut or articulation through the range, the general pieces will work as well on a hill as the top-end kit.
Shell pants with pockets? Not enough of those, so we've got the Velum (R) and Incus (L) below. Worn in winter over a set of merino leggings you'd be set, and you'd save weight in your pack. They come in Haglöfs' own Proof fabric which is decent enough, but is recycled and recyclable with it's polyester membrane.
The Proof collection continues below, from the (I don't mean this unkindly) dog-walkers Velum at the left, through the Pannus (in the girls colours) to the technical-specced Incus at the end.
I've said this a lot, kit in non-branded fabrics is vital. We need innovation, some risk taking in the marketplace, and economics being what they are we might be lookibngf more and more at non branded fabrics on our backs.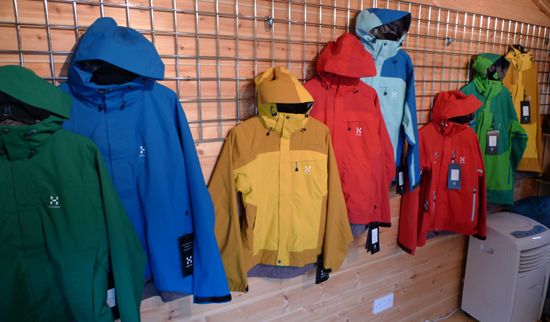 The Ratio above is the top-end Pro-Shell jacket, and in colours that delight the heart and soul. 420g for a 4-pocket/pit-zip/mountain-hooded jacket is not too shabby.
The new Pro-Shell/Paclite mix Electron is below. Seems like a nice alpine-style shell, good pockets and a clean look to it.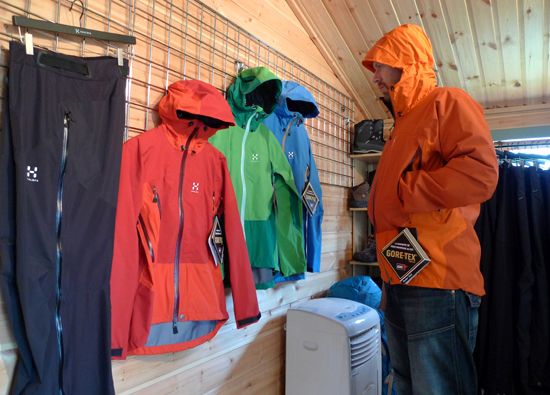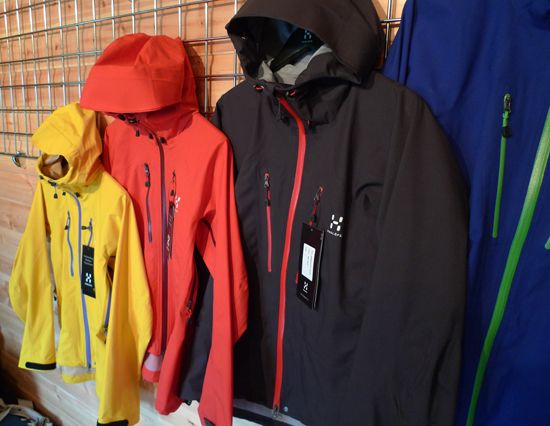 That's not the Spitz above, it's the Zenith, which is a Spitz cut from Proof 3-layer recycled fabric.
Top-end design in an own-brand fabric,  £275 versus £360 for a Spitz?
Haglöfs sofshell pants are making a bit of a comeback over the next couple of seasons. The Eryx Windstopper mountaineering pants are above right, with the slightly lighter-feeling Flexable Flint Pants beside them, both new.
The Flint's have internal gaiters, leg pockets, both have Keprotec kick patches on the inner ankles and the Eryx have thigh vents.
Below are the mens Shist (R) and the wummins Shale in the bracken colour, although both come in black and apparently won't have those blue zips. Bugger.
These are year-round general purpose mountain pants, understated (apart from the zips) and in the new eco-friendly version of Flexable. If Haglöfs are following their own pant advice here they should be good.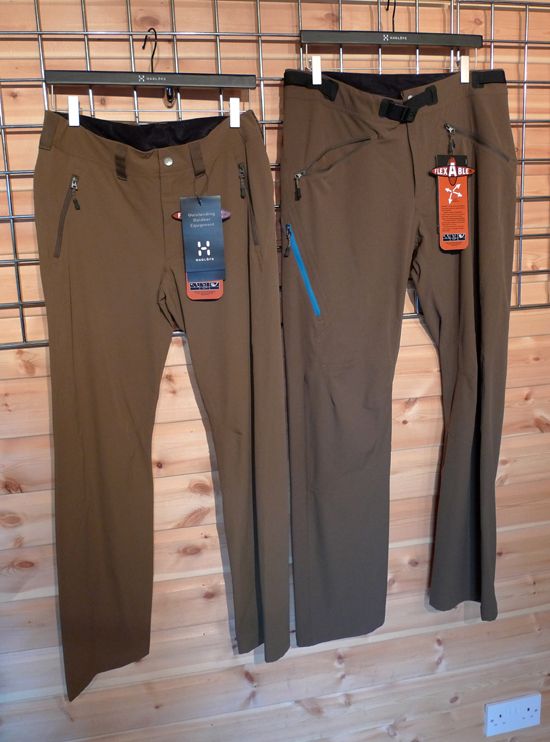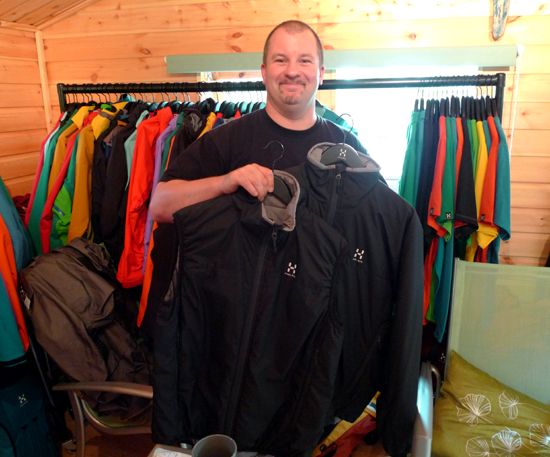 Gus was pleased that finally some Haglöfs insulation will be available during the summer. The magic Barrier Vest and matching  jacket, black-only, guys and gals.
I was pleased too, I just don't look it in that Viper softshell cap.
Mither's soup was a highpoint and wearing a Solar II hat indoors had it's own pleasures.
Above and below is the new Roc Legend. It's a (Vibram) sticky-soled approach/scrambling shoe. A neat upper, lacing to the toe, Sole (more on them soon) insole inside, rands front and back, sweat-sucking microfibre lining and nice colours too.
These have been a hit with the buyers it seems, expect them in the shops next March. And like most Haglöfs footwear, it'll come in UK half-sizes.
That's the Stroll Q GT boot above, I just kinda likes it's friendly looks. Not enough suede in my life.
That's the revamped Crag's below, splash of purple on the girls' version. It's a good shoe, I bum around in my non-lined version quite a bit. Grippy outsole unit.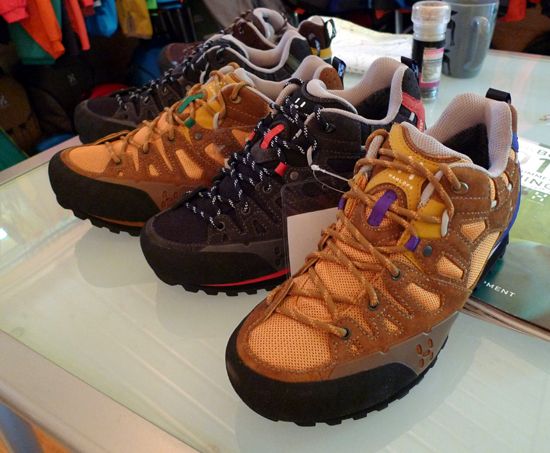 His and hers Exhales and Exhale GTs above. It's Haglöfs most "trail shoe-ey" model, but still quite beefy, good for general hill use.
Below are the Grym Hi's which I will not be testing. The regular Grym's really were a revelation though, not shin splints, no blisters, no pissing and moaning from me when I had them on.
That's the Corker XS, a 5L version of the regular Corker (below) which has been Holly's changing bag for the past 2 ¾ years. But she's getting to be a big girl now and doesn't need a changing bag, so we'll had a world exclusive first test of that purple one above from the girl herself soon enough.
The Corkers are odd looking packs and probably get overlooked because of that, but they're tough as hell, very useful for lots of things (how many rucksacks can really claim that) and seem to be waterproof. Made from recycled materials too.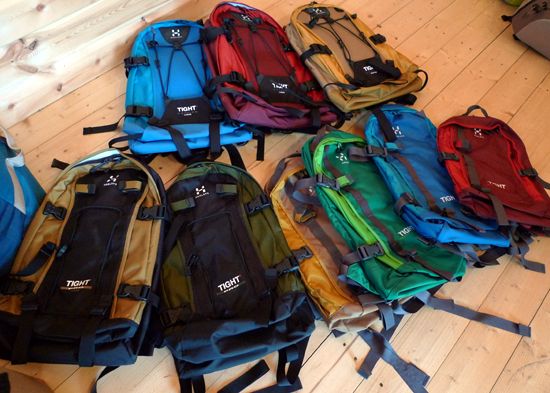 That's the various Tight packs above. 1 million sold in the last ten years. Bloody hell.
The styling is very un-British again, but the usefulness is high and the spec choice is varied. The colours too…
The Actives base layers keep the new plain look with the lighter fabric. Still, don't think I could my belly in long enough to get a shot of myself in one of those white tops.
There we go, a look at some of the bits and pieces. I like the looks of a few things in there, that shirt below being #1.
Nice to see the Lizard range expanding, and to see the fabrics increasingly moving down the sustainable route.
Oh, and the colours. The colours…