Once again I made the hazardous journey to the secret shed of wonders to meet Gus and see what Haglöfs kit we'll be wearing in a year's time.
There's been a huge revamp, and not just colours either, designs have been tweaked or replaced by entirely new models and the wummins "Q" range has taken on a life of its own.
The range is huge, but I'll run through some of my favourite kit.
The Intense range once famous for its Budgie Green has been completely revamped and there's a new colour, Oxy Blue. There's still little flashes of the green so you'll be able to er, mix and match your seasons…
Above is the Intense Zip Top which is a hot-rodded Azer, the fabric is a very soft and stretchy Dryskin, Polygiene treated and made from recycled polyester (increasingly common through the range). The fit is slim and long. There's a few other examples of the base layers on the wall behind me.
Some models stay, such as the Halo Jacket and the Zap tights (reviews coming soon) although the Zap's are losing their pockets. The Kazoo's are gone, but they immediately come back as the Intense Pant and are the same shade of grey all over this time with an additional centre- rear zipped pocket, and all the zips are Oxy Blue of course.
Wind wear is all new, the brilliant Kaza is replaced by the Shield Pullover seen below. It loses the mesh pits and gains some stretch panels and hits the spot at 160g for a large, and there's a jacket vesion at only 185g.
The Oz too, is dead. But now we have the OZO as seen below. It's not just a colour change though, there's now a pronounced drop-tail, the pocket is stitched and taped rather than laminated and the hood has a stiffer peak. The weight has crept up by a back breaking 5g to 180g for a size large.
The Climatic range has expanded and the checked shirts which caused some debate on here recently make a strong showing once again, and with some new patterns and styles (the one I'm wearing is a cotton affair from H&M, but fits in rather nicely I find…).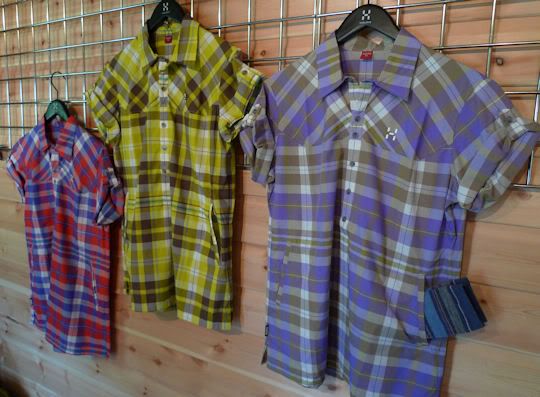 Above is the wummins Lute shirt, it's a pull-on with wee side pockets, a magic bit of kit. Since I used the Jura shirts and I've been out in the sunshine too much recently, I've become ever more aware of the possibilities of this style of kit, not to be dismissed as "lifestyle" in any way.
Continuing into the ladies area, below we have the Mid Trail Pant on the left. This has one of Haglöfs new pant cuts, the Low Cut, so it has a funky hipster quality. On the right we have the Rugged Q Mountain Pant. Now, I know that there's wummin out there that want these and Haglöfs want to make them, but if the stores don't order them, they won't get made. Start that email writing campaign now…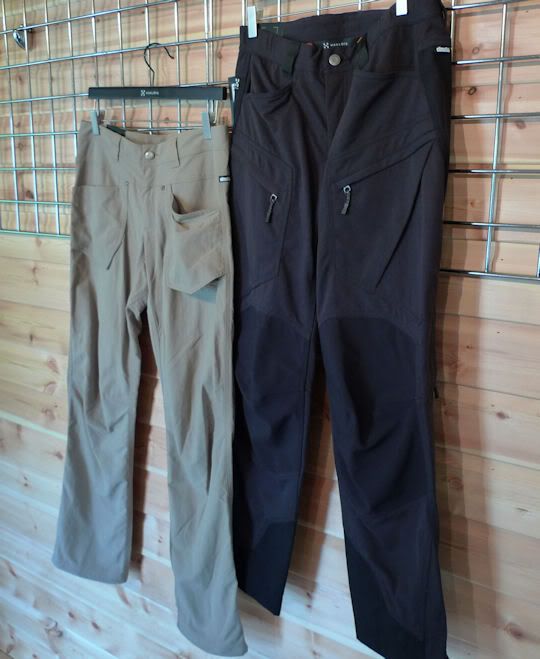 At the other end of the scale we have the new Loose Cut on the Rugged Ridge Pants below. I want these, and I want them now. They're baggy, canvasy, badass pants.
There's been an interesting update to the pant range, there's very little bi-colouring, ie black knees and arse. The stretch panels are all pretty close to the non-stretch areas, and the Mid Flex Pants are now in an all-ever Bracken colour which looks very neat indeed.
There's a huge bunch of t-shirts and polo shirts in Climatic  as well, and the colours are the colours of joy, orange, purple, blues and greens and there's still shorts, 3/4's and zip-offs.
Fleece is still alive and well, the Treble I've got on test has a new purply-blue colour, the current Single microfleece is replaced by the Juniper which has a better cut on the shoulders and has had a bit of a restyling.
The Wigo jacket has the new Orange Rush colour, a colour which brings me much joy and is right through the range.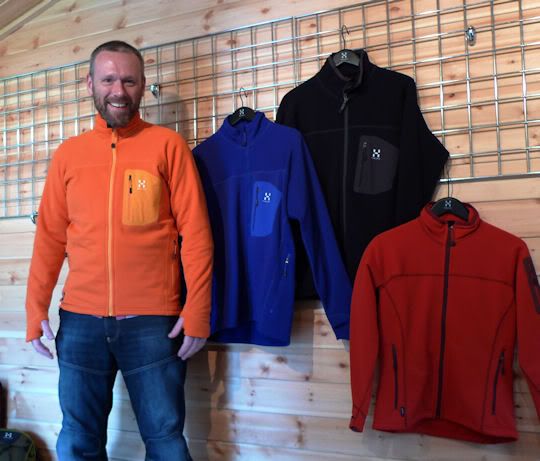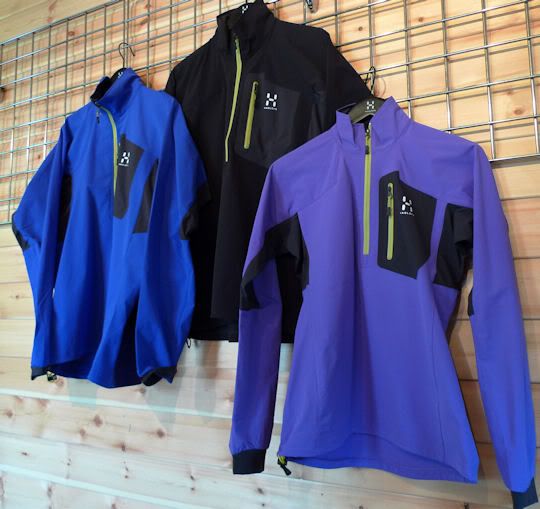 Softshell sees some restyling and some new models including the Lizard Top (above and below) which is a 355g wind and water resistant pull-on. It's a slim fit and super stretchy, a really nice bit of kit.
The Viper II Hood below gets the new Orange Rush treatment (review of a black one coming soon) which as you can see had me quite insensible with it's brightness. Oh yes, these are proper mountain colours.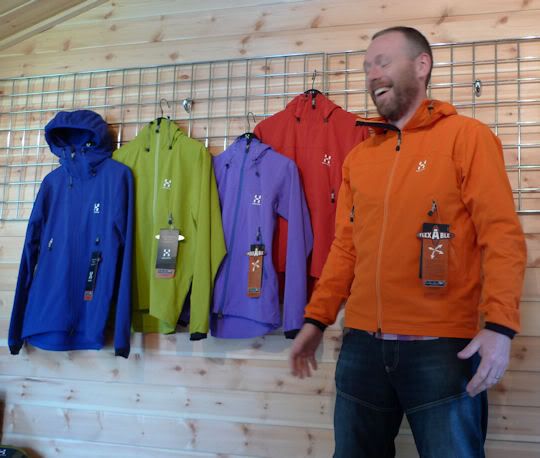 Gus is mocking me with the wummins Cobra Q Jacket, look at that purple. Help ma' Boab!
There's another bit of new kit that's genius, the Lizard Shorts. They're softshell shorts, ideal for biking, summer hiking on showery days or just replacing your bog-standard un-stretchy shorts.  These and the Lizard Top are a cool weather running and biking combination of justice.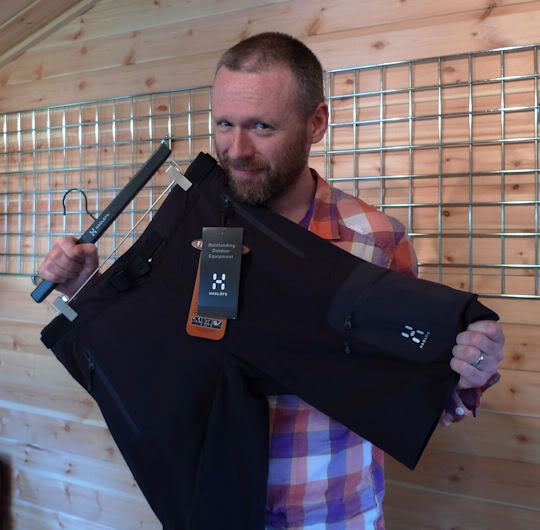 The waterproofs have had a sharp eye cast over them too. The mens and wummins Arete's above are great showcase for the new colorways. It's a general purpose piece, but still has a great slim fit.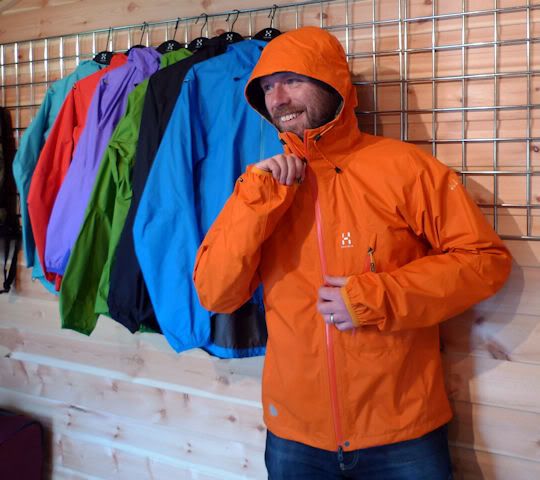 The long standing and somewhat overlooked LIM Ultimate gets a fresh coat of paint. At 247g for a size large it's a cracker and has longer arms and body then the Oz as well as the full zip and a bigger pocket for less than 60g more weight. I've used one for a couple of years and I like it fine,  but I'll be having a new one in that orange thanks very much.
The Ratio Jacket below is a new 420g mountaineering jacket in an exclusive Gore-Tex stretch Pro Shell fabric. It has some interesting features, including a horizontal entry chest pocket for MRT radios and the like, and a hood with a built-in collar. It's the usual slim fit with excellent articulation and eye watering colourschemes, the lucky ladies get the two-tone purple and red on the wall.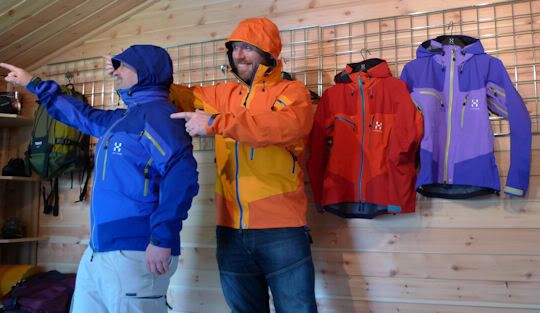 The Titan Jacket below is 445g mix of Pro Shell and Paclite, which means weight saving anddurability in an alpine-style mountain shell. It's an interesting concept that you don't see very often, mixing fabrics. It looks perfectly normal now as the inner is all light grey, before it might have been odd with the white-ish XCR component. Another "sleeper" in the Haglöfs range.
And of course, the Titan most obviously featured below is a wummins fit, and what we have there is a man desperately trying to make it fit because it's purple.
A wee look at packs an' that coming up.