There's new Intense bunnets as well, the beanie on the left found favour on my napper, but the skipped version on the right is for younger and less weather beaten outdoor activist than myself…
The samples of the new shoes hadn't arrived, but they look good in the workbook.
There are a couple of new models, and the X-Hale is a new low-cut trail shoe with assymetric lacing (which I've used a few times on the likes of Garmont and Keen and I rather like) and most importantly, it comes in UK half sizes, a first for Haglöfs.
There's also the new Grym boot, a totally sci-fi lightweight all-season boot in some cutting edge materials including "Superfabric" which looks like it belongs on a bullet proof vest. They'll take the lightweight styles of crampons I've been using lately, and I'll have me feet in these at some point.
Everything comes with a Sole footbed, which I've been using in current Haglöfs test footwear (reviews incoming) and I'll also be covering other Sole gear soon. I think it's a brave move ditching the cardboard insole and putting in a bit of quality gear instead.
The pack range has had some tweaks and some new models. The Roc series are alpine packs, stripped down and clean lined. There's a plain Roc and there's also Hard, Ice and Speed flavours. The Speed below is a 25L fast movers pack with neat wee ice axe loops that are much easier to use than the current vesion common on packs, and jammily for Haglöfs; exclusive.
The range reminds me of the Karrimor Hot series of the 90's, tough, usable mountain packs with a range of capacities and features to suit different needs and none of the extraneous nonsense that creeps onto gear to carch the punters eye.
Below is the 32L Vapour, another departure as it has an air-gap back. It has the hip fins from the LIM series (still in the range 35 and 45, unchanged) which I know are super comfy, so it should be a decent overnight camp-kit lugger.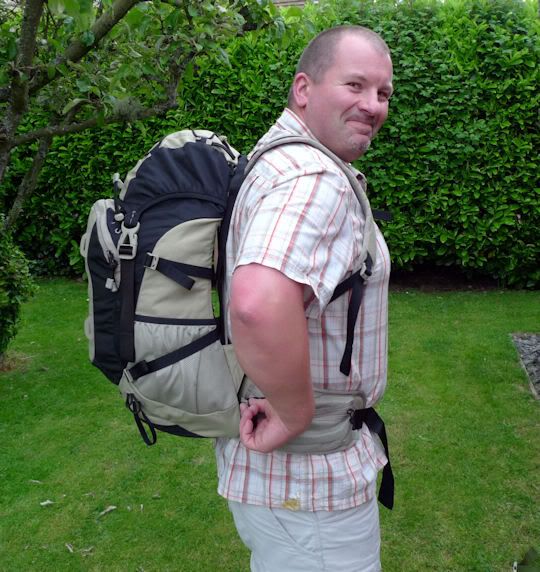 The Intense packs all remain and have the Oxy Blue makeover, as seen below on the Ace, with its budgie green bungee still waving the flag for those of us that might miss it whe it's gone.
I've got an Ace L , the 20L version, on test just now and I'll be reviewing that soon.