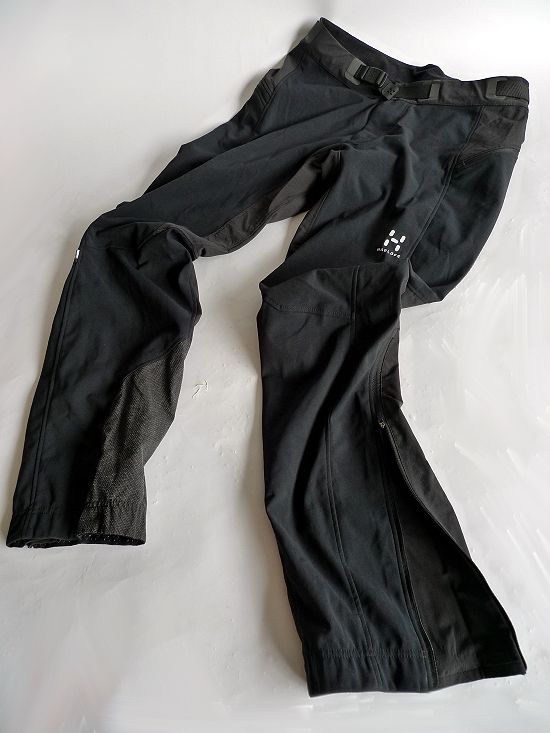 Haglöfs have always made a good pair of pants and then they discontinue them, but at least it means new developments are always coming up, new for this winter are the Speed Pants.
Speed Pants is the right name for these, they could have been called the Go-Faster Winter Pants as well as they're a hybrid between winter softshells and running leggings. I got a preview pair last winter and wore them on a trips at home and away including sleeping in them one night in a bothy which was nice. The point there being comfort, although these are zoned pants with a more protective Windstopper front and stretchier Flexable back, they feel just like leggings: fit and forget.
There's plenty features. The waist is very scooped, rising high at the back to keep your base layer tucked in and your kidneys warm and it has a half-hidden belt fitted in there too.
There are two big zipped mesh-lined thigh pockets which take a huge load of stuff as the fabric is stretchy, I had my camera and more in there without it being annoying, how I may have looked to others with monster thighs is a different matter.
The lower legs are zipped to help get your feet out which makes sense here as the cut is nice and slim and there's Keprotec crampon patches on the ankles to keep your pants and flesh puncture free.
The cut is slim and long but the stretch gives them options, I've worn full length merino longjons as well as boxers under these without any problems. At one point I had longjons, the Speed's and Paclite shells on for two days and was properly comfy, they layer very well. It turns out they dry quick too, even the Windstopper part, must be because it's a lighter softshell variety.
The Speed's are a great set of winter legs, you can run, bike, walk or climb in them. The fabric zoning does expect you to moving forward as the protection is angled that way, but I was never aware of a big difference front to back, like a say: fit and forget.