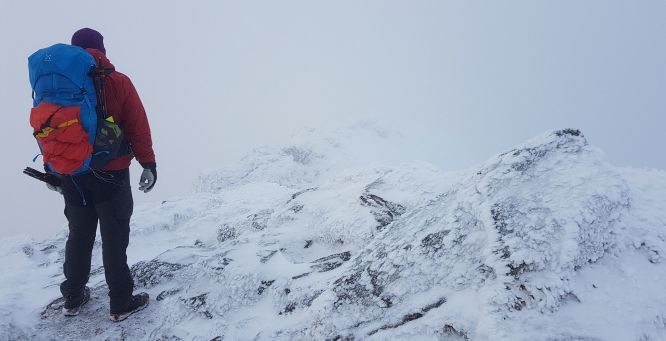 Some months ago in the Ben Lawers car park as we were kitting up for a night on the hill Gus said to me "Here, try some of this". I poked around the wee cardboard box and pulled out a shiny red jacket, "That's what you've got on isn't it? I'll wear that."
This was my first try at the Haglöfs Proteus Jacket. Louis, I think this is the beginning of a beautiful friendship.
I'd seen one of these before, Gus had worn one on our trip a year or so ago and although it looked a little odd, in a 70's see-through raincoat sort of way, he was very much singing its praises. But, you'll never know unless you go.
Two things are immediate and clashing when you pick up a Proteus. It's very light at 270g (the Haglöfs website weight is accurate to the gram) for a large but it also feels beefy because it has a lining and a shell.
This probably makes it a softshell, or perhaps windproof insulation? I don't know, it's maybe a bit like a Polaterc Alpha shirt, a bit Driclime, a bit Vapour Rise but most of all it's like what I used to wear years back, a light grid backed fleece pull on and a windshirt. Except half the weight.
The layout is simple with a full zip, single chest pocket, lycra cuffs and hem and a non-adjustable hood.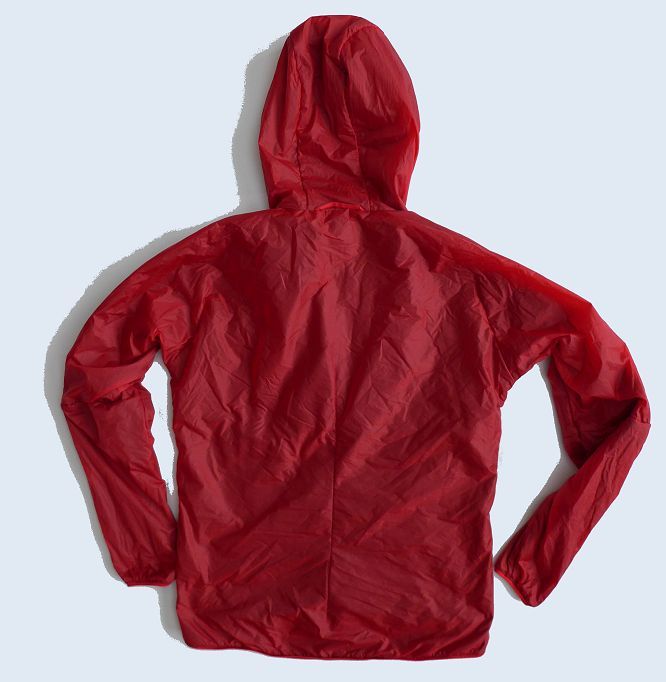 Haglöfs have made some of the best hoods I've used, but only on shells, their hoods on midlayers and fleeces are very inconsistent. Here they've gambled a bit on pre-shaping with no adjustment, but on my head at least it's hit the mark.
The shaping is subtle but definite and the hood shadows my head rather than hugs it which means I can wear a powerstretch beanie or a Buff under it and even a low profile peaked cap isn't too bad.
It means that the hood moves well with my head, even when not zipped up fully. The lycra around the face gives form but doesn't over tighten, it's right in the middle.
The main zip has a chinguard/zipper garage so I haven't snagged my beard yet, the zip has a decent sized zip pull too for grabbing with gloved hands.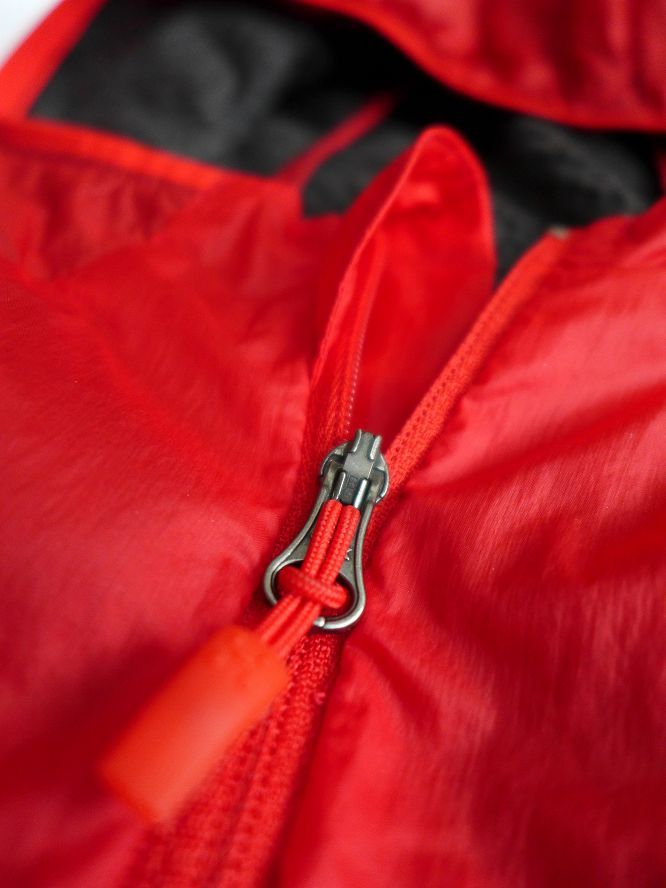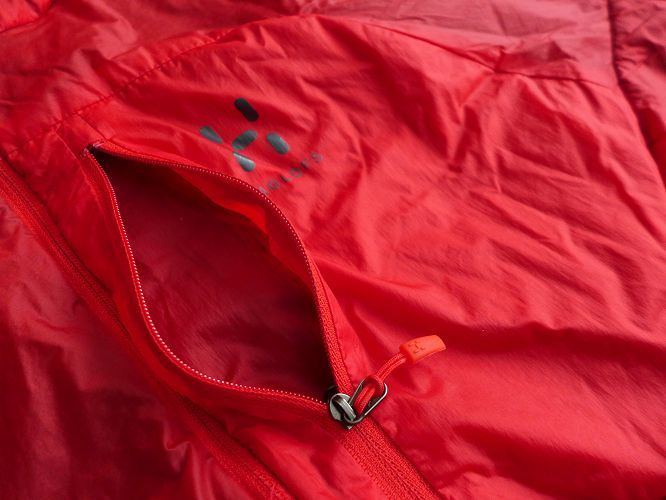 Features are few to discuss. The single pocket is a decent size, it'll take gloves and a beanie no problem and has a reversed zip and good zip pull.
The form of the jacket is nicely done. The arms have subtle but effective curving and good gusseting at the pit, the Proteus doesn't pull up, even when swinging an ice axe overhead. The articulation is good.
You can see above the back has a stitched vertical line which pulls the body in a little, suit jacket style. A closer fit is always a good thing for fabric performance and I wonder if it helps with keeping the hem put as well. Sometimes little things add up, sometime it's cosmetic, hey what do I know.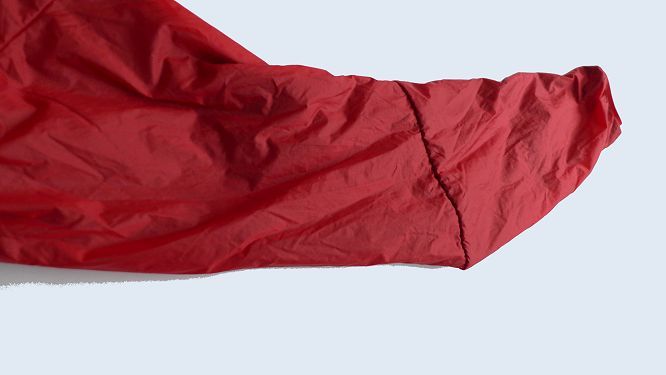 Haglöfs have put a lot of little details in here that I like. The cuffs and hem have lycra binding which is largely internal so the stretch surface grips the layer below, something I'm sure helps the hem stay down, like I say, the little things add up.
The cuffs are well finished but they also have the biggest "but" on the Proteus for me. The fit and articulation are excellent, neat but not tight. This means that the jacket layers incredibly well. It slips under other insulation and shells and the hood is so low profile it feels no different from wearing a beanie under a shell hood.
With this in mind the forearms and cuffs are pretty slim. Not a problem most of the time, but the fit and forget nature of the Proteus means that I put it on at home and don't take it off until I get back. On ascents or out of the wind and in the sun (it happens, really) I like to cool off a little, hood down, zip undone and collar wide, cuffs rolled up… about three inches from my wrist.
I really want to roll the sleeves up to my elbow, the rest of the jacket copes with a very wide range of temperatures but this aggravates me that I can't cool my arms and it's it's going to have me retire it earlier in the year than I want to as it gets consistently warmer.
I wouldn't want adjustable cuffs or anything daft like that, just a tiny bit more volume on the forearms.
The inside is well finished, the seams are capped which will slow wear and also help cap wicking in moisture from the outside. Ever wondered why rucksack internal seams are capped like this? Same thing, keeps the rain out a wee bit better.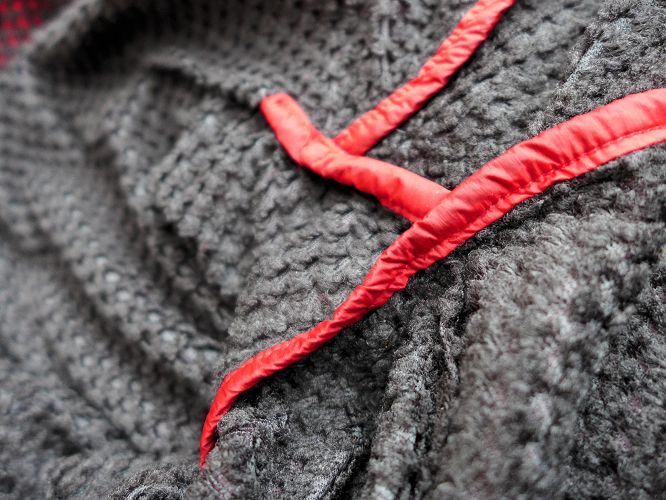 The fabrics are what makes the Proteus. Haglöfs use their own outer shell, nylon for strength but very light at 15D 31gsm. It's also see-through and the liner colour blends with the shell to make the red into a deeper crimson. There's a bunch of colour combinations across the range and although it's a little thing, it's kinda fun and outdoor stuff should be fun.
The shell fabric is excellent in use, as windproof as I'll need before it's so cold I need another later anyway and the water resistance is very good too. It keeps out snow and light rain while I'm on the move and it's rare I'll put a shell over it in mixed conditions, the rain would have to be persistent.
It has a slight rustle and swish to it's movement in a Pertex 4 (folk thinking back to their Buffalo windshirts…) sort of a way, but I can live with that for the performance.

Inside is Haglöfs' own Quadfusion polyester er, I want to say fleece, but is it? It's a fine weave with a gridded inner face like you see on lots of microfleece, but this doesn't feel like it would be used on its own, it's too fine. It feels like it was designed to be a liner, like the examples I mentioned above, Alpha being the closest in my mind just because of the pattern of material and air gaps rather than anything actually scientific.
The Quadfusion is light and soft, very pleasant to wear against the skin. The performance is also exceptional.
I've never used anything that wicks as well and dries as fast as this. The first time I used it, I was thinking it was because of the very cold and dry conditions but having used it on almost every hill day big or small since I have found consistency.
Wearing merino baselayers is always a trade off, slower drying for comfort and sweat smelling nights in a tent. Quadfusion seems to suck the sweat out of the merino faster and I've been out of polyprop and back in merino pretty much all the time the past few months.
The nylon shell plays it's part obviously as it's carrying the moisture to the outside, and I hate to use a buzzword but it's proper synergy at work here.
It's just so incredibly comfortable to wear across a wide range of conditions, I have never known a jacket to be so consistent and reliable at both keeping me dry from the inside and outside at the same time regardless of what the weather is doing.
I've been wearing it under vintage Gore-Tex and brand new Gore-Tex, I'm as dry in both, the GTX inner scrim itself shows the difference in their performance, but my midlayer doesn't care.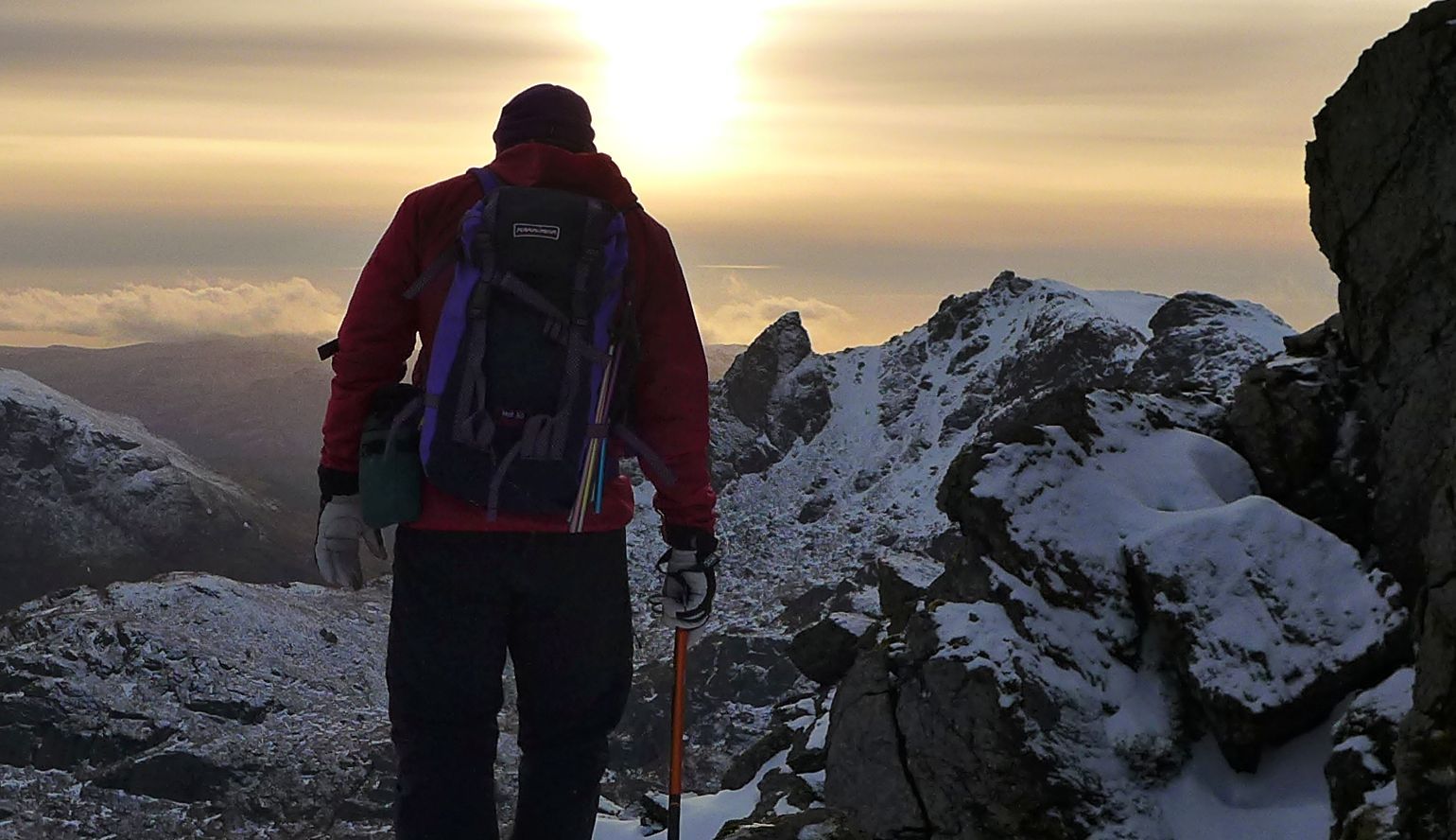 I've been matching the Proteus to a couple of Haglöfs pieces a lot which has been a good combo and I'll be talking about them soon, but the Proteus has been on it's own most of the time.
It's constant trips around the Lang Craigs has seen a lot of wash and wear cycles and I tend to notice some smells after 3 to 5 trips after which some 30degC techwash bubbles have it coming up as new.
I haven't noticed any real signs of wear, I had expected the inner to flatten at the pack compression points but it's looking okay, the inner has just fuzzed up a little as a whole.
Being objective the Proteus won't suit everyone, it is what it is and if you don't like the features and if that hood doesn't fit you it's not going to work for you.
There's the matter of hand warmer pockets too. I initially thought it needed them, now I don't care the idea. If there were a couple of simple lycra bound pouches it might be okay, but then there's another layer of fabric and I really don't want that.
Then there's the cuffs. The Proteus is a cool weather jacket, but it's also an all-day jacket that operates across a very wide range of conditions and the lack of cooling on the arms annoys me because it'll get to the point I just have to take it off.
Despite that wee personal niggle, the Proteus is an outstanding jacket. The fit is excellent and the fabric performance has been exceptional, I have never been so consistently comfortable across so many different scenarios in the same bit of kit.
As a cool or cold weather midlayer it's a no brainer for me, I just put it on when I go out now. And look, the snow's back.
Thanks to Gus for some of the action shots of me in the Proteus. Good lad.