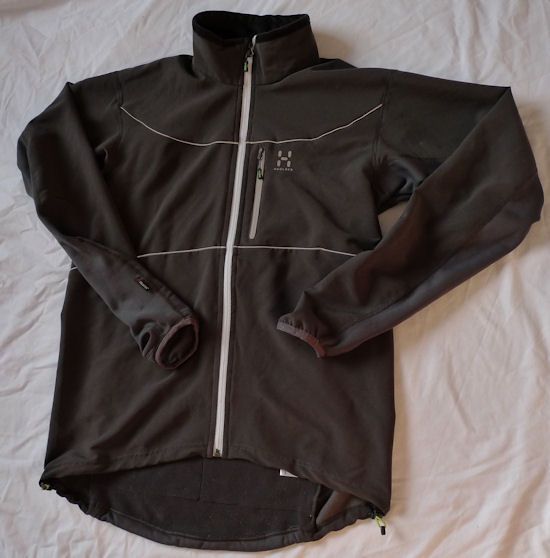 I'm a great believer in performance for all. By that I mean that top that top-end gear with the best fabrics, kit designed for athletes and racers that should still be considered by you and I for general use because it's usually been pared down to the bare essentials and it's made as light as possible. But not light like a lot of cut-corner underdeveloped backpacking-specific crap, this is lightweight gear for people with a mission.
So don't be intimidated by fancy names and advertising images. Yes you can race in it, but it's not mandatory to get the best out of it.
Haglöfs are one of the brands that have a sub-range that's fits in what what I'm talking about, the Intense range. The Oz Paclite pullover has been as big a hit with pro-racers as it has with folk who have never even ran for the bus, but the range has more than that in there and I've got some of the winter-weight kit in test, the Paze jacket and tights.
The jacket has a close, but not tight fit with long arms and body, it's feature-rich and the mix of fabrics was definitely chosen with someone moving forwards at speed in mind.
The front of the body and the tops of the arms are cut from Polartec PowerShield, a light non-membrane softshell fabric, while the back and underarms are a softer Dryskin Stretch, which is very similar to Powerstretch.
I'm getting increasingly used to this patchwork idea, when it's logical and performs as planned you don't think about it. The fabric choice is good, there's wind and water resistance in the direction of travel, light insulation and breathability behind and under your pack. Of course if you don't have a pack, the Paze jacket has two big stretch mesh pockets which have proved handy on the bike. The pockets and have a reflective edge binding and there's also reflective chest detailing. Also on the chest there's also single zipped pocket and that's your lot, it's very clean on the front.
The collar has a soft inner face and a drawcord, the hem also had drawcord adjustment, and all drawcords are the fetching and soon to be greatly missed budgie green.
The arms end in a very well shaped, almost semi-glove affair. There's a thumbloop and the cuff stretches well past your knuckles, there's a great feeling of protection here and you'll get away with wearing just liner gloves for longer when the temperature drops.
The tights below have the same front/back fabric split as the jacket and are even cleaner on the outside, the only features being a tiny zipped pocket at the left hip and zipped gussets (with reflective detailing) at the ankles for cinching in/pulling on and off over big feet. The ankles have silicon grippers to keep the legs from riding up and the elasticated waist has an internal drawcord.
I've worn the Paze kit a few times now as conditions have allowed, Intense gear it may be, but definitely for the cooler weather. I was very impressed by a day in the pissing wet on the bike where I was wearing the tights with no shell pants. I stayed warm and comfortable, and I was dry when I took them off. The fabric choice looks like it's spot-on.
The tights are pretty tight though, and I expected the PowerShield fabric to present some resistance to a knee movement, both when cycling and doing high step-ups, but it was okay and use had been issue-free so far.
I think both of these will suit general winter use, but the tights look like a good replacement for standard Powerstretch leggings for regular hill days, so I can see me out in the snow in these with gaiters and er, "boots".
I've only used these at low level and on the bike so far, so I'll revisit them after they've been on some winter mountains and the like.