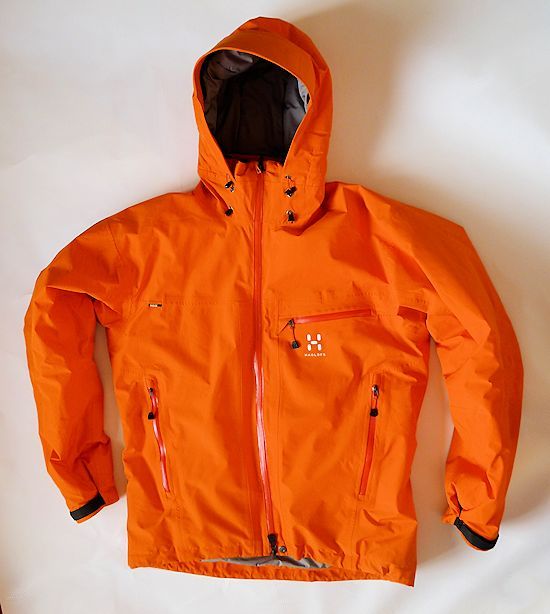 It's not been anywhere near a hill, but this Haglöfs Nevluk has hardly been off my back the past few weeks. It's been wet, cold, windy and miserable and the Nevluk has been perfect for it.
If you think about it, heavy insulation probably should be waterproof, it's going to be your outer layerwhen you sling it on after all and in these better days of slimmer fit shells you're not going to take you waterproof off and try and slip your fragile insulation under it are you? No, no you're not, it's not 20 years ago.
But waterproof membrane fabrics and seam taping are bulkier and heavier as well as being more prone to damage when constantly compressed and folded for packing so we mostly get water resistant fabrics on insulationwhich is fine as modern fabrics kick ass. Bu,t if it's cold and wet all the time, or even if it's cold and dry and you're going to be on your arse in the snow a lot, proper shelled insulation is where you'll be going. Maybe?
The Nevluk is a "winter" jacket which covers a lot of bases. At 838g for my size large it's beefy but not too much to carry into the hills on wet winter days where the combination of a Gore-Tex (Performance Shell 2-layer) outer and dampness defying Primalof fill (Sport flavoured Primaloft, 133g/m² in the body and 100g/m² in the arms) will beat a down jacket every time. It's probably been designed as a ski jacket, apres ski jacket even give it's sharp looks and as a general winter jacket for folk who live where it's nasty weather, Scandinavia and outside my house for example. 
I'm thinking this because it's warm, really warm, the Primaloft and outer shell trap the heat and even on very cold days physical exertion in the Nevluk sends your core temperature on a sharp upwards curve. It's bloody marvellous.
I wear just a t-shirt under it so when I visit my folks house which is set to "pensioner" temperature I can just take my jacket off at the door and I'm ready to go in, no struggling off with jumpers while panting in the blaze of heat.
It's got the detailing of a proper tech jacket, the hood especially is very clever as you'll see above and below. There's a big wired and stiffened peak with multiple drawcord adjustment which is properly attached but has an nicely sculpted fleece lined collar built in so your neck stays warm when the hood's down.
The cuffs are nice and wide for big gloves and have velcro tabs and the hem has drawcord adjustment. There's two big hand warmer pockets, one external chest pocket with a horizontal zip which I'm not so sure about, it's a little awkward and liable to let rain or snow in (and not back out), although it hasn't yet, so mabye I'm just fussing. There'sanother zipped internal pocket too.
The pocket zips and main zip (internally storm-flapped) are the water resistant type and are proving good so far, I've had my jeans sodden and stuck to my legs walking into the rain while not one drop made it through the front of the jacket. The zip pulls all have wee garages too.
The outer Gore-Tex fabric is quite tough feeling with a  nice soft handle (and not shiny at all) and a decent DWR treatment while the inner is the same soft fabric I've seen on the inside of Haglöfs'  Barrier range. I have a feeling this jacket will last for years, despite getting much more regular use than more dedicated hill gear.
The fit is great on me, usual Haglöfs slimmer cut, although here not so uncompromising as you'll find on the racier kit, regular shaped people have nothing to fear.
A strange one, but my current favourite bit of kit. Really warm, lighter than you'd think, comfy, well featured and as orange as it's possible to get.