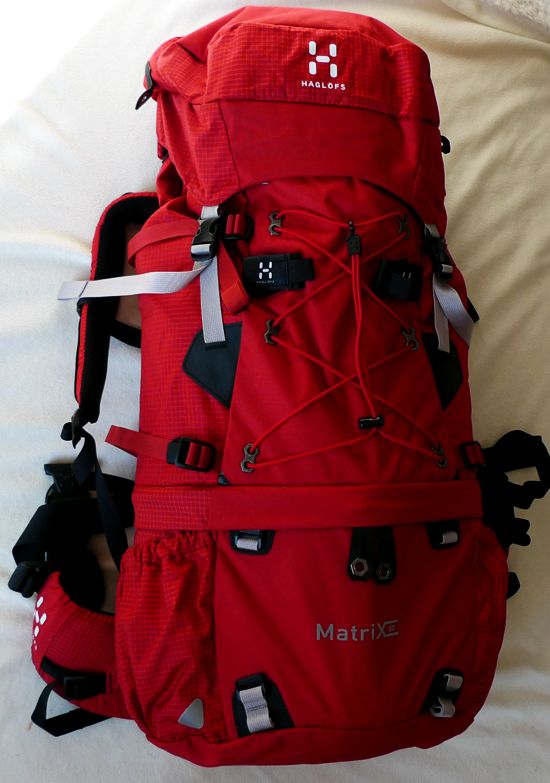 I don't have much in the way of big packs these days, so with the thought of longer trips now that Holly is a little older, along with the associated unenthusiastic repeated re-packing and space for extra food, I had a look about at what was available. I'd tried on a Haglöfs Matrix 40 a while back, and I liked the harness although it seemed a little robust for the capacity, so I asked for one of the larger capacity Matrix packs to test, and here we have the Matrix 60.
Its looks conceal that common Haglöfs secret, this is very much an external framed pack disguised as a regular internal frame pack. The frame is 6061-T8 Aluminium, and is the dividing line between the harness and the load. I like this arrangement, there's a real feeling of freedom for the wearer, and I hope this translates to the Matrix through the thickly padded shoulder straps and hip-fins, both of these components incidentally are very well-shaped indeed.
I'll talk more about this after some proper use, but the features are all there for winter backpacking. I can get all my snow gear on the outside, there's stretch pockets for on-the-move handiness, there's a zipped lower compartment (with a removable inner divider) for bulky or damp gear, big lid pockets and the rather nice "reverse-pull" waist belt adjustment.
At 1650g it's no heavier than the OMM Mountain Mover I used on the Creag Meagaidh trip a couple weeks ago, so I'm not afraid of the weight.
More later.