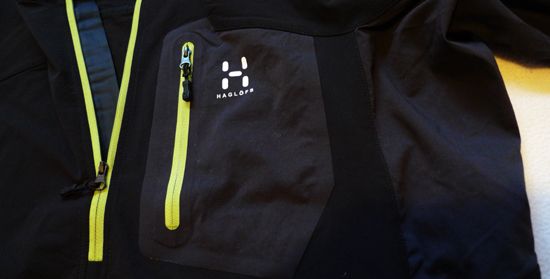 Ages back I saw a sample of Haglöfs Lizard Top and I was immediately impressed. It looked a little left-field, it had a price-tag of £100, and I did wonder if the store-buyers would "get it", leading to a lack of orders and the Lizard disappearing under a rock.
Well, I'm happy to report I have a Lizard Top here for test before it hits the shops in a few weeks time.
It looks just like a simple pull-on top, but close-up it's much more than that. It's cut from two different grades of Flexable, Haglöfs own softshell fabric, which is a wind resistant, non-membrane, 4-way stretch fabric. The lighter fabric is under the arms and at the cuffs for comfort and breathability. I've used Flexable on a bunch of stuff and it proves the point that having an obvious brand name on your fabric doesn't make for better performance, Flexable knows it's job and does it well.
The fit is slim, the arm and body length are good, as is the freedom of movement. The collar has a decent height to it, the main zip is long for good venting, and its nice green tone matches the zip on the single laminated chest pocket.
It's an interesting bit of kit this, the weather resistance in patchy conditions when you're on the move could mean it replaces a windshirt and light midlayer combo a lot of the time, although the thin fabric won't have the same insulation value as a 100 weight fleec when you're at rest, or the captured sweat.
Weight is very good for the amount of protection at 355g, and it's small packing as well, so it looks like a proper bit of fast and light multifuctional kit.
More soon.