WHW Kit Review
Some of the kit I took had some miles on it beforehand, the LIM 45 has got about 200 miles on now. I was pretty sure it would work out before I left for the WHW and I was happy with it indeed when I came back.
It's very hard to describe the features and function of all what you see in the pictures of it as it's very different to most other sacks. The official site does a better job of that. What impresses me is the carry and the usability of it.
The harness is adjustable for size and very comfortable in use, the shoulder straps are quite low profile and mold to your shape. The hip fins are also low profile, but wide. They take the load easily over your hips with no sense of weight at all. The front buckle arrangment is reversed (it tightens from the hips) and it very effective and neat. There are also side cinches and top top tension straps for adjusting and fine tuning on the move. The back padding is ribbed and covered in wee holes to keep you cool, with a fine mesh over it to alow easy movement and stop abrasion between you and it. I didn't use the external access hydration sleeve here, bottles are the way for me at the moment, much less hassle. But it looks good, has space, room for expansion and a hanging hook for the bladder.
The side stretch pockets are brilliant, you can access these on the move and that's where I kept my water bottles. A 1 liter Sigg and a Camelbak with Nuun mix in it, both sat securely and I could take them in and out with one hand. There's wee mesh pockets on the hipbelt fins as well which took munchies, a Buff, my Powerstretch gloves and the like. All the pockets have stiffened loops at the entrances to make using them easier. There's a huge stretch external pocket on the main body of the sack which will take an amazing amount of stuff, I used for my waterproofs and carrying rubbish. It's secured by a buckle which gives the sack a standard look from a distance, but of course it's a roll top. This works well and quickly, I got used to it right away. It's secure and weather proof, it's just different. There's a TARDIS pocket where a lid would be as well. It acts just like a lid pocket as well ,except it doesn't go upside down when you open the sack rendering in useless. I actually lost my waterproof gloves in it and didn't find them until I got home. A magic pocket, sleepmonsters getting to me?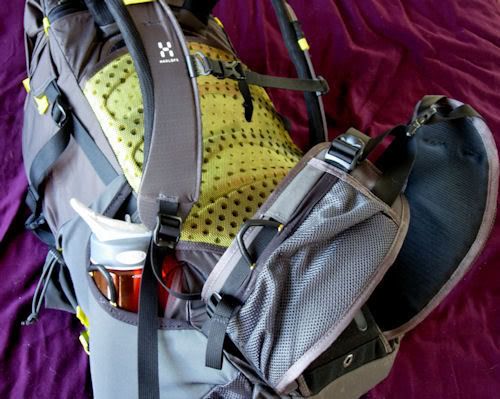 The fabric is pretty waterproof, but it did give in on the Friday night and got pretty slimy on the inside, but I didn't have any pooling of water at the bottom. All my kit was in Exped drybags anyway, but I'd be happy going with an unlined sack for a couple of days if the weather looked okay.
If you can get over the burst couch aesthetics of it, the function is superb, the carry is excellent, the build quality is top notch.