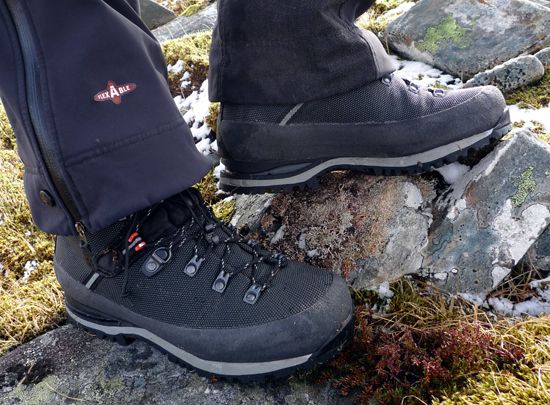 The Gryms were a dilemma for me when they came in for test: "boots". Oh-oh.
Picking them up lessened the dread as they felt light, but only using them would tell me the full story. I've mentioned these a couple of times in the passing, but I'm now used to them, they've bedded in and I know where I am with them. Not where I expected to be.
I know Haglöfs have them down as a trekking boot, but Swedish trekking seems to translate into non-technical UK winter walking and the rough end of general mountain use. These are foot armour, but to think just that alone is a little misleading.
For a start they're a lot more comfortable than they look, the upper has a flex not unlike thick leather, so the boot moves with you, and the memory-foam padded ankle cuff allows an unexpected amount of free ankle movement. The ankle and tongue are padded enough for the laces not to be felt on my foot, and any flex points were also pressure-free, that was a real worry for me after so long out of boots.
This balance continues with crampon use, enough padding and flex for me to wear strap-on Grivel AirTechs (with flex-bar), but a strong enough outer fabric and toe and heel construction for me to have a full day in crampons without any issues with pressure from straps or bruising.
The sole also hits a middle ground of sorts, stiff enough to be a winter/scrambling boot but with a nicely placed flex at the toe for the walk-in and out. This actually got better with use too, these did "break-in". The Gryms have taken my foot shape as have the SOLE footbeds, and trail walking is now issue free, I'd never take them on a long trail, but a long walk-in to a peak is fine for me now. Out-of-the-box, this didn't look likely and my feet were rebelling a few months back!
The Vibram outsole is a cracker, small square-edged blocks that bite into most stuff and have been giving reliable grip, only losing traction on some really steep wet stuff. It feels like a soft compound, but wear hasn't been high, so again that "balance" thing seems to come in. Underfoot cushioning isn't overly high, so you're not completely divorced from the terrian which I like, so the clumpy appearance again doesn't fit with what I found.
One interesting thing was that the Superfabric doesn't hold moisture, so the boots don't freeze so badly sitting in the tent porch, tying the frozen laces was like trying to knot two welding rods together, but the boot itself was a nice change from frosty leather. And talking of the laces, the lace fittings still run smooth without any cleaning since the Gryms arrived,
The other point about Superfabric, is that although there's crease lines on it now as it's worn to my shape, there's no damage or scuffing, even from crampon use.
This brings to mind a pair of my old boots, Karrimor K2 Kevlars from the mid-90's. They were more obviously winter-specific, but there is a lot of similarity to the concept, especially in the use of materials technology and the goal of strength at low weight. The Kevlar outer looks as good now as it did 15 years ago, after many years of hard use, I wonder if the Gryms are going to follow suit?
The fit is quite high volume, the SOLE footbed helps there, and my thicker winter socks too, so fit is fine for me. I did miss trail-shoe freedom at times, but I also found the security in some situations very welcome. I was pleased that I didn't have to sacrifice flexibility to wear proper crampons, and that sums up what I feel about these boots, they're standing in a kung-fu type pose in a patch of rocky versatility.
The Gryms badass appearance does relate well to the performance, but not to how I perceived them in use, you shouldn't feel intimidated by the looks or the hi-tec pedigree.
Already light for what they are, once they're worn-in a little, they're unexpectedly comfortable and reliable, well-made mountain boots.
The best thing thing for me? They allowed me to stay lightweight and still climb winter hills like I was in "regular" gear. Magic.
Product Information
Weight: 1660g for my size 43 pair including Sole Footbeds
UK Price: £235
Fabric: Upper SuperFabric, Smartlite rand/ Liner Gore-Tex
Sole: Vibram Four Season
SOLE footbed included
Made in: Romania
Hi-ankle version also available