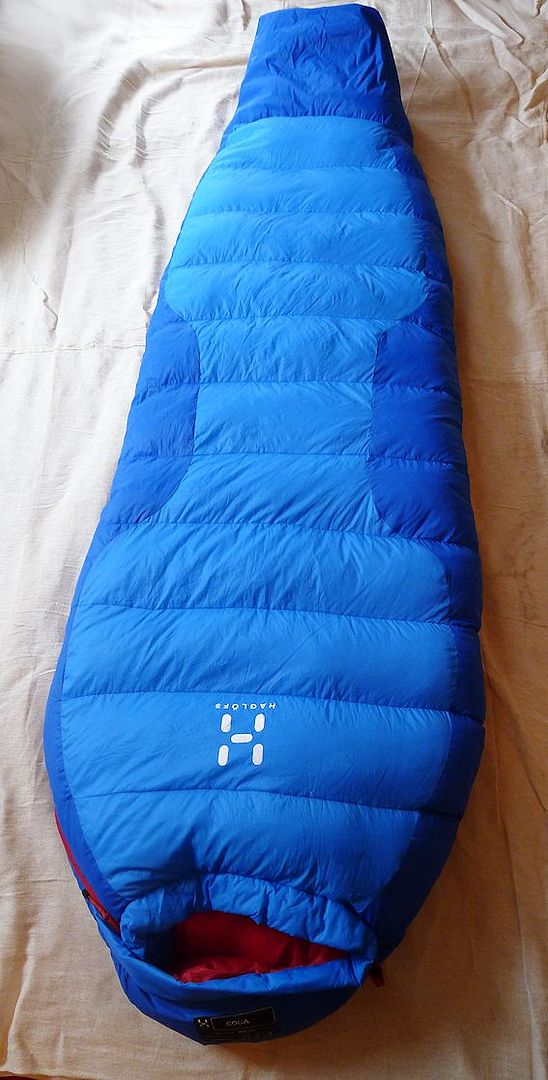 They're better know for their clothing, but equipment was where Haglöfs started off and remains a large part of what they do. I've used quite a few packs and tried a handful of their synthetic sleeping bags, but the down filled Goga 3S was something different. I've had the Goga on long term test, it's been about and its been abused too. It's been left damp and compressed, it's had dinner on it, had close shaves with a lit stove and snowy boots, it's been on mountain tops and borders camp sites. It's had three people in it and I've definitely made my mind up on it.
The Goga 3S is described as a 3-season bag, the clue is in the name. This season stuff is a nonsense though, it's the temperature ratings we want to look at and the Goga comes in at -6ºC Comfort and -13ºC Comfort Limit with a mentalist -33ºC Extreme Limit. All this says it's an all-year bag to me, maybe not for the depths of winter on the summits, but I certainly wouldn't be packing it away in a cupboard during autumn.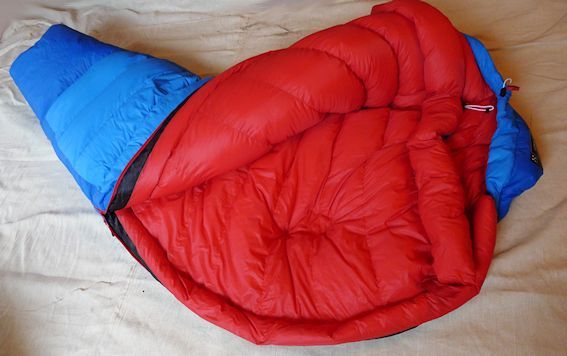 The construction is box-wall with a nicely shaped foot box that's just pumped full of down. The baffles are big and fat, and as you can see in the photies, they loft like a bastard. I took the bag out of a stuff sack to take the photies and it plumped up in a few minutes. The Goga has been compressed to death many times and it keeps coming back to life, which would be quite reassuring if  I didn't just convince myself as I was writing that last bit that I've been sleeping with a zombie all these months.
The down fill is 750 fill power of 90/10 goose down which means a little extra bulk compared to 800/900 fills when it's packed up. In the supplied compression sack (116g) with the straps just tensioned but not compresed it's 8″ by 12″, but I've had it much smaller in that Haglöfs sack and various others too. It's certainly not a deal breaker when I'm looking at what sleeping bag to take on a trip.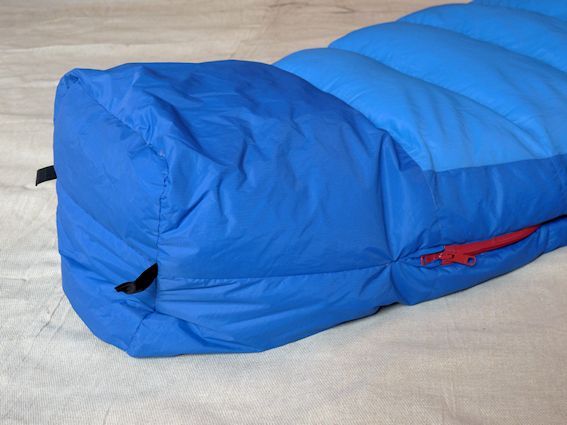 The hood is quite neat, your head nestles into it, but I'm happy to say that the face opening is still nicely protective with an external baffle-come-flange which give you a porthole above your face when you zip the bag right up. This external baffle is adjustable by an external captured drawcord which is a double affair with stretchy bungee for the forehead half and tape for the chin half. Both pass through a bigger-sized cordlock which is fine to use in the dark when you're confused because one of your iPod earphones has fallen out and you might by lying on it or maybe it's caught in your Buff.
Inside there's a down filled shoulder baffle with bungee adjustment, again with a bigger-sized captured cordlock. The zip side of this has a velcro fastener too, but its one of those things I never use, do you use these, they've all got them, are they any good? Answers on a postcard to: BBC TV Wood Lane London W12 8QT. Get that reference and you win a prize.
Still in the hood area, there's a little pocket just above the shoulder baffle by the zip, no fasteners so it's smooth for your face and handy for e+LITE, watch or iPod.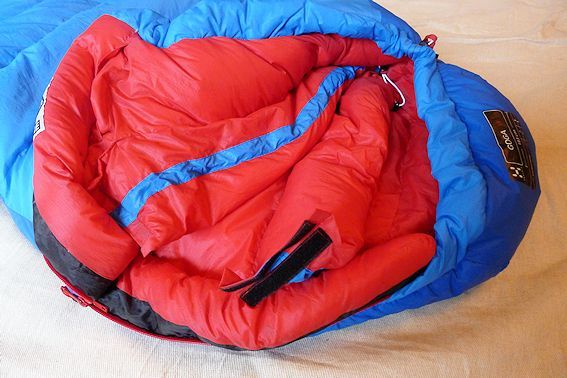 The main zip is a YKK full length and double ended affair with big pullers and an extra gripable tag on the main external zip pull. It's well baffled behind so there's no cold spots and there's been an attempt at making the zip non-snag with some stiffer fabric directly behind it, but as with every bag out there you still have to take care and/or stick a finger down the back when sliding it open or shut to make sure it doesn't catch. Get a left and right zipped bag, his and hers, or his and his, or hers and hers and you can zip them together too.
Another little feature is the two hang loops at the foot, useful for airing. Talking of dampness, the Goga knows the reality of life small tents where a wet flysheet inner is only an inch away and is prepared with a waterproofed head and foot. All the fabrics on the Goga are polyamide, nylon to you and me, which makes it tough, but the grades are very fine which makes the bag very soft indeed and helps with packing bulk. The fabric is DWR treated as well as waterproofed at both ends and the treatment seems to work okay, having dealt with numerous spills and clumps of snow. It dries fast when damp too, good for multi day trips and not having it hanging up around the house too long and upsetting the girls or having it made into a den or an undersea kingdom. It happens.
This pre-production sample 183cm left zip (you can get a 183cm right zip and a 200cm left zip) comes in at 1275g, which although getting heavy, compresses down very well so it's been no hassle packing it for trips. Part of the weight comes from the bag's shape, although mummy shaped, I think you could say this mummy is relaxed. Did you just get the same mental image as me, an Egyptian mummy, sitting back in a comfy chair with low lights, a bottle of red and a favourite DVD while the family is out? Ah, just me then.
A lot of technical sleeping bags are trimmed down: get those knees together and get the packsize down, which is fine, but here there's room to move. You can wriggle around and get into a natural sleeping position, move your arms, even slip them down by your sides without flattening the baffles out. I'm not saying the Goga's very roomy as such, that would mean cold spots, it's just got an extra couple of inches in the width that makes it such a refreshing change from always sleeping with the fast and light ethos.
 
When I said three people had slept in it, I didn't mean at the same time of course, the Goga's not that relaxed. Joycee took it on our Beinn a'Ghlo trip after she tried out around a dozen down bags in the hall and declared it the comfiest. I was happy with that as it was her first overnighter for a long time and it was scheduled to be cold, in the end it stayed just above zero and Joycee was mighty cozy all night which was a WIN! The weight didn't faze her either, she had the "worth it" answer at the ready if I questioned the size or weight of her rucksack. Can't say farer than that.
Jimmy took it on his vintage motorbike club run to Dumfries where he spent a couple of nights in it warm and unaware of the frost inches from his nose. He's 73 and would feel the cold, I had to threaten to break his hip to get it back. Oh be quiet, you know I didn't really. Jimmy did get annoyed at the zip a couple of times and also had to learn the lesson that we all know off by heart, how not to slip off your slidey techy sleeping mat in the night.
I've had it on summits and at low level and in very cold conditions I thought it did well. The temperature rating is probably accurate, and there's enough room inside to open out your insulated jacket as a booster when you're slipping through double minus temperature figures and you're starting to feel the chill. The footbox is excellent, it's a block of warmth.
The shoulder baffle is a nice feature for me to have for a change and its something that does work, it catches that pesky hot air as it tries to slip away. The whole bag is designed to work and its designed for comfort. The bigger cut, the user-friendly features, the warmth and performance, materials and construction, it all adds up to a cracking sleeping bag. But, it does also add to the weight and you will find comparably rated sleeping bags that are smaller packing and lighter.
Sometimes its more than worth it though, to be able to stretch out a little, get those knees apart and relax. Also, and there's no way of putting this tactfully, if you're a barrel chested chubster and struggle with the fit of a lot of technical bags, this is worth a look.