Test kit gets a good bit of rotation, I take something different on every trip so I can get used to stuff and hopefully spot the quirks or advantages of different designs. But there's one thing that's seen more use that any other bit of kit, constant use in fact as it's been with me almost every day this year, the Haglöfs Foss.
I didn't mean for it to become my work jacket. I unpacked it, put it on and headed out to fix pipes and it just kinda stayed there. But, along the way lessons have been learned.
First is the fit, it's regular Haglöfs, slim with great freedom of movement and good arm length and the features stack up too. There's two big chest pockets, and there's brilliant inner storage too as you can see below, I carry tools, Greggs sausage rolls, bottles of Irn Bru and more in there all the time.
You'll see the inner lining there too, it's 2 layer Proof, Haglöfs' own waterproof membrane. In the back of my mind "own brand" used to be labelled "second class", but it really isn't anything like it. Fabric is either good or not, and Proof is good. I wear merino baselayers and microfleece midlayers pretty much all the time to work, so I'm using a standard issue layering system and it has to deal with standing around persuading money out of customers as well as sudden or extended hard exertion and keep me comfy or I'll ditch it and take something else. But the Foss has worked well from day one and been issue free.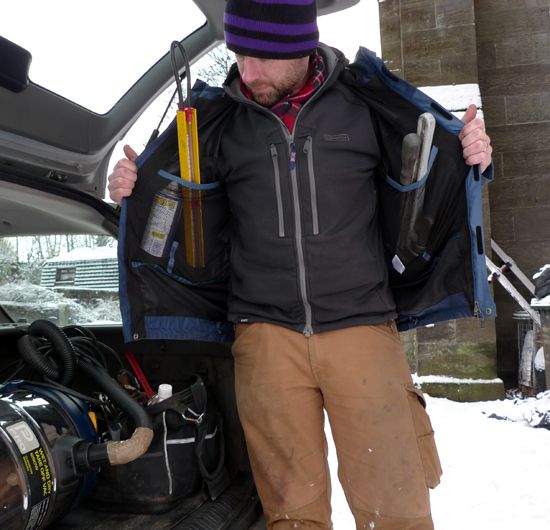 The Proof fabric has a hydrocarbon DWR treatment which beads water well even now and is more environmentally friendly that the other options on the likes of Gore-Tex, the face fabric of Proof is also made of 100% recycled polyester. I hate to use the word, but it does make for quite a "green" jacket.
It's soft to wear but has taken some abuse, and indeed some damage, but it would take me years of hill use to work a jacket as hard as I've worked the Foss.
The hood below is Haglöfs three-point adjustable, moves with your head even when only lightly adjusted (as below) and is very protective. The zips might well be vulnerable to very heavy rain on the hill as they're standard types and have small flaps covering them, velcroed on the main zip. I haven't had ingress as yet in engineering mode though.
The Foss will never make a hill now, it's been burnt, torn, it's got paint and oil stains, but it's been and will continue to be a great bit of kit on a daily basis.
And, it's £140. I couldn't argue with the performance at that price if I tried.