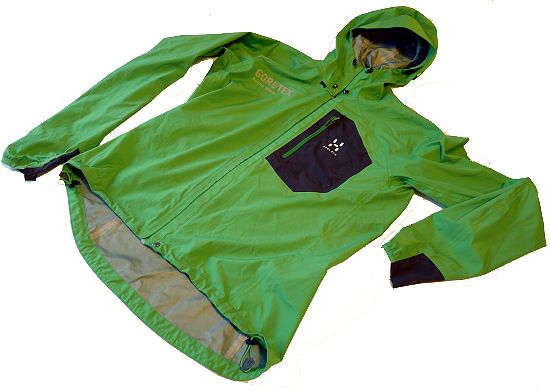 I've been using one of these on and off since last winter (two different ones, hence the two colours…), so I've definitely made my mind up about it, it's the Haglöfs Endo Jacket,
328g for my dog-eared size large and it packs to nothing. I though there was a good chance all I would do waas carry it so I was quite happy with that, but the bloody thing is like a wind and water magnet and I've worn it just about every time I've taken it out.
The myth that winter needs big bad waterproofs is long dead for me, aye thinner fabrics will cool you quicker in an icy gale but dress accordingly underneath and you're sorted. The old trouble is wher the weight gets cut. Pockets? Give me one and I'm happy. Adjustable cuffs? Don't care as long I can get my gloves over or under it. Hood? Get it right or it's going in the bin. Fabric? Well, that's the story here as much as anything else.
Gore Tex Active Shell, the eVent and Paclite killer, the former target is by design and the latter by default.
Paclite is now a lifestyle and just-in-case-wear fabric and that's where we'll see it going, Active Shell just kills it at moisture management, sure you can manage Paclite with minimal under it layering, but Active Shell works with a base layer or base layer plus microfleece or light softshell. I've worn it for about eight hours in patchy rain conditions and been dry underneath at the end of it, it's miles ahead of any other Gore Tex waterproof and I'll tell you something else, I really don't think it's any step down in performance from eVent. I've ran, biked, walked and slept in both and I can't tell the difference.
But, the Active Shell fabric is not going to last as long as eVent, it's lightweight construction that breathes so well is paid for by durability. It's not all bad news, I'm seeing some light wear areas on the inner scrim under pack buckles and that's about it. Haglöfs are using a tougher polyamide face which should wear better than the more common polyester, so while Gore are telling everyone to only make top-end performance jackets out of the fabric, we'll see that change in time, including Active Shell/Pro Shell hybrids for general mountain use I dare say.
There's more than just fabric here, the hood above is a cracker. It's got a big peak that's protective even in the wind and is cinched down by front drawcords and the exposed crown bungee that Haglöfs use.
From under your nose runds finely toothed full length zip with a wide and channelled rain gutter/storm flap behind it. The zip's a quirky design and the first time you use it is a learning experience.
The hem is nicely scooped, there's no weight saving from the length of this jacket at all, it's properly shaped even with the minmal seams used in its construction. The fit is slim though, nicely slim with totally free arm movement so it doesn't ride upwhen I'm on the bike. The hem has bungee adjusters too.
The arms are long, and are a little bit different when you get to the end. There's a thumbloop which when used protects your hand to your first knuckle, but on the palm side there's a stretchy softshell fabric. This is genius frankly, handlebars, poles, axes whatever can be gripped easilywhile the back of your hand gets that extra bit of protection. The old Oz waterproof had thumbloops but the arms were way to short for them to be properly useful, here it's a real useable feature which I do use all the time, it's great even for a quick warm up of the hands.
Gore Tex doesn't want the breathability of the fabric to be compromised by double layers so Haglöfs have stuck a stretch softshell pocket on the outside rather than have a mesh inner pocket bag. This will let the stuff in there get wet eventually, but with the slim fit of the jacket it's the option that makes the most sense as the contents stretch out and not in which would be annoying. Remember the old days when pockets were stitched onto the outside of your waterproofs? It was simply for aesthetics that they moved them inside, it cleans the jacket up. Ah the old days…
Anyway, it's neat enough and works fine, I can get a Buff, GPS and food in it.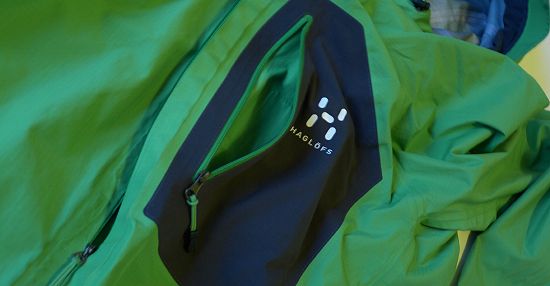 328g is getting on for twice what the game changing Oz pullover weighed and if you're going to use it rather than carry it it's worth every extra gram. Carrying it is still no hardship, it's a proper lightweight but it has features rather than cut corners, the hood, the cuffs, the active cut, it's a proper users jacket with a fabric that brings joy when you find out at camp you're dry under it.
It's been good to have a proper long term test of the Endo, the green version of which is much more photogenic, and it's not done yet as it's currently my go-to jacket hanging by the door. It's an outstanding bit of kit.
The longevity of the Active Shell fabric will depend on which version you buy, how you wear it, where you wear it, how you wash it and how you store it. I hope it's a success, we need Gore chasing more peformance rather than kicking back now that eVent's taken its foot off the gas.
eVent has both performance and durability, Gore's finally got something that feels like it's in the area, we just need them to make it badass tough.