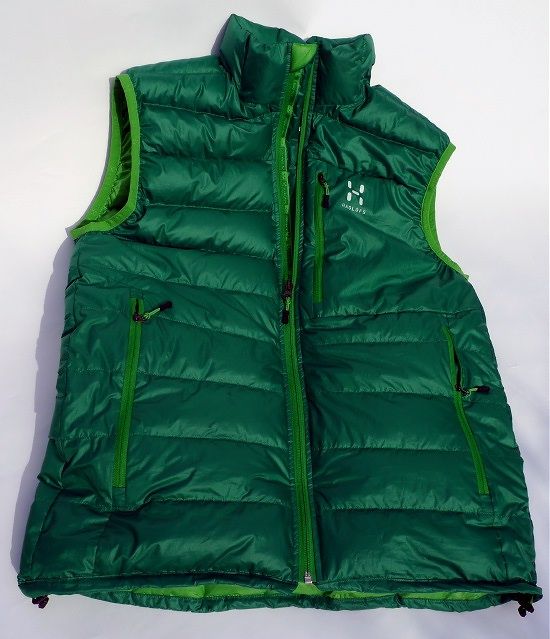 This was seen briefly in the winter preview, but I've also had it on exclusive test, Haglöfs coming-later Bivvy Down Vest.
Vests are such a brilliant utilitarian piece of kit. A down vest over a synthetic insulated top has long been my preferred system for camp, and getting the Bivvy in saw me going back to my old ways. It's core warmth and versatility in a tiny package, and built for mobility in a tent too. Still easy to screw up though, flared armholes that let out heat and a short length to help chill the kidneys are favourites.
Here though, at a meager 280g, the Bivvy Down Vest loses the arms from Haglöfs' current Bivvy Down Jacket but keeps all the features. The baffles are a decent size and loft well, nothing fancy either, it's all straight stitch-through. The collar has little vertically stitched baffles, a design that stops the down all going to the front and creating that floppy patch at the back of the neck. The armholes are elasticated and the hem is adjustable to seal in the heat or keep out the cold depending on whether you're left or right handed and the tail has a gentle scoop to give you a chance of not exposing the St Michael label on your bloomers when crawling into the tent.
Pockets are good, two handwarmers (one which acts as a stuff sack, below) which are a nice height if you want to wear a pack with it and a single chest on which is outside the down fill for bits and pieces. The full-length zip is baffled with a good sized chin guard at the top.
It kinda does exactly as you'd expect, it's warm, it's small packing and very wearable. It's a slim fit too, no rogue air pockets to heat up when you put it on. The fabric's good enough, takes a spill of coffee, and indeed hot chocolate, but a full minute in the rain doesn't please it much. But what the hell was I wearing down in the rain for?
If lofts well after compression, it's comfy to sleep in and despite some extreme initial reservations I found myself really warming to that green colour.
I like it, it's well featured for a vest but still very light, the detailing even on this pre-production sample is very fine. In the shops at the end of the year.