One of my recent Trail columns was about lightweight accessories, and it was partly inspired by some kit that Haglöfs sent for test.  Up until relatively recently I was still lugging around various weights of gloves and an old pair of Mountain Range Gore-Tex & fibre pile Murton Mitts in winter, all functional but heavy and bulky.
I swapped to Marmot Work gloves for warmth and dexterity and then early last winter I swapped again to Haglöfs Helix gloves for the same warmth and better dexterity. I found that i didn't need the mitts as insulated gloves were enough for day trips, and now the PHD Mera Mitts have taken care of cold camps. The Helix's fit over my liners, and suddenly I'm down to two pairs of gloves.
All such bits and pieces can be trimmed to performance perfection.

The Salute Beanie is a wool/synthetic mix with a very open weave so you can wear it on the move without overheating your napper, and it also gives it a good stretch for comfort when you're sleeping in it.
It has a refelctive stripe round it for running or hiking along on dark roadsides and to make you easy located by your buddy around camp. At 50g it's no hardship to stick in a pack or trouser pocket.
Moving downwards we have something that I had severe reservations about, the Neck Gaiter. Well, it's turned out to be a constant companion this winter, going on ever trip since it appeared. It's made of Powerstretch, so it's comfy against my face, dries super-quick, it's warm and I can breathe through it no problem.
It's completely replaced a Buff in the last few months. Yes, you can make it into a hat. But don't unless you have to, or just have to look like MIng the Merciless on the hill.
At 35g, you can't even feel the weight and I absolutely love it.
I've sung the praises of Powerstretch gloves in the past, and as a cool and cold weather all-day or liner glove they're fantastic.
The Haglöfs Bungy Gloves have a few nice wee touches that set them out a little. The cuff is very long which is nice, they have a hypalon pull tab which means pulling the second glove on is as easy as the first was with using one bare hand, and the finger construction is outstanding, managing a close fit with great dexterity.
There's no grip print on the palm which means I can't use them with an ice axe, but with poles this has been an advantage as my hand moves around the pole grip with the glove instead of around inside the glove which is stuck to the pole handle. That's something that I hadn't noticed happens until I got the Bungy's. 45g of compressible Powerstretch is lost in your pack or pocket no problem.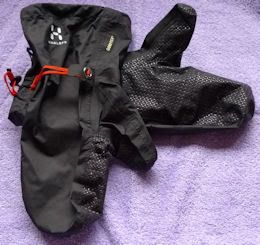 The Gram Shell Mittens are made of Paclite, have a grippy palm and thumb print, have wrist and cuff adjustment, fold to nothing and weight 50g a pair.
I've been wearing these over the Bungy's on wet days and there's total protection from the wet but also a little boost to the insulation, so that on winter days that don't go so high up the hillside. the combo is all I need. I've pitched and struck a tent wearing them without issue, there's just enough finger movement to allow that kind of stuff.
Also a constant at the moment is a Fanatic Print Cap. It's a simple Powerstretch beanie, it layers well under a shell hood, it's warm, has a bit of wind resistance and only weights 30g.
All these little things make such a difference to a day on the hill, get your head, hands and feet cold and wet and it's all over.
Are extremities unjustly ignored? Not by the manufacturers anyway, gloves must be the most complex to design and difficult to manufacture items in their catalogue, especially waterproof ones, and there's no other items have such a mix of different materials.
Having worn cheap gloves and have a seam dig it's way into my hand after a day using poles and an axe, I have an appreciation for such things these days.