I've had some Haglöfs kit samples for this winter on test since the start of the year, the news season's hitting the shops about now so its time for a write-up. Parts 2-4 are coming up over the next few days, but first up is Haglöfs Bungy Zip Hood. Let's see if I can be objective about outdoor gear that's purple.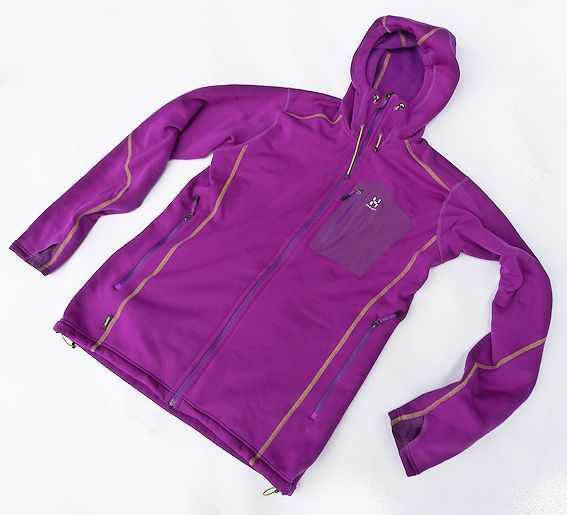 The Bungy name isn't new, Haglöfs had a Bungy range before, a selection of very form-fitted Polartec Powerstretch tops and bottoms. The name disappeared for a while and came back with a slightly different sort of kit, still technical but with a cut that didn't need a superhero physique to make it work. 
The Zip Hood is the top of the range with the most features and the most protection, making it a contender for your winter midlayer of choice. The start of it all is the fabric, Polartec Powerstrech Pro, Pro meaning it's the good stuff with the nylon in the outer face for strength, and having shredded the shoulders of cheaper Polartec Powerstretch after 40 miles under a pack, I started paying attention to some of the info they give you, it isn't all bullshit.
The outer surface is very smooth and the inner is soft and fleecy, lovely against the skin. The smooth outer gives it abrasion resistance, it doesn't bind on a shell layer and it has some wind and water resistance. It's stretchy, but not too much so, it retains its shape. It dries quickly, when wet it's still warm and it pulls sweat off you like a terry towelling wristband on an 80's jogger. Powerstretch really does hit a fabric sweetspot.
Which is all very well, but you have to sew it into something person shaped and the Bungy Hood is very person shaped. The cut is neat, not tight and certainly not relaxed, it's just right on me for feeling snug but not compressed. I know it's all relative, but if you know the fit of Haglöfs on your own body, hopefully you'll know what I mean.
The body length is good, it reaches well below a rucksack hipbelt and the arms are in no danger of leaved your wrists exposed, one because the articulation is great and second the extended cuffs have neat thumbloops built in which shield a good bit of your hand when used.
The hood made me think at first, it's quite big, and I thought it was going to be a pain under a shell, but the fabric saves the day again, not binding to the shell hood and contouring around your head pretty well even when the drawcord is loose. The drawcord pulls in the excess fabric around your face when you want to sea round yourself and keep the cold out and after a few uses the cord channel wrinkles evenly across your brow, addressing my other worry about clumps of fabric pressing against my (huge) forehead.
I now like the hood, you can get a beanie under it, it lies flat and out of your way when down and it's relaxed fit is great for camp living and you can get a cup or spoon to your mouth without pouting your bottom lip over a bit of lycra binding. In saying that, I like tight hoods too, but, it's nice to have options, and the Bungy hood does seal your chin in if needs be.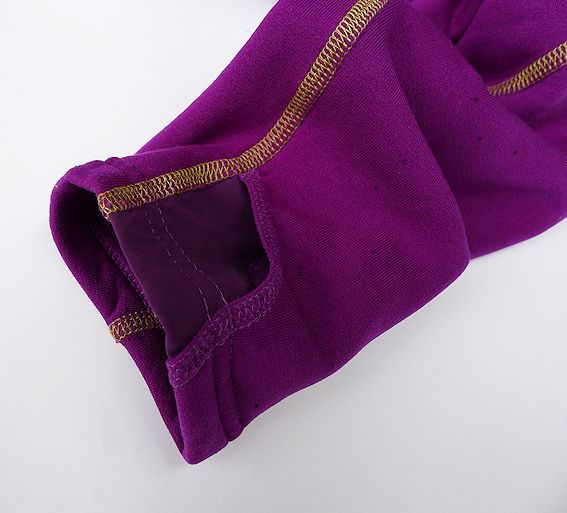 There's three pockets on the Bungy, two lower mesh handwarmers which you can see with one of the drawcord adjusters below which are pretty big with zipped access which just clears a pack hipbelt. There's a little stretchy chest pocket too, handy for wee stuff and convenient for printing a logo onto.
There's other detailing worthy of mention. The full length zip has a storm flap and zipper garage at your chin, the neck seam is taped to protect it and keep it in shape, tghere's a hang loop at the back of the neck, the zip-pulls are all big and chunky and easy to use with gloves and the hood drawcord cord locks have no moving parts so are easy to do and undo with gloves.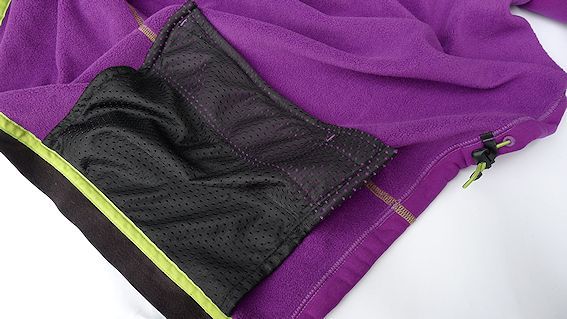 I've worn the Bungy a lot, it's warm which does make it a cool weather hill jacket and I've slept in it too where it was annonymous and comfy as I waited for my tent to be blown away in a blizzard.
It's very wearable, it doesn't feel too technical, it's not demanding you strike a pose and have a 1000yd stare when you wear it. It's a mountain jacket that works on your mountains, not just the ones in the advert, it's been as at home on the Kilpatricks as it's been on a snow covered Ben Nevis.
I've always loved my fleece hoodies and the Bungy takes me back as much as it takes me forward with comparisons to and memories of the Karrimor Alpiniste and the early 90's Montane Alpine jacket as well as Haglöfs own genius Triton. Powerstretch is the right choice of fabric,  it can look softshell square in the eye when the weather is changeable and brings its own qualities too, better stretch and good warmth with moisture management to match it.
The "dragon" purple is just gravy, I think it looks amazing with the splashes of contrasting green, and dull is also available if you don't want your kit to make you feel glad.
The weight in production spec is listed as 405g, but my sample is closer to 500g in a large, which I'm still entirely happy with, but I suspect there will have been tweaks in the shop version, indeed the other kit I'm following this with all has different weights in production spec, both up and down.
Bottom line, great jacket, expect to keep seeing it on here as the nights draw in and the temperature drops.