478g isn't much for a 25litre adventure-ready pack, six months of use is bound to show if anything's missing I'd think?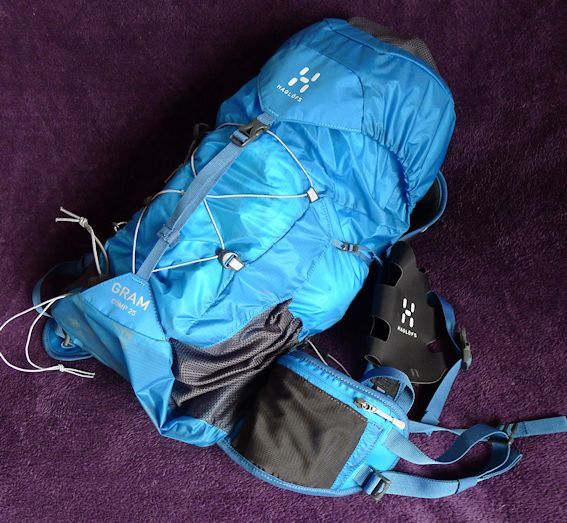 Haglöfs Gram Comp 25 is part of a new range of multisport packs that came out for summer this year designed for adventure racers and mountain marathoners. There's a more regular. slightly beefier built Gram 25 and several smaller packs with zipped access. The Gram Comp 25 has the classic lines and a layout that will be familiar as it's one of many evolutions of the original KIMMSac that got the basics right all those years ago. Race packs make great lightweight general use packs as long as they're not too basic, there's a sweet spot of weight versus functionality in there.
My sample is a preproduction model but I've had it beside a regular shop version and it's just the same as far as I can see, so let's talk features, for they are many.
The basics are a single main compartment and a single-buckle lid. There's a proper harness, various storage options and good detailing. The back system is basic with lightly padded mesh at the contact points and nothing inside. A hydration bladder or a sitmat slipped into the hydration sleeve works fine if you need padding, even a stove windshield and map worked for me. Otherwise, you'll need careful packing to keep sharp and annoying edges and corners away from your back.
The hip fins have a similar ligh padding and mesh and  are big giving a good stable contact point which hold the pack well empty or full. They also mold nicely to you and are low profile when the pockets are empty.
The shoulder straps have thicker foam inside which has holes cut for ventilation and flexibility and lycra edging binding. There's a yoke-style attachment which brings the pack in close and means it sits low at the top as well, so it clears a bike helmet no problem.
Storage is good. The front panel has a bungee web on it with a little loop to catch the plastic hook on the end, which as you might see above, I broke as it's hanging from the loop all by itself. It's an easy fix, I just forgot to do it. And, hey, maybe I won't bother. I added a couple of ice axe/pole attachments as I was using it last winter and they were fine with my lightweight axes, no sign of stitching being strained.
The side bottle pockets are big and I find them an easy reach as the pack sits quite low. Their bungee drawcords are a wee touch of genius, you pull the cord end to tighten them and pull the little hypalon tab to slacken. Simple and easy.
The hip fins have good sized mesh pockets with a little stretch and gusseting to give them some empty volume. There's also a velcro closured expansion flap (at the left side below), which, while it allows extra volume, it wants to pull the zip open when the velcro is detached ad the pocket's stuffed and it seems a bit of a faff anyway, I'd just have something very stretchy in there instead.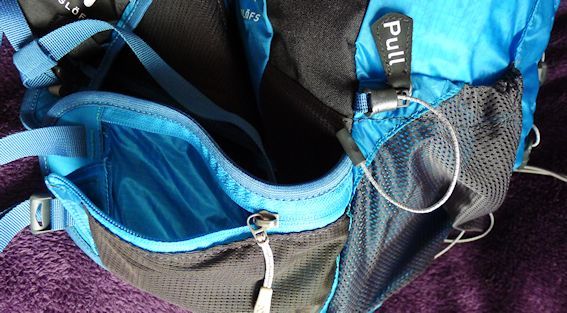 The shot above shows the low sitting position. It looks empty as I've got my fleece and crampons on, but there is all my safety gear, a down jacket, pot/stove and the like in there.
But, with everything else in there, axe attached etc the pack doesn't slip down any, the fabric is very light but the pack has a good structure and doesn't deform. It all makes it very usable, and indeed comfortable.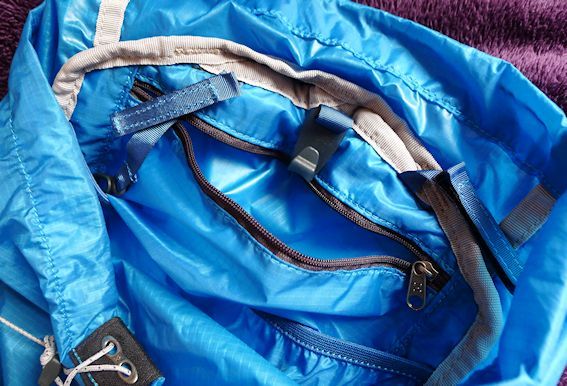 Above is the entrance to the hydration sleeve which has various attachment points for bladders. There's also the little zipped pocket you can see which hangs loose and is dead handy for wallet and car keys or medical kit. You can see the reinforced drawcord entry point on the main closure too, a sensible detail.
Below shows the exit points for the hydration tube and the elastic loops for the tube down the straps as well. To the right is the lid pocket. This is small and closes with a velcro patch and it needs to be bigger and not close with a velcro patch. The mesh has next to no stretch, so try and cram stuff in there and the velcro either won't catch or pop open on the move. Stretchier mesh and a bigger velcro patch might fix it, but it does need a fix so it's more usable.
The waistbelt is narrow webbing with a reverse pull adjustment which works very well. It's stable and very comfortable and easier to adjust than a regular centre buckle.
Below shows the chest strap which has both a whistle buckle and an elastic section for comfort and enough slack for you to do blow your house down deep breaths. The chest strap's on there with regular webbing  as well, no sliders or fancy stuff.
The bottle pocket is brilliant, very stable and the velcro tabs allow for enough adjustment to insert big bottles and I mostly use a Nathan bottle with the straw in it which means I can drink straight out of the bottle without removing it. It sits well away from my face as well as you'll see below. The weight of a full bottle hasn't caused me any issues on foot at all, but it doesn't work on the bike as you'd expect, the bottle sits just fine in the side pocket instead.
Also in there is a Gram Pouch which is a separate accessory (you can get the bottle pocket separately too), it's 20g and handy for your glasses. There's a bigger pouch available as well. Extra accessible storage is always a good move, I like chest pouches, and small strap-mounted pouches like these don't sweat up the front of your torso.
The main body of the pack is a silky smooth nylon. It's in good nick so far, it's just absorbed a bit of dirt which is fine by me. It is very light, but it is also very functional despite a couple of niggles, mainly the lid pocket.
In saying that, it's still been my first choice pack for almost anything I've done since it came in for test, I just store more stuff inside the main compartment instead of the lid pocket and basically, the Gram is just so damned comfy. 
Haglöfs have got this one almost spot on at the first attempt, it's a brilliant pack to use, and I will continue to do so gladly. A tweak or two and it could be perfect. I said at the start there's a sweet spot of weight versus functionality, the Gram's got one foot over the line there I think.