Spring/Summer clothing collections are often an excercise in gap-filling until winter comes back, but Haglöfs have got some kit coming up next year that definitely caught my eye.
Okay the purple Hebbe Beanie above has been canned, didn't really fit in the summer range… but we'll be seeing it again this winter.  Below though is the Actives Merino Beanie, 21g of 153weight merino, a genius lightweight low-profile utility bunnet.
I've worn plenty merino beanies, double thickness, medium weight and light like this one and under a winter hood, a bike helmet or in a sleeping bag, this is just where it's at. Red, black and blue (for you).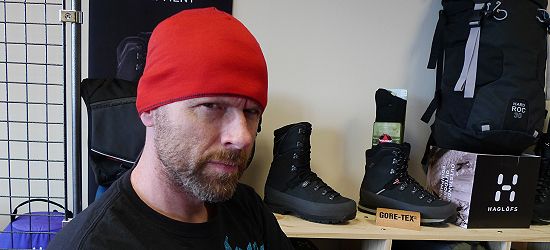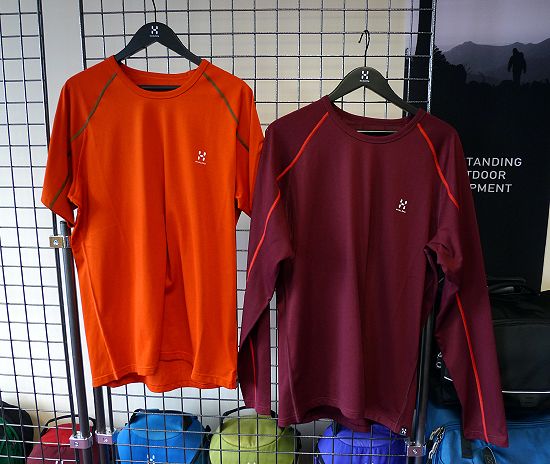 Some nice hybrid outdoor/casual kit coming up. The fit feels like a relaxed slim sort of a thing which is good, a lot of casual kit is boxy and shapeless for some reason, the fabric is a recycled polyester/organic cotton blend and feels rather nice.
The Acau Tee is the orange affair above and the Acau LS Tee is above and below with me jammed in it. Colours, yes please.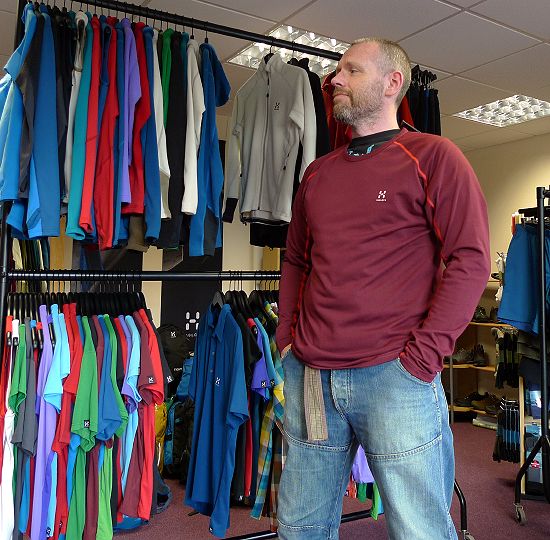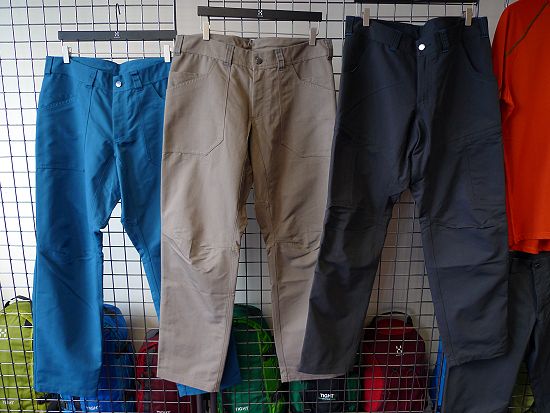 The Ambo Pants above are another recycled polyester/organic cotton blend, this time with a canvas feel to it. The Ambo's are a general wear/bouldering pant with a relaxed fit, a concept that Haglöfs have been working with for a while, but the fit looks bettre on these, not so slim on the hips maybe.
There's a similar Ambo Cargo which adds the neat pockets seen below on each thigh, that's a stretch gusset at the rear of the pocket so you cram your crap in there.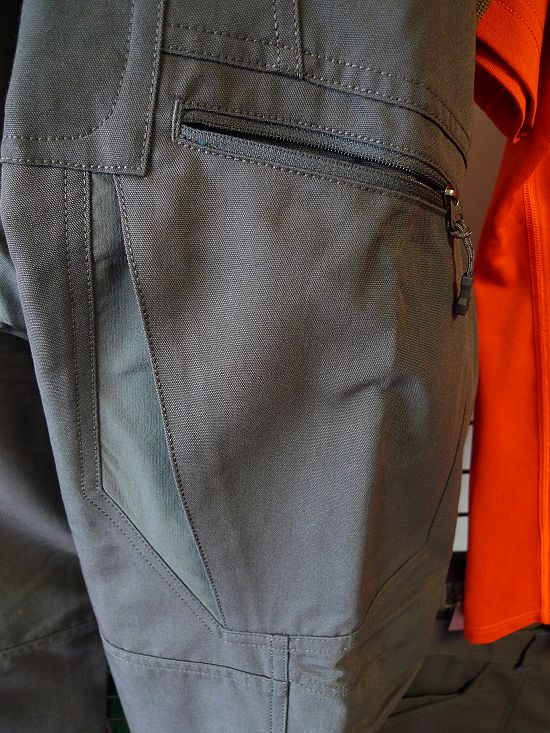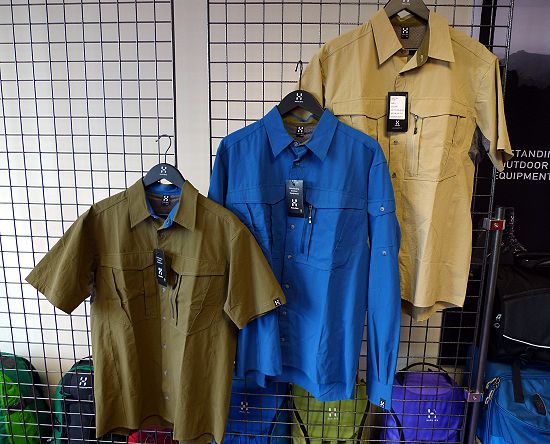 The shirts above are a mix of Salo LS and SS and they remind of some of Haglöfs older models, the Nansen range I think, so it's good to see some fresh thinking applied to their trad ideas. There's a bunch of features on there and the shirt fit is always technical so you can wear them on the hill, there's zipped and buttoned pockets, vents and the nylon/elastane ripstop fabric has an anti stink polygiene silver salt treatment.
Talking of shirts, I've been wearing a couple from the current range for the past few months, review coming soon.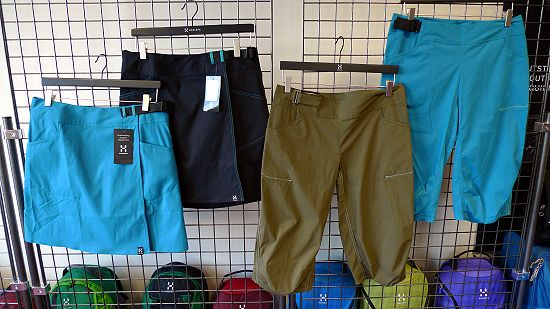 Skirts, proper skirts too, none of your hidden shorts nonsense. That's the Lite  Q Tour Skirt above cut from Climatic 4-way stretch softshell fabric. Reacrtion has been favourable appareently, in the shops next year. The Amfibie Q Long Shorts next door (and downstairs for some pocket detail) are low cut affairs for summer days.
Outdoors made sexy? Had to happen sometime.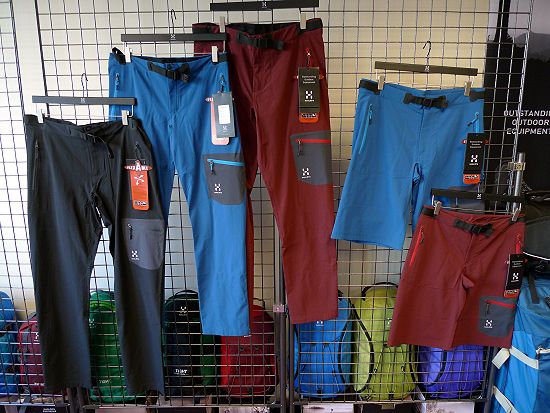 The Lizard family is breeding. We have three colours of shorts and pants above, the excellent pull-on top below continues with new colours and we also have the new Lizard Jacket. The pull-on top now has proper fully stretchy cuffs and the two weights of FlexAble fabric which makes it such a versatile piece is the same in both the top and the jacket. The shorts and pants have a single weight of FlexAble which sits between the two weights of the tops.
I've worn the top constantly and you can take in anywhere, even home to meet your mum.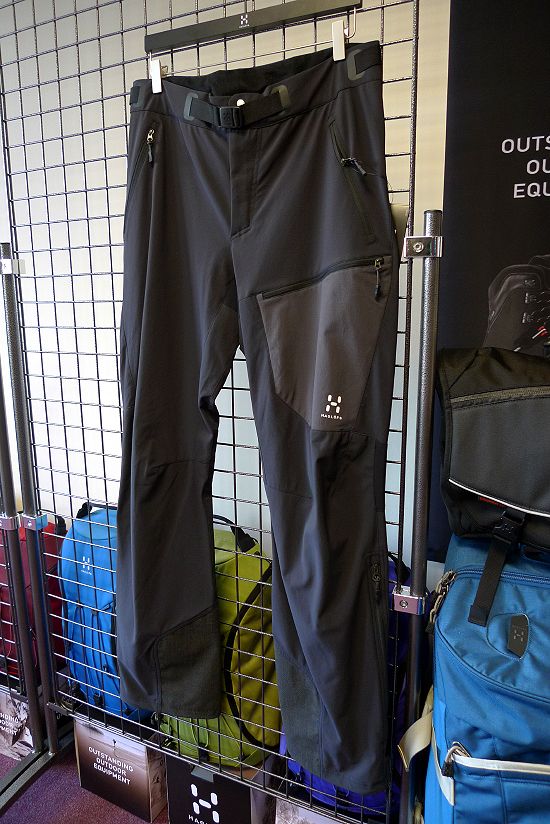 That's the new Tuff Pants above, a trimmed down techy softshell with some nice detailing. These are made from FlexAble Pro, which has a membrane, putting it up against Windstopper. There's articulation, crampon patches, pockets a-go-go, zippered lower legs and three legs lengths for hims and hers.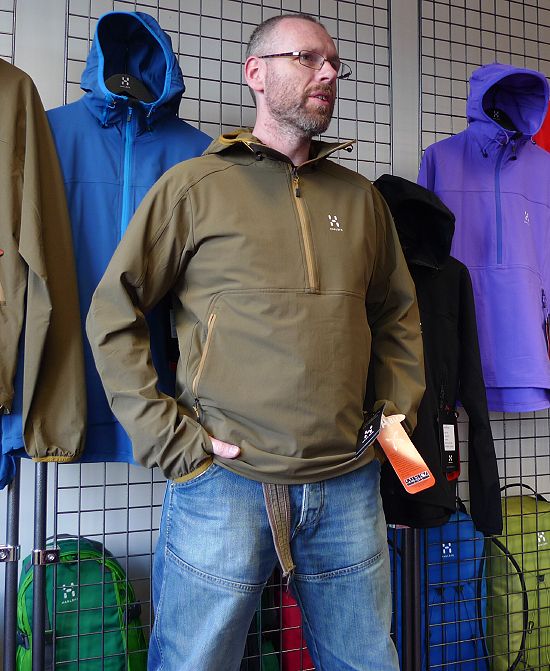 Retro or tech? I can't decide, I just want one. Above and below is the new Krait hood. It's a proper softshell top in FlexAble, neat not slim fitting, proper hood, thumbloop cuffs and the girls version comes in purple which just doesn't fit me dammit.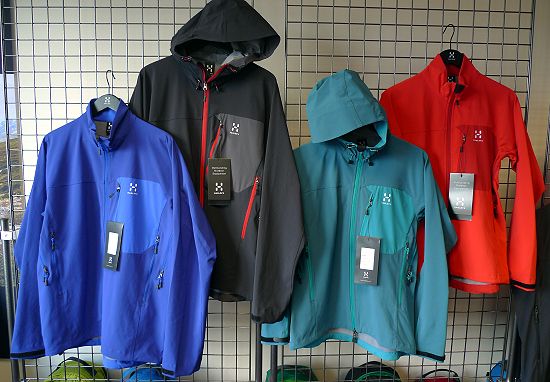 Above and below are the Vig Vest, Jacket and Hood. This is in FlexAble Pro again, so these tops are taking on the Windstopper models out there.
Own brand fabric with top end design and spec, that's the way to go.
The Vig hood is proper in all ways, fit, protection, adjustability and making Gus look just a little bit shady.
People asked, now they have. Above is the Shield Vest on Gus, windproof front and light softshell back, perfect for chill days when on the move at speed. I've got on a new colour of Shield Pullover, Oxide Green.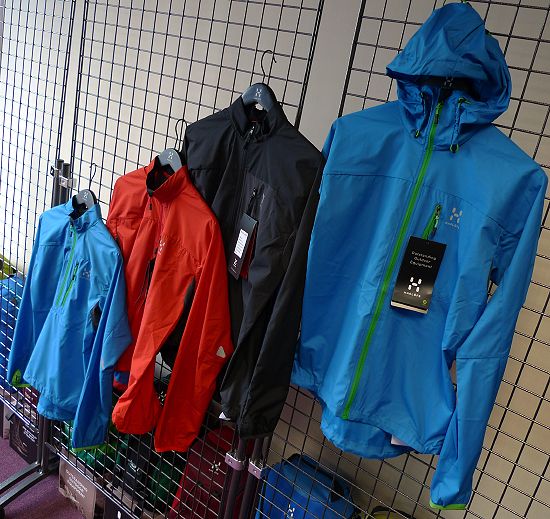 That's his and hers Shiled Jackets, Pullovers and Hoods above. Below is the detail of the Hood's hood, proper adjustment on there and all for 200g.
The Shield range, including a pant, is made from 100% recycled polyester on the plain fabric and the softshell FlexAble zones are half n half recycled and regular polyester.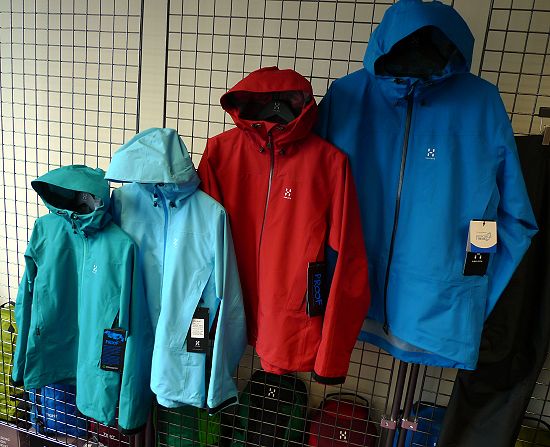 The Bara jackets above are cut from Proof, Haglöfs own waterprrof fabric. Here it's a 2.5 layer, feels nicely flexible and soft and the look of the Prook kit is improving for sure.
Below are the Tilta and Tilta Q Jackets, these are alpine style shells in Gore Tex Active Shell. These are nice. It's good to see Active Shell moving out into where Paclite has sat in a pool of sweat for too long.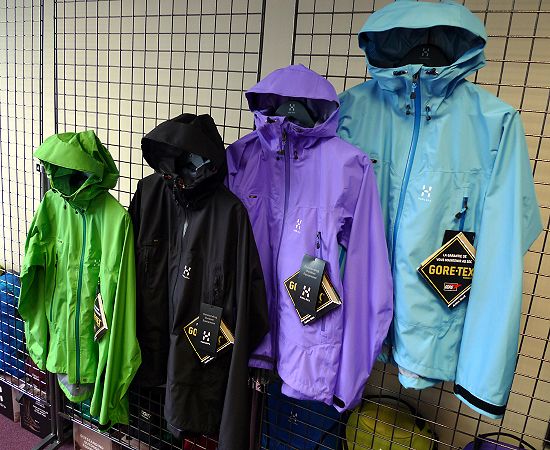 There we go, and not a single checked shirt. Although there are 34 varieties available in the range.
Still, the biggest impact of the day was the man in purple waiting for me when I arrived. Ten out of ten ya daft bugger.