A camping pot is a camping pot is a camping  pot… Correct, something to boil water in and cook basic meals is all you really need, how many of those old school folding handle aluminium mess tins are still sold?
So to spend real money on sexy cooking kit you have to find a tangible advantage over something basic, be it weight, design or features. I've got the lightest and coming up over the winter I've got the fanciest to talk about, but on review here just maybe I've found one of the handiest in GSI's Pinnacle Soloist which I've had on test the past few months.
The Soloist is modular space saving kit which is always a good thing but there's some real thought gone into it.
I'll start on the outside with the stuff sack which is where the usability starts, no cheapo mesh bag to hold it all together, here we have a welded seam bucket that holds a litre of water all by itself. Great for topping up your pot, filling with snow for the same task but also useful as a wash bucket and general storage. It's a tough fabric, fits the pot fine although another half inch in height would make it perfect with a better overlap on the pot lid when you pull in the drawcord, which has a proper cordlock by the way. 32g for the stuffsack.
The pot is 1 litre+ and I usually boil 700/800ml in there for a cuppa and a meal where it stays very stable (dependent on stove used as well) as the shape isn't too tall. The pot is quite squat which I think also helps stop it boiling over if it's very full.
It's anodized aluminium with a Teflon inner coating which has a little colour to it, like past sauce has dyed the inside of the pot. Worth both noticing and remembering before you take a Brillo pad to it. The coating is supposed to spread heat as well as be non stick and the like and it's definitely easy to keep clean, rust marks from a gas canister base come straight off.
The finish inside and out looks to be tough, no real damage other than scratches to the base and the pot itself is tough, it's dent free and I think it might stay that way with normal use. 194g for the pot.
The handle is a cracker, long and coated in orange plastic which keeps bare finger from getting singed and is easy for gloved hands to grip. The handle folds away and locks open nice and securely, when closed it clamps the lid neatly onto the pot.
The lid is a clever wee thing at 20g all on its own. It fits the pot one way up and the mug the other way up. It's not tight on the pot so you don't have to struggle with it while the bubbling contest threaten your happiness, but it presses neatly into the mug so you can seal in your drink and not worry about the lid coming off and hot coffee taking your face off.
The lid has a spout/sipping slot which serves well at both disciplines and a straining bit for when you want to drain the water out of your cauliflower or boiled tatties at camp.  The lid has a bit of flex top resist breaking and is molded in pretty clear plastic which is useful, it's resisting scratching okay so far too. It's replaceable  if you lose yours which is nice, it's a standard GSI accessory item.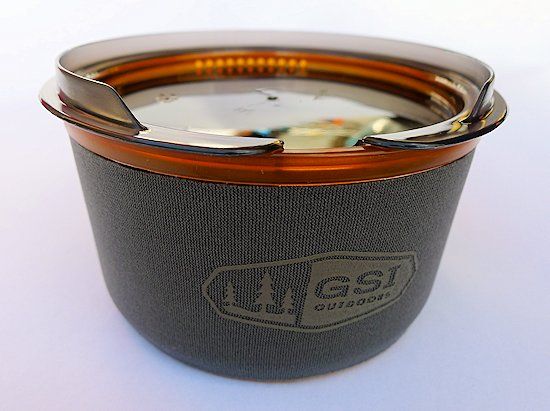 The mug is wide and low making it hard to spill in a tent. The polypropylene shell is lightly textured outside and smooth inside for easy cleaning and a bit of grip for both your hand and the neoprene insulation band that slips over the outside, that removability makes it a breeze to keep it all clean too.
But, the insulation brings with two helpings of joy, one is that it keeps your drink warmer for longer, especially with the lid on and the other is that I don't burn my lip on it. I love my purple titanium mug, but damn an unburnt lip is a thing to be treasured. All for 46g too.
The mug makes a decent wee bowl as well, porridge sachets or pots fit well as do breakfast sized dehydrated meals. All of which can be worked with using the supplied 7g spork, of foon as they like to call it over their shoulder as the paddle furiously against the tide. It's a nice wee thing and folds telescopically but at full length it's great for stirring or porridge but no good for eating from a bag, way too short, you will get saucy fingers.
299g complete and I'm happy with that given the amount of functionality, it's simply very usable. Inside you can store the big 250ml gas if you want, you might not get the lid on properly with your stove etc in there too, but it will all still fit into the stuff sack. A 100ml gas inside leaves room for drinks etc as well.
Magic bit of kit.
Coming soon, the Halulite Minimalist. Is the wee brother struggling in the shadows?