I was happy enough with my mix of Sea to Summit and POD compression sacks until I tore the whole end off my regular POD one when packing a sleeping bag, so I grabbed at Granite Gear version from the guys at 9point9 to see if it was any better.
A stuffsack in its own wee pouch, aw cute. But, the Event Sil Compression Drysack had to go to work right away and has been compressing down on a regular basis. I took an  Medium – 18L size which was what they had to hand which has been fine, but I reckon the smaller sizes would suit me better for summer weight sleeping bags. For winter bags or my PHD Combi+Ultra this size if fine. 
It's a silky soft Sil-Nylon Cordura Body with nylon detailing elsewhere and comes in at 98g with just air inside it. The roll-top closure is a good one, nicely stiff on one side with a hypalon strip on the other, it's easy to roll and secure when you buckle it up.
The compression comes from four LineLoc cords and adjusters. These are great to use and don't slip, but as there's no buckles, it's dead easy to get the lid tangled up in all these black cords when it's lying in the tent or stored at home. Two buckles and two LineLocs would be easier to use, but it doesn't affect the core purpose of the thing: compressing your stuff in a watertight fashion. This it does very well, and I'd even say better than most.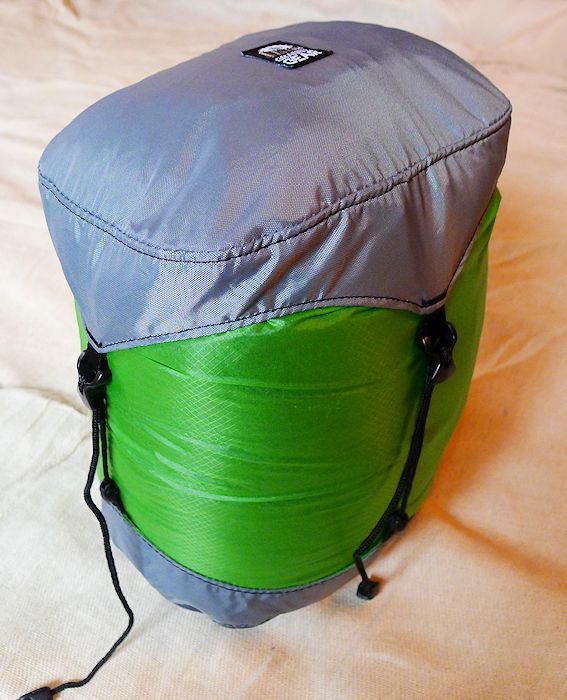 The dark grey Event patch on the bottom lets air out as you compress the bag, it's not magic though, you still have to do a bit of that by yourself before you seal the closure up. But compressing the sack with the Event patch sitting in damp ground air bubbles blow out as you tighten the sack down and water doesn't get it. Hurrrah.
Aye, but they all do that, the advantage here is the shape, it's oval instead of the usual round. This is genius, it's so much easier to pack as the shape suits a rucksack better and there's less dead space around it. Tow of these take up about 75% of the space of two round ones of the same capacity. For bulky kit, it's definitely the way forward.
Don't know about long term durability, but this goes on every overnighter now, so I'll see how it goes.