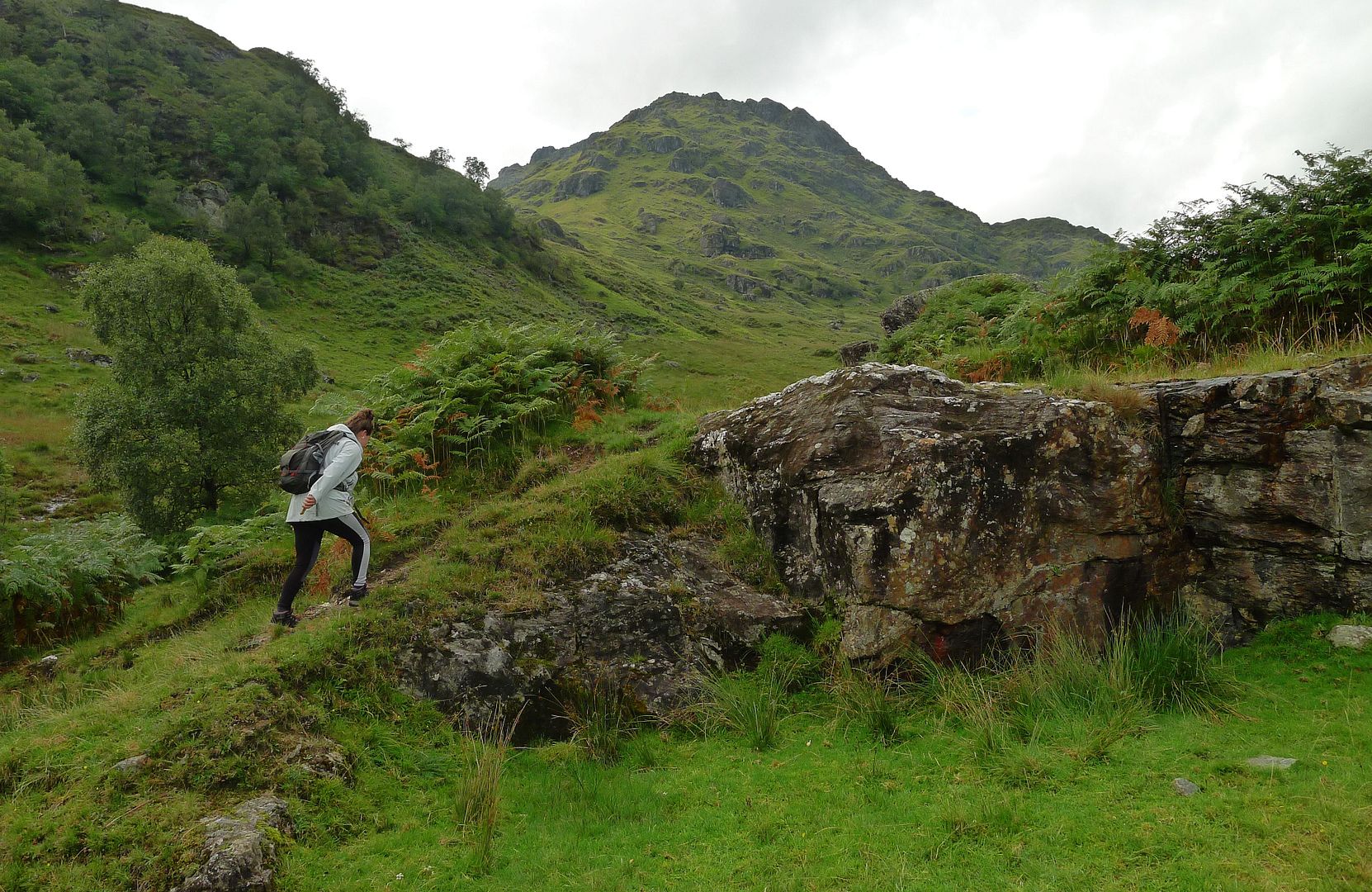 Linda was on the phone to Grace, her lassie who lives just up the road. There was chat about the new job starting in a couple of weeks and free time until then.
"Ask her if she wants to come with me on Wednesday…"
She did, so loose plans were formed, but even as we stood in the kitchen filling flasks and buttering rolls early on Wednesday morning the changeable weather meant we hadn't decided on the actual where just yet. We'd get to that up the road, cuppas were finished, Grace's manky car was loaded with us and rucksacks and off we went northwards.
Grace is out and about all the time, we've walked many of the same trails, just not at the same time. It's always an unknown how it's going to go walking with someone new, there's pace, expectations, fitness, temperament, resilience and the ability to remain calm at my incessant live narration of the days events to consider.
Banter was good on the way and the road was quiet, the weather was still undecided though and the tops were catching the cloud as rain pulses drifted across the glens in the distance. How about a nice long trail through the hills? Maybe not end up in the cloud all day then.
We parked up in Arrochar and crossed the road to pick up the Glen Loin Trail. It's an old favourite, it's got views and good variety, but it's pretty long and the rain is definitely coming.
And I'd just taken the boots I was wearing out of their box.
The wander through Succoth's wee housing scheme and into the snooker table-flat fields that once would have been Loch Longs' northern extremity is nice way to warm your legs up. The air was pleasant too, a just-nice flat walking temperature with my now mandatory Alpkit shirt on. The quiet was punctuated by industrial clanking and a revving diesel from the woods to our left, just where we were heading. It's midweek, were the forestry works going to screw us up? No, a tractor and trailer rumbled erratically out of the tees and we squeezed into the fence  as much as we could as it passed. There were indeed works underway behind him, but abandoned for the moment, just some signage and brutally torn up hillsides as evidence of activity.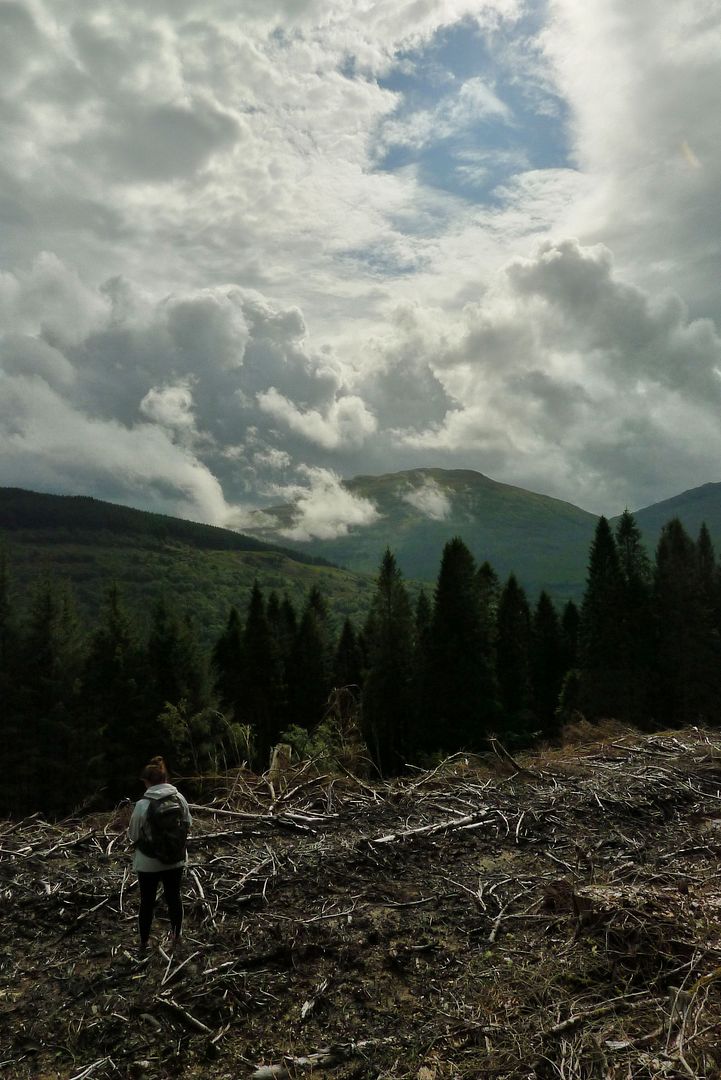 Oh, it's like a field of bones said Grace. Maybe she's more heavy metal that I thought?
The slope had been cleared of conifers who were just desperate to be IKEA furniture, they're on their way to the promised land, hallelujah. It's also an unholy mess with stumps, shredded wood and caterpillar track troughs dug over it. At the top was something far nicer, a crag which was almost invisible when the trees were there, a shattered crag thick with moss and with very dark looking gaps between it's big grey splinters.
I stood on my tiptoes on a cut log trying to see better. That clear felled ground looked rough and steep, it wasn't far though. Will we… ?
Yes, we will.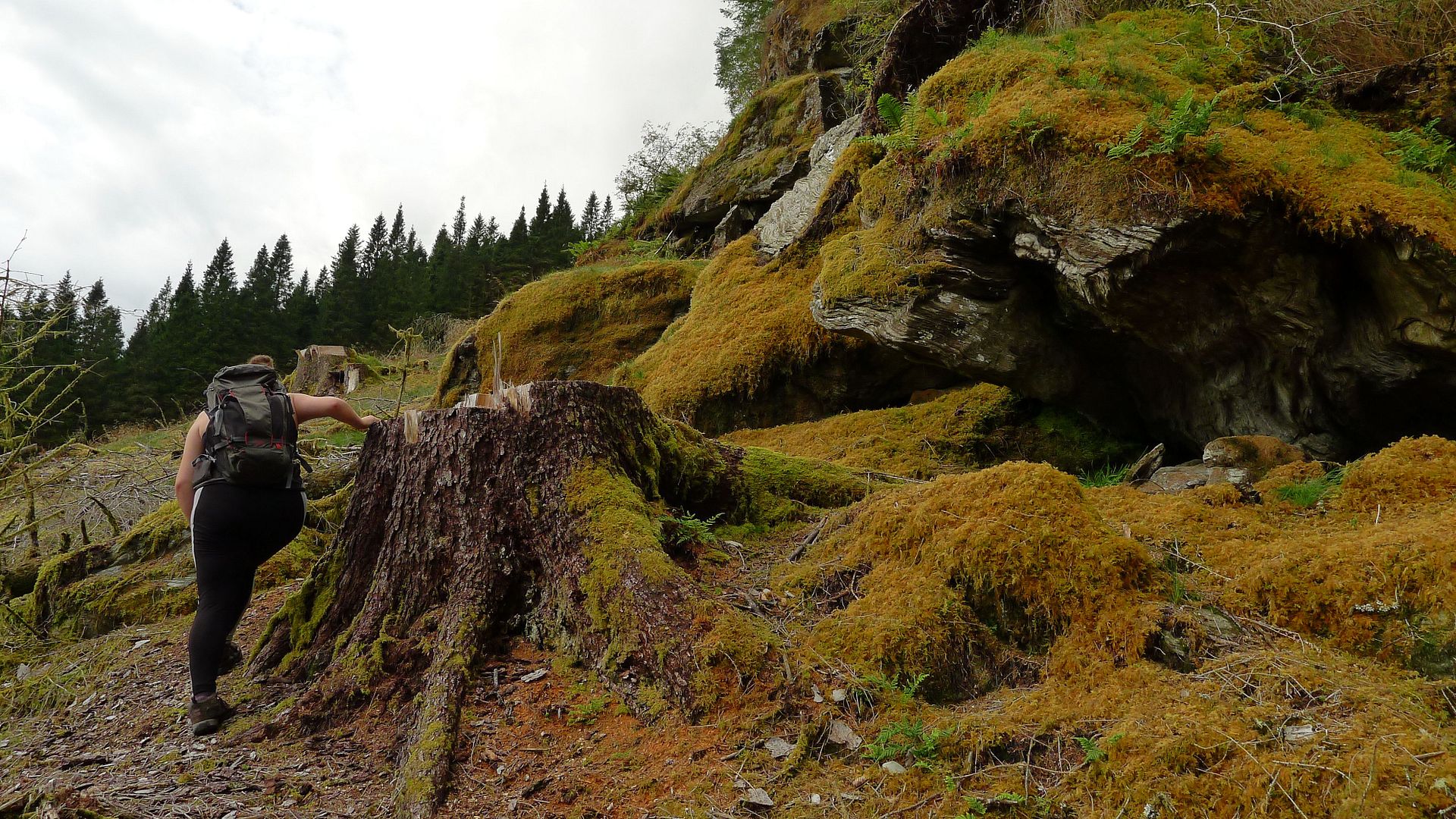 My initial caution must have looked like scaremongering. I've crossed felled areas many times and my outdoor slacks have been snagged on a spiky tree shard many times but today the branch strewn boneyard was soft and easy going. We were in amongst the rocks in a flash and before I could say something like "Let's survey this with a careful eye…" Grace was in the cave grinning back up at me like a maddie. She has the adventurers heart of her mother for sure.
There's a few deeper areas you can get into, all formed by the typical shattered Arrochar Alp rock, here on the slopes of a'Chrois. But the main cave was a cracker, high and narrow, it tapered backwards and upwards to a Y shaped chimney with light peeping through where the giant schist flakes rested on each other high above us.
Grace scrambled around after dropping down from the mossy boulders at the entrance before realising getting out was going to be the real trick. There was then a wee while of both of us crawling over boulders, along very dead and rotting trees and through obviously too tight gaps under big fallen rocks. It was fun. And spoiler alert, we got out just fine.
What a fantastic corner this is and I wonder just how long has it been hidden, 50 years behind a thick conifer screen? What else might be revealed as the forestry trundles destructively along the glen.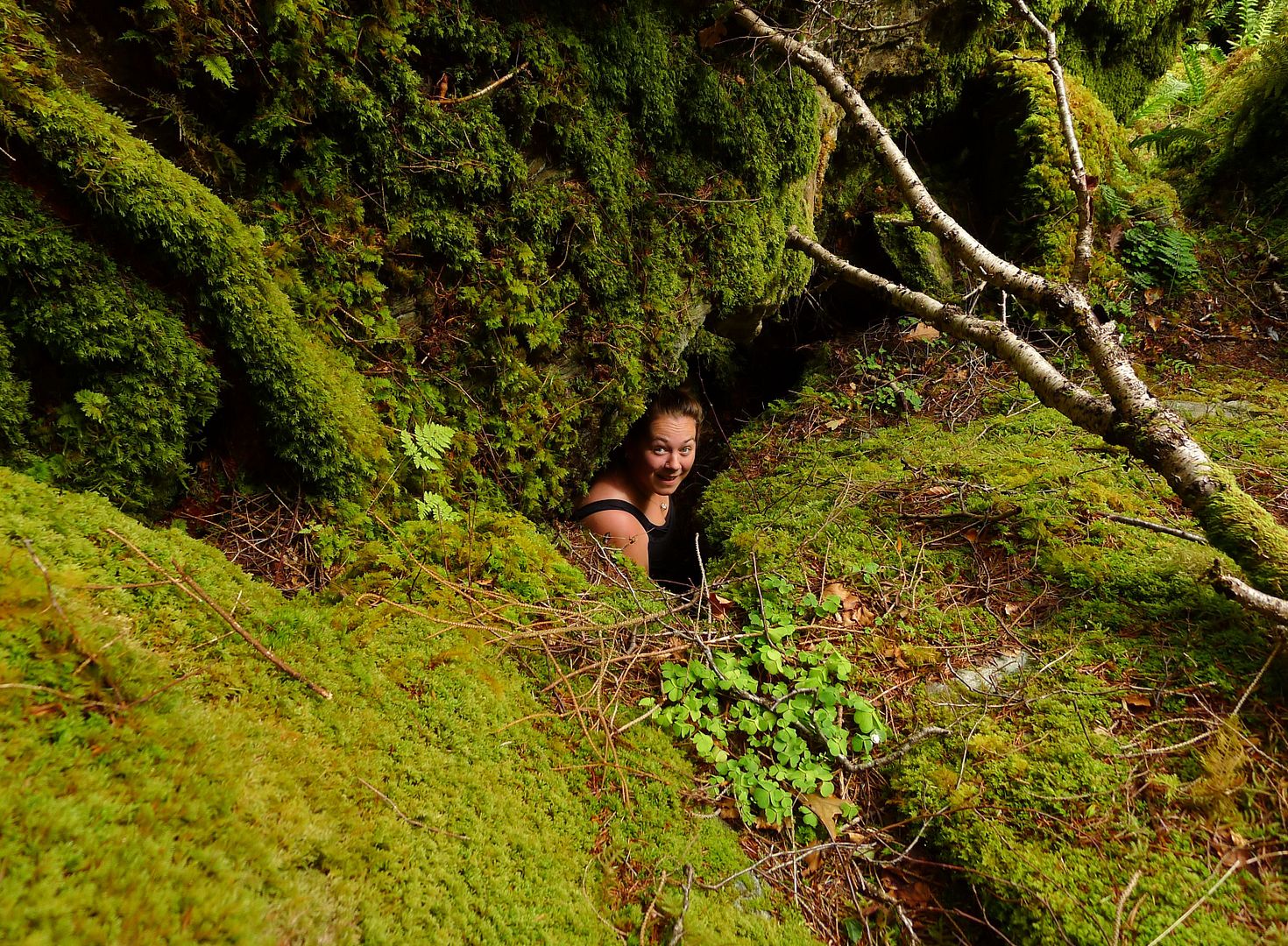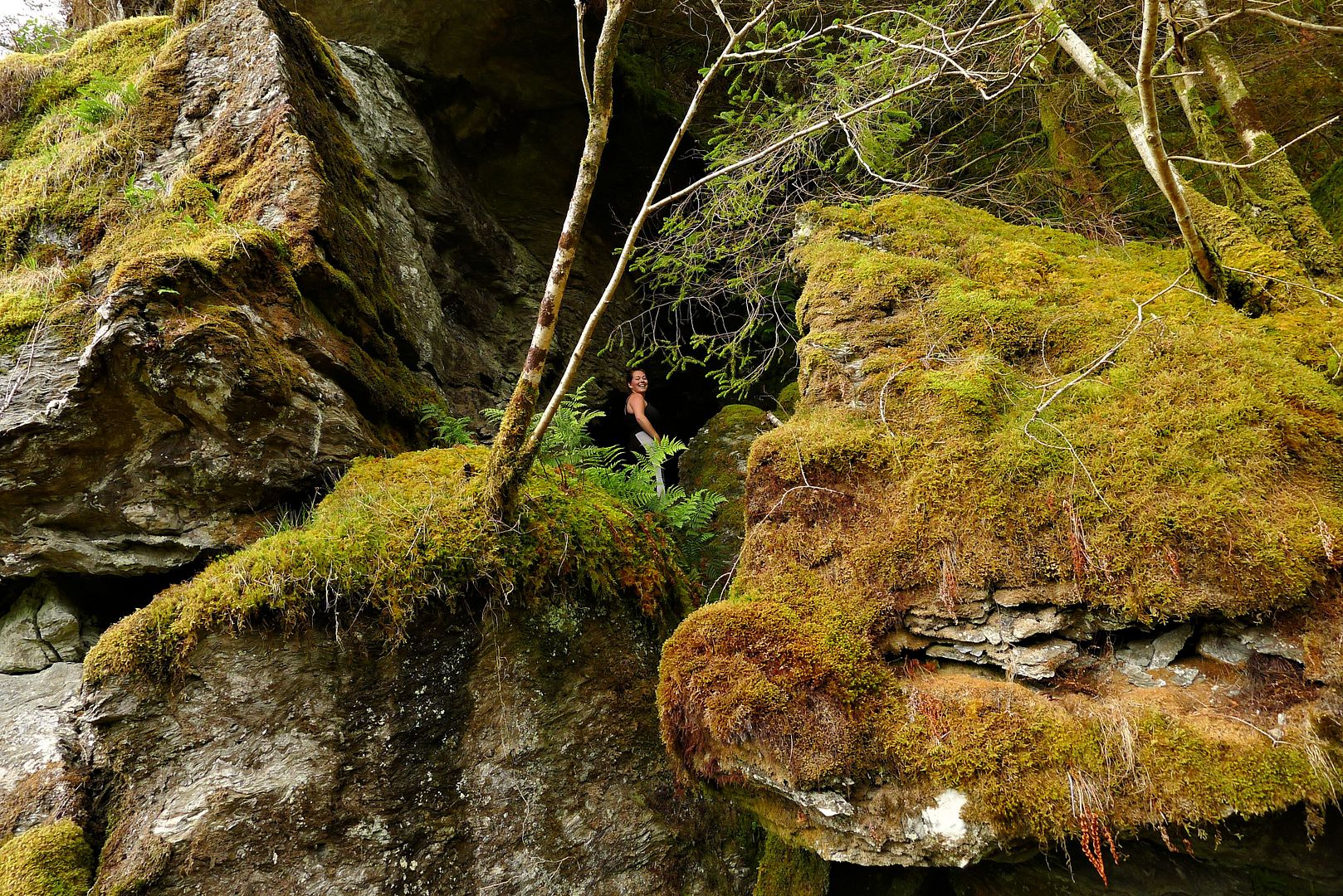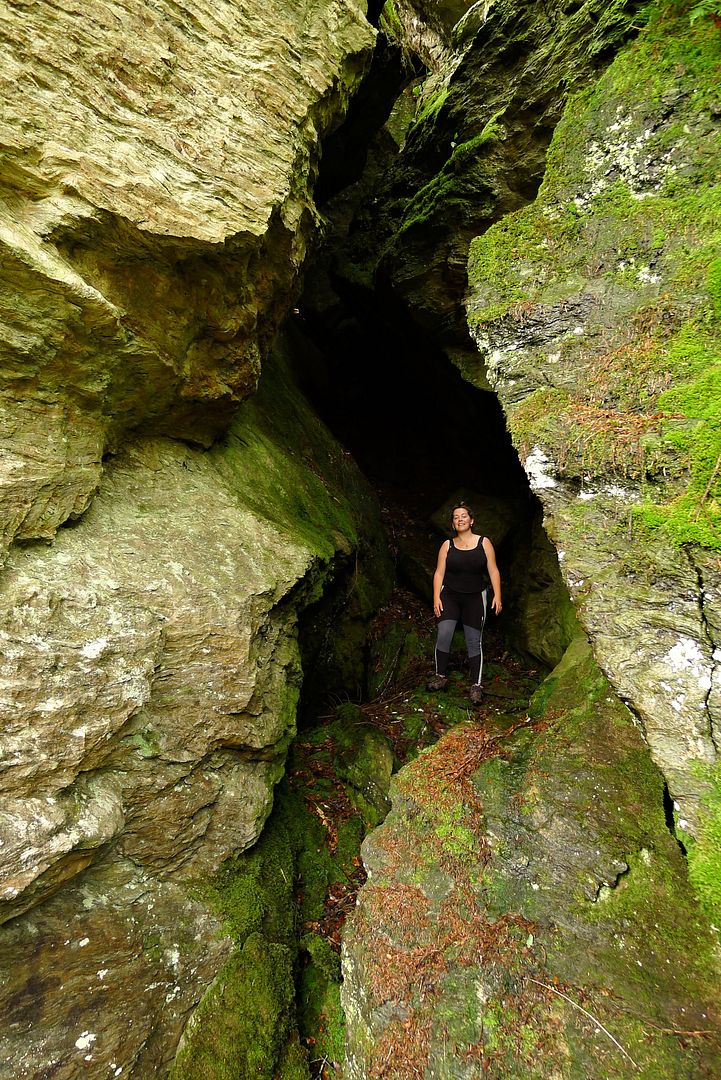 We ended up traversing to the nearby still stranding trees and picking our way down to the track through them which avoided the loose ground of the cleared area. Going up was fine, but I could see going down turning into a jagged arse slide back to the bottom.
The track has been reinforced with new stone here and there, some culverts have been replaced or repaired but on the whole, the forest track along the west side of the glen is pretty much just as it was when we were last here despite the added heavy traffic. I don't think that can last as works spread further but right now by the track edges there are frequent moss bordered waterfalls rushing from the still dark woods, wild flowers exploding, the scurrying of wildlife and heather blooming in more shades of purple that even I knew existed.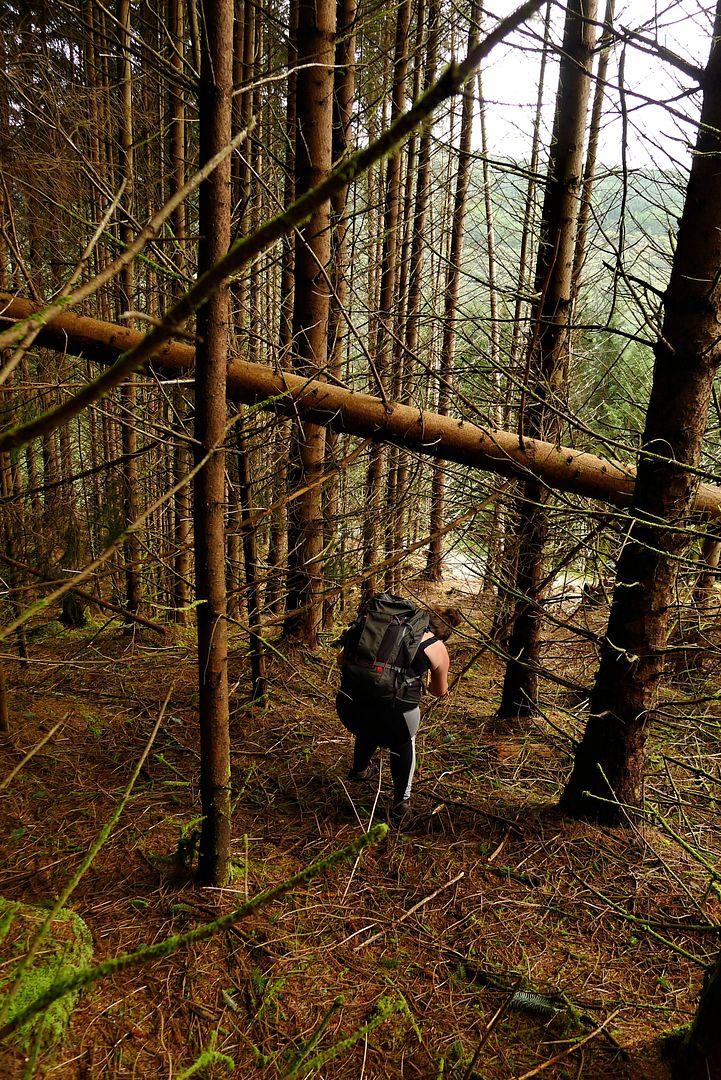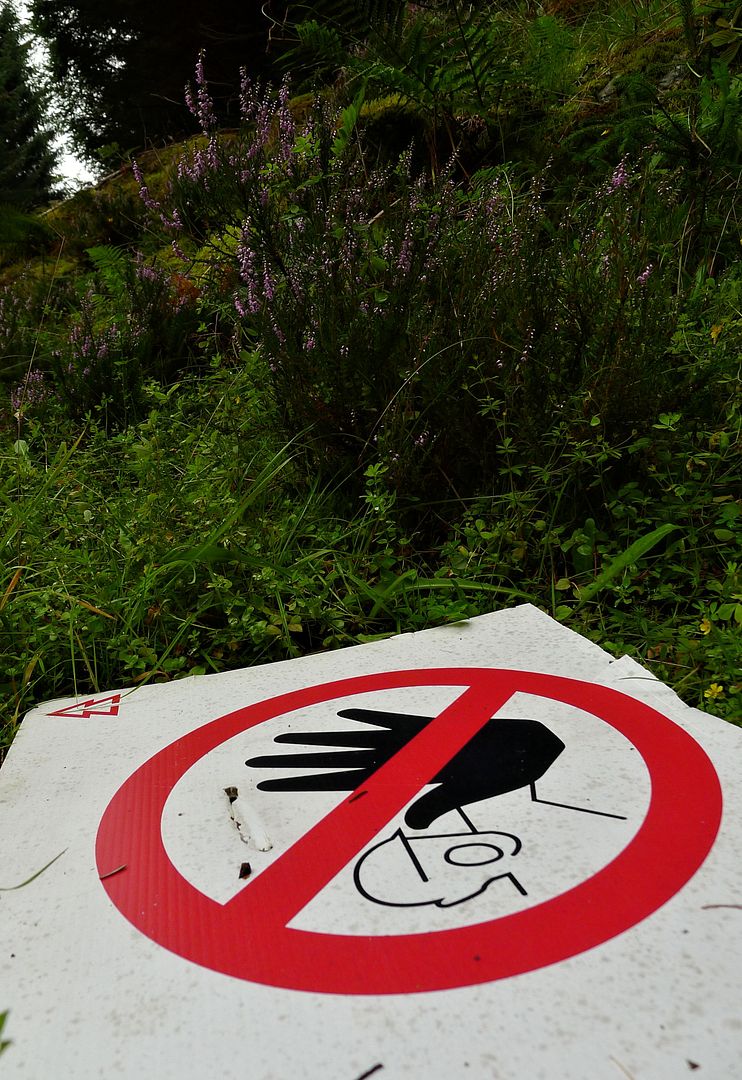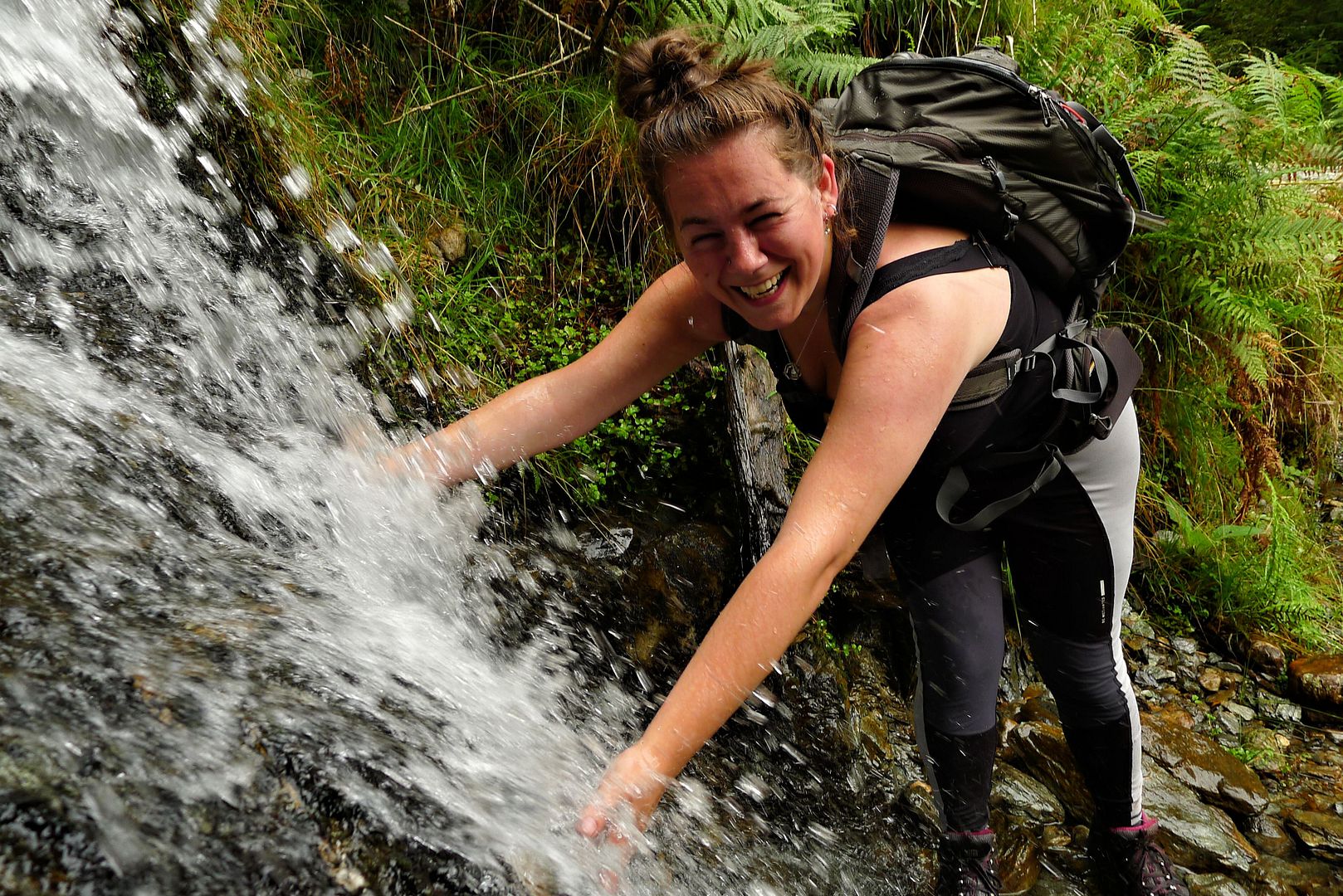 The sun came out a little more forcefully and the temperature shot up pretty quickly. There was a wardrobe adjustment stop and a handy waterfall. A damp hat is always a good soother and fresh running water is generally the best thing for a quick cool down. I don't think my explanation of holding your wrist under the running water method had sufficient detail though, Grace seemed to be doing a charades impression of a bear catching a leaping salmon. At least it was warm, she'd dry off on the trail. Plenty time, still a long way to go.
Then the views started. Ben Vane's broken crest was a wall at the end of our road. This really is a walk into the mountains.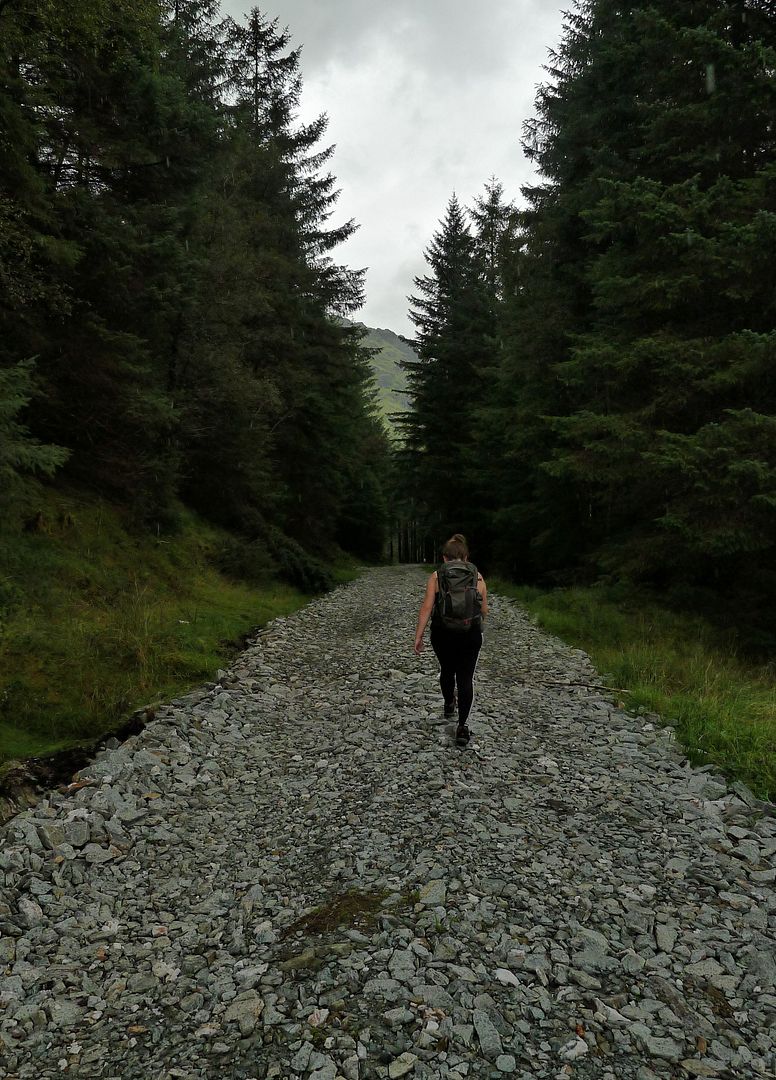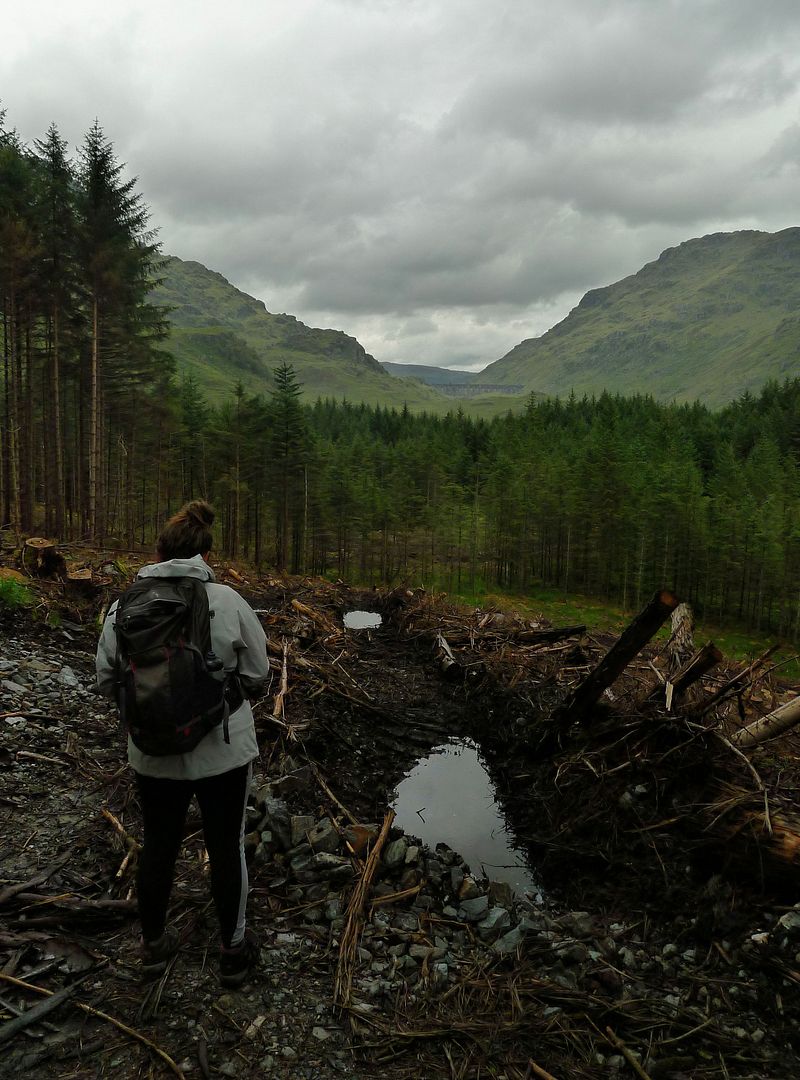 The rain came on and quite heavily for a time so we had to put our shells on. It was still pleasant walking weather though and I never got too hot or cold despite wearing an old favourite, well worn and much washed jacket. I have to do this, after months of rotating review samples, once my copy is submitted I go straight back to my favourites. But then again sometimes those samples become favourites too. Wait and see this winter.
Another clear felled patch brought a long hidden view to the Loch Sloy dam crushed between Bens' Vane and Vorlich. It's my duty as a Macfarlane to tell new ears the story of this loch, how its name is our battle cry, how we hid "our" cattle here and how ever senseless it might seem, it feels like home.
What's in a name? More than the younger me would think.
The rain pattered off and on as we neared the weir at the head of the glen and we sat hoods up with cuppas, lovely home made rolls and some quiet contemplation.
The new boots were doing great, I'd forgotten I'd put them on. A re-tighten of the laces and I wouldn't think about them again until we were back at the car park.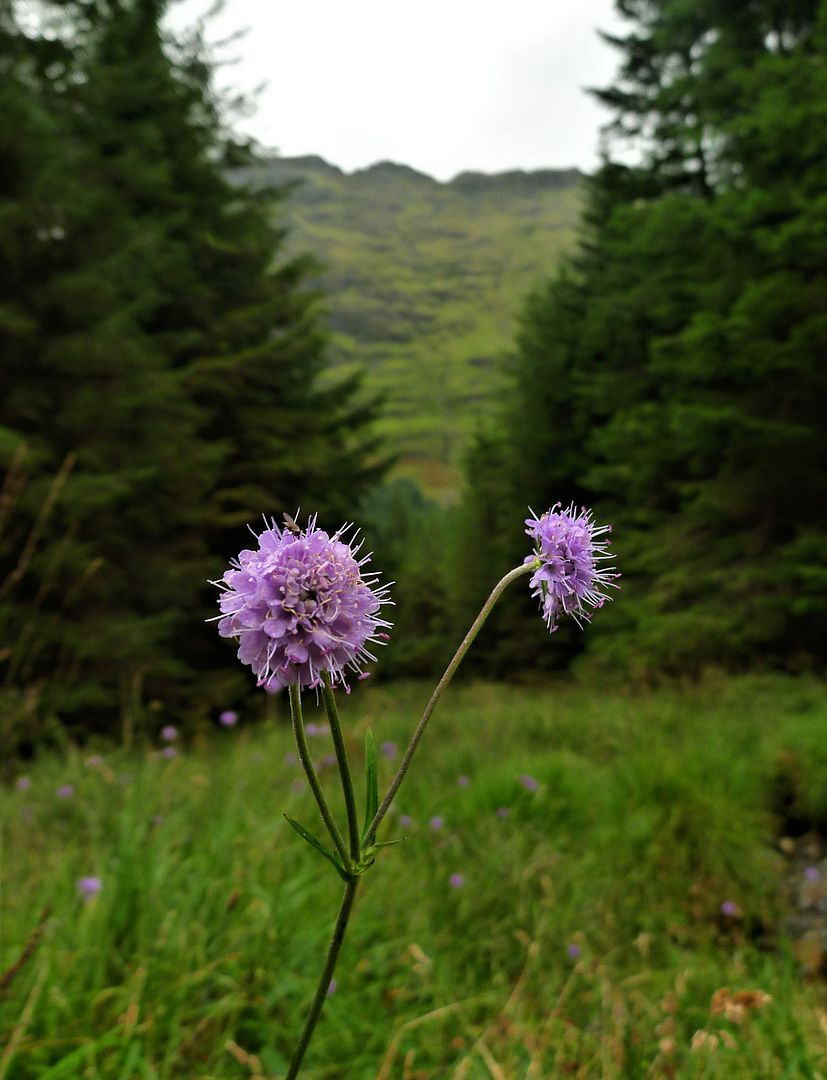 The water rushed by, frothing and brown with peat as the heather nodded to the passing raindrops. It was very peaceful and welcomingly restful to sit and well, just sit.
It was however not even half way round which I didn't say out loud, you know, just in case there was disappointment and some casual violence along with it. But it was with smiles and renewed banter we eventually stood up, packed our gear and headed down the rocky path to cross the river for the return trek.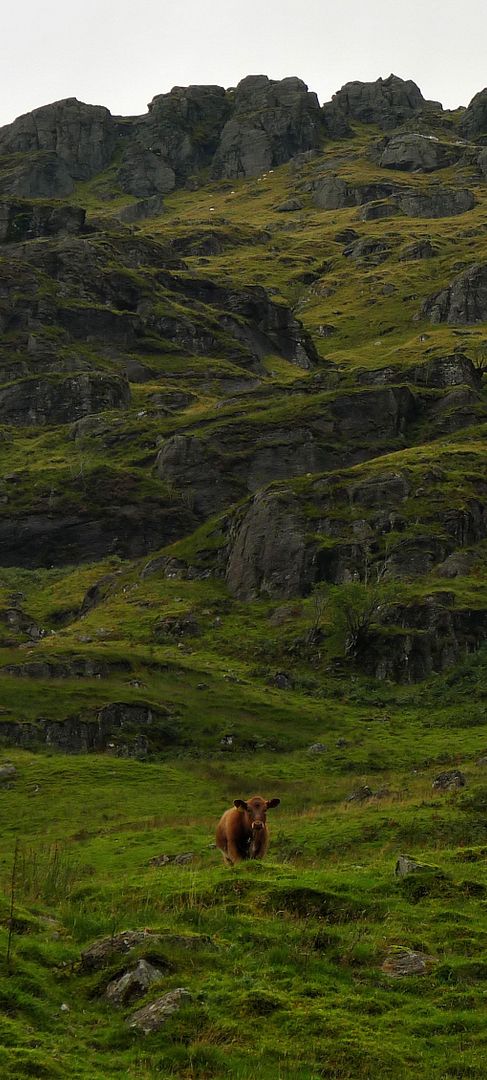 The trail this side is rougher and treeless for a long way. It's also right on the flank of Ben Vane which looms above you in an alarming manner with a notched skyline of broken crags. Behind us Beinn Ime was shedding the crown of cloud and the sky was brightening once again.
Tunnels were peered into, waterworks explored, access ladders definitely weren't climbed and the Loch Sloy hydro scheme it all supports gave me yet another topic of conversation. Yay.
The cows were lovely, they fluttered an eyelash or two and kept on chewing as we pondered the old quarry and it's gate which has long lost its purpose.
It's excellent mountain atmosphere here. It's a long slow climb from Arrochar but it gets you high enough to feel you're in there rather than just looking up at it all. So nice to be back.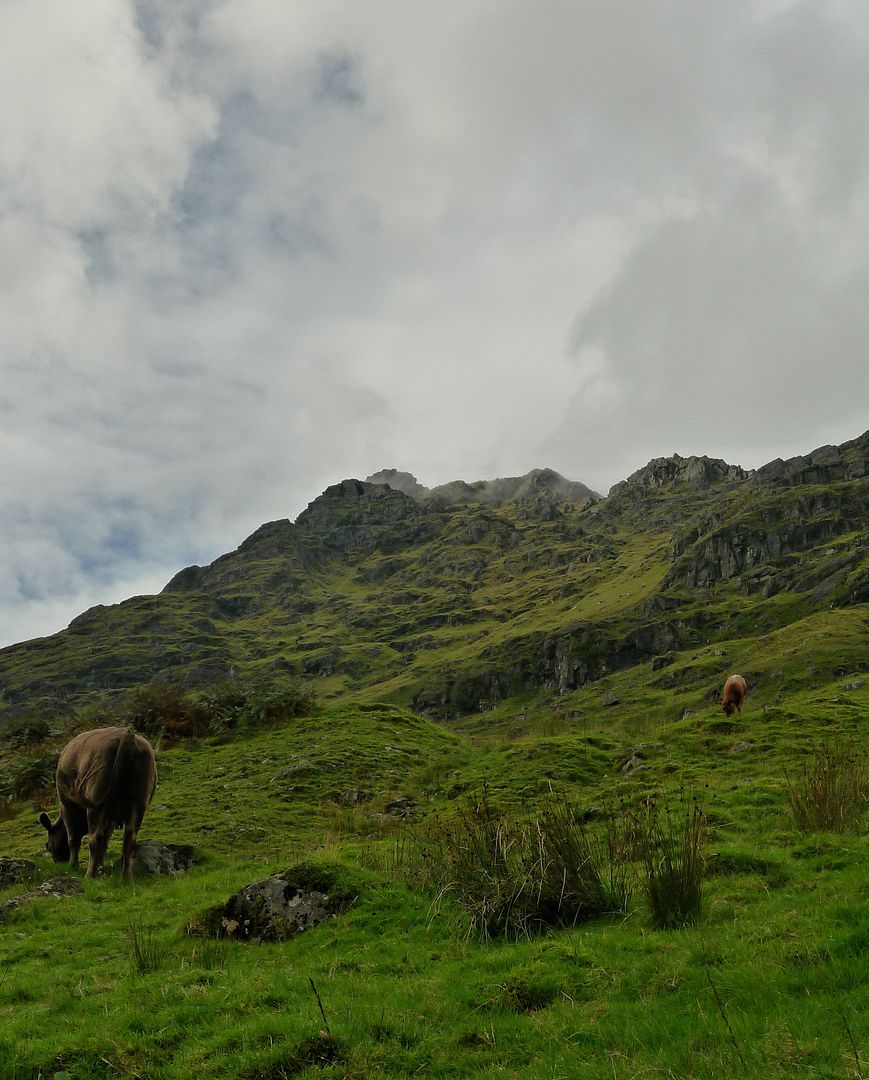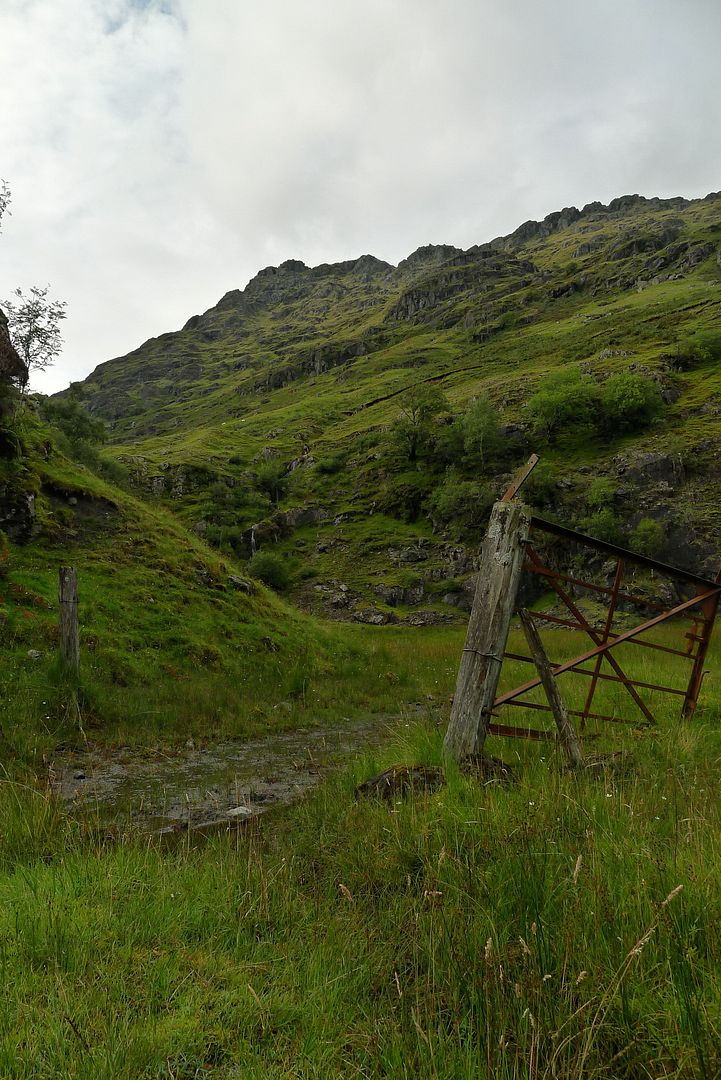 Ben Vorlich is round the corner and fills the view ahead. The track here is steep and brilliant fun on the bike, it was sunny and warm and we were past the half way point.
That didn't really matter though, the mood was still good and the energy was there. That was lucky because once back in the forest as we left the hills behind the sky grew darker and the cloud slipped down towards us again. We stopped for a last cuppa and had to pull on our shells again as the spots turned to a shower which turned to rain.
It just rained constantly now and as the trail cut through the bracken and trees, that rain found us from above and from the sides as the leaves dried themselves on our trousers, and then soon it found us from the ground too as the puddles filled slowly and muddily.
It was fine though, with hoods up and still cheery chat the straight rocky trail had us back on the old farm road and into Arrochar at just the right time to think about dinner.
We didn't know quite yet but that dinner was cooking back at base in the hands of a girl very important to both of us and very soon we were sitting round the table in dry gear with hot food, cold drinks and warm smiles.
That would probably the perfect end to a story of a brilliant walk in brilliant company.
But…
Epilogue.
Phone signal was intermittent all the way round, but luckily Grace had a sliver of it when we needed it.
We both heard the call, a high broken chirp, no, was that a whistle? Both? We stopped and listened, there it was again. We looked in the calls' direction, into the high crags, there… big dark wings, then that call again.
Bird calls, RSPB have them I think, you got signal?
Let's aim high, start with a golden eagle…
Got it
Grace's phone then repeated the call we were listening to. We looked at each other, at the phone, then at the wings high above us which seemed to be talking back to the phone.
Another voice joined, another pair of wings. We watched and we listened as the three voices sang the same song. We watched the wings whirl and search the rocky slopes and land on a shelf on a sheltered high crag they must call home.
No certainties, certainly no location, but there's a little lingering joy at a close encounter with something special, what ever it might have been.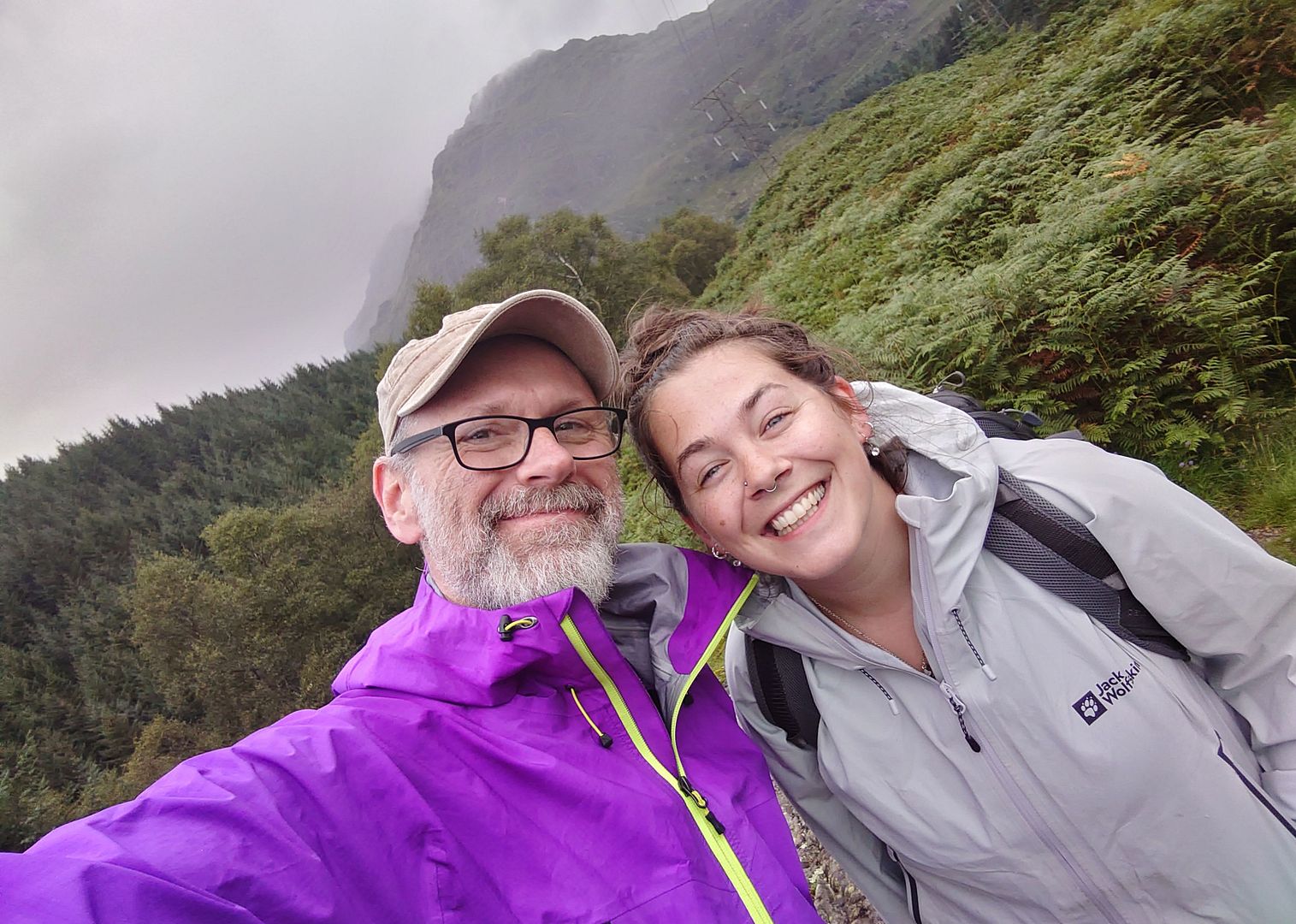 Thanks to Grace's phone; Look, I was there too!