I missed the press day at Peebles where various trade and media folk were getting the proper presentation about Gore-Tex's coming-soon waterproof and breathable Active Shell fabric before being issued with their test jacket for a test on the trails on foot and mtb. So for better or worse, my test jacket came through the post and I'll just have to judge the fabric on its own merits without looking for the impossible to notice miracles of physics and fabric production that I'd have had at the forefront of my mind if I'd made the press day.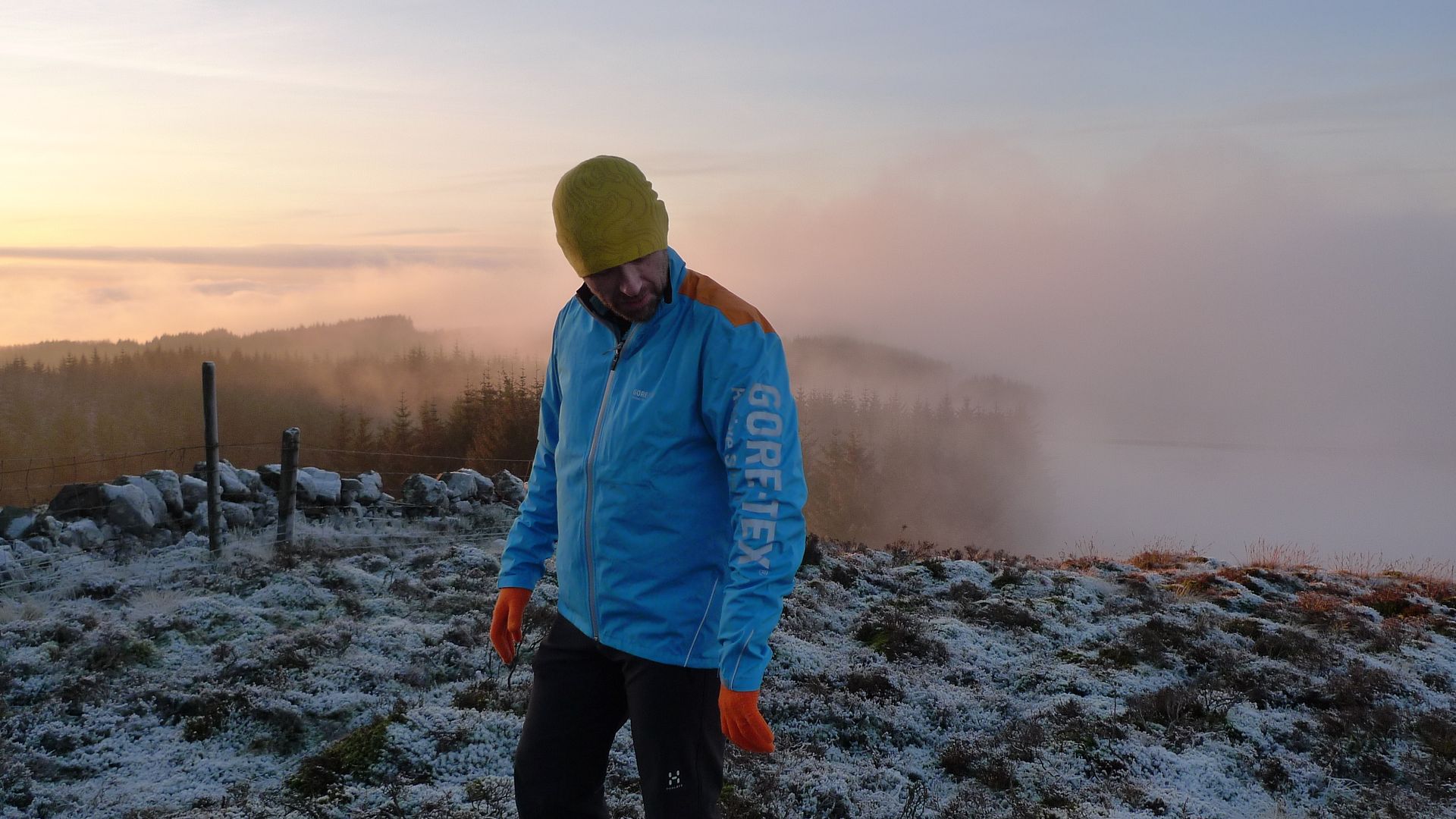 The jacket itself is a basic unbranded run/bike style, hoodless and with just a small inner zipped pocket. Gore are restricting the amount of double fabric on the production jackets anyway, so pockets will be minimal and expect all the brands to be stretching their imaginations to to work round the guidelines and get the best solutions. I like it, a lightweight arms race of sorts. The tester also has back vents, my initial thoughts come from having a pack clamping them shut, so there's no performance advantage from having them.
The notion was that with eVent giving up the fight, Gore Tex would just sit back with it's feet up on the desk and laugh, and we'd see no real forward movement in fabric performance. So whatever the outcome, it's just good to see Active Shell as it really is a step up. The construction is different, the membrane is thinner for a start and will come with a variety of face fabrics, but the tricot backer is laminated on using some new fancy dancing, so no glue and therefore more breathable surface.
Sticking with that tricot backer, it feels nice against the skin in a way Paclite never will, coupled with such a soft-handling and light fabric, it feels like you're wearing a polycotton shirt.
I've worn this a handful of times but the best indication of performance came during the week o the Kilpatricks where Phil took the shots. I wore it over 190g merino, Polartec R1 (the grid backed stuff) and then under the Primaloft and Pertex as it was so cold. Now, on the descent the temperature got up and when we got back into the fog I was pulling my hat and gloves off to cool down, but left the Primaloft on just-in-case. When I got down, the Pertex was damp inside and out, so that's from sweat and from walking through fog, but the Active shell was completely dry inside. I went "Whoa", and the last time I did that was when I tried a Montane Air Jacket some years ago, the first eVent jacket I'd used.
Now, I'm not saying Active Shell is as breathable as eVent, I'm saying it might be. Time will tell on that, and on the durability too, it really is a thin fabric.
So, we've got the lightest and most breathable waterproof fabric from Gore-Tex, and the worlds biggest brands are only allowed to make lightweight race and alpine-style high performance garments (there's pants as well) from it, which they are, and fighting to get the best and lightest too.
Magic :o)