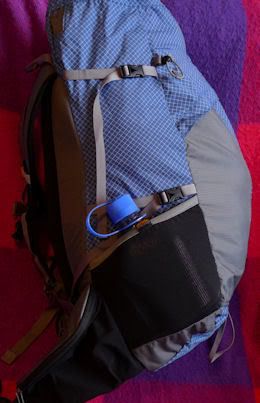 Just in for test is this Jam pack from Golite. You'll see the name Jam2 on labels and online, but they say that they're dropping that "2" and keeping it simple.
I've used bits and pieces of Golite over the past few years and got on well with it, but this is the first chance I've had to use their benchmark backpacking sack longterm.
As the company name suggests, it is light at 712g for this regular back model at a useful 51 litre capacity. Those figures are good but the weight has to be lost from somewhere, and there's two obvious candidates for that. The back system is a simple removable foam insert which gives shape and some cushioning for the wearer from a load, but will limit how comfortable a heavy load will be over the miles. But as these packs are probably always full of lightweight as opposed to "trad" gear, I don't see it as an issue as it's not much different to using a DuoMat as a back system in an OMM pack. The other weight saver is the lack of a lid, instead we have a very simple roll-top arrangement, indeed it's just a fabric extention to the main body of the pack for you to roll or fold up and secure with a webbing strap and buckle. I've heard folk say this can leak, but unless the pack's very overloaded I can't see it being an issue.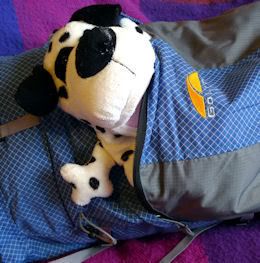 There's a handy pocket on the front, big enough for quite a bit of kit (including Bingo), waterproofs, a snow shovel, or even a Lasercomp. This kind of additional storage is vital for roll-tops, I don't miss the lid, but I would miss the easy stashing options.
Elsewhere it's more regular looking and very functional, twin compression straps, ice axe and pole loops, hydration compatability via a bladder sleeve and hose exits. The shoulder harness is comfy and has a chest strap with a
whistle buckle, just as I'd hope. The hip belt side fins have large zipped pockets and the two pockets on the side of the pack are wearer accessible and also big and secure enough to take the huge Nalgene Oasis Canteen (as seen above).
There's a clip system that pulls the base in and reduces the capacity by quite a bit and also tapers the pack in making it better for use on rock with great clearance. The fabric is dyneema so it's already tough enough for a few scrapes if you're heading that way with it.
I like the cut of its jib, and after a brief shot around the local trails confirmed that it fits, it's going into service and I'll be taking it out on some overnighters imminently.
More later.