I always carry a Victorinox something when I'm out and about. Even if it's only for cutting my dehydrated food bag in half so I get to keep my knuckles clean when eating it. Cutting a frayed guy line was another recent one. So a tool is useful, but what do you take? Multi functional doodahs are dead handy but they tend to be bulky and heavy, a simple knife might leave you stuck one time in a thousand. So when I was talking to Gerber about what models to have a look at it seemed like a good idea to get a small lightweight blade and the most compact of their multitools, That's both ends of functionality dealt with, as well as weight.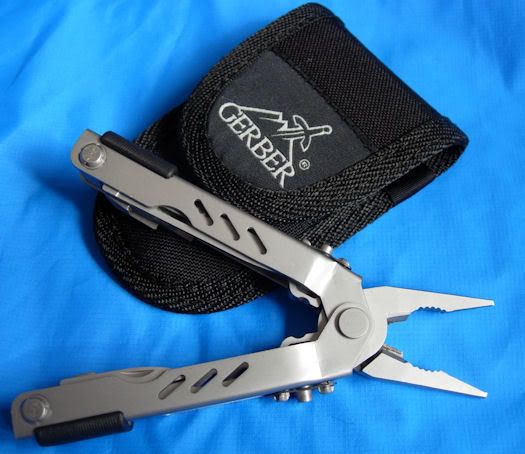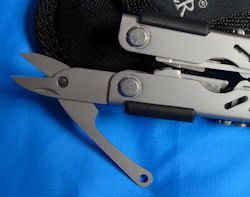 The Compact Sport 400 above is the familiar format of pliers with the other tools stowed as blades in the handles. I've played about with it and it's all very funtional, the blades lock, they're all quite accessible and there's nothing there that's useless. It actually quite handy for work, so I'd be daft not to give a chance to prove itself in the real world as well. It's quite angular in the hand after being so used to the ergonmics of the Victorinox Rucksack, but feels more tool-like because of that.
I must give special mention to the scissors. I carry a mini set of folding scissors in my first aid kit, and these are far better. Spring return blades and easy to use. The weight is 180g, which is either a lot, or it's very reasonable depending on your point of view on carrying tools.
Below we've got a simple wee knife, the STL 2.0.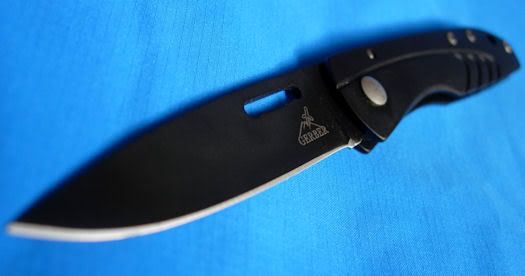 it's got a sarcstically sharp 2″ blade (I love America and their persistent use of Imperial measurements, metric is indeed pish) which locks open to prevent accidental finger deletion. The lock is via a leaf-spring side panel to keep weight down and keep it simple, it works fine but you will have to watch what you're doing with it to avoid a wee nip from the blade when closing it. But hey, it's a tool not a toy.
It's a titanium and stainless steel mix of functionality weighing 28g. It's put together with tiny Torx screws and the matt black finish is really rather nice. It has a lanyard hole which I'll be useing other wise I'll never find the bloody thing in my pack.
They're both well made and cleanly finished, functional tools. I like the look of them. I'll be trying them out in turn and I'll see just what I actually need from a tool as well as seeing how they fare in the field. A wee blade that'll stay in my rucksack pocket, or a multitool that I'll never be done with, pulling those tiny Terra Nova titanium pegs out of the ground in the morning when I'm breaking camp?