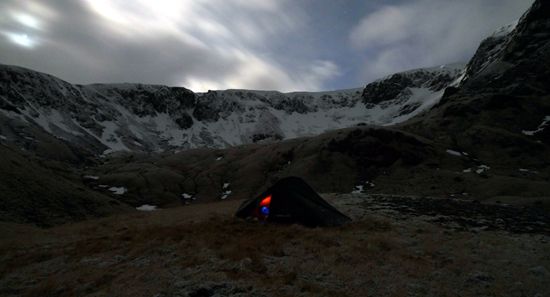 There seemed to be an awful lot of roadworks on the A82, I think they're trying a new system of traffic calming/tourist disenchantment or something, just in time for easter.
The red/amber/green of all the temporary lights were the cheeriest thing I saw on the road up too, it was driech. The whole journey felt like I had my finger poised above the big red button with a sign saying "Do Not Press", and all my instincts were saying, indeed do not press right enough, let's go home and forget this escapade into pishy weather.
I stopped at the Ft Bill Morrsons for a pastry, a bar of Cadbury's Old Jamaica, some Babybel and some cereal bars. I sat back in the motor and again thought of going back as the windscreen wipers pushed drops of disappointment to one side and the other. No, it's supposed to clear up.
I pulled into "my" parking spot at the Countryside Centre just past Morvich. I've been here so many times, camping trips over the years to bag local Munros with friends now long gone, and one more recent trip brings a smile, it was with a wee lassie I'd met in Edinburgh who would be my wife two years later.
There was new history too, in my many attempts to climb Sgur nan Ceathreamhnan I had parked right here twice last year. Both trips were a joy, and one actually saw me camped on the summit. But as I scanned the tops, the grey mist brushing the rocks and swirling in the gullies didn't fill me with hope for this one.
However fortune favours the brave (well, that's what we say when we know this not a good idea), so I kitted up and headed off onto one off the finest tracks I know.
I met a father and son playing in their garden just over the bridge, the dad's eyes had some sympathy there, "I think it's looking a little better than it was…". Maybe, there was a luminosity about the cloud that spoke something about it's lack of depth, maybe it's burn off soon.
The last time I was here the grass was tall and green, the trees were bursting with life and colour, dragonflies whirred alongside me and little birds zoomed by, skimmed the ground as if it were performing in an airshow and then up and away with afterburners-on to the amazement of the crowd. Today it was different, bare, despite the dampness it looked dry and what colour there was left was soon bled away by the rain as it edged in bring a little darkness with it. I stopped and pulled on waterproof, fixed the hood in place and carried on with the tak-a-tak of raindrops on the back of my head playing me a monotonous tune, for which I could find no words to lighten its tone.
I rounded the shoulder of Sgurr a Choire Ghairbh to see that the two burns that run from the two grand corries on the north of Beinn Fhada has joined forces to make fine fast and deep flow where I'm more used to seeing water bubbling around the rocks. The little river must be about twenty feet wide at the best crossing place, and the thought of filling my boots with freezing snowmelt did not appeal. It did take me a few goes, but I was soon over with hopeful feet placed on greasy rocks and I was climbing the zigzags to the Bealach an Sgàirne.
It was a wrench not to be entering the pass, a wonderful little place, full of secrets and drama. But my route was a right turn along the stalkers path into the coire, and as the track contoured higher imagine my delight as the rain gave was to sticky sleet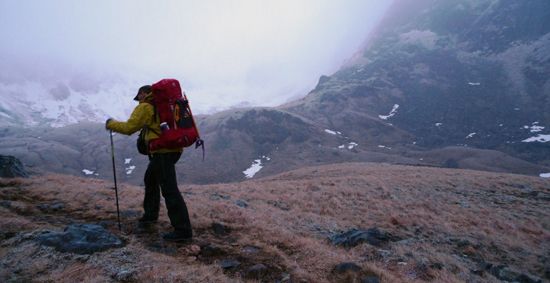 Shrouded in cloud and waves of sleet, this is still a place of great beauty. Buttresses, ridges, sheer cliffs, pinnacles and deep dark gullies surround you and tower over you as you climb but get no closer to the skyline. It was getting darker too, "Ah…" I mused "That'll be because it's snowing now".
If I was making a movie and wanted to film a scene where the cast of lost travellers, possible from a crash-landed hot-air balloon, were about to get all emotional and have moments of self doubt followed by tears and recriminations, I would have shot it right there and then. Mind you Doug McClure and a swooping Pterodactyl would have worked just as well.
In reality I suppose such situations are just an inconvenience until you throw the instructions away and try to make something out of the parts from your imagination. In most cases it's unlikely to be a perfect 1/43 Supermarine Spitfire, so bearing that in mind I stopped and had a think to myself.
Visibilty was zero a couple of hundred metres above me, and that was where I was supposed to be going, onto a plateau ringed with weak cornices, cliffs, giant mousetraps and snakes to slip down right back to the start.
No chance.
I looked ahead and there were some good camping spots a bit off of the stalkers track, that's would be me for the day. A got a cracking pitch on big grassy dumpling and soon had the tent up and my gear unpacked. A fast flowing burn wasn't too far away to keep me going with water and I felt well set for the night.
Once I sat down I realised just how loud the waterfalls were behind me, the roar from the white cascade was loud and constant, but benign and soothing.
It was joined by the roar of my stove soon enough and I slipped into my sleeping bag fully-clothed as cold crept into every corner.
I enjoyed a hot dinner, a pastry and a cuppa. But I was still a little cold, in fact feeling a little out of sorts. I stuck my iPod on and decided to have a snooze.
I discovered this was going to be the demon I would have to wrestle all night. The tent was small, very small. I've got winter-weight mat and bag here and my nose is on the canvas at one end and my feet are having to go side ways at the other end so I don't push the inner onto the outer all the time. I lay on my side, pulled my legs up, tightened the drawcords and made the best of it to the sounds of "Shuffle Songs" gone insane.
It was bright, even through a black flysheet I could see it. I put my feet into unlaced boot and fell out of the tent to see something different. A full bright moon was trying its best to shine through, and managing increasingly well too. The cloud was higher and patchy, I could see scraps of indigo spattered with stars.
It was twenty past one. How long had I lain there half asleep? I should pack up and head to the summit, it'll be beautiful up there just now, I can see the ridge line, the surrounding peaks… No, no, no you idiot. How true, but my heart sank a little at the slap in the face from the sensible hand. I made do with a hot chocolate and a wander in the moonlight.
To be in the hills at these times is an unending joy and a privilege.
I decided to try and get some proper sleep, and headed back to the tent. I was dismayed to find the sleeping bag wet from condensation, jammed in and touching the inner everywhere as it was, but inside was dry and still alittle warm from my previous visit. I stripped down to my baselayers and got cooried in for the night. But to keep my face and feet off the tent I had to stop myself stretching out, and after a walk in the rain with a pack, I kinda wanted to stretch out.
I tossed and turned, cursed and fidgetted to the increasingly bizarre choices of my iPod as desperately tried to find comfort, rest and sleep. At five past seven I gave up.
Screw this, I'm getting up. I slacked off the hood and it was bright, I unzipped the frost crusted tent door and peered outside. My foggy eyes struggled to focus, so I squeezed on my iced boots, grabbed my jacket and stumbled out into a very different world to the one I had been hiding from since last night.