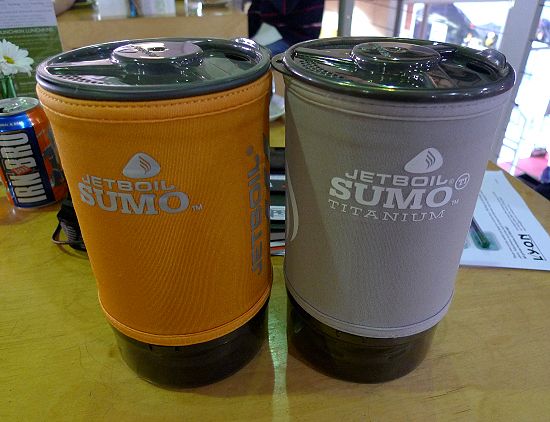 I remember the accusations of "sellout" when I got a Jetboil in for test and liked it. It's a fantastic bit of kit the Flash I've got and Jetboil are expanding the range.
Above are the new Sumo's in aluminium and titanium flavours. These are 1.8L pots designed to expand the regular Jetboil format into a system for group cooking. They'll take a whole new Sol system inside (titanium version below with a wistful looking Si from Lyon Equipment) and also seen there is the Sumo Companion Bowl Set which will work as cups or storage.
Everything is insulated with a neoprene sleeve, the pot lids are update with drainage holes to my Flash lid and the burner now comes with a gas regulator, a concept I already approve of.
 The Sumo is big, but for two it'll work well, you'd get two boil-in-the-bags in there no problem as well as regular boiling duties and proper cooking which should be easier now with a regulated and therefore more controlable flame.
I love the concept, I like modularity when its been designed in, things fit together neatly, they work well together and nothing's rattling around in your pack. A few brands are heading this way, so like the sleepmat wars hopefully we'll see ever better and lighter designs.
Got some Jetboil stuff coming up on the next trip, there will be the sound and smells of frying at camp.