I said something recently about the "sleepmat arms race" and it's definitely raging away, mats are getting ever lighter and warmer and Exped have have pushed themselves to be near the front for next year by the looks of things.
Although, they're dropping that Canadian Goose from their logo, how much weight this will save is as yet unconfirmed.
The Downmats (above) which many swear by have new lightweight stablemates, the Ultralite 7 series. They come in XS, S, M & LW sizes which take you from 420g to 750g pack weights. This is a huge weight saving over the current range for a similar set of sizes, if they prove as warm as they say, -24°C, and durable we're all laughing.
Below is the Synmat Ultralite 7 , sizes S, M & LW for 439g, 469g and 600g pack weights with a rating to -4°C. The insulation is bonded inside to give a full loft, it packs small and the roll-top stuff sack acts as both an inflating device and a huge big soft pillow like the one you've got at home, not by design though, that bit's a happy accident. I'm liking the look of this one.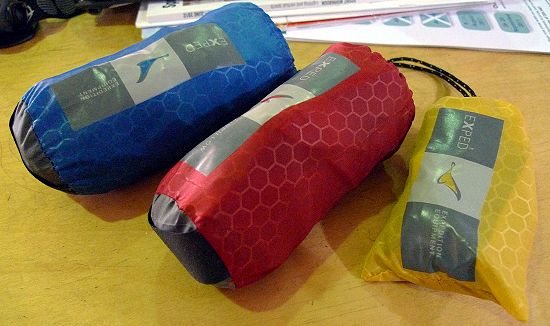 I've used an Air Pillow Lite (the red stuffsack) for ages, the shape is great and it stays put most of the time. There's now an Ultralite version in yellow, chose from 50g for medium or 80g for large.
Yes, yes, you can sleep with your head on your jumper or shoes or whatever if you want to crease your napper overnight, but I want a pillow, I don't see folk throwing their pillows on their bedroom floors at home because they're not "lightweight".
Anyway, the blue stuffsack is an AirSeat, which is bigger than the pillow and at 120g also qualifies it as a luxury pillow. Hurrah.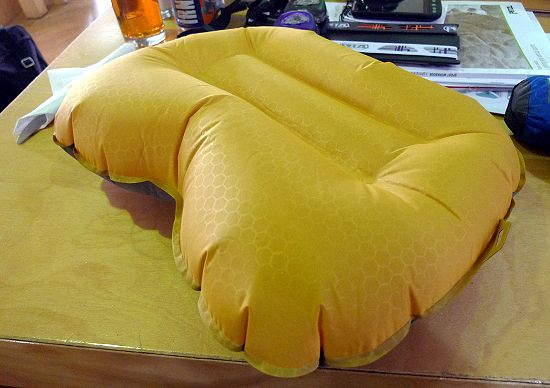 Nice and green is the SIM Lite Ultralite (all those lite's aren't a typo), a self-inflating mat in the usual four sizes and pack weights going from 320g to 780g. That bold Exped branding is what we'll see now that the goose has been cooked. The ratings are 2°C for the smaller two sizes and -5°C for the larger two.
The slimline self-inflater has been sidelined of late with the new wave of fat mats taking the limelight, but in these days of ever smaller tents a slimmer mat is looking ever more attractive to get our toes and noses further away from the flysheet, so newness when it brings lightness and warmness in this area is a good thing.