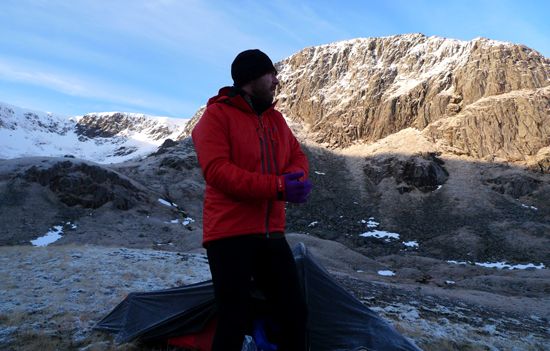 There was a whole bunch of kit that got pulled from the wrapper and put in my pack. Always a gamble, but that's just an added slice of fun on my mountain toast.
First thing, and in my mind often the most important bit of kit I carry as it supplies my cuppa, was my stove. On this trip it was the Jetboil Flash.
I got my usual flat rock (which went back next day) for cooking on, and the Jetboil sat on it quite happily on its little plastic legs which were attached to an Optimus gas canister.
Its height which seems to be a talking point didn't become an issue, even in the cramped porch of the tent, so I didn't knock it over which was my fear when I first saw these things. In fact, when I nudged it a few times (as I had to, just to see if it would fall over…), it just rotated the canister in the wee legs, losing the energy of the nudge and leaving the operations and contents unbothered. That gave me a little more confidence and soon I just ignored it and let it do its thing.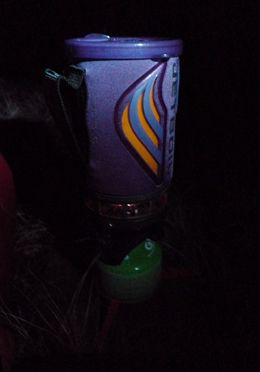 Its thing happened to be very efficient and trouble-free. The piezo worked every time (yes I'm packing matches too, just-in-case), boil times were good until the gas got very low at the end of day two. The bowl thing was great for scooping up snow and covering it if you overfilled the pot to melt it, the lid's spout is a drip-free pourer (which is left or right handed, fit it how you like), the handle on the insulation is secure and the wee "flash" stripes? Yeah, they go orange when it gets warm. Pointless it maybe be, but as I'm lying there in the cold the orange creeping up said "Cuppa… soon…".
In short, it's easy to use, works really well and packs-up neat and simple. I like it, but the real test will be longevity, especially of the stove section. I'll be  updating this regularly.
I spent the night in a Force Ten Superlite 100 (top photie). It packed down small which made me happy, but I ditched the cheapo pegs that came with it and took some Y-pegs instead. I pulled it out into the semi-darkness and snow to pitch it for the first time, and to my delight it was a piece of piss. It went up easy, first time, with only a little adjustment to the wide end to get it tight.
I started throwing some gear inside and put my pack in the porch, on its edge, the porch is a little narrow.
Now the length of the inner is good, but once I was in my sleeping bag I soon realised that length isn't everything, the inner tapers alarmingly at both ends, and only one end has the mini-pole to make room for a 3D object, the other end is a flat taper (like the end of a chisel). Now, I was on a fat sleepmat, but if I lay flat and stretched out I could touch the inner with my nose and my toes.
So, this tiny inner, full of down bag and breathing heating engineer, meant that the whole place soon became soaked with condensation, which ended up on the sleeping bags, my clothes and then froze in the early hours when the temperature dropped.
I haven't mentioned internal height yet, so I will. There wasn't any, add to that the condensation and ice coating of the morning and all my clothing offs and ons were done outside.
I spend the whole night crunched up, trying to keep the bag away from the wet walls and all I really wanted to do was stretch my legs out. This just meant that I couldn't sleep and I had a miserable night.
I'll take it out again with a different mat and see what happens, there's an awful lot to like in this tent. I'll be back with more.
The fat mat in question is an Exped Synmat 7.5 Basic, which is just in for test along with the pump-pillow, and thankfully it was great. It's warm, comfy and small packing thanks to the lack of an integral pump (hence the pillow, which is also comfy).
I'll have proper look at soon.
I wore some of the Arc'teryx kit, and it mostly performed very well.
The Delta LT Zip was completely anonymous, and you know I mean that as a compliment. Light, good warmth and comfort, and when in my pack it crunched into a corner. It dries very fast as well. Great basic midlayer.
The Rho LT Zip got soaked with sweat, slept in, had a nose wiped on its sleeves and seemed quite happy with it all. I like it, it's comfy and it didn't stink when I took it off when I got home. There's still moments where I can feel I'm not wearing merino, but it's a very wearable bit of kit.
The Alpha SL Pullover got rained and snowed on, and my first thought was "Ooh, look how good that DWR is", really, it's a bead-a-rama and because of that the Paclite did its job and I stayed condensation-minimal.
The cut is good, the pitzips handy, it didn't ride up, but I'm on the fence about the hood. I don't have an issue with laminated peaks, but this one is maybe a little soft. I'll know more when I've used it in crap weather on a bere head.
Getting its first use was the Haglöfs Matrix 60 pack. On the outside a very trad-looking affair, but with Haglöfs' take on a hybrid internal/external frame design it's way more comfy than it looks, the harness being separate from the load and giving a surprising amount of freedom and flexibility to the wearer. The hipbelt has sensible medium-softness padding and a nice curve, this means comfort and wearability, and with the reverse-pull webbing, easy adjustment too.
The Matrix hides its 60L in its height, typical Haglöfs, tall and slim. I was worried that this might mean that my head would be interfered with from behind on steeper ground, but the floating lid and frame shape means that this doesn't happen. That lid also has a monstrously big external pocket which I like a lot, and will now miss on other packs when I use them.
The zipped lower section turned out to be a great idea. When I was making camp, I opened up the compartment, took the tent out, pitched it while the rest of the kit stayed wrapped up. Talking of which, the fabric does seem to be very waterproof indeed.
There's good detailing, one favourite is the compression straps which have velcro ends, handy for a tidy pack and also good for attaching to water bottles, which will now not be lost, merely dangle at your knees.
The harness wore in to my shape a little, and I dare say that'll continue, so the good comfort should improve further. Aye, on paper it's heavy, when you lift it, it's heavy when full, but on my back I just didn't feel it. Always a good sign.
Other stuff included a Haglöfs Viper II, and their mighty Grym boots too, which along with Montane's Flux will be getting proper reviews this week.
Black Diamond Raven Ultra ice axe and Grivel AirTech aluminium crampons were reliable performers, and there was plenty of regular gear which just works away.
The Fizan poles deserve a mention, because they delivered a surprise. They lay outside fully extended all night, and when I left them there they were soaking wet. Now, all the webbing on my pack was frozen stiff, my jacket too, my axe leash, even my cap, but the poles stayed free-moving. I wonder if the lack of those plastic section-ends to trap water and swell-up and jam when frozen are a good idea from more than just a weight saving angle?
One last first was my first use of a GPS ,a Garmin Oregon 450, which has just come in for test. There was a wee map on the screen with a wee arrow saying "You are here". Magic, more of that soon.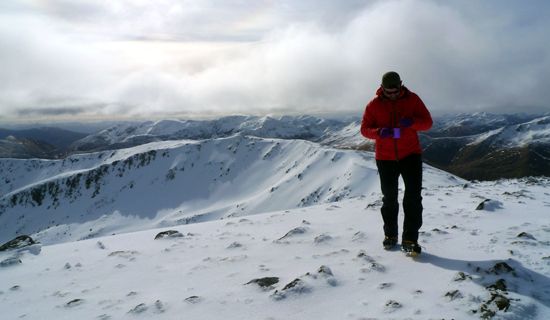 Just in: Haglöfs summer test kit, good cross-section of stuff, coming up soon.