First up is something a bit unusual. A while back I got an email from an STV director about presenting an outdoor slot on their daily "The Hour" show. After a few missed calls and left messages in both directions we finally hooked up and headed to down to Loch Lomond to shoot some test footage, that's cameragirl Jen and VT director Mags below.
It was good fun, and it went pretty well I thought, although trying to stick to a script is next to impossible for my tangential mind. The folks were very kind regarding my efforts, and made me feel right at ease with their banter and slick operation when we were cutting about the lochside. The nice wee surprise is that the footage was usable and it's been edited up for broadcast, on Tuesday, 3rd of August. It's "Petesy's gear guide to getting outdoors", I'm looking at a few essentials to get folk off the couch, all nice light ones too. The bit about trail shoes could be fun.
The plan is to run a wee series of these slots, with a progressive narrative, from initial gear choice to standing on the top of Ben Lomond kinda thing. Might come to nothing, but you never know. The notion of reaching someone and getting them into the outdoors with the right gear first time really appeals to me, so I hope some folk see this first piece at least.
This weeks trip to Aonach Mheadhoin and it's close friends was a learning experience. My hill legs are shot to pieces which set the tone for the rest of day one. Let me explain.
I hadn't worn the Salomon Fastpackers for ages, this was due to a reason. But the waterproof and slightly higher than a trail shoe ankle made sense in the wet conditions and went with my mini gaitersvery well. Luckily I had my waterproofs on the first time the grip gave out. If you're a mountain biker you'll understand what I mean about a slide that you can recover, the tyre slips but claws back the grip and you keep going, you learn the characteristics of that and it gives you confidence. Then there's they tyres that snap away and you face plant, they come off the bike and go on ebay as "used once". Salomon must make those tyres.
I launched on some moss and landed really heavily on my hip, andafter that I was more cautious. The grip is marginal in anything wet at all, the lugs on the sole are way too wide, the gaps between way too small, just not enough bite. On day two they were better in the drier conditions higher up the hill, but on the boggy lower ground later on the nervy stepping came back. It's a bugger because the uppers a great, more trail shoe with their collar up than a mid. I'll wear them again, just not in the wet.
My ancient Karrimor Paclite pants were as good as ever, and the Arc'teryx Alpha SL Pullover once again got wet, I've never carried that without having to wear it. I wonder if it's a bad luck charm? Whatever, it's ajoy to wear. The long back, good cut, pit zips, pouch pocket are all perfect, the hood does let it down though, the peak is far too soft. I wear a cap most of the time which m,eans I don't notice, but on abare head it's not ideal.
Paclite is workable if you don't over-layer underneath it, when I disrobed in the tent the inner of the tops and bottoms were glossy, but not wet, and they dried out very well. I hade the X-Bionic Humdinger on over a Smartwool Microweight t-shirt, and I have to see it was a combination of justice. The Humdinger may well cost $17,000, but it's the best midlayer I've ever used layered up in wet conditions. I didn't overheat, I didn't chill fast when I stopped either, and the thin stretchy fabric worked hard at keeping me dry. The t-shirt was a surprising disappointment, the gossamer thin merino, admittedly as expected, having only some of the stink repelling qualities of the heavier weight fabric…
The Arc'teryx Gamma LT Pants layered well, very comfy and quick drying, and proved to be just as good in the hot sun of day two. Quietly funtional these guys.
Insulation was the Berghaus Chulu vest and the Crux Halo. The Chulu is great, handy pockets, proper warmth and great match for the lightweight Halo, now I'm happy to say no longer firing down out of every seam with every body movement.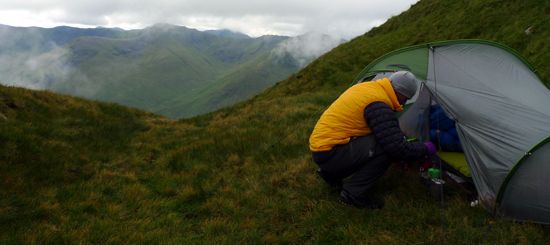 The tent? Golite's Eden 1, oh and it was going so well too. It looks big, and the internal length is good for folk well over six feet, but it's a little narrow I think. The extra room is all in the porch which is huge. Enough for all your kit, rucksack, cooking and a dog. Maybe even a pony.
The guy options are outstanding, long multiple lines which you can move around to suit wind or weather. When the wind did catch me the tent felt rock solid. That security didn't extend to the outer zip, which jammed solid and made me rip the tent getting out. Made me I tell you. Once it's dry I'll have a proper look at it and see what's what.
It's no lightweight though, and the big pack size (about three times that of a 'comp) meant I took the Hagöfs Matrix 60 pack so I wasn't making a space hopper out of a smaller pack. No problem though, the Matrix is a cracker, a very easy carry despite it's beefy nature.
I wasn't taking meths into that weather, but I did take the Evernew Titanium Solo set. I won't beat about the bush here, it's bloody marvellous. Used with the Vango Ultralite stove, Optimus gas and a regular windshield, there was nothing but joy and never ending instant cuppas. The cup is perfect, the pot is a good size for topping up to re-boil while you're sipping a hot one and it's just all so nice in the hand. I will say this, don't put the lid on the pot upside down, it slides down and if the pot's wet it creates a vacuum when you try to get it out and there will be tears of frustration… The joys of accurate machining.