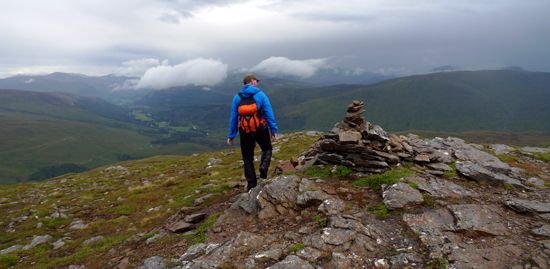 That wee trip before we went down south had a couple of unusual participants.
#1 in the finest of orange thgere above is a first generation Jirishanca, still with the gallus-looking KIMMlite winged badging. I haven't used this pack in ages and I just fancied something different, and you know what, it's really good.
The narrow shoulder straps work fine on me now, I used to fiddle with them all the time (not so used to the low-profile design back then maybe?), the slim dyneema body is fine, the lid is a good one, the hipfin pockets are a little small and the compression system was never great, but it does work okay with the bungee I installed rather than the daft plastic cheesewire.
#2 is just out of view, my original style Inov8 390GTX. My theory that my feet are evolving (into what is unclear) seems to bear fruit (imagine a bear fruit, a big hairy apple that wants to tear your face off), I got on better with them that I ever did before. We contoured on steep ground for about 3 or 4 km without a break at the start, and I was issue and whining free, where in the past I'd have cramps and moaning. The grips were as good as ever, and I was also pleased to find that they're still waterproof. We're pals again.
#3 Outdoor Research (old style) Flex Tex gaiters. They're softshell, but repel water and shite  with gusto and aplomb unless you're resting knee deep in a bog for more than 30 seconds.
I missed Brasher at KORS (report very soon, so many photies…), but I got the press pack in the post the other day and some new-model socks to test. I used to wear Brasher walking socks, but these are all modern with different fabric zones and a lack of spongy padding. Nice.