I've been trailing some gear around recently one way or another, and I've had some mixed results.
On the Wheelie trip I took smocks as I thought that would suit being strapped-in a lot better. The Haglöfs Lizard Top was great until I got right into the murk, it's ceased to be "different" now, it's just a killer bit of go-to kit for mixed conditions. The Ozo was the matching top layer and I have to say it is better than the Oz, simply because it's longer at the tail. The new hood is stolen off the LIM Ultimate and it is a good one, not too heavy or bulky that it flops around, unbalancing an otherwise very light jacket. It kept the snow out of my face, so that'll do me.
Other new Haglöfs were the new single-colour Mid Flex Pants, which were brilliant, just the right weight to go from the sunny, warm glen to the chilly plateau without falling on their metaphorical arse and upsetting my equilibrium. Nice to have brown legs also.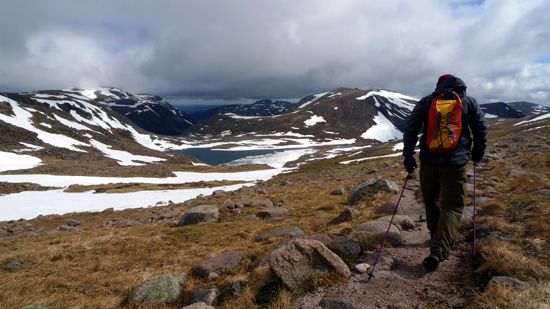 That neat wee doodah on my back above is an Exped Drypack Pro, dead comfy and plenty big at 25L as pack liner and a daysack. The 15L would be better as a daypack, but too wee as a packliner, so it was a trade-off which one to go for.
The TNF Assailant Mids are proving a great wee set of shoes
Other kit was pretty regular, Neoair mat, Lasercomp tent, GoLite Adrenaline 3 bag, Jetboil Flash stove, Mountain King Trail Blaze Poles, Montane Flux duvet, Chocolate Fish's Taranaki merino and all the bits and pieces that just get packed without thinking these days.
My Trail piece on the trip is done, I've just written the captions for the photies as the last bit, and there's some more gear stuff in there as well as some thoughts about Wheelie. It looks good, the page layout made me smile, and the words are, well, familiar in tone this time is maybe the best way to put it?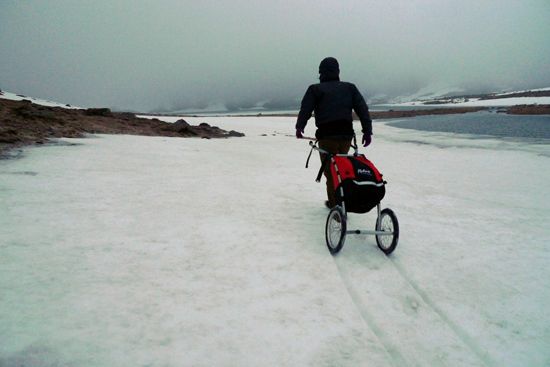 The howff jaunt was a quickie to get some shots for a route I had written, but the cave I was using being out of commission meant a change of plan, so it worked out well as I wasn't going to be sending Trail readers to a landslip.
It turned out an interesting time, the outcome of which was largely decided upon by the gear I took.
The Macpac Amp Race 40, I like. I didn't take a bottle on the shoulder strap this time and I was issue free on my collar bone. But, the Tamrac Zipshot tripod I use fits in the bungee so it looks like the Amp is my current standard issue pack.
I wore the Montane Limited Edition Dynamic Stretch Pants, good fabric, easy-wearing and that big leg pocket is brilliant. The looser cut had me wearing mini-gaiters for the bog-trotting, and I wouldn't like to layer them under shell pants for too long as the extra fabric could fold and bunch up.
I wore Montane's Meteor DT waterproof. It's a lovely soft jacket, and as I wore it the whole trip, the center chest pocket was in constant use. Good body and arm length, good freedom of movement and the hood is neat. It really is one of their top end designs, just cut from Entrant DT instead of eVent. Breathability does drop off a little because of that, and the 2.5 layer fabric has the same issues with hiding condensation as Paclite. But it works away at it's own pace and as it's a fully featured and still budget friendly lightweight technical jacket, any bitching is out of order.
The TNF Assailant Mids were on my feet again, grippy buggers these, I lost my footing once and that was fannying about with th tripod at the howff. I love that the own-brand waterproofing works well too. Nice shoes, recommended.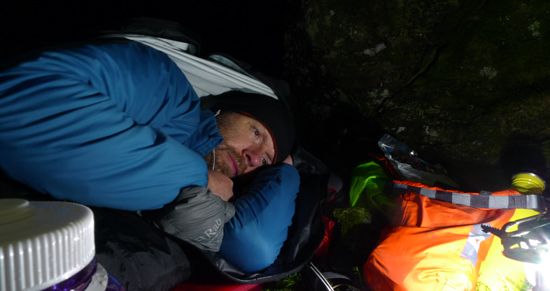 Also from TNF was the Zephyrus Pullover, being "slept-in" above. It just works, it's soft warm and comfy and that's all we need to know, the bonus I found was that the DWR is very good, faffing around outside saw the rain bead and run off the outer fabric. Nice.
Also being "slept-in" is the Rab Neutrino 200 down bag. Had I known where I would end up, I would have taken something else, the Pertex Quantum fabric never stood a chance. All I can say is that it was great until the wet really got into it, it's a well-shaped comfy bag, feels warm and the half-length zip suited the bivi very well.
The bivi bag was a Terra Nova Discovery Lite, the older Gore-Tex Flo2 version. It's wee, there's no getting around that, so I put the sleep mat outside. Breathability of the top skin is okay, I ended up wearing more clothes than I needed because of the mat issues and that made it a little steamy perhaps, slowing down the escape of my sweat.
The mat was the new Airo 120 from Alpkit, and the poor bastard never stood a chance. Ground against an abrasive rock after a shunt sideways to get away from overhead drips, I tore a hole in it. But, the fact that I immediately felt the wet ground through it when it deflated tells me that it had previously been insulating me quite happily. There will be more from the Airo once glued.
Also from Alpkit is their little Bulb bedside lamp, now updated to "II".  It's a handy wee thing and I used to carry it a lot, it would have been great in the cave, but it was magic in the howff too. Totally unnecessary luxury item. Magic.
Also below are my Klean Kanteen bottles, I love these, I've taken one to work every day since they arrived too. Not to look at, I put juice in there.
It was nice to be back to a pot and stove combo, my old Optimus Terra Weekend is as good as ever and the Vango Ultralite stove really does do the job. The pot supports stay easily folded after use which surprised me, one of the issues with all the other versions of this burner has been the pot supports jamming after use.
So nice to see that big burner doing it's work while lying under that rock.