The thing that had always stuck in my mind in the guidebooks is "boggy approach". That had kind of put me off. There's an element of it being a single peak too far from home to do in a day and not fall asleep at the wheel on the way home about it as well. Well once I'd taken my sleeping inner Munro bagger by his collar, smacked his face off of the steering wheel, thrown him from the moving vehicle and slid into the driving seat I realised that a single oot-of-the-road peak is an excuse for packing the tent. Again.
I left late (this should just be taken as read now so I can stop repeating myself) and didn't start looking for a parking space at the dam in Loch Quoich until tea time. It was a glorious evening and I got my kit ready in sunshine and shades. A few walkers appeared back at their cars and asked where I'd been and if I'd had a nice day. "Not yet" I replied, and pointed to the pointy-ish summit of Gairich, "I'm just heading up there, is there room for a tent on the top?".
Apparently not. Still, off I went happy enough with my plan of "I'll see what happens when I get up there". It's a boggy approach and water was soon running out of the mesh of my shoes as I skirted the end of the loch. It was hot, I was comfy, I wisnae botherin' ma arse. It's not boggy for long and you're soon onto a rough hardpacked trail that takes you to the edge of the forest where you cut up onto Druim na Geid Salaich for a nice saunter towards the summit slopes.
The sun was getting low, it nipped behind Gairich and the temperature dropped quite a bit. The scale changed as well, a wee pull up looked all dark and ominous suddenly. Application of a windshirt and Buff calmed the nerves though and I was soon at the point where the contour lines are awfy close together. The climb up to the summit is actually quite steep and airy. The views down into Glen Kingie are quite immediate  if you know what I mean and there's a few moments of hand to rock here and there. There's a few wee crags tumbling over the north side of the ridge as well and it's all quite good fun, more so than I was expecting.
I got to the summit and the sun was now very low and it was bloody cold. I took some photies and took it all in. Knoydart, the Cluanie and Glen Shiel hills and the Cuillin all picked out in shades of orange. It was stunning. The joy never diminishes for me, I stand and watch the sun sink below the horizon like a caveman wondering what he's done wrong and hoping it'll be back, imprinting on his mind in case his life is lived out in darkness. The biggest difference between us is that I now had to put up the tent in the dark and he would go and draw nudey cave ladies by candlelight. Maybe not candles, those hairy torches with the long handles that always seem to be in egyptian tombs ready to be used in movies maybe. Or fireflies in a jar. They didn't have jars either. Jam, they stuck the fireflies to a stick with jam and used that as a torch. Although if they didn't have jars, what did they keep their jam in.

The tent went up easy, just behind the summit cairn where there's plenty of room. I had dinner, a cuppa, a wander around in the dark. I saw a few cars heading into Kinloch Hourn and then silence. A clear sky, with chilled air and a light breeze. A had a book with me and read a bit, I was laughing at it though and it was keeping me a wake so I enforced a lights-out on myself and slept. With my socks under my arms to dry them out as I hadn't brought spares…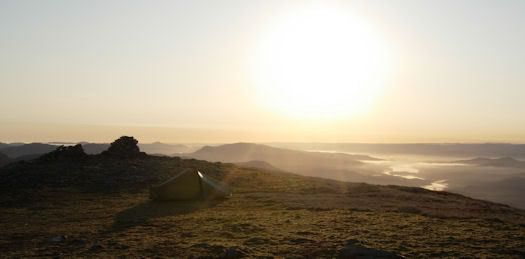 It was a fine morning, I watched the sunrise with a hot cuppa sitting on the cairn. It's odd, there's a sublimnal change from early morning to "daytime". I feel it internally and it always makes me start taking the tent down. A few photies and I was on my way down. I met some folks as I got near the forest edge, I did feel bad as they looked crestfallen at not being first on the hill. Oh, I nearly kept a straight face there when I said that. I love that bit really.
It's a nice walk out and with time on my hands as it was only 1000hrs I could linger and take it all in. There's so many bleached pine roots along the loch's edge, pulled up from below the water by the unnatural action of this man made body of water. I love dams though and it's a nice way to finsh, a bimble along mossy 1950's concrete.
Back at the motor I met a man heading out with a camping pack and a dog. Happy and all excited, eager to get going. Good lad.