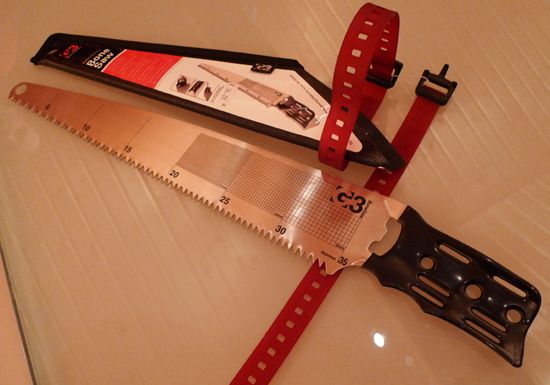 I was up at the Haglöfs shed during the week (huge show and tell imminent) and had a look at G3 snow gear while I was there.
Above is the Bonesaw, with which you can build an igloo, saw up the firewood for cooking the whale you just cut up with it, and then defend yourself against roaming yetis who might try to steal your dinner. The handle is curved and rubber coated, and the slots you can see take those red straps and fasten onto a ski or trekking pole or a snow shovel handle to make what looks to me like a snow-halberd. It's got a ruler and a snow crystal measuring grid etched on there as well for snow pro-types.
I'll admit that this stuff is completely beyond me, but it's a lovely made bit of kit, so the engineer in me was very impressed.
Below are His 'n' Hers (or His and Mr Lightweight I'd like to venture…) snow shovels, and a Speed Pro Probe.
I've been looking at shovels, so it was good to play with something without a shop assistant watching me thinking "He doesn't know what the hell he's doing", and also to be able to see something a little different.
No testing or anything here, I just thought the gear was kinda cool, and it's just making inroads into the UK too.